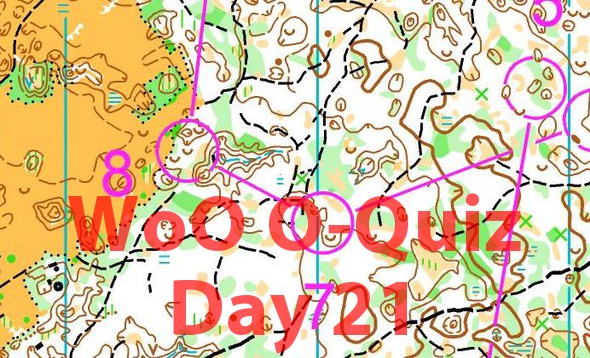 Can you guess which country this map is from? The WorldofO Christmas O-Quiz gives you one map sample each day from December 1st until December 24th. You get one point for each day you guess the correct country for the map sample – can you make it all the way to 24?
Fill out your name, e-mail address and your guess for the country below! For a given day, only answers given between 05:00 CET and 23:59 CET on that day will be counted in the overall score. That means that even if you fill out the form on a later day, your answer will not be counted… You are only allowed to answer ONCE each day!
Correct answer yesterday: Finland!
To find out that it was Scandinavia was easy – deciding between Finland and Sweden was more difficult. Many of you knew the terrain type and could therefore correctly guess Finland. Others deduced it based on mapping style. To not make Finland too easy for you to guess, I chose Finnish terrain without the characteristic grey areas – still the terrain type chosen is quite typical for parts of Northern Finland.
We have two with 20 of 20 points – Timo Sild and Gigison – great work! In addition five with 19 of 20 – Mode, Beni, Kristo, Andrey and Alessio. Good work!
Some comments from today:
I had this map laying on my floor. [Guess: Finland. Thanks Eemeli – hope you don't have all your maps lying on the floor :)]
Been there many times. Definitely the best terrain in Finland! [Guess: Finland. Sounds great Severi, I'd love to try it out myself as well…]
5 seconds to guess the country and 30 seconds to find the map :) [Guess: Finland. Good work Doobas!]
First I supposed Sweden – but also Canada and in Great britain you can find terrain like this. I will be at skio controlling – hope to have time for next days to guess and internet connection – but Finnland might also be possible – so just from my feeling – Finland [Guess: Finland. Thanks Wolfgang, I guess you were lucky today:)]
Is there a competition for whoever guesses a neighbouring country to the correct answer most often? [Guess: Canada. No Nic, there is not. And anyway, there is a loooong way from Canada to Finland…]
A second map in this quiz where I have run :) [Guess: Finland. Thanks Jokuja – another nice map:)]
This could have been Norway, but the drawing style of the map doesn't quite match, so I'll go for Sweden. [Guess: Sweden. Thanks Terje, but again so close…]
Clearly Scandinavian terrain. Can be Norway, Sweden, Finland, but mapping technic suggests Finland. Especially those long helping contours, typical Finnish. Many of them unnecessary I think. [Guess: Finland. Thanks Joakim, that's right!]
Been there done that [Guess: Finland. Thanks Anders – good place to be I am sure…]
In the soumi forest you can't stand still. If you do, you get bite to death of gnats. I nearly did last summer when I was on this map… [Guess: Finland. Thanks for the fun-fact Saltarn:)]
The absolute beauty of Eastern Finland! [Guess: Finland. Thanks Antti – that's right!]
This one was easy, it's Tahkovaara. I've run there couple of times and actually I was discovering that map yesterday :D [Guess: Finland. Thanks for the map name Tontsa:)]
Something from the untypical parts of Finland, Joensuu-area maybe or at least the same map-making style. [Guess: Finland. Thanks Markus, you hit it with Finland!]
It really looks like finland, but i'm just guessing. Somewhere around joensuu perhaps? [Guess: Finland. Thanks Alan, you got it!]
Looks a bit like Dalarna terrain (again). But i know you always try to fool us ;) so i will go for Finland, Joensuu, despite the lack of bare rocks. [Guess: Finland. Thanks Tatam – you were lucky again, but I really did not try to fool you. Did you get help from Philippe again?]
It's easy. Scandinavia! Looks like Sweden. That means must be Finland. The start is very finish, somewhere in the bush. [Guess: Finland. Hehe Gigi, I didn't try to tricky you, so don't believe that tactic will work every day..]
Joensuu? [Guess: Finland. Thanks Jonathan, that's right!]
It may be Sweden, Finland because of water lands, but what are the brown X, never seen in Scandinavia before? It may be Italy or Switzerland, but too many water… This map seems even too perfect to be real, and I really don't have any idea. Guessing Finland. [Guess: Finland. Thanks Brunic, you still nailed it..]
That must be north of the Artic -circle! Russia had the 11th of Desember which gives either Sweden or Finland. That was the easy part. The colours of the form-lines and the way of drawing made it more likely Finnish but I spent 2-3 hours browsing to exclude Sweden with certainty. I finally ended up Kalevan Rasti-land using city names as stepstones. Maps here looks very similar so I am confident. [Guess: Finland. Sorry to hear you used hours on this Tibor – hope it gave you something more than just the single-word answer.. At least the answer was correct!]
Finnland can be to easy, somaybe its in iceland. But finnland is my choice [Guess: Finland. Thanks Teichmann – that's right!]
This has got to be Joensuu [Guess: Finland. Thanks Yves – Finland is it!]
I think Finland but could also we Sweden… [Guess: Finland. Thanks Jissbacke – you chose the right one today!]
This have to be Sweden, cant think about anything else, but I can't remember seeing these brown crosses? [Guess: Sweden. Thanks Jonas – but you missed it today..]
I'm going to say Finland, looks similar to the WOC 2013 maps, maybe Gesunda? But almost every map in Sweden looks like this, so it could easily be there… [Guess: Finland. Thanks Colm – you landed the right place today, luckily..]
This is the degree of difficulty we like :) [Guess: Finland. Thanks Bacco – think we must increase difficulty again..]
Norway has been used, so I guess Sweden. It could look like something around Idre Fjäll. [Guess: Sweden. Sorry Kell, missed it today.]
The mapping style which includes a large amount of form lines points me towards Finland. Hence Finalnd is my guess! [Guess: Finland. Thanks Petern – that's it!]
Type Kuusamo terrain? [Guess: Finland. Thanks Fritz, you are right with Finland!]
I've already mixed up Sweden with Norway once, so I'm not gonna do it again. It's not Sweden :) [Guess: Finland. Thanks Vladyslav, you got it!]
Not all of you hit the jackpot on Day 20 – here is the overview over tips: