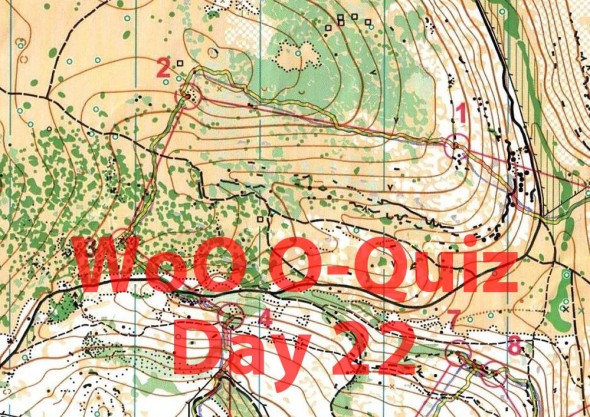 This one should be quite difficult I think – but hey, we are getting close to Christmas, aren't we? Can you guess which country this map is from? The WorldofO Christmas O-Quiz gives you one map sample each day from December 1st until December 24th. You get one point for each day you guess the correct country for the map sample – can you make it all the way to 24?
Fill out your name, e-mail address and your guess for the country below! For a given day, only answers given between 05:00 CET and 23:59 CET on that day will be counted in the overall score. That means that even if you fill out the form on a later day, your answer will not be counted… You are only allowed to answer ONCE each day!
Correct answer yesterday: Croatia
It looks like Croatia was not too difficult for you. This terrain is not very characteristic for Croatia – more stony karst would probably have been more typical. Instead I chose this terrain which the Croatians describe as "Scandinavian terrain" (although it is far away from it in my opinion). Even if a bit atypical for Croatia, many of you got this right after having looked at the maps from Croatia Open (or even run there).
Results after 21 of 24 days:
21 points: 2 persons
20 points: 5 persons
19 points: 7 persons
18 points: 8 persons
17 points: 7 persons
16 points: 4 persons
15 points: 5 persons
14 points: 7 persons
13 points: 6 persons
12 points: 11 persons
11 points: 8 persons
10 points: 7 persons

Some comments:
I have internet here at preparing skio competitions and today and tommorow time to take part at guessing maps – this map easy for me – because I was speaker at Croatian open and checking controls before race and collecting some afterwards. Jan, you are clever – this terrain is not the total typical one in Croatia. Also its something special in the area around Delnice – normally many rocks and stones and this one flat, contours 2,5 and you have to use compass very carefully. So my tip is Croatia – Sungerski lug and come to this years Croatia Open. One race will be again at the sea and Island Krk. [Guess: Croatia. Thanks for all the info, Wolfgang:)]
Croatia Open 2012 – day 4. One of my favourite competitions from this year! Such interesting terrain, starting from stony hell, to mediterranean coastal city, and then to this beautiful flat karst plateau with moss everywhere! [Guess: Croatia. Thanks BarkaszD – you were right again:)]
This is Croatia: it seems Vidnava, even if it's only probably the same type of terrain [Guess: Croatia. Thanks Alessio – Croatia is correct!]
It could be La Feclaz but is not. The way these depressions are drawn in this flat area makes the answer easy: Sungerski lug, Croatia Open 2012 [Guess: Croatia. Thanks Tibor, you got it again!]
At first view I was really surprised, but then I remembered one map that was shown as a sample to promote some races in Croatia… and got it! [Guess: Croatia. Thanks Brunic, you got that. Nice terrain it is!]
OK, I have seen maps like this from France, Spain & Portugal. However, the terrain is so flat that it can also be from many other places. :-( I'll go with Spain… [Guess: Spain. Sorry Terje, time to get to Croatia and test this out!]
Beware of the bears! [Guess: Croatia. Thanks Yves, a lot of bears around here, yes :)]
From the beginning I was waiting for Crni Lug! But Sungerski Lug it's also great for orienteering! [Guess: Croatia. Thanks Gigi – Crni Lug would be too easy:)]
Croatia Open 2012 is my guess :) [Guess: Croatia. Thanks Puttemans, that's it!]
Looks good map. [Guess: Italy. The map is great, Saku, but your guess was unfortnuately wrong…]
I don't know what to say, you can virtually find this kind of terrain in whole europe… [Guess: Austria. Sorry, Austria was wrong, Tom. Not sure you can find this terrain type anywhere, though – for me it looks really special. And wait until you have been out in the forest…]
Croatian Open 2012. [Guess: Croatia. Thanks Sim, that's right!]
Recognised it the second I opened the webpage! Sungerski lug I, Croatia Open 2011… my first 5 days event :-) I really enjoyed this flat terrain!! [Guess: Croatia. Thanks Beatrice, that's right!]
Too easy….Sungerski lug :P [Guess: Croatia. Thanks Osamoborac – easy for you, yes :)]
I had no idea at all this time. Was looking for it in Hungary, Slovenia, …and finally found it in Croatia. Tough one. [Guess: Croatia. Hehe Tatam, you are starting to work hard. You've got to try this one out – it is quite nice!]
Sungerski lug ;) [Guess: Croatia. Thanks Peter, that's it!]
I remembered that I already saw this map somewhere…at the beginning I went the wrong way and tried to find it in Italy, but of course it's Croatia, Sungerski lug, Croatia Open 2011. Unfortunately I missed the opportunity to run there last Summer… maybe some time:) [Guess: Croatia. Thanks Jurgis – there will be new opportunities to try this out I am sure! ]
This is Sungerski Lug . in Croatia. I`ve been this summer there. [Guess: Croatia. Thanks Kirill – then it was easy for you…]
Third map in the quiz I run. And it seems like not only the map, but the course as well ;) http://nashklub.dp.ua/doma/show_map.php?user=VL&map=89 [Guess: Croatia. Thanks Vladyslav, too easy then;)]
Sungerski lug! Was there last winter with olgy. Though it were snow we did the training as masstart. Don't know if I ever felt more strong. But I missed so much… [Guess: Croatia. Thanks Larzsa – at least you got the country right!]
Can this bee france [Guess: France. Sorry Isac, this isn't France, no… Might be some similar terrains there, but I have not seen anything like this..]
Looks more than nice – but still a white spot on my orienteering country list. What a shame! [Guess: Croatia. Thanks Fritz – you should go there one day indeed!]
Maps extracts are getting smaller day by day !! [Guess: Croatia. Thanks Riccardo – can not make it too easy either, can we?]
This looks like terrain in Australia (victoria or tasmania maybe?) :) [Guess: Australia. Good try Riley – but faaar away! ]
We already have had Slovenia, so this must be Croatia;) [Guess: Croatia. Thanks Eemeli, that's it!]
Ajaj, almost too late again. No time to search. Could it be Croatia? Or Poland? [Guess: Croatia. Just in time, Eva – and lucky in addition:)]
Not all of you hit the jackpot on Day 21 – here is the overview over tips: