Todays leg in Route to Christmas is from the Matera course which finished second in Course of th Year 2013. This 7th leg in the M21E course is one of the longest legs on the course.

This particular course had a lot of challenging legs – the shorter ones being just as tricky as the long ones.
Matera is legendary – a place where sprint is really fun and demanding from the very first step and until the end. This particular course had a lot of challenging legs – the shorter ones being just as tricky as the long ones. You never get to rest.
The leg is as usually first provided without routes – you may take a look at it and think about how you would attack this leg (if the image is too small, you may click on it to get it larger):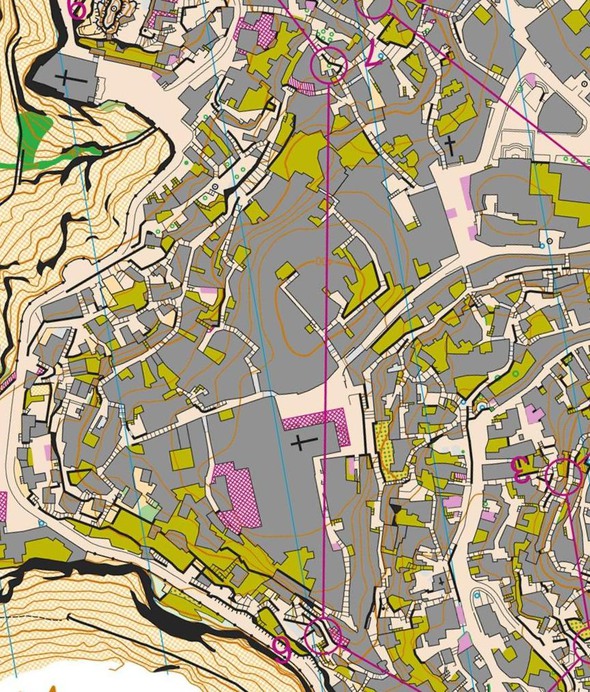 Location
You find other maps from the area in omaps.worldofo.com here. See also latest additions in 3DRerun from this area in order to learn more about this terrain type.
Webroute
Next you can draw your own route using the 'Webroute' below. Think through how you would attack this leg, and draw the route you would have made. Some comments about why you would choose a certain route are always nice for the other readers.
Then you can take a look at how the runners have solved this leg below. I have only got two runners – and Bergman also had significantly higher speed – thus I can not say for sure if left or right is faster based on the GPS. Also, there are three different variants of the right most version (the one drawn, going out the same way as Bergman or going "backwards") As of now I have not found any split times either – but I know that Gueorgiou run to the right. What I can say however is:
First illustration: The first one is simply the two alternative route choices with length (in meters) and time for the two runners. Note that the rightmost route is some meters shorter.
Second illustration: The pace of the runners is shown – where green is fast and red is slow. From the red parts of the rightmost route you see how the runner has to slow down around corners and in stairs – while the one running left can run full speed nearly all the way.
My guess would be that left (Bergman's route) is a bit faster – but I am sure some of the readers an enlighten us in the comments …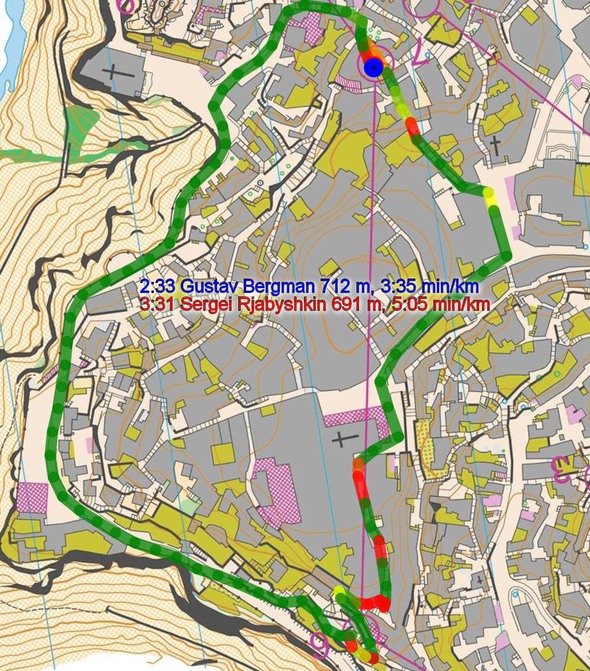 Update based on comment: Thanks to Gunnar Veastad for the comment regarding the length of Bergman's route versus the one of Rjabyshkin. I relied on the GPS-lengths (which is dangerous in sprint – I know- sorry I took a shortcut there), but as Gunnar points out and my accurate measurement below shows, the length difference is 90 meters (15%). I still guess that Bergman's is a bit faster – but I wouldn't bet a lot of money on it…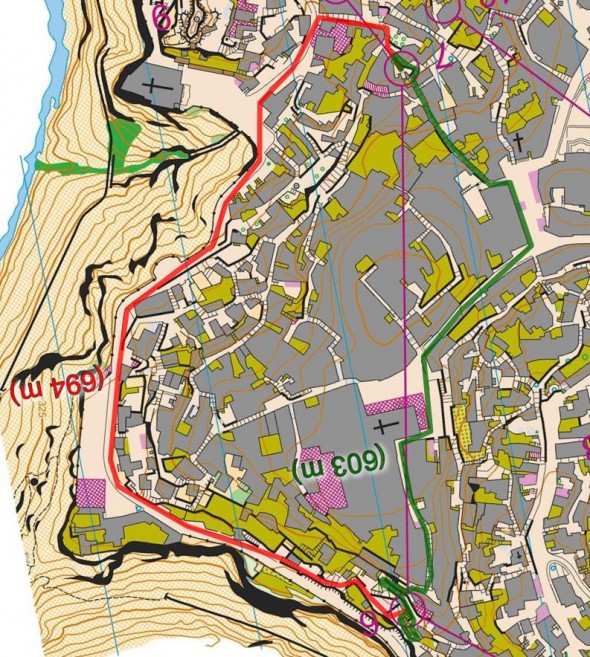 "Solution" Day 1
It is always interesting to see what World of O's readers thought would be the best solution. Here is a density map showing which routes were drawn yesterday – quite a nice spread – and we can still note that most chose the correct choice… And of course: The correct choice is not the same for all – some SHOULD take the path around to the left to get a secure attackpoint.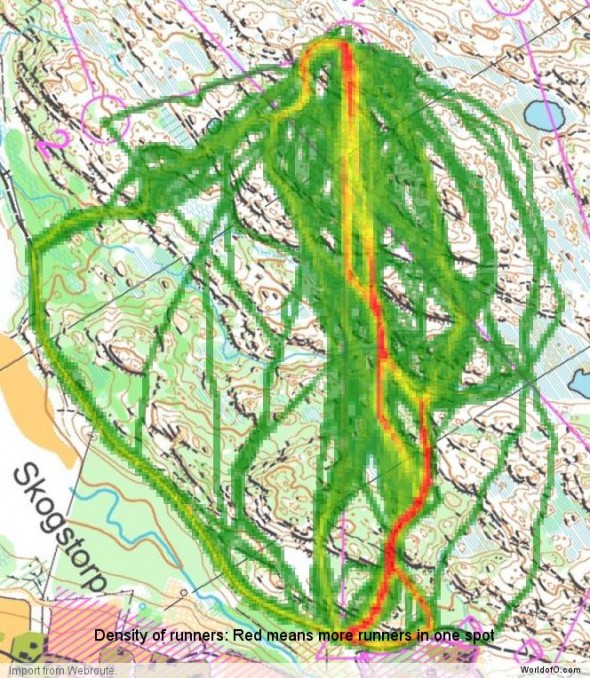 Additional information
You find the complete map in omaps.worldofo.com at this location.
Route to Christmas series
The 'Route to Christmas' series at World of O has been very popular the last years – and I have therefore decided to continue the series this Christmas as well. If you have got any good legs in RouteGadget, GPSSeuranta or 3DRerun from 2013-competitions – or old forgotten ones which are still interesting – please email me the link at Jan@Kocbach.net, and I'll include it in Route to Christmas if it looks good. Route to Christmas will not be interesting if YOU don't contribute.
Not all legs are taken for the interesting routechoice alternatives – some are also taken because the map is interesting – or because it is not straightforward to see what to do on a certain leg. Any comments are welcome – especially if you ran the event chosen for todays leg!
Note that there may be some errors in the Routegadget data (sometimes somebody draws a route for another runner just for fun). Please add a comment below if you spot en error.