On the 7th day in this Christmas calendar we travel to the country (or one of the countries) of Santa Claus – Finland. The place is Vuokatti – and the race is WOC middle. Today we take a look at the women's course – the long leg to control number 7 is the chosen one.
Some of you might already have taken a look at this leg earlier – but then again being forced to draw what you'd done is something else than just looking at the course.
The leg is as usually first provided without routes – you may take a look at it and think about how you would attack this leg (if the image is too small, you may click on it to get it larger):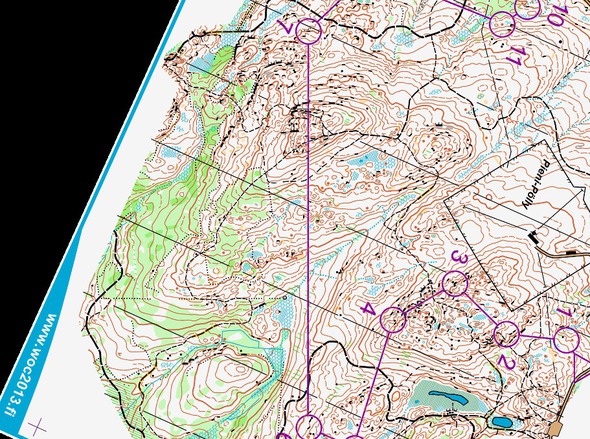 Location
You find other maps from the area in omaps.worldofo.com here. See also latest additions in 3DRerun from this area in order to learn more about this terrain type.
Webroute
Next you can draw your own route using the 'Webroute' below. Think through how you would attack this leg, and draw the route you would have made. Some comments about why you would choose a certain route are always nice for the other readers.
Then you can take a look at how the runners have solved this leg below.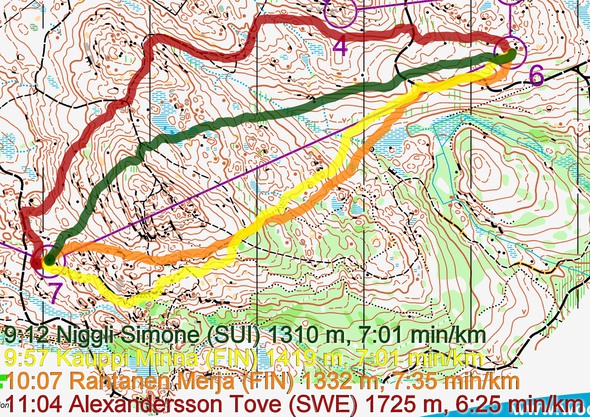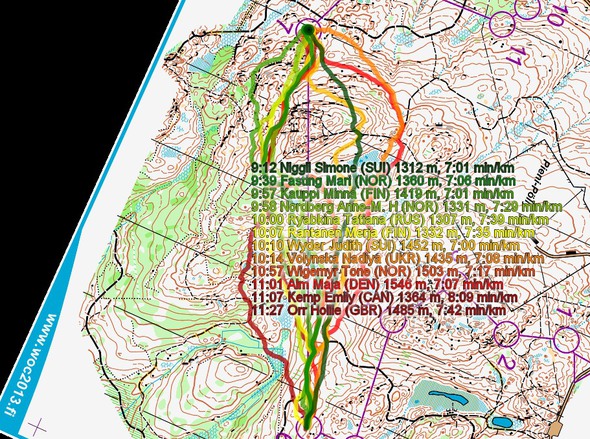 Comments/analysis
Here is the text I wrote together with Anders Frick about this leg in the WOC magazine (with some small modifications):
The women had their longest leg from control 6 to 7 – a 1180 meter long leg with a big hill in the middle of the leg. Tove Alexandersson (11:04, 1725 meters) chose to run a long way around to the right along a forest path almost all the way – missing the control with half a minute in addition to choosing a bad route choice. Alexandersson loses nearly two minutes to Simone Niggli (9:12, 1310 meters) who runs nearly direct – rounding the hill on the right side and taking some additional ascent.
– I made a quite big mistake on the long leg and lost some time there. But I am overall satisfied. The terrain was as tough as I expected and I feel a little bit tired after this week, but I think that all of us are, says Tove Alexandersson.
On the long leg Niggli takes over the lead from Alexandersson – and never gives it back to anyone. Both Kauppi (9:57, 1419 meter) and Rantanen (10:07, 1330 meter) go left on this leg. Niggli wins the leg with 27 seconds ahead of Mari Fasting who goes left of the hill, but slightly closer to the line than Kauppi/Rantanen.

In summary, you should keep fairly close to the line – just do a small detour to avoid the very top. I've got several other interesting legs from WOC to put up – do you want to see those, or rather other more "unknown" legs?
Density map
See below for a density map of some of the ones who have drawn their routes so far (will be updated when some readers have drawn their suggestions).
Additional information
You find the complete map in omaps.worldofo.com at this location.
Route to Christmas series
The 'Route to Christmas' series at World of O has been very popular the last years – and I have therefore decided to continue the series this Christmas as well. If you have got any good legs in RouteGadget, GPSSeuranta or 3DRerun from 2013-competitions – or old forgotten ones which are still interesting – please email me the link at Jan@Kocbach.net, and I'll include it in Route to Christmas if it looks good. Route to Christmas will not be interesting if YOU don't contribute.
Not all legs are taken for the interesting routechoice alternatives – some are also taken because the map is interesting – or because it is not straightforward to see what to do on a certain leg. Any comments are welcome – especially if you ran the event chosen for todays leg!
Note that there may be some errors in the Routegadget data (sometimes somebody draws a route for another runner just for fun). Please add a comment below if you spot en error.