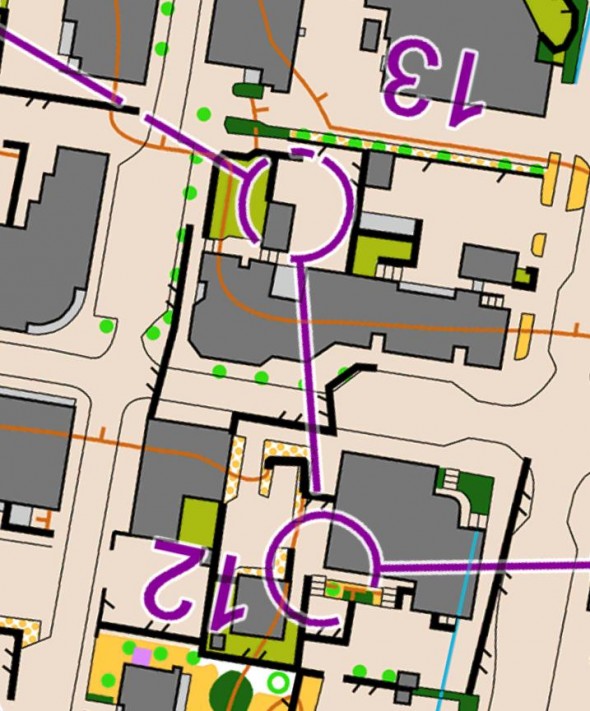 [Updated with results] The World Cup race in sprint in Imatra today offered one of the most complex labyrinths of artificially built fences seen in the World Cup so far. This made the race very interesting and challenging – but still the top runners managed to make the right choices on most of the legs. The EOC winners – and qualification winners – Judith Wyder and Jonas Leandersson – took the victories.
Judith Wyder won the women's race ahead of Maja Alm – with three women in shared third place: Tove Alexandersson, Julia Gross and Helena Jansson. Wyder looked like a sure winner already from the start, but Alm had a very strong finish and got closer and closer for every meter in the last part of the course. Wyder has been very strong in the sprints this year – also winning the European Champs after a slow start.
Alexandersson was running fast, but did some big mistakes, and was early out of the fight for victory.
Another one for Leandersson – Belgian success in third
For the ones following sprint orienteering closely, it was no big surprise that Belgian Yannick Michiels could climb onto the podium in third place today. Michiels started earlier than the main favourites after losing some time in the qualification, and had a clear lead when the big favourites Daniel Hubmann and Jonas Leandersson started.  Hubmann and Leandersson had a tight fight all the way to the finish – Michiels having the same time as Hubmann three controls before the finish. As many times before, Hubmann's finish was fantastic, and he could raise his arms after beating Michiels with 2 seconds.
Last starter Leandersson was however a few seconds faster – taking the lead from Hubmann at control 13 and being faster from there and into the finish.
Maps and GPS-tracking
Results
Women
1
140
Judith Wyder
Switzerland
13:01
2
139
Maja Alm
Denmark
13:03
+2
3
134
Tove Alexandersson
Sweden
13:20
+19
132
Julia Gross
Switzerland
13:20
+19
135
Helena Jansson
Sweden
13:20
+19
6
116
Galina Vinogradova
Russia
13:21
+20
7
119
Venla Niemi
Finland
13:26
+25
8
128
Lena Eliasson
Sweden
13:48
+47
9
138
Minna Kauppi
Finland
13:49
+48
10
122
Marika Teini
Finland
13:53
+52
11
127
Rahel Friederich
Switzerland
14:01
+1:00
12
136
Nadiya Volynska
Ukraine
14:02
+1:01
106
Léa Vercellotti
France
14:02
+1:01
14
111
Emma Johansson
Norway
14:07
+1:06
15
124
Anastasia Tikhonova
Russia
14:10
+1:09
16
126
Gøril Sund
Norway
14:13
+1:12
17
107
Silje Jahren
Norway
14:15
+1:14
18
109
Tessa Hill
Great Britain
14:19
+1:18
19
112
Josefine Engström
Sweden
14:20
+1:19
20
114
Anna Närhi
Finland
14:21
+1:20
103
Elena Roos
Switzerland
14:21
+1:20
Men
1
40
Jonas Leandersson
Sweden
12:20
2
38
Daniel Hubmann
Switzerland
12:24
+4
3
28
Yannick Michiels
Belgium
12:26
+6
4
13
Jonas Vytautas Gvildys
Lithuania
12:40
+20
5
39
Tue Lassen
Denmark
12:44
+24
6
31
Gustav Bergman
Sweden
12:50
+30
7
32
Scott Fraser
Great Britain
12:54
+34
8
21
Mårten Boström
Finland
13:00
+40
14
Gaute Steiwer
Norway
13:00
+40
10
6
Severi Kymäläinen
Finland
13:02
+42
11
25
Torgeir Nørbech
Norway
13:03
+43
12
35
Søren Bobach
Denmark
13:07
+47
13
29
Jerker Lysell
Sweden
13:09
+49
14
27
Jonas Mathys
Switzerland
13:11
+51
15
36
Frédéric Tranchand
France
13:14
+54
16
18
William Lind
Sweden
13:21
+1:01
17
11
Øystein Østerbø
Norway
13:23
+1:03
23
Andreas Rüedlinger
Switzerland
13:23
+1:03
19
34
Martin Regborn
Sweden
13:25
+1:05
20
33
Florian Howald
Switzerland
13:27
+1:07
Note: Sorry for late update of results – wanted to watch the broadcast in the evening without knowing the winner. Great production, by the way  …