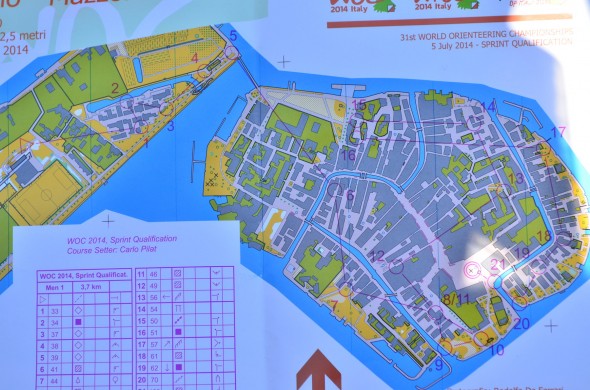 [Updated with better quality picture] The big surprise of the day was Mårten Boström failing to qualify for the final – except for that everything went according to plan for the big favourites in today's sprint qualification in Burano by Venice.
Heat winners were Daniel Hubmann, Jonas Leandersson and Yannick Michiels among the men and Tove Alexandersson, Emma Klingenberg and Lena Eliasson among the women.
Above is a picture of the man's map – heat A.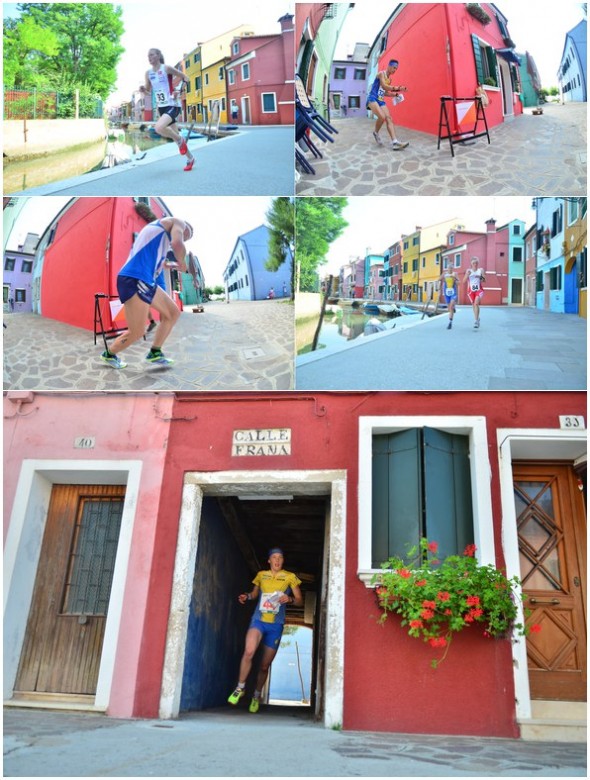 Full results:
Results
Men Heat 1
| | | | | | | | |
| --- | --- | --- | --- | --- | --- | --- | --- |
| 1 | Hubmann Daniel | SUI | 10:33:00 | 05:36 (1) | 11:47 (1) | 12:37 (1) | +00:00 |
| 2 | Lysell Jerker | SWE | 10:27:00 | 05:36 (1) | 11:48 (2) | 12:38 (2) | +00:01 |
| 3 | Tranchand Frederic | FRA | 10:29:00 | 05:46 (8) | 11:56 (3) | 12:44 (3) | +00:07 |
| 4 | Gvildys Jonas Vytautas | LTU | 10:28:00 | 05:42 (5) | 12:12 (4) | 12:59 (4) | +00:22 |
| 5 | Strain Murray | GBR | 10:01:00 | 05:50 (10) | 12:13 (6) | 13:02 (5) | +00:25 |
| 6 | Lassen Tue | DEN | 10:17:00 | 05:41 (4) | 12:12 (4) | 13:03 (6) | +00:26 |
| 7 | Glibov Ruslan | UKR | 10:10:00 | 05:43 (6) | 12:17 (7) | 13:07 (7) | +00:30 |
| 8 | Nikolov Kiril | BUL | 10:31:00 | 05:53 (12) | 12:23 (8) | 13:14 (8) | +00:37 |
| 9 | Kymalainen Severi | FIN | 10:39:00 | 05:44 (7) | 12:23 (8) | 13:14 (9) | +00:37 |
| 10 | Hendrickx Tomas | BEL | 10:18:00 | 05:50 (10) | 12:30 (12) | 13:17 (10) | +00:40 |
| 11 | Tenani Alessio | ITA | 10:40:00 | 05:55 (13) | 12:27 (11) | 13:17 (11) | +00:40 |
| 12 | Dent Julian | AUS | 10:36:00 | 05:38 (3) | 12:24 (10) | 13:18 (12) | +00:41 |
| 13 | Nykodym Milos | CZE | 10:04:00 | 05:58 (17) | 12:31 (13) | 13:20 (13) | +00:43 |
| 14 | Osterbo Oystein Kvaal | NOR | 10:35:00 | 06:08 (23) | 12:35 (15) | 13:22 (14) | +00:45 |
| 15 | Romao Tiago | POR | 10:24:00 | 05:58 (17) | 12:33 (14) | 13:23 (15) | +00:46 |
Men Heat 2
| | | | | | | | |
| --- | --- | --- | --- | --- | --- | --- | --- |
| 1 | Leandersson Jonas | SWE | 10:41:00 | 05:37 (1) | 11:42 (1) | 12:30 (1) | +00:00 |
| 2 | Kral Vojtech | CZE | 10:33:00 | 05:42 (4) | 11:52 (3) | 12:40 (2) | +00:10 |
| 3 | Jones Kristian | GBR | 10:21:00 | 05:44 (5) | 11:50 (2) | 12:40 (3) | +00:10 |
| 4 | Anttonen Antti | FIN | 10:02:00 | 05:53 (10) | 11:57 (5) | 12:46 (4) | +00:16 |
| 5 | Tikhonov Gleb | RUS | 10:06:00 | 05:54 (13) | 11:57 (5) | 12:46 (5) | +00:16 |
| 6 | Blanes Andreu | ESP | 10:18:00 | 05:41 (3) | 11:58 (7) | 12:47 (6) | +00:17 |
| 7 | Steiwer Gaute Hallan | NOR | 10:10:00 | 05:40 (2) | 11:56 (4) | 12:48 (7) | +00:18 |
| 8 | Adamski Philippe | FRA | 10:01:00 | 05:48 (7) | 11:58 (7) | 12:48 (8) | +00:18 |
| 9 | Vaher Sander | EST | 10:40:00 | 06:03 (23) | 12:06 (10) | 12:54 (9) | +00:24 |
| 10 | Bobach Soren | DEN | 10:35:00 | 05:53 (10) | 12:06 (10) | 12:54 (10) | +00:24 |
| 11 | Simonin Nicolas | IRL | 10:14:00 | 05:50 (8) | 12:05 (9) | 12:55 (11) | +00:25 |
| 12 | Hubmann Martin | SUI | 10:08:00 | 06:04 (24) | 12:12 (12) | 12:58 (12) | +00:28 |
| 13 | Dislers Davis | LAT | 10:39:00 | 05:52 (9) | 12:18 (13) | 13:07 (13) | +00:37 |
| 14 | Seppi Andrea | ITA | 10:07:00 | 05:55 (14) | 12:22 (14) | 13:14 (14) | +00:44 |
| 15 | Kerenyi Mate | HUN | 10:20:00 | 06:00 (19) | 12:23 (15) | 13:15 (15) | +00:45 |
Men Heat 3
| | | | | | | | |
| --- | --- | --- | --- | --- | --- | --- | --- |
| 1 | Michiels Yannick | BEL | 10:36:00 | 05:33 (1) | 11:58 (1) | 12:46 (1) | +00:00 |
| 2 | Regborn Martin | SWE | 10:06:00 | 05:49 (4) | 12:02 (2) | 12:50 (2) | +00:04 |
| 3 | Prochazka Jan | CZE | 10:23:00 | 05:54 (9) | 12:12 (3) | 13:01 (3) | +00:15 |
| 4 | Ushkvarok Pavlo | UKR | 10:25:00 | 05:46 (2) | 12:17 (5) | 13:07 (4) | +00:21 |
| 5 | Fraser Scott | GBR | 10:30:00 | 06:00 (19) | 12:16 (4) | 13:08 (5) | +00:22 |
| 6 | Podzinski Rafal | POL | 10:10:00 | 05:58 (17) | 12:20 (6) | 13:08 (6) | +00:22 |
| 7 | Sidorov Alexey | RUS | 10:21:00 | 05:57 (15) | 12:21 (7) | 13:09 (7) | +00:23 |
| 8 | Hougaard Boesen Andrea | DEN | 10:07:00 | 05:50 (5) | 12:23 (8) | 13:13 (8) | +00:27 |
| 9 | Basset Lucas | FRA | 10:18:00 | 05:55 (12) | 12:27 (10) | 13:15 (9) | +00:29 |
| 10 | Kyburz Matthias | SUI | 10:28:00 | 05:56 (14) | 12:29 (11) | 13:16 (10) | +00:30 |
| 11 | Leal Tiago | POR | 10:02:00 | 05:55 (12) | 12:25 (9) | 13:17 (11) | +00:31 |
| 12 | Merl Robert | AUT | 10:31:00 | 05:47 (3) | 12:29 (11) | 13:18 (12) | +00:32 |
| 13 | Makela Tuomo | FIN | 10:27:00 | 05:50 (5) | 12:35 (13) | 13:22 (13) | +00:36 |
| 14 | Paulins Arturs | LAT | 10:20:00 | 06:10 (22) | 12:41 (16) | 13:28 (14) | +00:42 |
| 15 | Bartkevicius Algirdas | LTU | 10:04:00 | 05:54 (9) | 12:39 (15) | 13:29 (15) | +00:43 |
Women Heat 1
| | | | | | | | |
| --- | --- | --- | --- | --- | --- | --- | --- |
| 1 | Klingenberg Emma | DEN | 09:31:00 | 06:12 (1) | 12:26 (1) | 12:57 (1) | +00:00 |
| 2 | Wyder Judith | SUI | 09:27:00 | 06:21 (2) | 12:31 (2) | 13:03 (2) | +00:06 |
| 3 | Volynska Nadiya | UKR | 09:16:00 | 06:43 (3) | 13:24 (3) | 13:55 (3) | +00:58 |
| 4 | Strand Lina | SWE | 09:07:00 | 06:50 (6) | 13:24 (3) | 13:56 (4) | +00:59 |
| 5 | Vinogradova Galina | RUS | 09:32:00 | 06:52 (7) | 13:39 (5) | 14:10 (5) | +01:13 |
| 6 | Horcickova Vendula | CZE | 09:21:00 | 06:49 (5) | 13:42 (6) | 14:14 (6) | +01:17 |
| 7 | Allston Hanny | AUS | 09:03:00 | 06:43 (3) | 13:51 (7) | 14:23 (7) | +01:26 |
| 8 | Grigorova-Burgova Anto | BUL | 09:20:00 | 06:52 (7) | 13:52 (8) | 14:25 (8) | +01:28 |
| 9 | Fabre Miek | BEL | 09:30:00 | 07:03 (11) | 14:08 (9) | 14:42 (9) | +01:45 |
| 10 | Gvildyte Tekle Emilija | LTU | 09:09:00 | 07:08 (13) | 14:16 (10) | 14:48 (10) | +01:51 |
| 11 | Teini Marika | FIN | 09:18:00 | 07:01 (10) | 14:21 (11) | 14:53 (11) | +01:56 |
| 12 | Loesch Susen | GER | 09:24:00 | 07:15 (20) | 14:25 (12) | 14:59 (12) | +02:02 |
| 13 | Johansson Emma Matilda | NOR | 09:15:00 | 07:09 (15) | 14:27 (13) | 15:00 (13) | +02:03 |
| 14 | Johanson Liis | EST | 09:23:00 | 06:53 (9) | 14:27 (13) | 15:00 (14) | +02:03 |
| 15 | Kelemen Bernadett | HUN | 09:02:00 | 07:12 (18) | 14:33 (15) | 15:06 (15) | +02:09 |
Women Heat 2
| | | | | | | | |
| --- | --- | --- | --- | --- | --- | --- | --- |
| 1 | Alexandersson Tove | SWE | 09:15:00 | 06:50 (1) | 13:06 (1) | 13:38 (1) | +00:00 |
| 2 | Mironova Svetlana | RUS | 09:02:00 | 06:50 (1) | 13:09 (2) | 13:42 (2) | +00:04 |
| 3 | Vercellotti Lea | FRA | 09:23:00 | 06:59 (6) | 13:15 (4) | 13:47 (3) | +00:09 |
| 4 | Moeller Alm Maja | DEN | 09:19:00 | 07:00 (8) | 13:14 (3) | 13:47 (4) | +00:09 |
| 5 | Ingham Lizzie | NZL | 09:30:00 | 06:51 (4) | 13:16 (5) | 13:48 (5) | +00:10 |
| 6 | Friederich Rahel | SUI | 09:08:00 | 06:59 (6) | 13:18 (6) | 13:48 (6) | +00:10 |
| 7 | Niemi Venla | FIN | 09:27:00 | 06:56 (5) | 13:20 (7) | 13:52 (7) | +00:14 |
| 8 | Lind Anne Johanne | NOR | 09:03:00 | 06:50 (1) | 13:34 (8) | 14:06 (8) | +00:28 |
| 9 | Kadan Ursula | AUT | 09:26:00 | 07:22 (13) | 13:48 (9) | 14:18 (9) | +00:40 |
| 10 | Skrastina Aija | LAT | 09:20:00 | 07:25 (14) | 13:50 (10) | 14:22 (10) | +00:44 |
| 11 | Sistkova Iveta | CZE | 09:28:00 | 07:14 (11) | 14:07 (11) | 14:38 (11) | +01:00 |
| 12 | Ilieva Iliana | BUL | 09:31:00 | 07:15 (12) | 14:10 (12) | 14:43 (12) | +01:05 |
| 13 | Hao Shuangyan | CHN | 09:21:00 | 07:32 (17) | 14:13 (13) | 14:43 (13) | +01:05 |
| 14 | Kaasiku Evely | EST | 09:12:00 | 07:13 (10) | 14:18 (14) | 14:51 (14) | +01:13 |
| 15 | Panchenko Olha | UKR | 09:25:00 | 07:26 (15) | 14:32 (15) | 15:05 (15) | +01:27 |
Women Heat 3
| | | | | | | | |
| --- | --- | --- | --- | --- | --- | --- | --- |
| 1 | Eliasson Lena | SWE | 09:30:00 | 06:32 (1) | 13:08 (1) | 13:39 (1) | +00:00 |
| 2 | Ronning Sund Goril | NOR | 09:23:00 | 06:46 (6) | 13:14 (2) | 13:46 (2) | +00:07 |
| 3 | Effeney Rachel | AUS | 09:31:00 | 06:35 (3) | 13:17 (3) | 13:51 (3) | +00:12 |
| 4 | Gross Julia | SUI | 09:11:00 | 06:45 (5) | 13:25 (4) | 13:55 (4) | +00:16 |
| 5 | Bagger Hagner Stine | DEN | 09:07:00 | 06:49 (7) | 13:38 (5) | 14:09 (5) | +00:30 |
| 6 | Knapova Jana | CZE | 09:03:00 | 06:43 (4) | 13:39 (6) | 14:10 (6) | +00:31 |
| 7 | Hill Tessa | GBR | 09:21:00 | 06:58 (10) | 13:41 (7) | 14:13 (7) | +00:34 |
| 8 | Vinogradova Natalia | RUS | 09:13:00 | 06:50 (8) | 13:49 (9) | 14:20 (8) | +00:41 |
| 9 | Narhi Anna | FIN | 09:02:00 | 06:33 (2) | 13:45 (8) | 14:20 (9) | +00:41 |
| 10 | Razaityte Gabija | LTU | 09:28:00 | 07:05 (12) | 13:50 (10) | 14:21 (10) | +00:42 |
| 11 | Guizzardi Michela | ITA | 09:22:00 | 07:06 (14) | 14:05 (12) | 14:38 (11) | +00:59 |
| 12 | Arniece Liga | LAT | 09:26:00 | 06:55 (9) | 14:21 (13) | 14:53 (12) | +01:14 |
| 13 | Rafols Ona | ESP | 09:18:00 | 07:23 (21) | 14:22 (14) | 14:54 (13) | +01:15 |
| 14 | Gyurko Fanni | HUN | 09:24:00 | 07:22 (18) | 14:23 (15) | 14:57 (14) | +01:18 |
| 15 | Saeger Samantha | USA | 09:27:00 | 07:05 (12) | 14:28 (16) | 15:01 (15) | +01:22 |