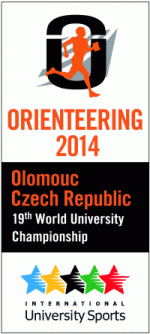 [Update: Live Results Link] The World University Orienteering Championships starts with a mixed sprint relay in Olomouc Tuesday August 12th at 15:30 CET. With 5 races in 5 days – including a tough long distance race at day 2 – this will be a tough 5-day week for the athletes.
LIVE Results/splits: Live results from Racom (only live services)
There are strong start fields in WUOC this year – the biggest star at the start is Swiss World Champion and overall World Cup winner Matthias Kyburz – but Kyburz will get a tough fight from several WOC and WOC medalists. Main favourites are the rest of the Swiss team, a strong Czech team on home ground as well as strong Swedish, French, Norwegian, Finnish and British teams.
The biggest stars in the women's class are probably the Swiss women – with EOC relay winner and EOC sprint bronze medalist Julia Gross as one of the strongest. But also in the women's class there are several EOC and WOC medalists – and many athletes with Top10 results from WOC and EOC.
WUOC takes place every two years and is where the best student athletes from around the world come to battle it out. WUOC was first held in 1978 in Finland and is a FISU event.
Program
Tuesday August 12th: Mixed sprint relay – 15:30 CET
Wednesday August 13th: Long – 09:00 CET
Thursday August 14th: Sprint – 15:30 CET
Friday August 15th: Middle – 10:00 CET
Saturday August 16th: Relay – 10:00 CET
Useful links
Terrain
Specifically I had heard that the Czech like to put controls hidden in the dark green areas on say a small yellow clearing or white spot
The terrain is typical continental/Czech terrain – with the long distance terrain more hilly with route choice options whereas the relay/middle terrain is flatter with more room for direction changes and typical middle distance character courses. See some old maps from the competition area for long/middle below in the description of each race – and old maps from all disciplines here.
Expect some tricky control points. As Alison Campbell put is so nicely: – Specifically I had heard that the Czech like to put controls hidden in the dark green areas on say a small yellow clearing or white spot.
Lilian Forsgren describes the terrains for the forest races as follows:
The long-distance will probably be a really demanding experience since it's really steep hills with deep valleys in-between. I hope for some challenging route choices along the course on wednesday. The middle and relay will then be held in the same area, really flat terrain with quite a lot green areas what it seems. We were out on one of the training areas relevant for this terrain yesterday, and I hope that it can't be worse than that, because it was a lot of green areas and thorn bushes. But anyhow it will be demanding orienteering in this type of terrain as well, with very few details to navigate from.
Mixed sprint relay
Long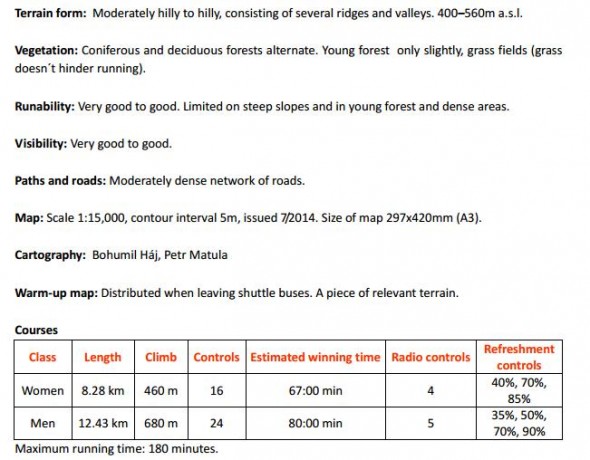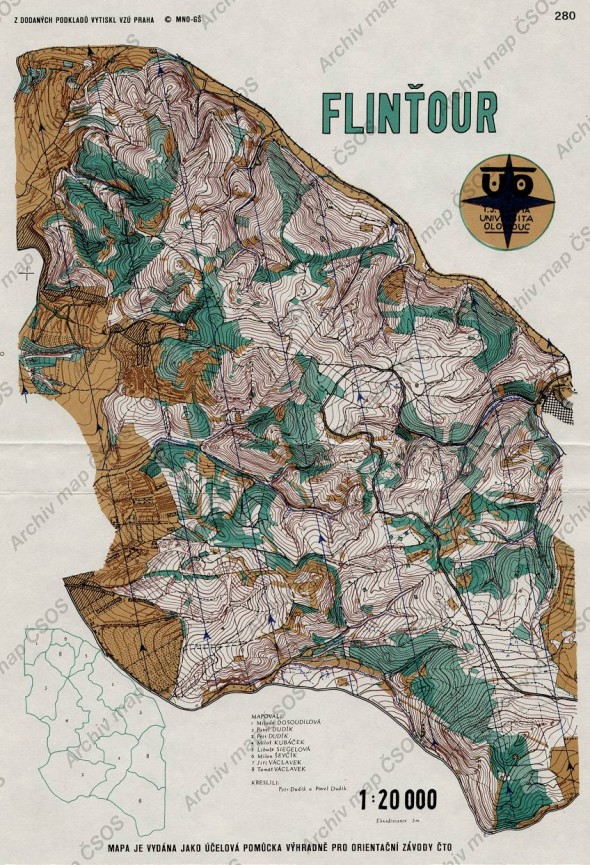 Old map WUOC long (part of terrain)

WUOC Long training map – from here
Sprint
Middle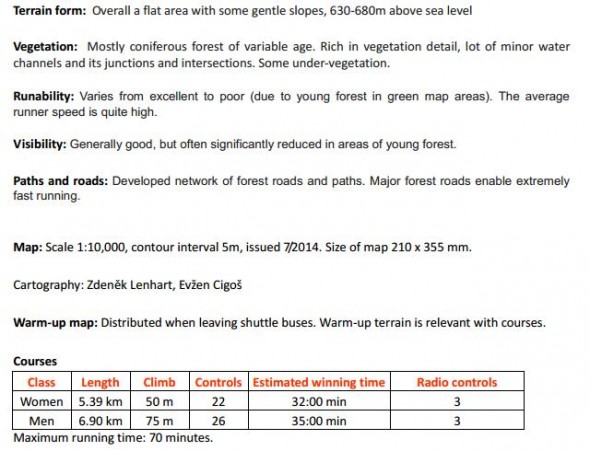 Relay