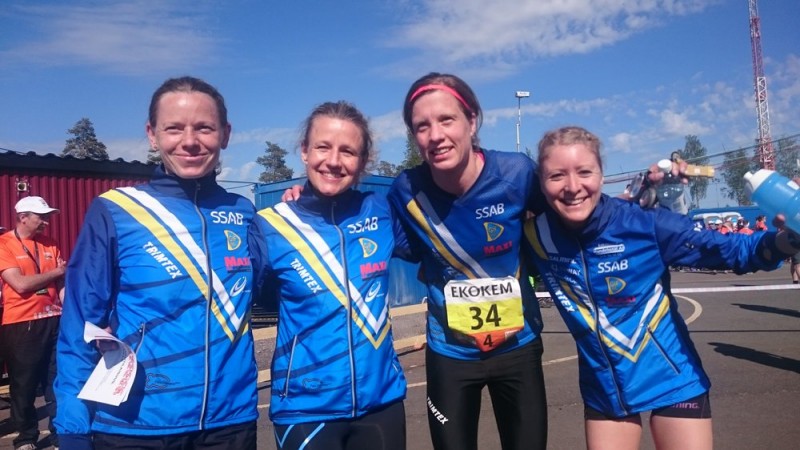 [With Interviews] Another top last leg from Emma Johansson secured the Venla victory for Domnarvets GoIF – just like at 10Mila. Johansson started out 1 minute behind Leksands Rahel Friedrich – caught the Swiss national team runner halfways – and was alone in the lead from there to the finish.
Many teams got trouble at the first leg – giving big gaps and only 60 teams within the first 5 minutes after 5 kilometer running. Some tricky forking controls was part of the reason; favourite teams  OK Linné (+6:29), Kalevan Rasti (+5:07) and OK Pan Århus (+5:39) lost contact already after the first leg and never managed to get up to into the lead again. OK Tisaren's Lilian Forsberg started best – and Domnarvets GoIF also started well in 13th with Dana Safka Brozkova, 1:50 behind.
Leksands OK's Linnea Gustafsson did a great second leg – taking Leksand up into the lead. Domnarvet's veteran Karolina Höjsgaard took Domnarvets up to 5th – 49 seconds behind. Lina Strand won the second leg in Göterborg Majornas second team (Strand is injured, therefore only in the second team).
Third leg won by Helena Jansson in 32 minutes, 5:10 min/km. Estimated 41(!!) minutes #Fastrunning #Jukola pic.twitter.com/RrNc7VKOKp

— WorldofO Live (@WorldofOLive) June 13, 2015
At the third leg, Helena Jansson continued the strong relay for Leksands. With the best time on the leg Jansson changed came back 1 minute ahead of Järla's Emma Klingenberg with Domnarvet's Lena Eliasson in third. Jansson had best time on the leg – just as on 10Mila.
Rahel Friedrich started the last leg first for Leksands – but very strong Emma Johansson came closer and closer and halfways she passed Friedrich without seeing her. From there and on it was only about Johansson – in the end she was more than 3 minutes ahead of Natalia Vinogradova (Alfta ÖSA). The three fastest on the last leg have been around for a while: Kauppi, Hausken Nordberg and Niggli.
Fastest on last leg: Minna Kauppi, Anne Margrethe Hausken, Simone Niggli. Just like 10 years ago #Jukola #goodolddays pic.twitter.com/XOdQ9PCWsI

— WorldofO.com (@worldofo) June 13, 2015
Interviews
Results
1
34
Domnarvets GoIF
SWE
2:53:11
1 Dana Safka Brozkova
51:13
2 Karolina A Höjsgaard
35:46
1:27:00
3 Lena Eliasson
32:55
1:59:55
4 Emma Johansson
53:16
2:53:11
2
27
Alfta ÖSA OK
SWE
2:56:16
1 Galina Vinogradova
50:38
2 Sara Eskilsson
36:37
1:27:16
3 Josefine Engström
35:13
2:02:30
4 Natalia Vinogradova
53:46
2:56:16
3
8
Järla Orientering
SWE
2:56:23
1 Karolin Ohlsson
51:31
2 Elsa Jansson
35:04
1:26:36
3 Emma Klingenberg
33:01
1:59:37
4 Elin Hemmyr Skantze
56:46
2:56:23
4
4
SK Pohjantähti
FIN
2:56:29
1 Heini Wennman
52:28
2 Anna Haataja
35:54
1:28:22
3 Marttiina Joensuu
34:57
2:03:19
4 Sofia Haajanen
53:10
2:56:29
5
92
Leksands OK
SWE
2:56:33
1 Elin Dahlstedt-Tysk
51:33
2 Linnea Gustafsson
34:36
1:26:10
3 Helena Jansson
32:15
1:58:26
4 Rahel Friedrich
58:07
2:56:33
6
2
Tampereen Pyrintö
FIN
2:56:52
1 Lotta Karhola
52:52
2 Sonja Kyrölä
34:35
1:27:28
3 Venla Niemi
35:47
2:03:16
4 Saila Kinni
53:36
2:56:52
7
87
Nydalens SK
NOR
2:58:12
1 Elise Egseth
55:16
2 Anne Johanne Lind
35:16
1:30:33
3 Marte Narum
35:18
2:05:52
4 Anne M Hausken Nordberg
52:19
2:58:12
8
6
Halden SK
NOR
2:58:19
1 Hollie Orr
52:24
2 Eva Jurenikova
35:44
1:28:08
3 Ida Marie Näss Björgul
34:17
2:02:26
4 Sabine Hauswirth
55:53
2:58:19
9
5
OK Tisaren
SWE
2:58:37
1 Lilian Forsgren
49:23
2 Lovisa Persson
39:24
1:28:47
3 Andrea Svensson
37:08
2:05:55
4 Simone Niggli
52:42
2:58:37
10
9
IFK Lidingö SOK
SWE
2:59:39
1 Sarina Jenzer
52:52
2 Annica Gustafsson
35:45
1:28:37
3 Anna Bachman
36:17
2:04:55
4 Helena Karlsson
54:44
2:59:39
Tweets
Voittajakandidaatteja on vielä monia! #jukola pic.twitter.com/YRJqwsuUF5

— Jukolan Viesti (@JukolanViesti) June 13, 2015
So first 100% swedish podium ever #venla

— Sim' (@sim5907) June 13, 2015
Venla 18 minutes faster than stipulated! Men's is supposed to be significantly slower though according to organizers https://t.co/jhPXL9N7h0

— WorldofO Live (@WorldofOLive) June 13, 2015