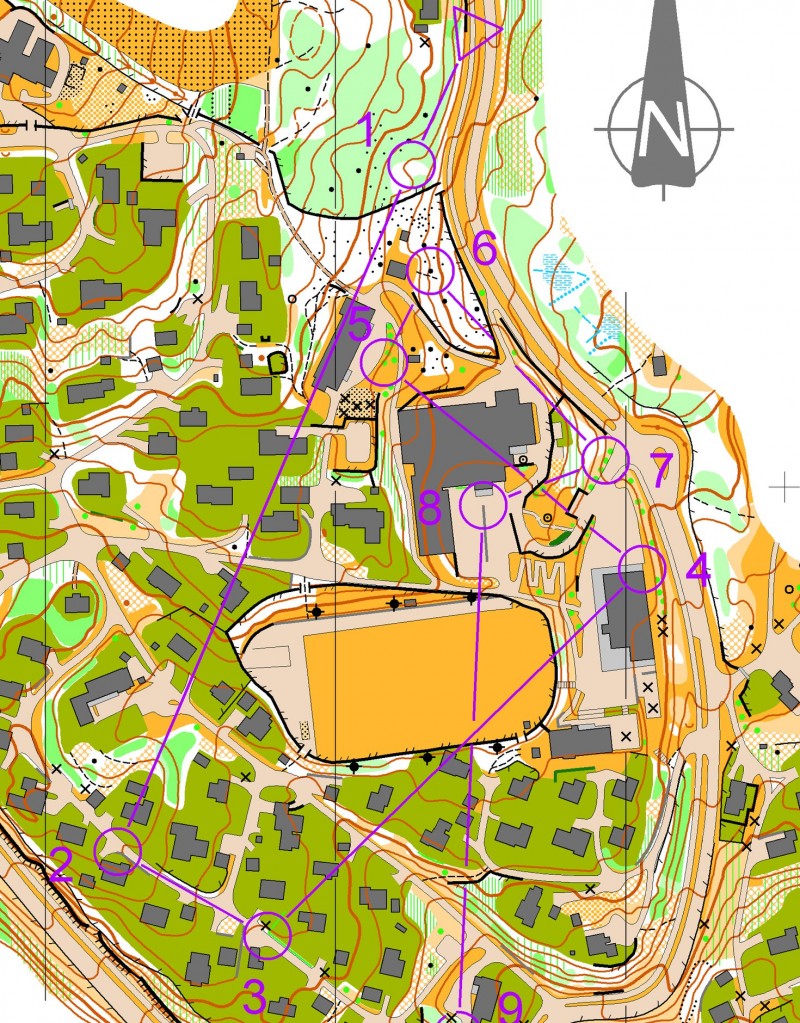 [Updated with split time analysis] 17 year old Simona Aebersold (Switzerland) won the women's class and Tim Robertson (New Zealand) won his second Junior World Championships sprint in a row.
On a hot day in Åmot, Norway, some of the runners struggled keeping up the speed towards the end of the course. Men's winner Tim Robertson even said he had to walk in some of the climbs in the last part of the race.
Women: Aebersold with a clean race
Simona Aebersold (SUI) won 10 seconds ahead of Heidi Martensson (NOR) with Karoliina Ukskoski (FIN) in 3rd at 0:34. Simona Aebersold won 3 of 14 legs and did nearly no mistakes.
Heidi Mårtensson lost a lot of time early in the race – already more than 30 seconds behind Aebersold at the 4th control. First a mistake in the stony forest at the first control, and then a route choice mistake on the long leg to control 4 (see map below). At the 5th control Mårtensson started the chase, and Mårtensson picked time on Aebersold on all controls except for the second last leg. If Mårtensson wouldn't have missed time to the second last, she would have been up there on the same time as Aebersold. Aebersold did run fantastic on this leg though – winning it with 4 seconds, so at the end of the day Mårtensson should have used the opportunity early in the course.
Aebersold on the other hand ran a fantastic first part of the race – especially the leg to the 4th control where she with 1:23 was 9 seconds faster than the second fastest (Ukskoski) and 17 seconds faster than Mårtensson.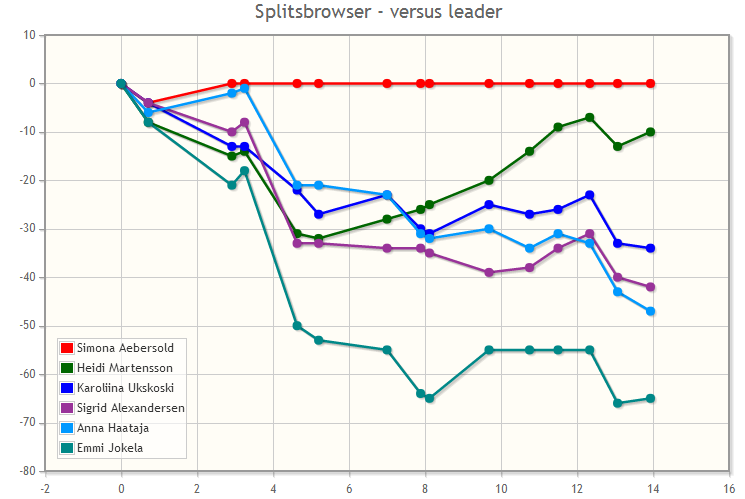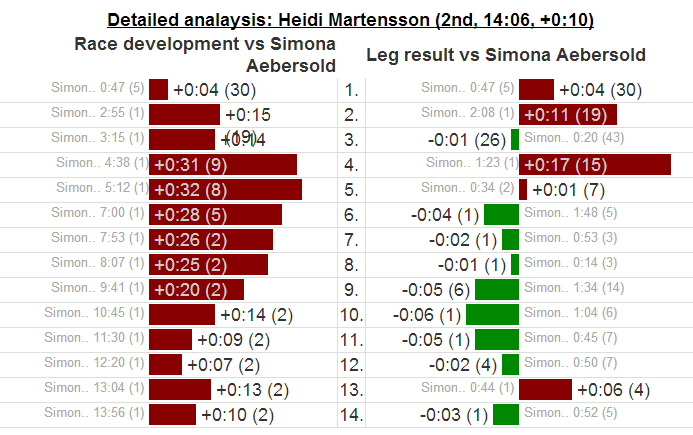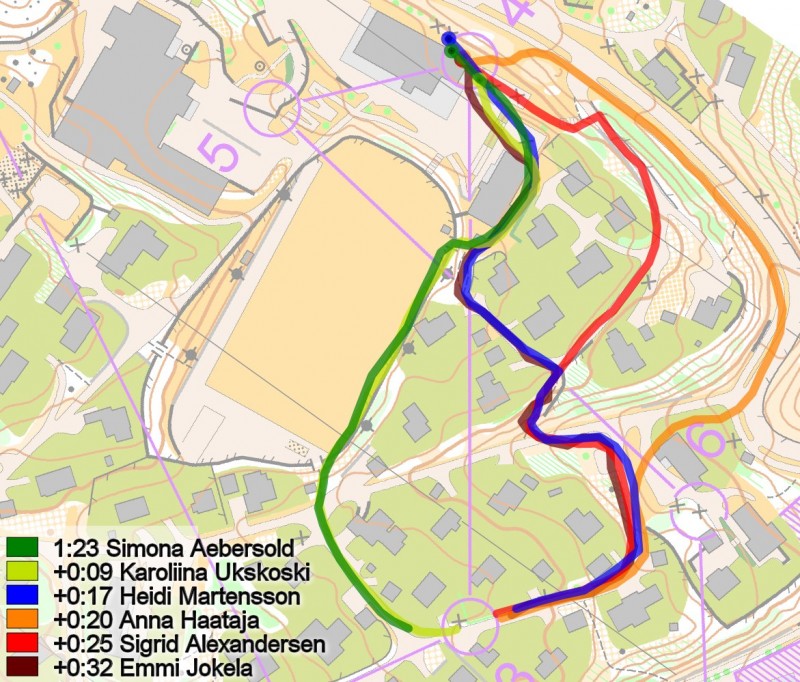 Men: Tight fight Robertson vs Niemi
Tim Robertson (NZL) won 3 seconds ahead of Aleksi Niemi (FIN) with Algirdas Bartkevicius (LTU) in 3rd at 0:26. Tim Robertson won 5 of 18 legs in a close to mistake-free race.
Just as in the women's race there was a tight fight for the victory towards the end of the race. Niemi was faster than Robertson on 7 of the 8 last legs – but Niemi lost some time on the third last control (control 16) by taking a wrong route choice going on the left side of the buildings (see map below), and this saved Robertson's victory. Niemi did however lose the victory already to the first control: After 36 seconds of running Niemi was down in 60th(!) place, 8 seconds behind Robertson. Robertson on the other hand had a very fast start – leading with 2 seconds on the first control.
Tobia Pezzati (Switzerland) was the only other runner close to Robertson and Niemi, but he had a bad period in the middle part of the race, costing him the possibility to fight for the victory.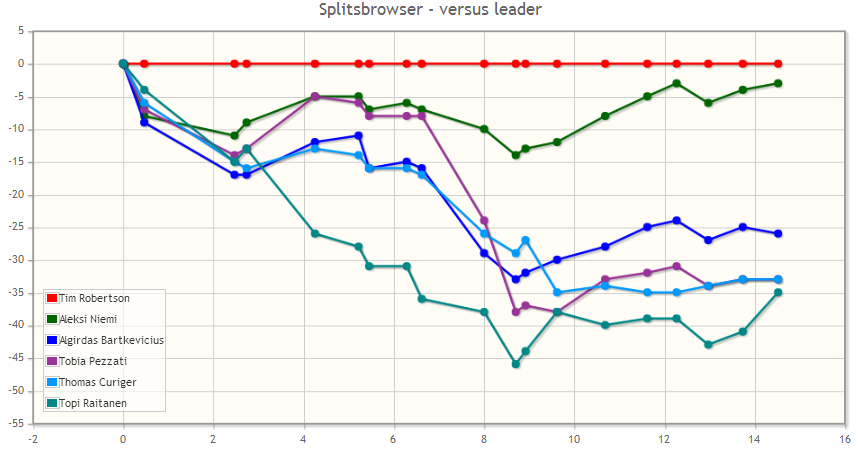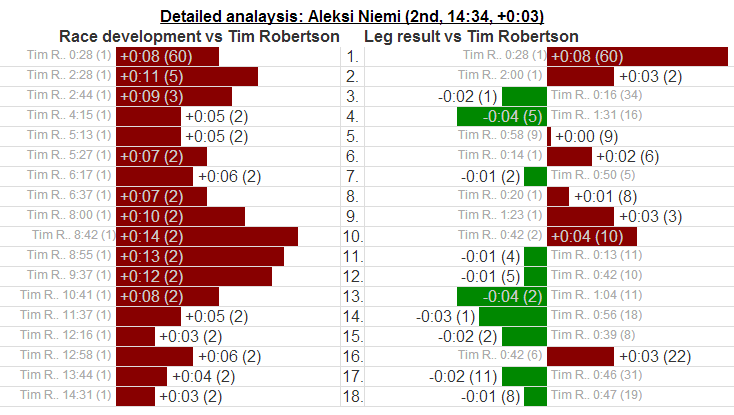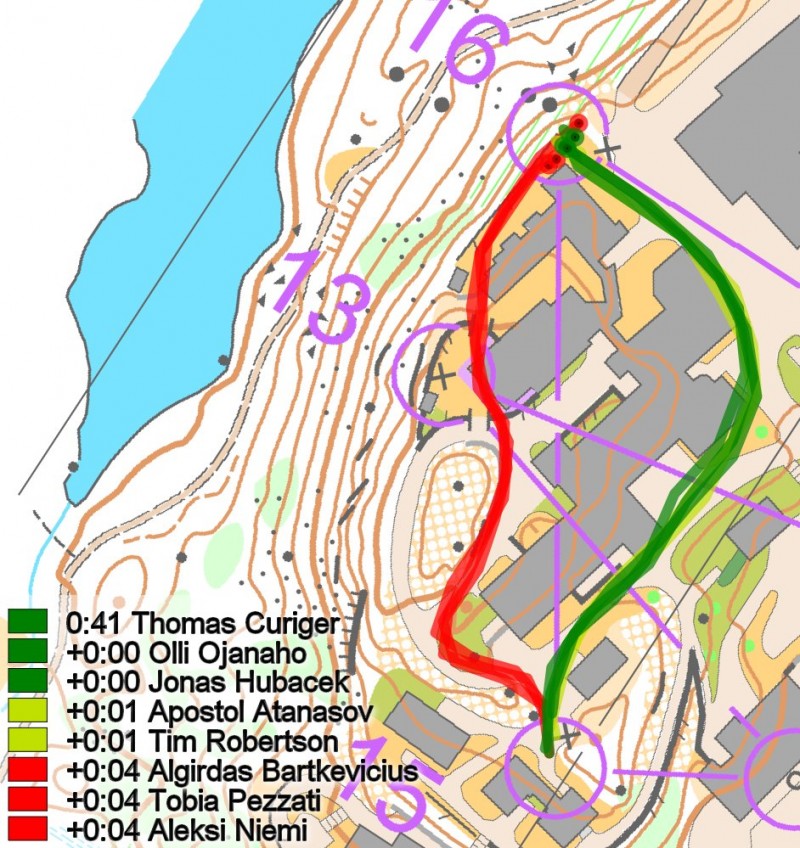 Maps and GPS-tracking
Sprint M20

» See map in omaps.worldofo.com
Sprint W20

» See map in omaps.worldofo.com
Winner interviews
Results
Men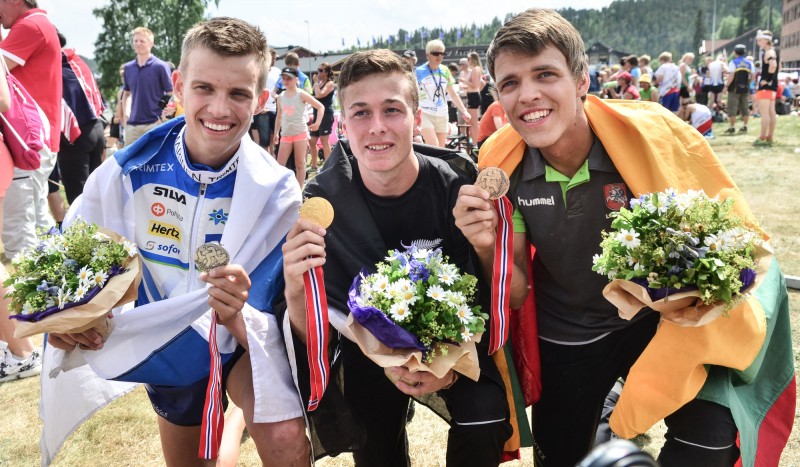 | | | | | |
| --- | --- | --- | --- | --- |
| 1. | Tim Robertson | NZL | 14:31 | (+0:00) |
| 2. | Aleksi Niemi | FIN | 14:34 | (+0:03) |
| 3. | Algirdas Bartkevicius | LTU | 14:57 | (+0:26) |
| 4. | Tobia Pezzati | SUI | 15:04 | (+0:33) |
| 4. | Thomas Curiger | SUI | 15:04 | (+0:33) |
| 6. | Topi Raitanen | FIN | 15:06 | (+0:35) |
| 7. | Aidan Smith | GBR | 15:08 | (+0:37) |
| 8. | Arnaud Perrin | FRA | 15:14 | (+0:43) |
| 9. | Simon Hector | SWE | 15:19 | (+0:48) |
| 10. | Quentin Rauturier | FRA | 15:23 | (+0:52) |
| 11. | Andreas Soelberg | NOR | 15:24 | (+0:53) |
| 12. | Sven Hellmuller | SUI | 15:25 | (+0:54) |
| 13. | Krzysztof Rzenca | POL | 15:30 | (+0:59) |
| 13. | Joey Hadorn | SUI | 15:30 | (+0:59) |
| 15. | Jonas Hubacek | CZE | 15:31 | (+1:00) |
| 15. | Markus Holter | NOR | 15:31 | (+1:00) |
Women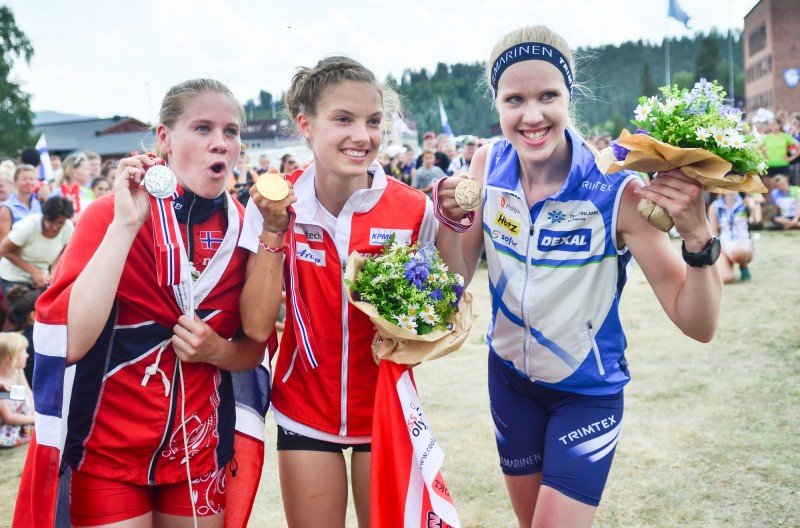 | | | | | |
| --- | --- | --- | --- | --- |
| 1. | Simona Aebersold | SUI | 13:56 | (+0:00) |
| 2. | Heidi Martensson | NOR | 14:06 | (+0:10) |
| 3. | Karoliina Ukskoski | FIN | 14:30 | (+0:34) |
| 4. | Sigrid Alexandersen | NOR | 14:38 | (+0:42) |
| 5. | Anna Haataja | FIN | 14:43 | (+0:47) |
| 6. | Emmi Jokela | FIN | 15:01 | (+1:05) |
| 7. | Paula Gross | SUI | 15:08 | (+1:12) |
| 8. | Noora Koskinen | FIN | 15:10 | (+1:14) |
| 9. | Sofie Bachmann | SUI | 15:12 | (+1:16) |
| 10. | Lisa Schubnell | SUI | 15:19 | (+1:23) |
| 11. | Antoaneta Dyaksova | BUL | 15:29 | (+1:33) |
| 12. | Sandra Grosberga | LAT | 15:30 | (+1:34) |
| 13. | Florence Hanauer | FRA | 15:32 | (+1:36) |
| 13. | Johanna Oberg | SWE | 15:32 | (+1:36) |
| 15. | Marie Olaussen | NOR | 15:35 | (+1:39) |