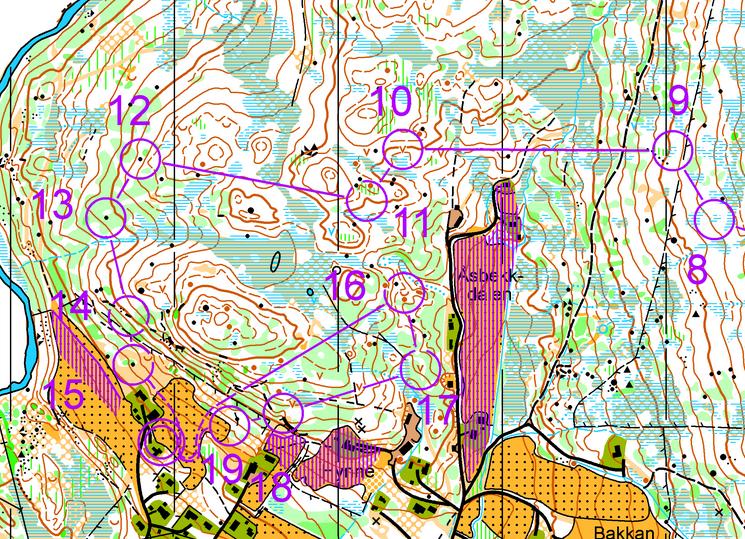 [With splits analysis, video interviews, photos] The Junior World Championships Middle distance offered tricky orienteering – which gave very big challenges for the athletes. Many of the favourites got problems in the slopes around Rauland – the terrain offering many diffuse marshes and varying vegetation.
Again it was a day for the Scandinavian runners – with gold for Finland's Olli Ohanaha and Norway's Anine Ahlsand. In the men's class Swedish Erik Andersson (14 seconds behind) and Swiss Sven Hellmüller were closest. In them women's class early starting Swede Johanna Öberg (also 14 seconds behind) and Swiss Sandrine Müller were closest.
Both Swiss runners – Sven Hellmüller and Sandrine Müller have good connections with Scandinavia; competing for Scandinavian clubs and having spent time preparing in Scandinavia.
Ojanaho: Strong start – mistakes in the end
Olli Ojanaho had a very strong start, running faster than everybody else until the arena passage after around 3 km – leading with more than a minute. Then Ojanaho started losing time, and Swedish Erik Andersson got closer and closer. At the 17th control of 19 the lead was down to only 7 seconds. But like a true master Ojanaho refocused and finished stronger than all his opponents.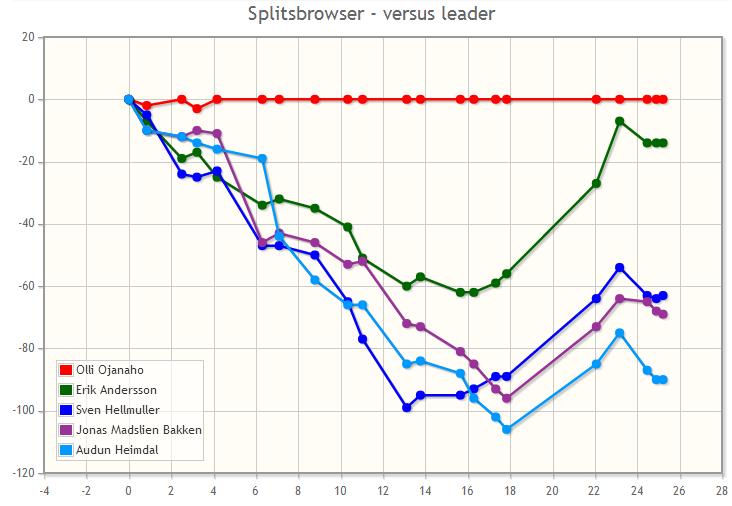 Looking at the rest of the start field, there were many who had medal speed in part of the course, but the tricky part today was to adapt the speed to the difficulties. While some controls were "high speed – easy orienteering", there were some really tricky controls in dense vegetation. The key to perform well today was to know when to run fast and when to slow down. Three runners who had the speed but made big mistakes are shown in the illustration below. Markus Holter (Norway) and Simon Hector (Sweden) both had excellent speed but made big mistakes at the 5th control – Hector had even gold medal speed. Italian Riccardo Scalet had a good start of the race – clearly fastest of the earlier starters, but made a big mistake after the spectator control.

Women: Ahlsand exploited Öberg's mistake
In the women's class Swedish Johanna Öberg started early and set a fantastic time. She did not look 100% happy after her race though, as she had lost half a minute towards the end of the race. This mistake proved to be crucial in the end – Norwegian Anine Ahlsand using the opportunity to pass her – and in the end beat Öberg with 14 small seconds. The fight between Müller and Öberg was also close. Müller was very close to catching the silver medal but lost some time on the control after the spectator control.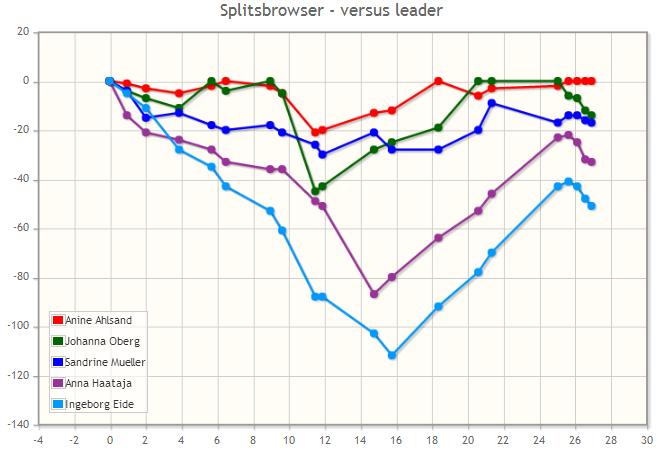 Looking further down at the results, last starter and qualification heat winner Sara Hagström, Sweden, must be mentioned. She had definitely gold medal speed, leading the race before she made a big mistake and went out of the fight for medals (see illustration below).

Maps, courses and GPS-tracking
JWOC Middle 2015 Men

» See map in omaps.worldofo.com
Middle W20

» See map in omaps.worldofo.com
Results
Men
| | | | | |
| --- | --- | --- | --- | --- |
| 1. | Olli Ojanaho | FIN | 25:13 | (+0:00) |
| 2. | Erik Andersson | SWE | 25:27 | (+0:14) |
| 3. | Sven Hellmuller | SUI | 26:16 | (+1:03) |
| 4. | Jonas Madslien Bakken | NOR | 26:22 | (+1:09) |
| 5. | Audun Heimdal | NOR | 26:43 | (+1:30) |
| 6. | Nikita Stepanov | RUS | 26:57 | (+1:44) |
| 7. | Emil Granqvist | SWE | 27:21 | (+2:08) |
| 8. | Jens Ronnols | SWE | 27:32 | (+2:19) |
| 9. | Markus Holter | NOR | 27:33 | (+2:20) |
| 10. | Anton Kuukka | FIN | 27:44 | (+2:31) |
| 11. | Anders Felde Olaussen | NOR | 27:58 | (+2:45) |
| 12. | Simon Hector | SWE | 28:16 | (+3:03) |
| 13. | Magnus Dewett | DEN | 28:25 | (+3:12) |
| 14. | Topi Raitanen | FIN | 28:35 | (+3:22) |
| 15. | Andreas Soelberg | NOR | 28:36 | (+3:23) |
Women
| | | | | |
| --- | --- | --- | --- | --- |
| 1. | Anine Ahlsand | NOR | 26:57 | (+0:00) |
| 2. | Johanna Oberg | SWE | 27:11 | (+0:14) |
| 3. | Sandrine Mueller | SUI | 27:14 | (+0:17) |
| 4. | Anna Haataja | FIN | 27:30 | (+0:33) |
| 5. | Ingeborg Eide | NOR | 27:48 | (+0:51) |
| 6. | Tilda Johansson | SWE | 27:55 | (+0:58) |
| 7. | Paula Gross | SUI | 29:04 | (+2:07) |
| 8. | Pihla Otsamo | FIN | 29:25 | (+2:28) |
| 9. | Andrea Svensson | SWE | 29:26 | (+2:29) |
| 10. | Marie Olaussen | NOR | 29:52 | (+2:55) |
| 11. | Sara Hagstrom | SWE | 29:58 | (+3:01) |
| 12. | Daria Korobeynik | RUS | 30:19 | (+3:22) |
| 13. | Kerstin Ullmann | SUI | 30:38 | (+3:41) |
| 14. | Miri Thrane Odum | DEN | 30:42 | (+3:45) |
| 15. | Tereza Novakova | CZE | 30:49 | (+3:52) |
Anine Ahlsand, GOLD medalist Junior World Orienteering Championships Middle distance 2015 #JWOC2015 pic.twitter.com/iYYGyGgLxn

— WorldofO.com (@worldofo) July 7, 2015
Olli Ojanaho, GOLD medalist Junior World Orienteering Championships Middle distance 2015 #JWOC2015 pic.twitter.com/SHSZcGZK0h

— WorldofO.com (@worldofo) July 7, 2015
GOLD Olli Ohajano (FIN), Silver Erik Andersson (SWE), Bronze Sven Hellmüller (SUI) #JWOC2015 http://t.co/t3GhXrRBlC pic.twitter.com/TSozM7dh7H

— WorldofO.com (@worldofo) July 7, 2015
GOLD Anine Ahlsand (NOR), Silver Johanna Öberg (SWE), Bronze Sandrine Müller (SUI) #JWOC2015 pic.twitter.com/WdQGS2JwPR

— WorldofO.com (@worldofo) July 7, 2015
2 x SILVER for Sweden at Junior World Orienteering Championships today: Erik Andersson and Johanna Öberg #JWOC2015 pic.twitter.com/ssIQPTg0O3

— WorldofO.com (@worldofo) July 7, 2015
Bronze medal winner Sandrine Müller from Switzerland – soooooo happy when the medal was secured! #JWOC2015 pic.twitter.com/Ka3D6gT5Cg

— WorldofO.com (@worldofo) July 7, 2015