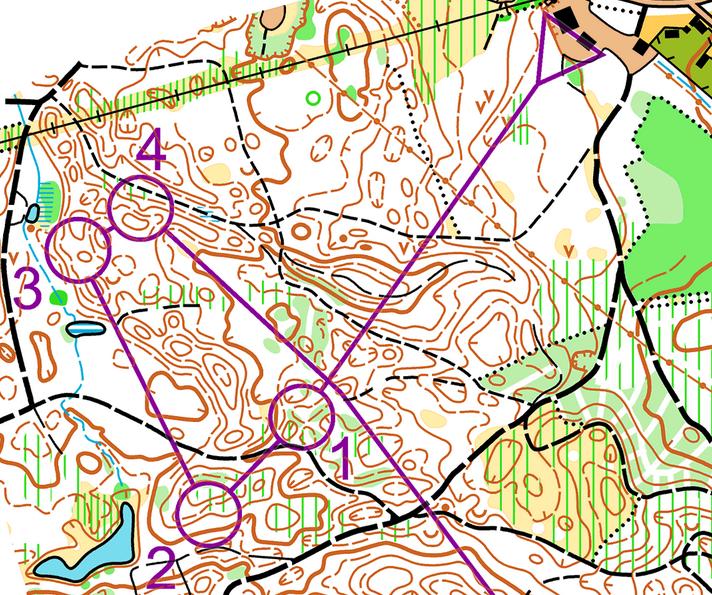 Daniel Hubmann (Switzerland) won the men's class 3 seconds ahead of French surprise Lucas Basset with Olle Bostrom (Sweden) in 3rd another 10 seconds behind. Annika Billstam (Sweden) won the women's class 50 seconds ahead of Merja Rantanen (Finland) with Emma Johansson (Sweden) in 3rd at 1:18.
Both in the men's and in the women's class the second last control – a quite easy control close to the path, played an important role.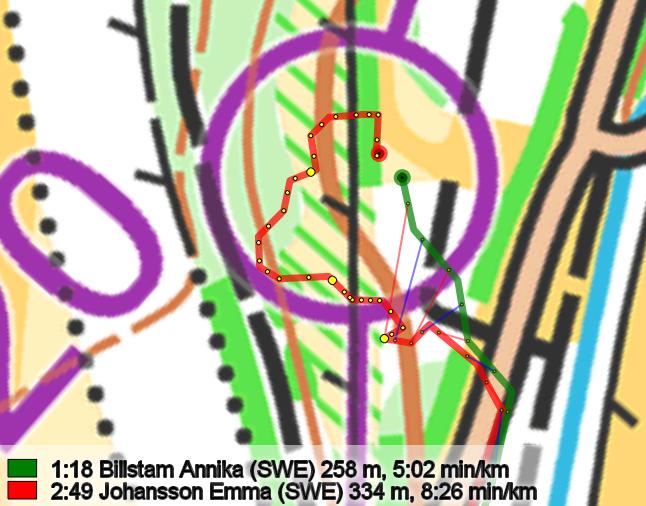 Women: Johansson with fantastic race until …
The women's race was very dramatic. An early starting Emma Johansson had a fantastic race until a mistake at the second last control – costing her more than 90 seconds. Runner after runner failed to beat her despite the big mistake, but in the end both Annika Billstam and Merja Rantanen were faster. Emma Johansson took the lead at the first control and stayed in front until control 19. Annika Billstam took over the lead at control 20 of 22 controls and kept it until the finish.
In the women's class Emma Johansson (lost 1:39 at leg 20, finished 1:18 behind in 3rd) and Ida Bobach (lost 2:23 at leg 4, finished 1:46 behind in 4th) were only one control away from beating Annika Billstam.
Men: Three men within 13 seconds
The fight for victory in the men's class was even closer, and again the second last control played a central role. With a split time on par with the best on this split, Thierry Gueorgiou could have added another Gold medal in this collection – now it resulted in another big middle distance disappointment for the French King of Middle.
In total four runners were only one control from beating the winner Daniel Hubmann: Lucas Basset (lost 13 seconds at leg 16, finished 3 seconds behind in 2nd), Olle Bostrom (lost 26 seconds at leg 5, finished 13 seconds behind in 3rd), Fabian Hertner (lost 38 seconds at leg 9, finished 35 seconds behind in 5th) and Thierry Gueorgiou (lost 50 seconds at leg 24, finished 46 seconds behind in 7th).
Note also that Lucas Basset fell in the last curve – the time loss was probably less than 3 seconds. And Olle Boström missed the very last control, losing 12 seconds to the best split time – and having 10 seconds to silver and 13 seconds to gold.
Maps and GPS-tracking
WOC Middle Men

» See map in omaps.worldofo.com
WOC Middle Women

» See map in omaps.worldofo.com
Results
| | | | | |
| --- | --- | --- | --- | --- |
| 1. | Daniel Hubmann | Switzerland | 34:23 | (+0:00) |
| 2. | Lucas Basset | France | 34:26 | (+0:03) |
| 3. | Olle Bostrom | Sweden | 34:36 | (+0:13) |
| 4. | Magne Daehli | Norway | 34:49 | (+0:26) |
| 5. | Fabian Hertner | Switzerland | 34:58 | (+0:35) |
| 6. | Oleksandr Kratov | Ukraine | 35:08 | (+0:45) |
| 7. | Thierry Gueorgiou | France | 35:09 | (+0:46) |
| 8. | Olav Lundanes | Norway | 35:53 | (+1:30) |
| 9. | Jan Sedivy | Czech Republic | 36:01 | (+1:38) |
| 10. | Jan Prochazka | Czech Republic | 36:08 | (+1:45) |
| 10. | Hector Haines | Great Britain | 36:08 | (+1:45) |
| 12. | Hannu Airila | Finland | 36:18 | (+1:55) |
| 13. | Lauri Sild | Estonia | 36:25 | (+2:02) |
| 14. | Fredric Portin | Finland | 36:30 | (+2:07) |
| 15. | Edgars Bertuks | Latvia | 36:38 | (+2:15) |
| | | | | |
| --- | --- | --- | --- | --- |
| 1. | Annika Billstam | Sweden | 35:46 | (+0:00) |
| 2. | Merja Rantanen | Finland | 36:36 | (+0:50) |
| 3. | Emma Johansson | Sweden | 37:04 | (+1:18) |
| 4. | Ida Bobach | Denmark | 37:32 | (+1:46) |
| 5. | Catherine Taylor | Great Britain | 37:45 | (+1:59) |
| 6. | Nadiya Volynska | Ukraine | 37:54 | (+2:08) |
| 7. | Sara Luescher | Switzerland | 38:13 | (+2:27) |
| 8. | Helena Jansson | Sweden | 38:25 | (+2:39) |
| 9. | Jana Knapova | Czech Republic | 38:45 | (+2:59) |
| 10. | Mari Fasting | Norway | 39:09 | (+3:23) |
| 11. | Maja Alm | Denmark | 39:14 | (+3:28) |
| 12. | Anne Margrethe Hausken Nordberg | Norway | 39:27 | (+3:41) |
| 13. | Sarina Jenzer | Switzerland | 39:39 | (+3:53) |
| 14. | Natalia Vinogradova | Russian Federation | 39:45 | (+3:59) |
| 15. | Tatyana Riabkina | Russian Federation | 40:11 | (+4:25) |