[LIVE from 13:00 CET. Decision women 15:20. Decision men 17:50 CET] Reigning champions Olav Lundanes (Norway) and Annika Billstam (Sweden) have so far this year not shown the same exceptional performance which gave them the World Champion titles last year, but they are both athletes with a lot of routine who know how to get out their maximum at the day it counts the most. Can they repeat their victories from the Italian karst terrain in Scottish terrain?
Below we take a look at favourites and outsiders for the World Championships middle distance. You can follow the event live from the WOC 2015 webpage: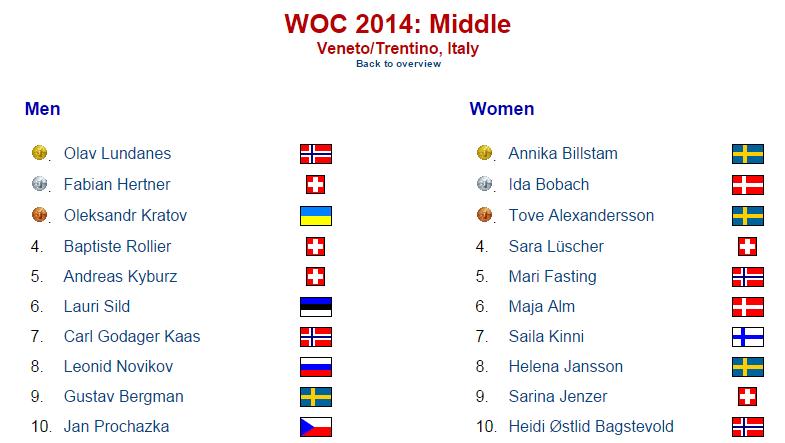 Men: Thierry Gueorgiou back?
With surprise winners in 2012 (Edgars Bertuks, Latvia), 2013 (Leonid Novikov, Russia) and 2014 (Olav Lundanes, Norway – winning the "wrong" discipline), the middle distance is maybe the discipline were it is most difficult to pick a certain winner now that Thierry Gueorgiou is no longer as dominant as he was earlier.
Thierry Gueorgiou won seven World Championships Middle distance between 2003 and 2011 – but has the series 4, 2, disqualified from the last three years. Last year in Italy the French "King of Middle distance" forgot a control and was disqualified, but the race would have been good enough to be very close to the gold medal race of Olav Lundanes. This year Gueorgiou has not been exceptional, but he has still been very difficult to beat when he tries to win a middle distance race – like in the World Cup race middle distance in Munkedal, Sweden this spring. Gueorgiou will be very difficult to beat if he has a good day.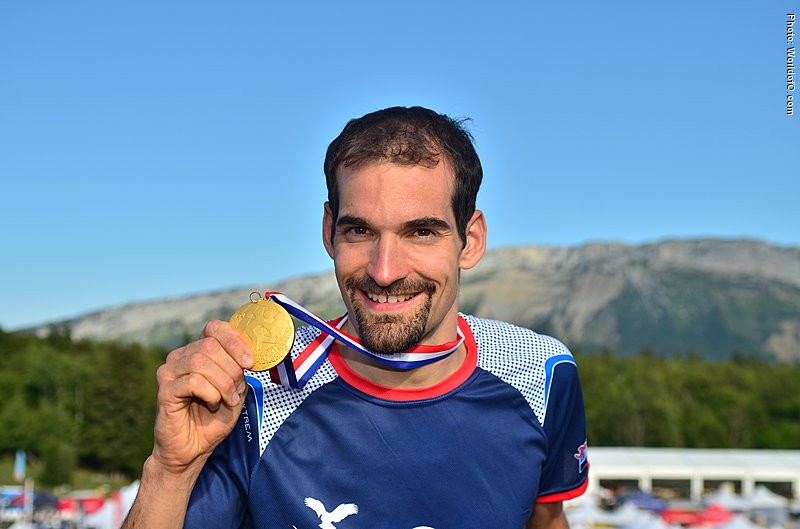 Last year's gold medalist Olav Lundanes has had trouble with (slight) overtraining this year, but last week the Norwegian Federation reported that Lundanes shape is showing positive signs. He has not shown top results for some time, but if his shape is good, this is terrain which the Norwegian should master very well. Long distance is normally his best discipline – and also his favourite discipline.
Daniel Hubmann (Switzerland) failed in the Sprint with a 6th place, but his shape should be good. He won the first World Cup middle distance race this season (in Tasmania in January) and was 4th in the World Cup middle in Sweden this spring. Has silver and bronze from WOC middle from earlier. Not the main gold medal favourite, but can definitely win on a good day and a clear medal favourite. Usually stronger in the long distance.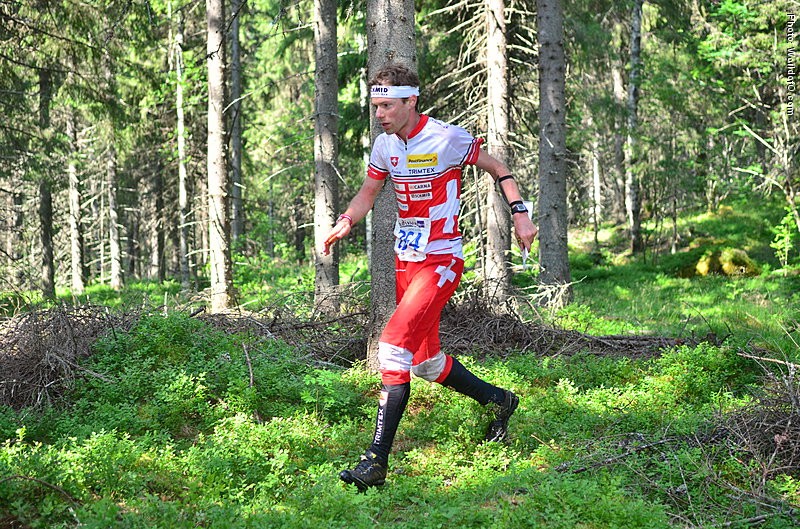 Matthias Kyburz is another strong Swiss runner. Has earlier had the middle distance as his worst discipline, but has improved year by year. The fast runner was third in both World Cup races middle distance this year, and has showed that he masters the Scottish terrain.
The third Swiss runner at the start is Fabian Hertner. Never worse than 5th in his WOC starts the last years, silver from WOC middle last year. Not a gold medal favourite, but can definitely take a medal.
Sweden's Gustav Bergman is still waiting for a top result in an individual championships discipline – the middle distance bronze from WOC in Vuokatti, Finland in 2013 being his best result. He was among the big gold favourites at the WOC middle distance last year, but failed and was only number 9 in the end. The Swede can very well win the race if he has a good day – and he is not even dependent on the others failing. At his best he is close to unbeatable, as he showed at the WOC relay last year in Italy. Only 8th at the World Cup middle in Sweden this spring, though.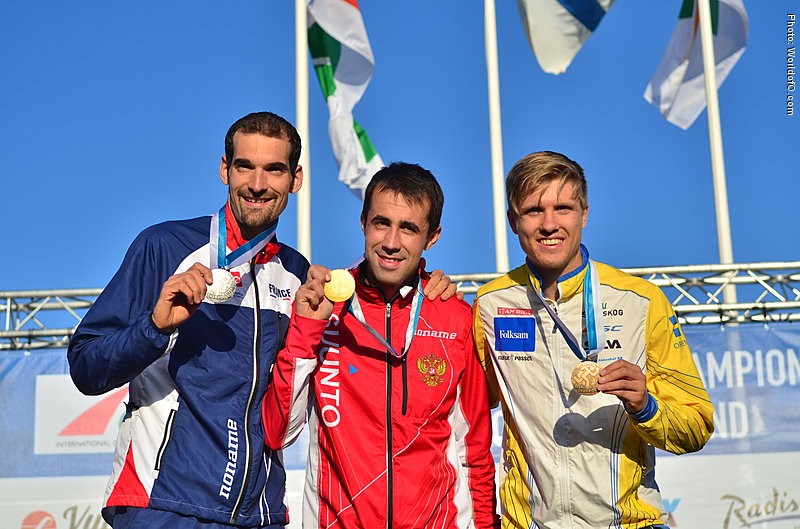 Photo: WOC Middle medalists 2013. Thierry Gueorgiou, Leonid Novikov and Gustav Bergman.
Outsiders:  Oleksandr Kratov took the bronze last year, and is also among the outsiders this year. Has not shown top results this year, though. Leonid Novikov won the World Championships middle in 2013, but has not shown that exceptional level since – outsider for a medal. The 2012 surprise WOC middle winner Edgars Bertuks has again not shown top results ahead of the World Championships, but that is the way it usually is. The Latvian can very well come up with a top race again. The Sild brothers can suddenly be there fighting for the medals – look out for them – they have prepared very well for Scotland. Other outsiders are Olle Boström (Sweden), Graham Gristwood (Great Britain), Carl Godager Kaas (Norway).
World of O's tip:
1. Thierry Gueorgiou
2. Daniel Hubmann
3. Olav Lundanes
Women: Just like 2011?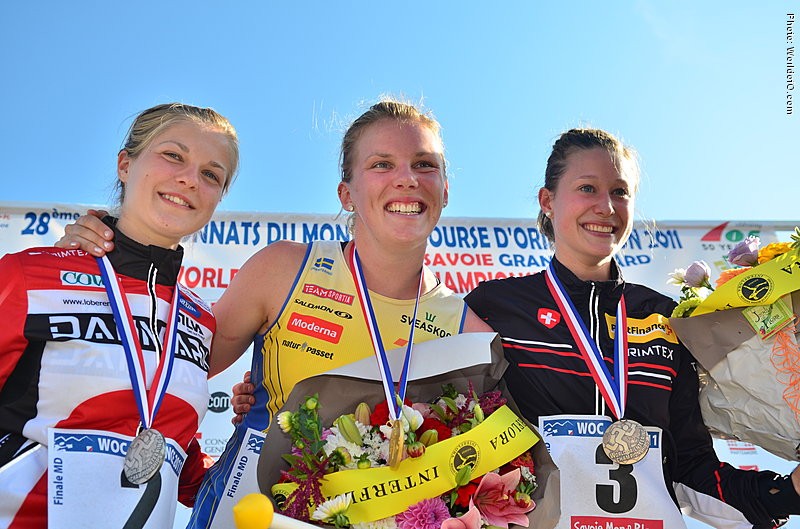 Photo: Medalists WOC 2011. Ida Bobach, Helena Jansson, Judith Wyder (not starting today). Minna Kauppi was 4th.
Tove Alexandersson (Sweden) would have been the main favourites at WOC middle and is present in Scotland. Unfortunately the Swedish superstar can not start due to injury problems. The absence of Alexandersson does however not mean that Sweden does not have gold medal favourites. Probably the biggest favourite in the women's class is Helena Jansson (Sweden). Jansson has been injured this spring and has only been able to run every second day – up to 40 minutes – but she has had impressive results when she has been at the start. The World Cup race in Sweden this spring she won a clear victory, and was also very impressive at Jukola and 10Mila. Jansson won WOC middle back in 2011, but was only 8th last year.
Denmark has had a fantastic start of the World Championships, and their strongest middle distance runner Ida Bobach can very well follow up the sprint results with another medal for Denmark. Bobach has won her first World Cup race last autumn at the World Cup final (middle) and another World Cup race in Norway this spring (long). Bobach has two silver medals from WOC – last year in Italy and in 2011 in France behind Helena Jansson. Just before WOC she reported on a physical lab-test where she ran 3 minutes longer than the last time, which was just after the World Cup. Thus her shape sounds fantastic, and she has proved earlier that she is a very good middle distance runner. The Danish team has been specializing their runners more than other teams – and this specialization seems to give good results.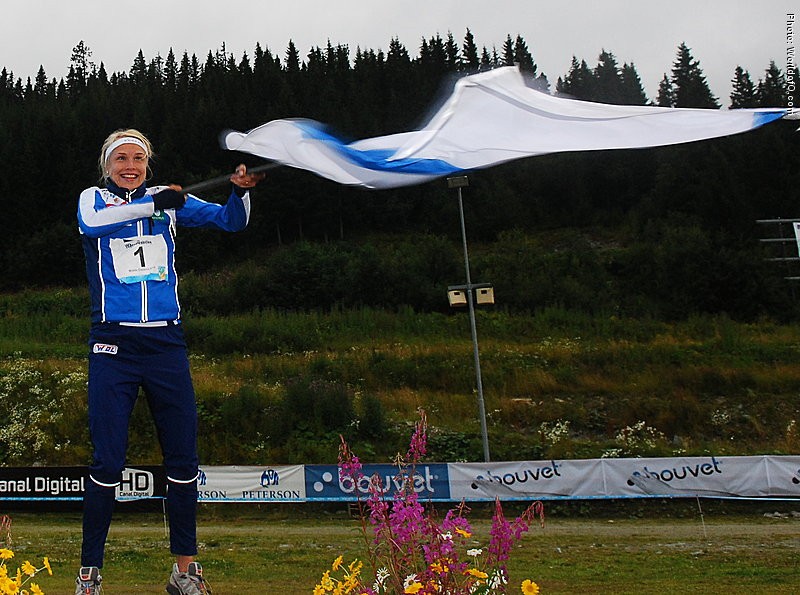 Finland's Minna Kauppi showed at the sprint that she is 100% back in the top. She has not focused on sprint for many years, and ran the sprint mostly to get into the championships. Still she was in bronze position on the last control, and lost the medal only in the run-in. The Finnish journalists speak of a very positive Kauppi who has exactly the attitude required to fight for medals at WOC. Can go all the way to gold, and clear medal favourite.
Anne Margrethe Hausken Nordberg has shown impressive shape in her comeback after child birth number two. With few World Ranking points she starts early, and will surely set a good time. Probably better at the long distance – outsider at the middle distance.
Annika Billstam has not shown the very top results this season, but has shown that her shape is good – it is technical mistakes which has been her main problem. Thus, if she gets into her championships mode anything can happen – even another gold medal.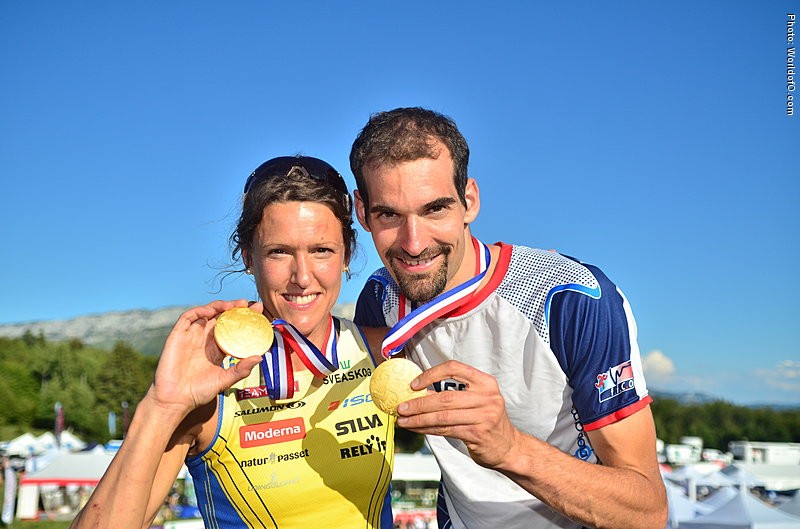 Maja Alm has sprint as her best discipline, but is also a very good middle distance runner with a 6th place from WOC Middle in Italy last year. With the exceptional shape the Dane has shown lately she can very well be in the medal fight – maybe Alm will even be the Queen of this championships and take another medal?
Norway's Mari Fasting was twice Top 5 in the individual forest disciplines at the World Championships last year, and seems to be even stronger this year. The injury she got in Scotland this sprint seems to have made her focus harder – this could get her all the way to the medals.
Outsiders: Nadiya Volynska took silver at the sprint and also took the second place at the World Cup middle distance in Sweden earlier this year. Very good technical runner who will fight for the medals on a good day. Russia's Tatiana Riabkina is reported to be in good shape this season, and could very well fight for yet another medal. Also look out for Sweden's Emma Johansson who has had a good sprint season. In addition there are several other medal outsiders – a very open race!
World of O's tip:
1. Helena Jansson
2. Ida Bobach
3. Minna Kauppi
(Note! If "retired" Simone Niggli had been on the start line, in her current shape, she would have been my tip for bronze)