When watching the relay as a spectator, it looked like Denmark's second leg runner, Ida Bobach, was clearly the strongest runner in the relay as her second leg decided the relay – increasing the gap to the followers from 1 minute to more than 4 minutes.
However, looking at the split times, Denmark's Maja Alm's first leg race was on the same level – only some seconds slower than Alm.  Above is a splitsbrowser comparison of the three Danish runners. Note how Alm is less than 30 seconds behind.
First leg: Alm gets a gap
Maja Alm has showed earlier in this championships that her physical shape is excellent. At the relay she continued running fast, simply running away from everybody. The only one who had similar running speed to Alm was Russia's Natalia Vinogradova. Unfortunately Vinogradova did a mistake in the "phi loop" part of the forking (shown below), following Alm towards Alm's forking instead of approaching her own. Thus Alm could run alone to the changeover.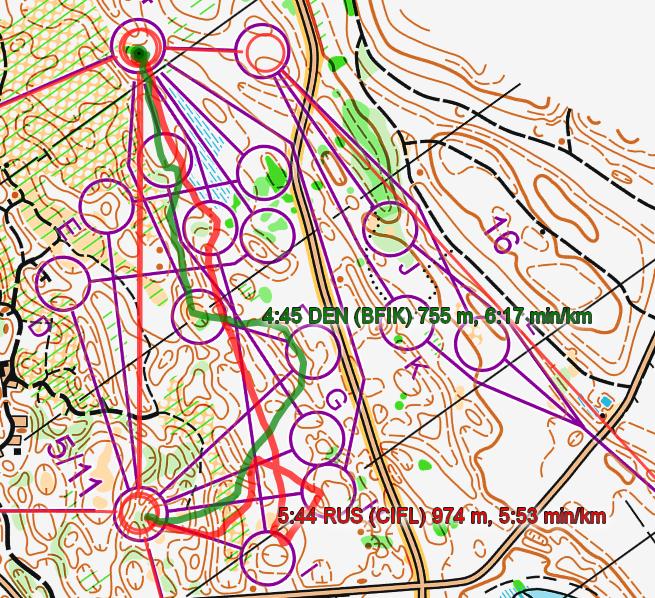 Another runner with problems in the forked "phi-loop" part of the leg is Norway's Heidi Bagstevold – she did however have problems the second time they came through this area, also approaching a wrong control for a while, and losing more than a minute to  Denmark.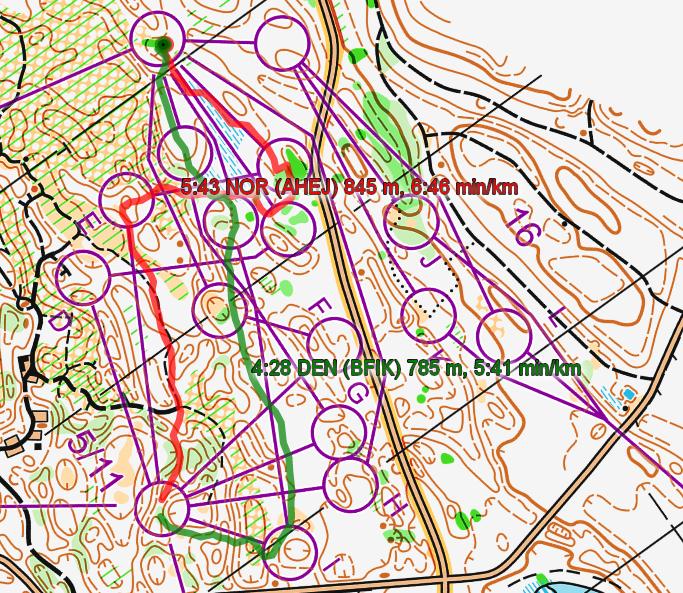 Sec0nd leg: Ida Bobach makes a big gap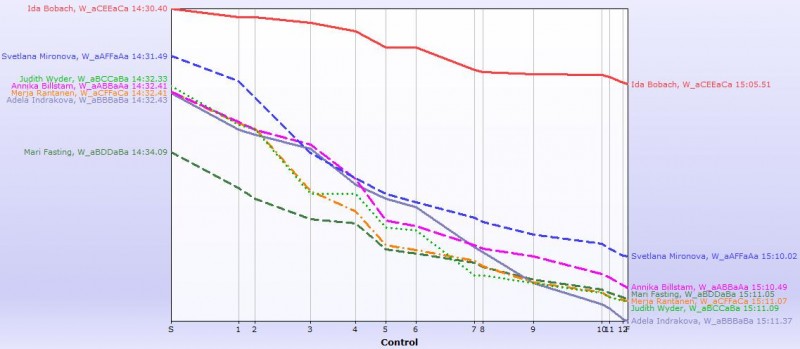 On the second leg Ida Bobach took the opportunity offered by first leg runner Maja Alm, and run a steady race alone in the lead, increasing the lead minute by minute. In the end the lead was more than 4 minutes. Looking at the splitsbrowser, the runners behind did not do many mistakes, but rather lost time gradually, control by control.
Third leg: Triumph for Klingenberg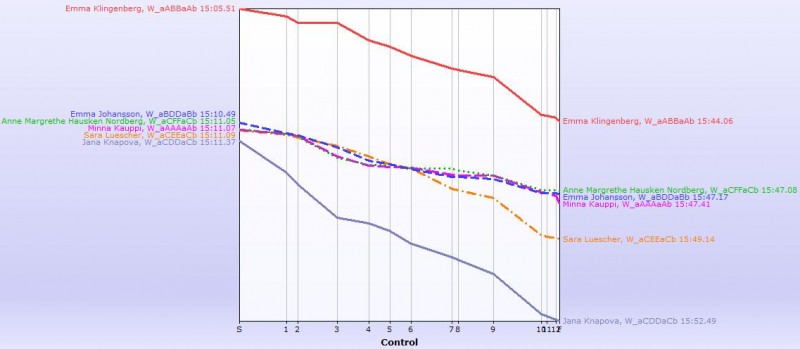 Out onto the third and last leg, Klingenberg has a big gap down to the other teams, but behind her there was a tough fight for the remaining medals. The below splitsbrowser zooms in onto this fight: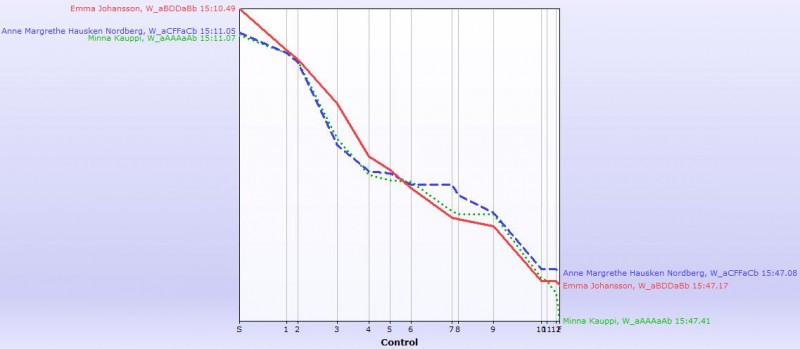 Here we see the fight for medals. Emma Johansson (red) started first of the teams fighting for medals, and managed to keep her lead until the middle of the relay. Here Hausken Nordberg comes past after a great catch-up operation. From here on none of the three top teams  manages to keep Hausken Nordberg behind. Minna Kauppi had a good race going for her, but lost time in the end. First to JWOC 2015 and then to a future big Czech event.
Maps & GPS-tracking
GPS-tracking will be available for free late tonight – this article will be updated with links to GPS-tracking then. For now here is a map with the women's course.
WOC Relay Women leg 3

» See map in omaps.worldofo.com
WOC Relay Women leg 2

» See map in omaps.worldofo.com
WOC Relay Women leg 1

» See map in omaps.worldofo.com
Results
| | | | | | | | | | | | |
| --- | --- | --- | --- | --- | --- | --- | --- | --- | --- | --- | --- |
| 1st | 109:06 | 2 | Denmark | DEN | 35:40 | (1st) | 35:11 | (1st) | 38:15 | (5th) | Maja Alm/Ida Bobach/Emma Klingenberg |
| 2nd | 112:08 | 4 | Norway | NOR | 39:09 | (8th) | 36:56 | (2nd) | 36:03 | (1st) | Heidi Bagstevold/Mari Fasting/Anne Margrethe Hausken Nordberg |
| 3rd | 112:17 | 3 | Sweden | SWE | 37:41 | (5th=) | 38:08 | (4th) | 36:28 | (2nd) | Helena Jansson/Annika Billstam/Emma Johansson |
| 4th | 112:41 | 5 | Finland | FIN | 37:41 | (5th=) | 38:26 | (6th) | 36:34 | (3rd) | Saila Kinni/Merja Rantanen/Minna Kauppi |
| 5th | 114:14 | 1 | Switzerland | SUI | 37:33 | (3rd) | 38:36 | (8th) | 38:05 | (4th) | Julia Gross/Judith Wyder/Sara Luescher |
| 6th | 117:49 | 9 | Czech Republic | CZE | 37:43 | (7th) | 38:54 | (9th) | 41:12 | (7th) | Denisa Kosova/Adela Indrakova/Jana Knapova |
| 7th | 122:59 | 14 | Latvia | LAT | 39:26 | (10th) | 39:43 | (10th) | 43:50 | (13th) | Laura Vike/Inga Dambe/Liga Arniece |
| 8th | 125:07 | 10 | France | FRA | 42:19 | (13th) | 41:30 | (11th) | 41:18 | (8th) | Isia Basset/Lea Vercellotti/Amelie Chataing |
| 9th | 125:43 | 6 | Great Britain | GBR | 45:20 | (22nd) | 37:58 | (3rd) | 42:25 | (10th) | Claire Ward/Catherine Taylor/Jessica Tullie |
| 10th | 127:18 | 21 | Hungary | HUN | 37:38 | (4th) | 45:13 | (16th) | 44:27 | (15th) | Fanni Gyurko/Virag Weiler/Ildiko Szerencsi |