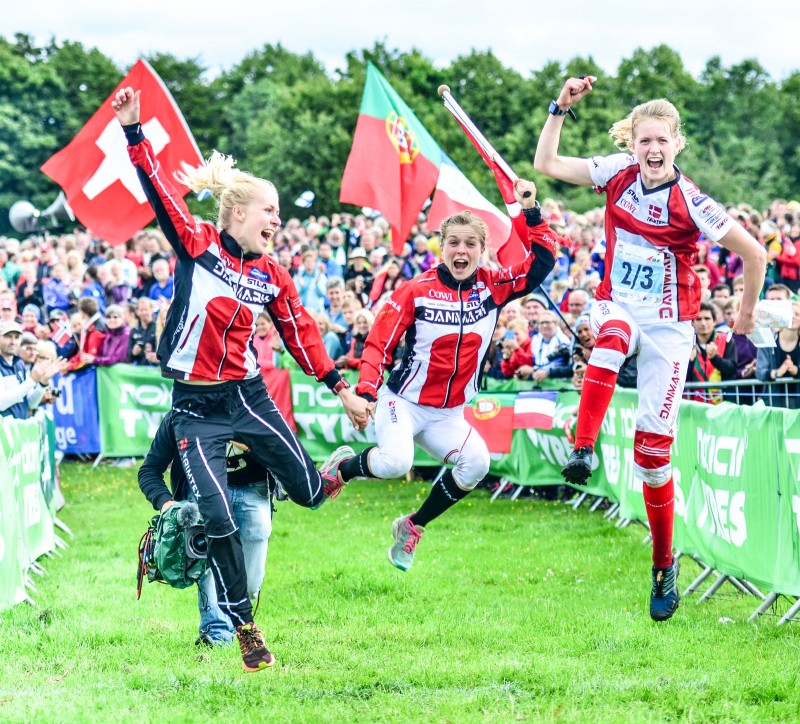 Denmark's women and Switzerland's men were in a different league than the others today – running in the lead nearly from start until finish, and deciding the relay already after two legs.
The Danish women had a 4 minute lead after two legs – Switzerland's men "only" around 2 minutes.
Fantastic race by Ida Bobach
After a late change in team setup, Maja Alm ran the first leg in a fabulous way – giving second leg runner Ida Bobach a clear one minute lead – running along nearly from the start. Bobach extended the lead to more than 4 minutes, and Emma Klingenberg on the last leg could run safely to victory. Meanwhile there was a tight fight for the medals behind Denmark – a fight which Norway's Anne Margrethe Hausken decided ahead of Sweden's Emma Johansson.
Hertner and Hubmann decided on the first two legs
In the men's relay Fabian Hertner ran a good first leg and managed to get a gap to the main contenders. Only Belarus managed to keep up with Switzerland – Norway was nearly 2 minutes behind – France more than one minute, and  Sweden more than 2 minutes down. Daniel Hubmann on the second leg ran a very stable race, and could hand the map over to Matthias Kyburz on the last leg with a gap of 1:30 down to Great Britain in second and around 2 minutes to France in third. Norway chased half a minute behind France. Magne Dæhlie on Norway ran a great last leg, deciding the silver medal fight for him ahead of France's Frederic Tranchand.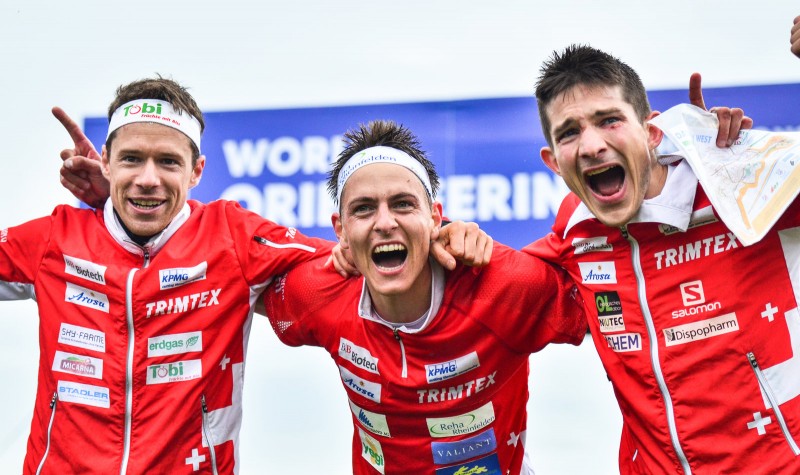 Maps
GPS-tracking will be available for free late tonight – this article will be updated with links to GPS-tracking then. For now here is a map with the women's course.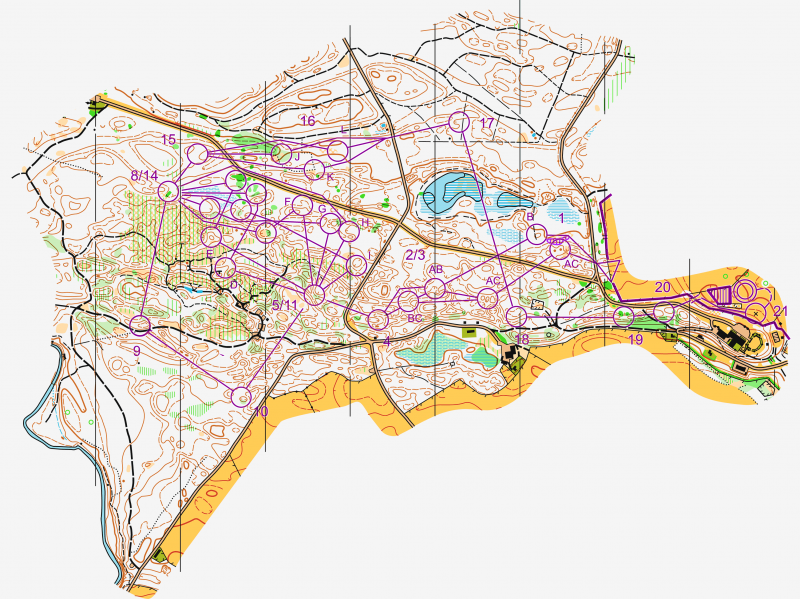 Updated with GPS-tracking links:
Results
Men
| | | | | | | | | | | | |
| --- | --- | --- | --- | --- | --- | --- | --- | --- | --- | --- | --- |
| 1st | 101:40 | 102 | Switzerland | SUI | 33:22 | (1st) | 33:37 | (1st) | 34:41 | (3rd) | Fabian Hertner/Daniel Hubmann/Matthias Kyburz |
| 2nd | 103:30 | 104 | Norway | NOR | 35:11 | (13th) | 34:13 | (3rd) | 34:06 | (1st) | Oystein Kvaal Osterbo/Carl Godager Kaas/Magne Daehli |
| 3rd | 103:52 | 103 | France | FRA | 34:38 | (6th) | 34:16 | (4th) | 34:58 | (4th=) | Vincent Coupat/Lucas Basset/Frederic Tranchand |
| 4th | 104:29 | 107 | Great Britain | GBR | 34:44 | (8th) | 33:49 | (2nd) | 35:56 | (10th) | Scott Fraser/Graham Gristwood/Ralph Street |
| 5th | 105:25 | 106 | Czech Republic | CZE | 34:40 | (7th) | 35:31 | (9th) | 35:14 | (8th) | Jan Prochazka/Jan Sedivy/Vojtech Kral |
| 6th | 105:39 | 109 | Estonia | EST | 34:49 | (9th) | 35:51 | (12th) | 34:59 | (6th) | Sander Vaher/Lauri Sild/Timo Sild |
| 7th | 106:28 | 101 | Sweden | SWE | 36:17 | (17th) | 35:13 | (7th) | 34:58 | (4th=) | Jonas Leandersson/Olle Bostrom/Gustav Bergman |
| 8th | 106:31 | 118 | Lithuania | LTU | 35:15 | (14th) | 36:06 | (15th) | 35:10 | (7th) | Vilius Aleliunas/Simonas Krepsta/Jonas Vytautas Gvildys |
| 9th | 106:59 | 120 | Bulgaria | BUL | 34:37 | (5th) | 36:46 | (16th) | 35:36 | (9th) | Kiril Nikolov/Ivaylo Kamenarov/Ivan Sirakov |
| 10th | 107:15 | 108 | Austria | AUT | 33:51 | (3rd) | 37:21 | (18th) | 36:03 | (11th) | Gernot Kerschbaumer/Helmut Gremmel/Robert Merl |
Women
| | | | | | | | | | | | |
| --- | --- | --- | --- | --- | --- | --- | --- | --- | --- | --- | --- |
| 1st | 109:06 | 2 | Denmark | DEN | 35:40 | (1st) | 35:11 | (1st) | 38:15 | (5th) | Maja Alm/Ida Bobach/Emma Klingenberg |
| 2nd | 112:08 | 4 | Norway | NOR | 39:09 | (8th) | 36:56 | (2nd) | 36:03 | (1st) | Heidi Bagstevold/Mari Fasting/Anne Margrethe Hausken Nordberg |
| 3rd | 112:17 | 3 | Sweden | SWE | 37:41 | (5th=) | 38:08 | (4th) | 36:28 | (2nd) | Helena Jansson/Annika Billstam/Emma Johansson |
| 4th | 112:41 | 5 | Finland | FIN | 37:41 | (5th=) | 38:26 | (6th) | 36:34 | (3rd) | Saila Kinni/Merja Rantanen/Minna Kauppi |
| 5th | 114:14 | 1 | Switzerland | SUI | 37:33 | (3rd) | 38:36 | (8th) | 38:05 | (4th) | Julia Gross/Judith Wyder/Sara Luescher |
| 6th | 117:49 | 9 | Czech Republic | CZE | 37:43 | (7th) | 38:54 | (9th) | 41:12 | (7th) | Denisa Kosova/Adela Indrakova/Jana Knapova |
| 7th | 122:59 | 14 | Latvia | LAT | 39:26 | (10th) | 39:43 | (10th) | 43:50 | (13th) | Laura Vike/Inga Dambe/Liga Arniece |
| 8th | 125:07 | 10 | France | FRA | 42:19 | (13th) | 41:30 | (11th) | 41:18 | (8th) | Isia Basset/Lea Vercellotti/Amelie Chataing |
| 9th | 125:43 | 6 | Great Britain | GBR | 45:20 | (22nd) | 37:58 | (3rd) | 42:25 | (10th) | Claire Ward/Catherine Taylor/Jessica Tullie |
| 10th | 127:18 | 21 | Hungary | HUN | 37:38 | (4th) | 45:13 | (16th) | 44:27 | (15th) | Fanni Gyurko/Virag Weiler/Ildiko Szerencsi |
[Sorry for the delayed report here at WorldofO. Although the organizers try their best, the Internet has been very, very variable in the arenas, and it has been difficult to deliver normal quality on time after the events. Focus is therefore put on more thorough analysis the day after the events]