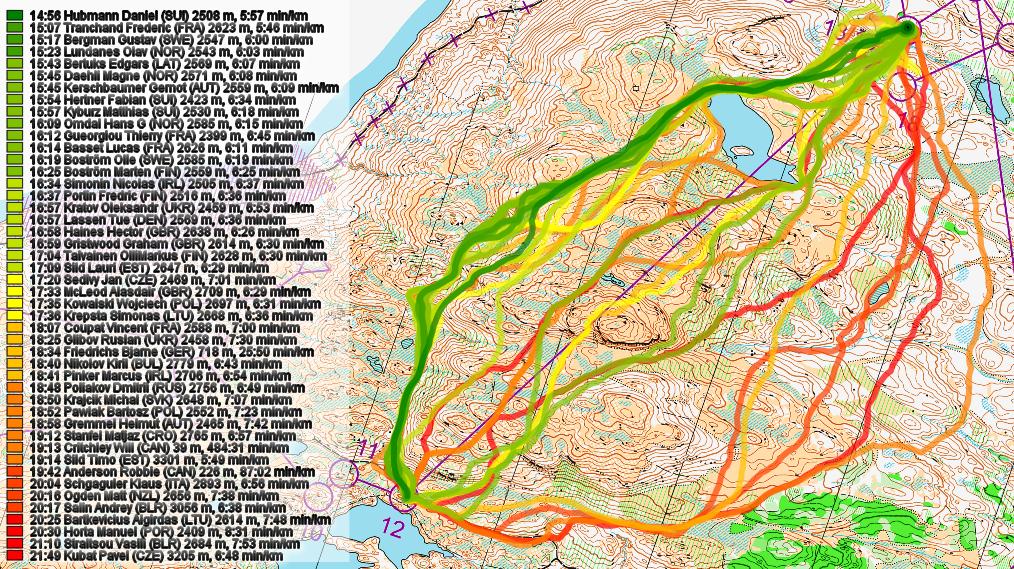 – Man, this race is going to be amazing, no matter how you feel today! This is what this year's new French start Lucas Basset thought when he stood at the start line in the race which featured his favourite course of 2015.  
Read on for a long interview with Basset. This interview is part of the "Course of the Year 2015″ contest organized by World of O. In the introduction article you can suggest YOUR favourite course for "Course of the Year 2015″ – there are prizes to be won worth more than 2500 Euro.
Q: What was the best course you run in 2015 – and why?
– I think I've chosen this course especially because of the terrain, which was wilder than almost every other forest I've been running in. The feeling I experienced when I ran out of the start corridor, passed the start triangle in the open area, turned my head left, then right, and had a brief look at the surroundings was unbelievable. Of course I talk about the WOC Long distance in Glen Affric!
It is very difficult to separate the course from the terrain, as an average course in a great forest will often be more enjoyable than a very good and efficient course in a forest or city without any surprises. So I made this choice because of the terrain. But I'm also convinced that the course was good, coherent to long distance spirit.
I don't know if the butterfly was efficient to separate runners as I ran alone during the whole race, but the first part and the long legs were really well thought. And this race was a perfect ending of a wonderful WOC week for me so the memories are even nicer!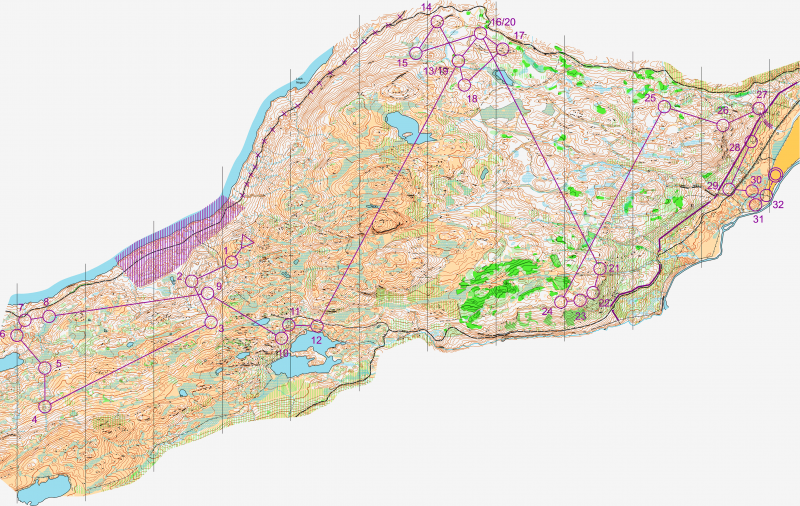 Q: What was the most interesting orienteering terrain you run in in 2015 – and why?
WOC long distance was for sure the nicest terrain I've been running in 2015, but it was not the most technical. And technicality is the factor I value the most! I also liked World Cup Middle distance in Munkedal in Sweden. Still, Swedish terrains are rather easy once you understand the mapping style, and the visibility was very good there. So I will not look further than 2 hours away from home and choose the terrain where we ran a national competition in long distance  Mazayes, a forest near Clermont-Ferrand.
The terrain is one of the most difficult terrains in France ( and maybe in the world?;) ), very detailed, green and bushy. On top of that, the ground is very rocky which makes it a challenge to both read the map and look where you set your feet at the same time. This is a terrain where having short stops to read the map is not a waste of time !
Here is a link to 2DRerun (see map sample below). Leg 17-18 is a nightmare !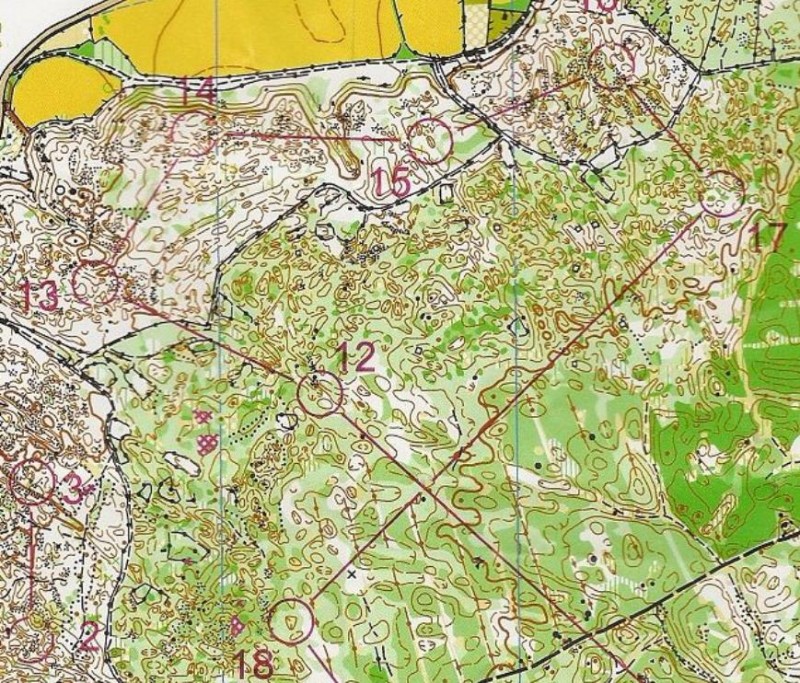 Otherwise, I really enjoyed myself in the area of Turku the week before Jukola, training in wonderful terrains. There, I felt excitement every time I sat in the car heading to trainings : Jukola was near, and each corner of forest provided challenges and nice nature!
Q: Usually the courses in interesting terrains are the ones you remember. But can you remember a very good course you ran in "boring" terrain this year?
I had the chance not to run in very boring forests this year. Most trainings we had in France were of good quality. And as I am not a junior anymore, I begin to choose the competitions I take part to, which means I avoid the really bad ones:)
This year, I think the course I was the most positively surprised by was WOC mixed relay in Nairn. I did not spend so much time looking at aerial pictures of the area beforehand, but still I was not really motivated by how the city looked like and the network of streets did not look so complicated. Still, the course setter managed to make good use of the different parts of the terrain, alternating between park, sanddunes, « fishermen village » and private properties. No part was boring and an average terrain turned out to be exciting. I got the chance to run close to the lead, which maybe makes my analysis a bit biased though:)
We also had a mixed relay in France which was held in Mulhouse. Even though there were some problems with two controls that were too close to each other and with control descriptions that were difficult to understand, the organisers used plenty of artificial fences which made the course interesting and even disturbing. Whereas if you take off the fences, the terrain loses its interest (see also map in good quality but with another course).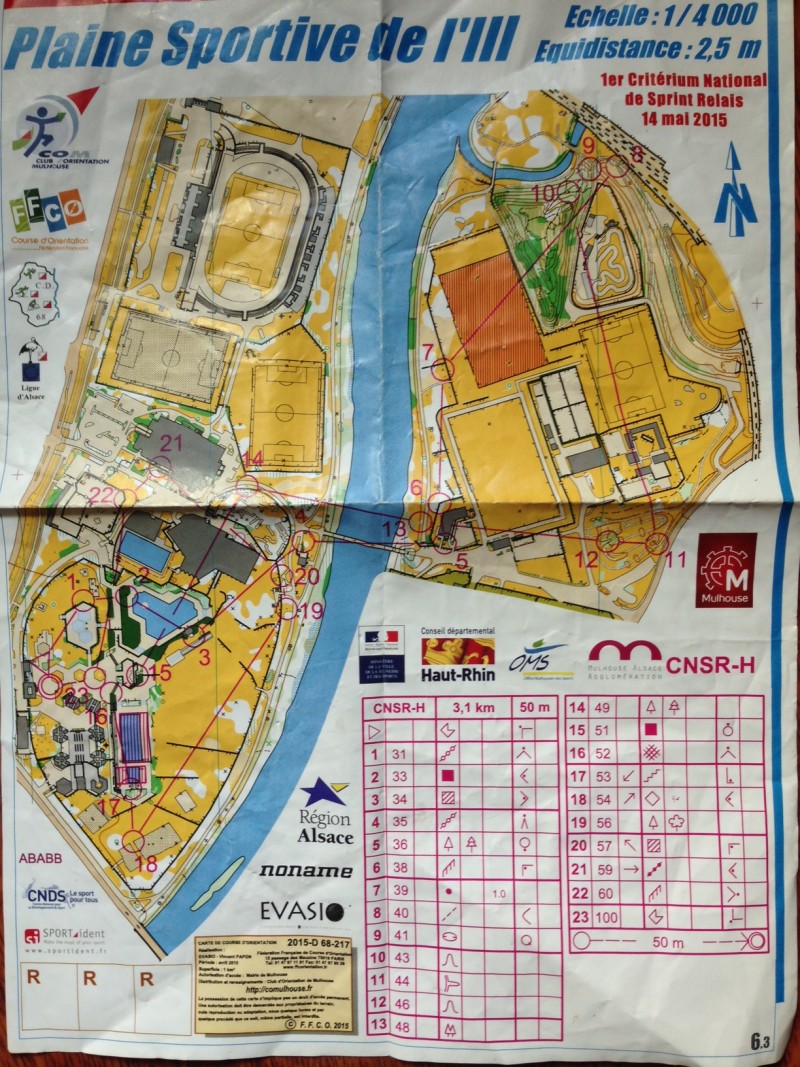 Q: What is the worst course you ran in 2015?
I choose here the course I've been most disappointed with this year : WOC Sprint Final in Forres. Maybe it was not the worst in itself, but considering the situation and the authorization to visit the city beforehand, the course setter could have given us more difficultes. The course simply lacked surprises, which is a necessity in such a case [Editors comment: Actually there was a big surprise with that course – that it didn't have any surprises:)].
Q: What is the most interesting course you ran (or saw) in your own home country in 2015?
Nationale Sud-Est in Mazayes was great, but I definitely regret missing the Nationale Sud-Ouest in le Caylar, on the Larzac plateau, near Millau in the south of France. The Larzac terrains contain everything I love with orienteering : extremely detailed, dense green forest where you have to fight, and fast running in open areas where you still have to be 100% focused. It was in May, when there was competitions every weekend and I had to skip one of them. I decided not to run this one, but it would have been amazing to take part to this race, that Théo Fleurent won thanks to a stable and almost mistake-free race. Far from easy in this kind of terrain !
French National Race South-East 2015 - Day 3 Foret

» See map in omaps.worldofo.com
Q: Did you set any courses in 2015? If so, is it possible to share the best (in your opinion) with World of O's readers?
I do not set courses very often, as I have the chance to belong to the Pole France, the French training group based both in Lyon and Saint-Etienne and which provides one to two technical trainings a week. And this year I was not in charge of the courses when I went to personal training camps.  Actually I just set one course in 2015, a relay training for my club CSM Rillieux. The terrain is 50km away from Lyon, very hilly and rocky but the forest is open. I set some relay intervals.
I am not especially proud of this course, but as I have to talk about one, here it is.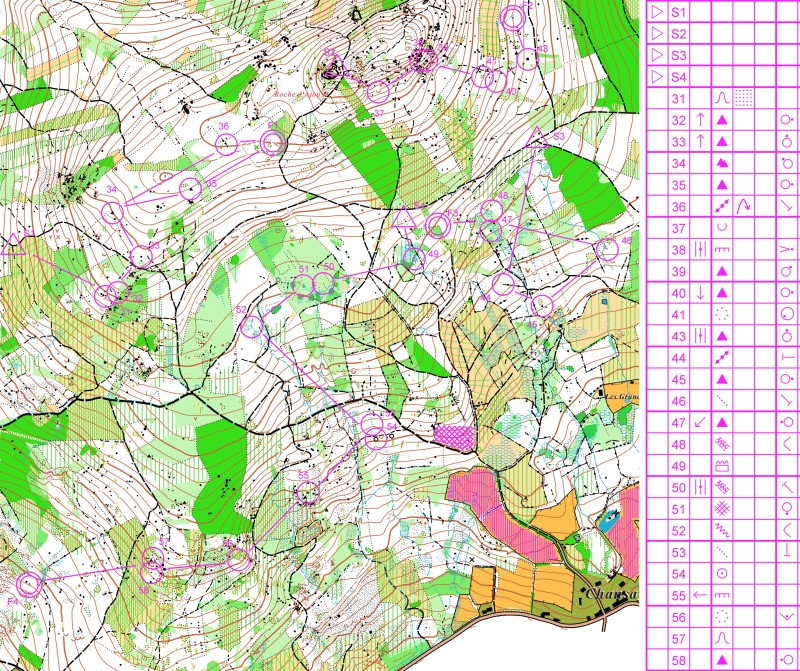 Q: What is the most interesting routechoice leg you remember from 2015? Did you take the right choice?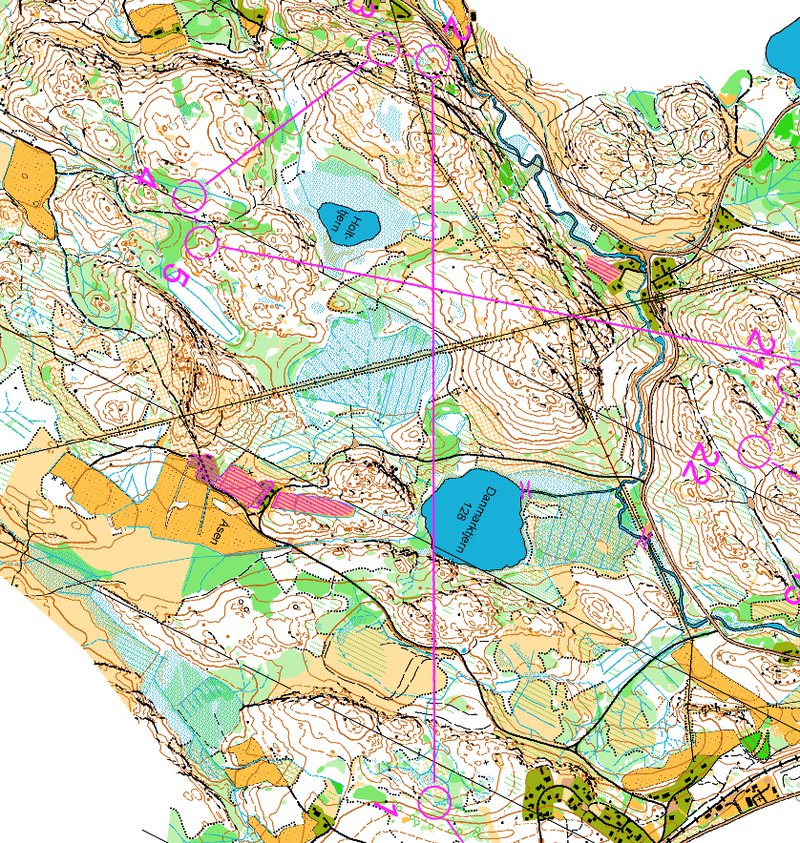 This one was one of the legs where I was challenged the most (see analysis): no route seemed good to me, and I ended up choosing a bad one : mostly straight on, but with a bad execution in the second part. Soon after leaving control n°1, I started to get the feeling that I had taken a bad route-choice, and it influenced the way I behaved. For a couple of controls, I lost self-confidence and started to look behind, waiting for the runner that started behind me to catch me up!
To conclude, a really bad leg for me, but a well planned one by the course setter. The only problem was that the best route was to take the road. Path running is OK for long distance, but 3 kilometers on roads is maybe a bit too much for an orienteering World Cup…
Q: For many you are a new face in the orienteering elite – can you tell a bit about yourself and your career so far?
I was born in 1991 in the suburbs of Lyon, the town I am still living in now, though it is not the most orienteering friendly town in the country. But it is very central, rather close (around 2hours) to many different great orienteering areas. Everyone in my family is running orienteering, and my 3 brothers and sisters are members of the national team with selections in EYOC, JEC, JWOC or WOC.
I started orienteering in 1999 and I have had the chance to be rather successful in all the junior categories, with 3 medals at EYOC (of which one gold), 3 medals at JEC (one gold) and the breakthrough was when I won JWOC sprint in Poland in 2011. There I really started to understand I was not so much worse than the Scandinavians and the Swiss:)
My first WOC was in 2011, but just as a reserve, and there I understood I wanted to experience one as a runner too. From 2012 to 2014 I got some experience at WOC, with a 15th place at the middle in 2014 in Italy as a best result, but without ever being fully satisfied with my races nor feeling I had the level to fight for the top positions.
In the meantime, I got a bronze medal at EOC relay with Tero and Fredo in 2014 and was 2nd at University World Championships middle distance the same year. But I was far from thinking it would go so well in 2015…
Q: You had a great 2015 season – especially the WOC in Scotland was fantastic. In your opinion, what are the three key factors which have helped you reach these amazing achievements?
I had no injury during the winter 2014-2015 and could train continuously. I felt in good shape already in the autumn and did not have to start from scratch after an injury, illness or training break.

Already from the first training camps we had in Scotland, I got a really good feeling with the terrain, especially in terrains relevant for middle distance. I finally could run fast enough to challenge Thierry on some trainings, which had never happened before, and I guess my self-confidence benefited from it.

Finally, I prepared more seriously than ever, especially in the last months. I started to plan everything, slept well, and took care of my nutrition, which had always be my weak point. I lost 3 kilos and maybe that was what I needed to run fast enough. But I got the kilos back soon after WOC:)
Q: What is the race you look most forward to in 2016?
It would be lying if I said this race won't take place around Strömstad in the end of August. I think WOC relay will be my number one goal!
Otherwise, I am looking forward to running O-France (http://www.o-france.fr/2016-foot/fr/) in the Larzac area, a 6-day competition in July on new great maps !
Q: What are your goals for next year – and do you plan to change your training and/or focus in order to reach your goals in 2016?
WOC 2015 was far beyond my own expectations and I am aware that I may not achieve such results next year in 2016. But the fun thing is that I will have the opportunity to do my best! Something I have influence on are my performances, and my goal will be to be as well prepared and my technical performances to be as good. Then we'll see if the shape is good enough:)
I do not think I will change my training so much. But first I have to get rid of ankle problems which have bothered me since WOC!
---
Prizes from our Sponsors
Prizes from our Sponsors always makes it more fun! There will be a prize for the first one suggesting the course which ends up becoming "The course of the Year 2015″, and prizes drawn among the ones suggesting and voting. All prizes are transferable to other persons (you don't have to travel yourself).
Event sponsor: Antalya Orienteering Festival 2016 – 29th October – 5th November
Prize offered: One big Antalya O-Meeting package consisting of 2 complete Antalya Orienteering Festival packages: Accommodation + Entry for all 5 races + All Transfers + The program consisting of presentations held by Håkan Carlsson. Value about 495 Euro. Transferable to other persons.
Antalya Orienteering Festival will be held for the 2nd time in Side by the Mediterranean coast of Antalya, Turkey. We provide 5 different terrains and challenging courses, good maps and good weather for orienteering holiday. Swedish National Team Head Coach Håkan Carlsson will join us for analysis and lectures about Sports psychology & Mental training. See more at www.antalyaofest.com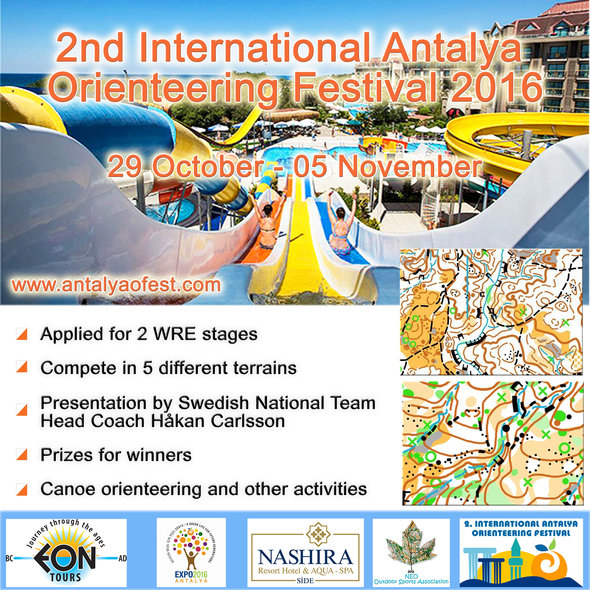 ---
Event sponsor: Fjord-O 2016 – 13th – 17th July
Prize offered: 3 packages – each for 2 persons – for the full Fjord-O 2016 consisting of entry for 4 races in beautiful terrain with fjord view.  Value about 450 Euro. Transferable to other persons.
The race courses are set among the most spectacular sceneries in «Fjord Norway», with the slogan «with a view to the fjord». Fjord-O Vest is 4 days of competitions allowing time for you to explore the beautiful nature in this area during your holiday. Stryn and Ålesund have many exciting attractions such as the Jugend town of Ålesund, the Geiranger Fjord, a hike up the longest uphill track in Norway to the Skåla summit at 1849 above the sea level or a visit to the famous Briksdal Glacier. See more at fjord-o.no.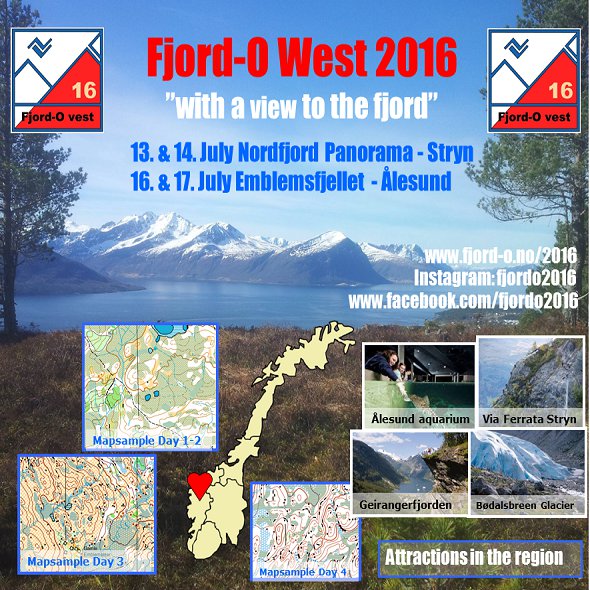 ---
Event sponsor: Portugal "O" Meeting 2016 – February 5th-9th 2016
Prize offered: 4 packages – each for 2 persons – transferable to other person. Consisting of entry to complete 4 day Portugal "O" Meeting 2016 – 4 official races + 1 Urban Night (Middle, Urban Nigth, Middle, Long-WRE, Long). Value about 390 EUR.
POM is the world's biggest winter time orienteering event, and is considered by many as the official opening of the competition season for its high quality organization and for receiving the top runners of the world. We expect to have 2000+ runners – last year POM had 2300 runners! Besides new maps, challenging terrains and courses you'll be able to experience the rich gastronomy, as the famous cheese, olive oil and honey (considered among the best in the world). Have a chance to enjoy the friendship of locals and explore the beautiful and untouched nature. The WRE day will be the long distance on

8th Feb.

More at  http://www.pom.pt.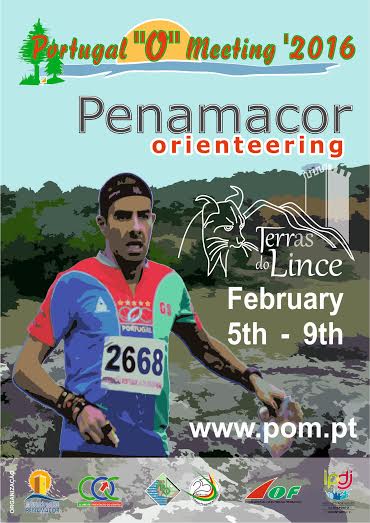 ---
Event sponsor: Slovak Karst Cup 2016. 21st-24th July 2016
Prize offered: 3 packages for 2 people – each consisting of: entry for 4 competitions (2xmiddle, 2x shortened long), accommodation for 4 nights in camping, 3 training maps, Event T-shirts and headtube.
Value about  360  Euro, transferable to other person(s).
Slovak Karst Cup is the favorite multiday o-event in Slovakia. It is usually organized in karst terrains of Silická planina (plateau) or Plesivecka planina (plateau), which are located in National park Slovenský kras. You can find many depressions, mixed forest, semiopen or open areas there. And also lots of natural and historical attractions in surroundings after competition. For Karst Cup 2016 we have chosen one of the most attractive terrains, which where used partly for JWOC 2012 (open or semiopen areas of Silická planina) and fully for WUOC 2006 (forest area of Plešivecká planina). The competition can be a very good opportunity for training for WUOC 2016 participiants. More at http://www.tuke.sk/obeh/karst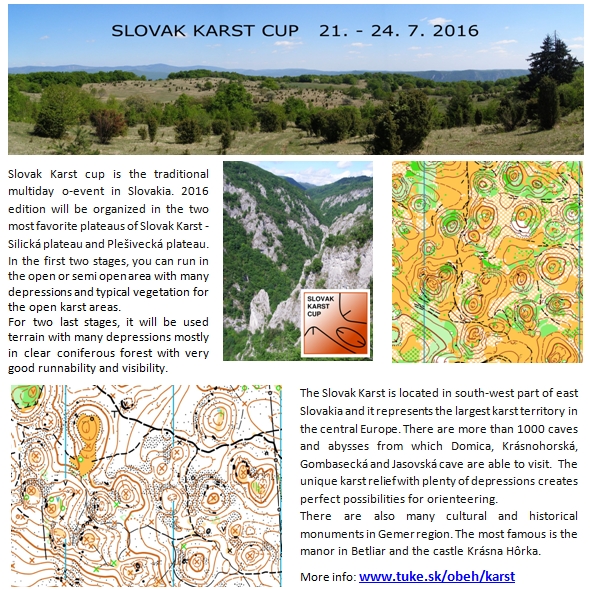 ---
Event sponsor: SIVEN MOC 2016 – March 4th – March 10th 2016
Prize offered: Full package for 1 person consisting in package for SIVEN MOC camp + entry fee for SIVEN MOC Championship in Bulgaria – March 2016. The package includes 7 trainings as shown on the program, 3 competitions of MOC Championship, 8 nights accommodation. Value about 349 Euro. Transferable to other person. 

XIV edition of MOC, with main sponsor SIVEN,

for the first time in Bulgaria

. Event centre in Bansko. Find your Bulgaria! MOC stands for Mediteranian Orienteering Championship – MOC is an annual event organized at the beginning of spring season, in

southern countries with softer climate

. More info at 

www.sivenmoc.com

 and 

www.orienteering.it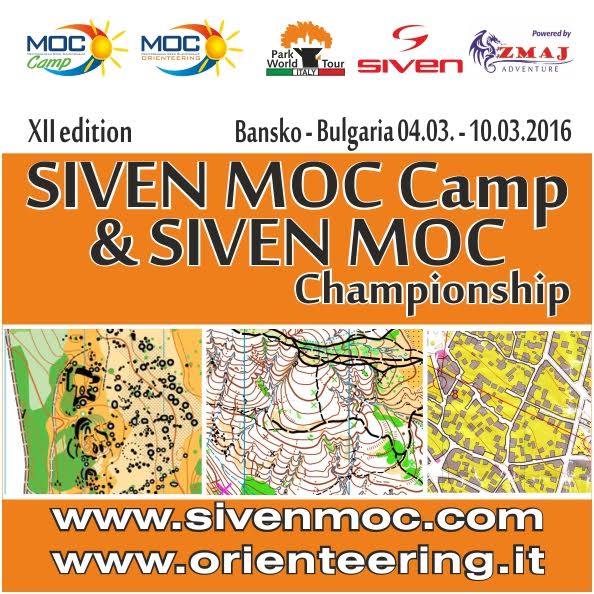 ---
Event sponsor: Orievents / NAOM 2016. 13th – 14th February 2016
Prize offered: Competition + training package for 2 persons, consisting of: Entry for NAOM 2016 (

13

February  2016 –  Middle distance + Night Sprint ; 14 February – Middle Distance WRE) +  training camp (6 trainings) + 3 days of accommodation in half board. Value about 320 Euro. Transferable to other persons.
Orievents / GD4C's Training Camps "Alto Alentejo" are an excellent training opportunity for Orienteering of good quality during the winter. Start the new season in training camps in Alto Alentejo, Portugal! More at www.naom.pt and about the training camp at Orievents.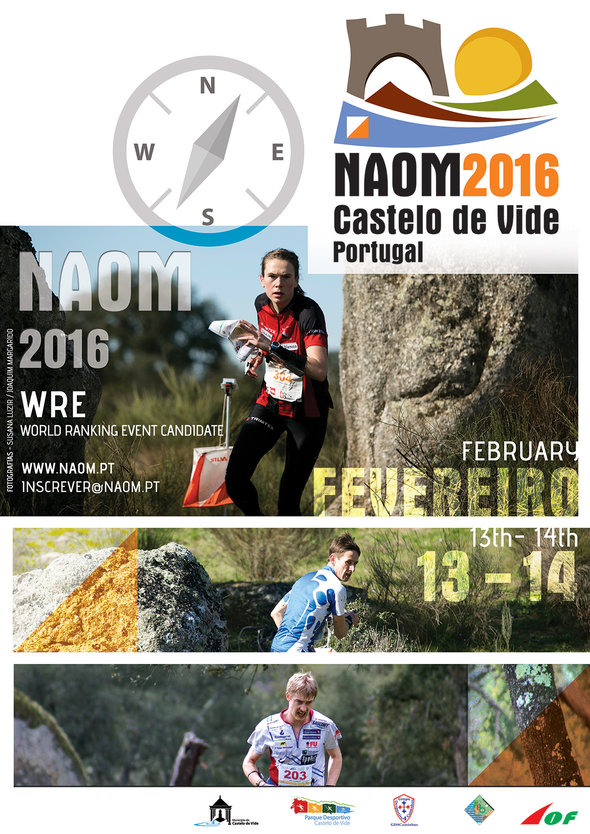 ---
Event sponsor: Lipica Open 2016. 12th – 16th March
Prize offered: 2 packages – each for 2 people – consisting of: Entry to complete Lipica Open competition + hard floor accommodation in Postojna. Value about 320 euro. Transferable to other persons.
In 2016 Lipica open will again be organized as a 5 day event. Again some great terrains! Training conditions in this part of Europe are now better than ever – both on forest maps and on sprint maps of nice little towns on the Adriatic coast! More at www.lipicaopen.com