Check here if you won any of the prizes worth around 5000 Euros in total in your voting for "The Orienteering Achievement of 2015″! 
The vote has been decided by the big international readership of WorldofO.com – more than 4000 unique votes from around 60 different countries have been delivered – making these results very representative for the worldwide orienteering community. Big thanks go to all voters and to the event sponsors PWT Five Days Toscana, Andalucia O-Meeting, Easter 4 , O-Ringen, Swiss O-week, Antalya Orienteering Festival, Sprint Scotland, Suunto Games and OOCup.
Winners of "The Orienteering Achievement of 2015″ were Maja Alm and Olli Ojanaho – read more about their fantastic achievements and read interviews with the winners here. Although it is too late to vote now, you can read more about all the nominated athletes at the voting page:
In addition some websites who helped spread the news about the poll have been awarded with free ads. Check at the bottom of this page if your website took home one of those prizes!
---
Event sponsor: PWT Five Days Toscana 2016. July 9th – July 16th 2016
Prize offered: Package for 2 people consisting in entry fee and half board accommodation for Five days Tuscany in July 2016.  Value about 1500 Euro. Transferable to other persons
Follow the Sun in Italy! Five days of orienteering in beautiful Tuscany – Elba Island, Mount Amiata (1738m above the sea level), Castagneto Carducci, Bolgheri and Montalcino the towns of wine, Cecina. Event centre Hotel La Buca del Gatto, on the beach. Read more at www.orienteering.it and www.facebook.com/pwtorienteering.
Winner: Sebastian (e-mail  seb….@yahoo.es)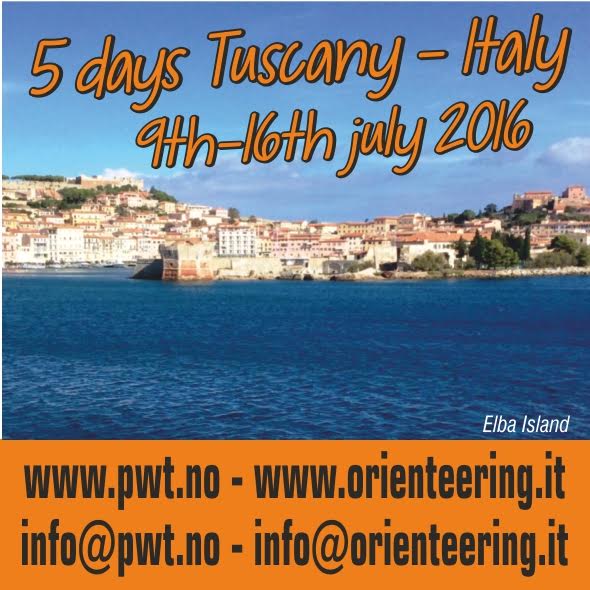 ---
Event sponsor: Andalucia O-Meeting 2016 + Training package. February 26th – 28th + 4 Days
Prize offered: AOM 'Back to Basics' Competition Package for 2 persons – including entry to 3 events (relay, middle and King of MoroccO), 6 nights accommodation in 2 person apartment and a 11-map package to train before or after the event. Value about 540 Euro. Transferable to other persons.
Sweet terrains and maps, a friendly atmosphere and mild climate! More info at andaluciaomeeting.com
Winner: Alex Voitova (Note! E-mail address given gave an error, please send updated e-mail address to jan@kocbach.net)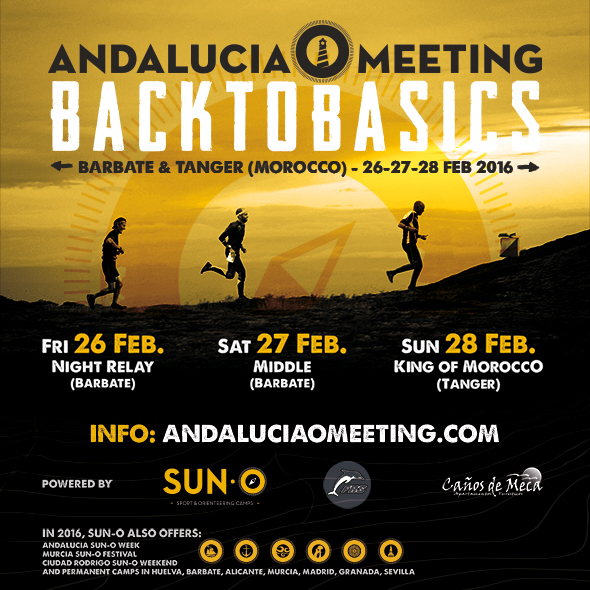 ---
Event sponsor: Easter4 2016 – Races + Training Camp. March 21st – March 28th
Prize offered: 1 package – for 2 people – consisting of: Entry for the  Easter4 competition in Slovenia + 4 day training camp with 8 trainings + 3 evening analysis sessions + 7 nights Bed & Breakfast accommodation. Value about 510 Euro. Transferable to other persons.
Slovenia will be the place to be in Easter 2016. The new 4 Day race Easter4 is organized with the same high quality maps and courses as you are used to from OOCup, Lipica Open and Bubo Cup.  Ahead of Easter4 there will be an international 4 Day training camp with high level trainings that will help you understand how to master the Slovenian orienteering challenges. More at Easter4.com – see also preliminary program for training camp here.
Winner: Miika Kirmula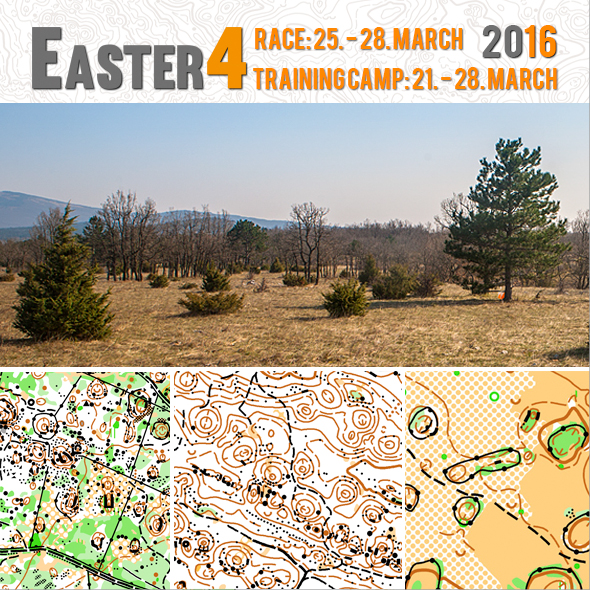 ---
Event sponsor: O-Ringen 2016 Sälen. July 23th – July 29th 2016
Prize offered: One package with 2 free starts in any class in O-Ringen 2016 in Sälen. Value up to 500 Euro. Transferable to other person.
O-Ringen is Sweden's biggest sports event and the world's biggest orienteering festival. It is held annually, during July, in a different location each year. Interest is sky high for next summer's O-Ringen in beautiful Sälen. 10,792 participants registered for the orienteering event already by 1 November. More information at o-ringen.se.
Winner: Vyacheslav (e-mail: sl_…@yahoo.com)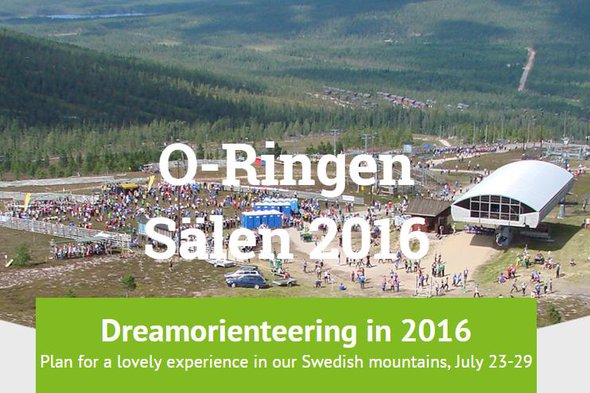 ---
Event sponsor: Antalya Orienteering Festival 2016 – October 29th  – November 5th
Prize offered: One big Antalya O-Meeting package consisting of 2 complete Antalya Orienteering Festival packages: Accommodation + Entry for all 5 races + All Transfers + The program consisting of presentations held by Håkan Carlsson. Value about 495 Euro. Transferable to other persons.
Antalya Orienteering Festival will be held for the 2nd time in Side by the Mediterranean coast of Antalya, Turkey. We provide 5 different terrains and challenging courses, good maps and good weather for orienteering holiday. Swedish National Team Head Coach Håkan Carlsson will join us for analysis and lectures about Sports psychology & Mental training. See more at www.antalyaofest.com
Winner: Tapani Mäkinen for this great nomination of Maja Alm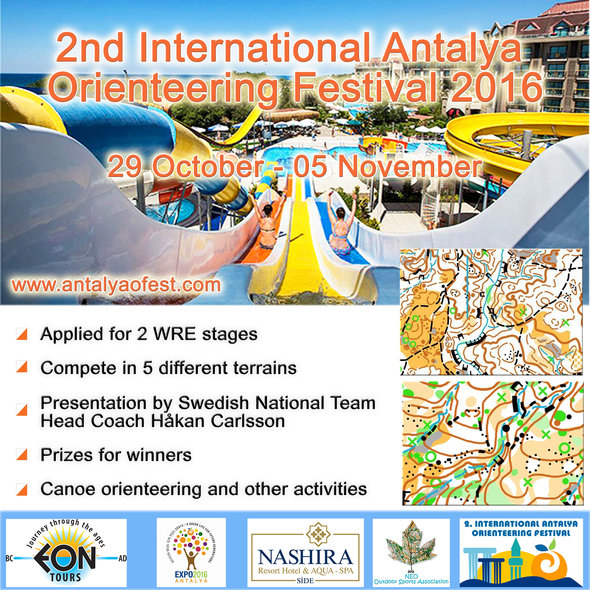 ---
Event sponsor: Swiss O-week 2016. July 16th  – July 23rd 2016
Prize offered: 500 Swiss Francs cash refund towards entry fees and accomodation at Swiss O-week 2016 (transferable to other persons). Value about 460 Euro.
The Swiss Orienteering Week (SOW) 2016 is an orienteering event with races on six days with a rest day between the third and fourth days. The event centre is in St. Moritz in the Swiss Alps with lots of opportunities for holiday activities and fun. The organisers are expecting over 4000 orienteers from more than 30 countries. Most of the race areas in the Upper Engadin are being used for orienteering for the first time. As well as courses for the trained runners there will be easy courses for holidaymakers, walkers and beginners on offer on every race day. More info: www.swiss-o-week.ch. The Junior World Orienteering Championships (JWOC) 2016 with orienteering events for spectators will take place in the week before the SOW in the Lower Engadin with event centre in Scuol. More info: www.jwoc2016.ch
Winner: Andrew Childs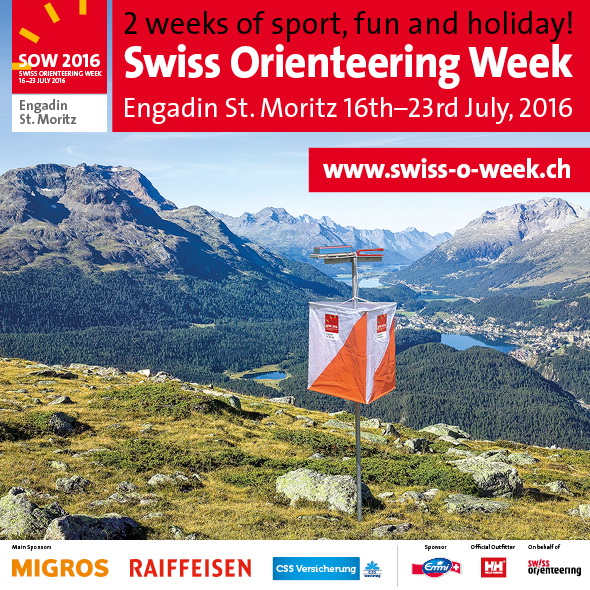 ---
Event sponsor: Sprint Scotland 2016. July 14th – 17th 2016
Prize offered:  2 times 'Full Scottish' package for 2 – including 2 days of training (3 training sessions per day), 2 days of racing (3 races), 3 evening talks about sprint orienteering, PLUS 2 tickets to the ceilidh party (with traditional Scottish dancing). Value approx 400 Euro. Transferable to other persons.
Sprint Scotland is a professionally organised sprint orienteering training camp in the heart of historic Scotland – ideal whether you are an aspiring World Champion, or just want a fun trip with your friends. Short travel from Edinburgh or Glasgow, all activities will be accessible by public transport. All info at http://sprintscotland.co.uk/
Winners: Andrii (e-mail: yus…@gmail.com) and Andrew Dalgleish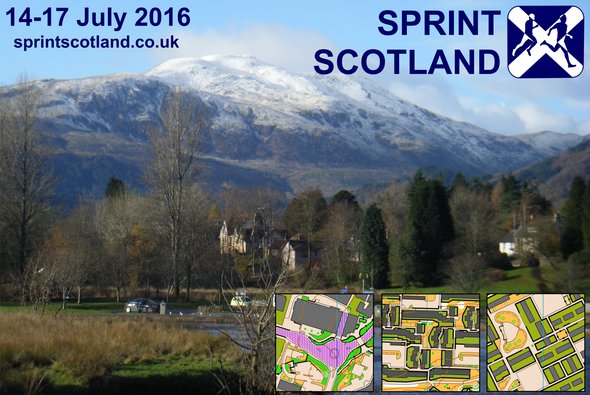 ---
Event sponsor: Suunto games 2016. October 1st – 2nd 2016
Prize offered: Suunto Games package for 2 persons consisting of entries, weekend package in Kubija Hotel and Nature Spa  with accommodation, dinners and spa procedures for 2 nights. In addition, a presents from the title sponsor Suunto. Value about 350 EURO. Transferable to other persons.
Suunto Games in Estonia is the largest competition of the Estonian orienteering season with around 700 participants, organized over

2

days on the best terrains. WREs on both days and a high relevance to WOC 2017 terrains will attract the elite in 2016, whereas high quality organization and a good atmosphere will be the key factors for the others. Courses in the highest region of Estonia, in Haanja heights, will lead you through a colourful and hilly autumn terrain. Experience tourist attractions in the region, such as the highest hill of Estonia – Suur Munamägi, Rogosi manor, Nightingale Valley or try the smoke sauna (part of UNESCO Intangible Cultural Heritage). See more at www.facebook.com/SuuntoGames
Winner: Emma Andersson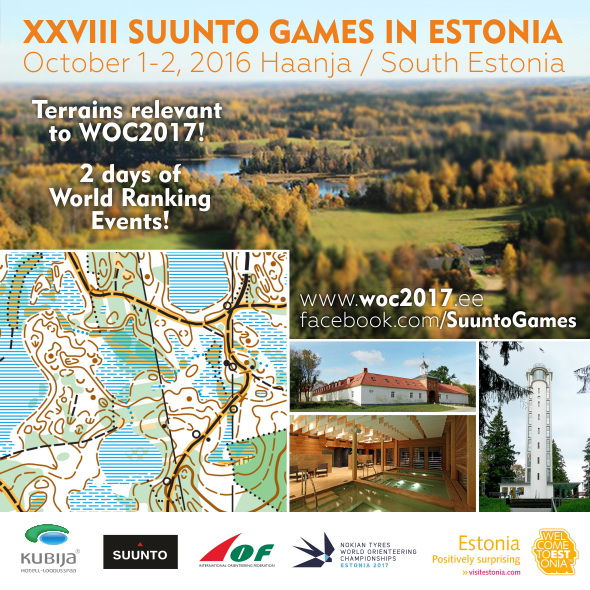 ---
Event sponsor: OOCup 2016. July 27th – July 31st 2016
Prize offered: 2 packages – each for 2 people – consisting of: Entry for the complete 5 days OOCup competition in Slovenia, Italy and Austria. Value  240 euro. Transferable to other persons.
OOCup is a 5 Day orienteering event organized annually in Slovenia. OOCup 2016 will be one of the most spectacular editions of OOCup ever – with races in three countries. The event is famous for its Karst orienteering and excellent combination of orienteering and holidays. More at oocup.com.
Winners: Antti Parjanne (for this nomination) and Christian Mohn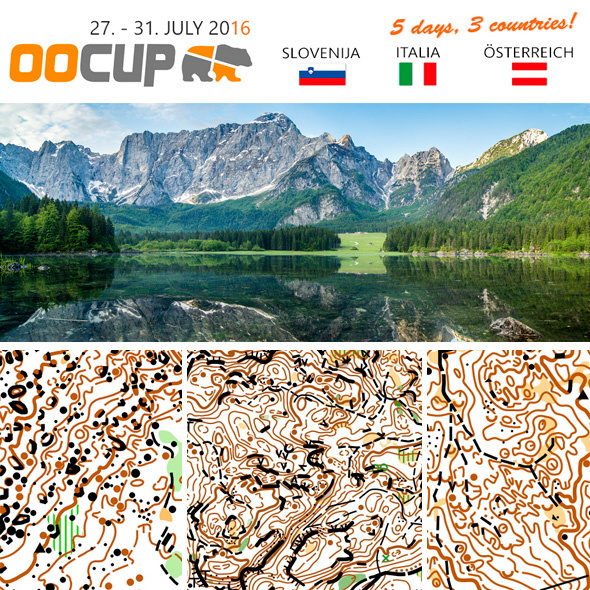 Pages linking to the poll
Pages linking to the poll for "Orienteering Achievement of the Year are important for spreading the news about the great achievement of the nominies. This year as always some prizes are drawn among the websites linking:
Each of these pages have the right to get a free "Sponsored Link" for a month at World of O for an orienteering related race/product/cause. Please contact Jan Kocbach at jan@kocbach.net for more information.
Some other pages linking to the poll (Thanks to all websites who helped spread the news!):