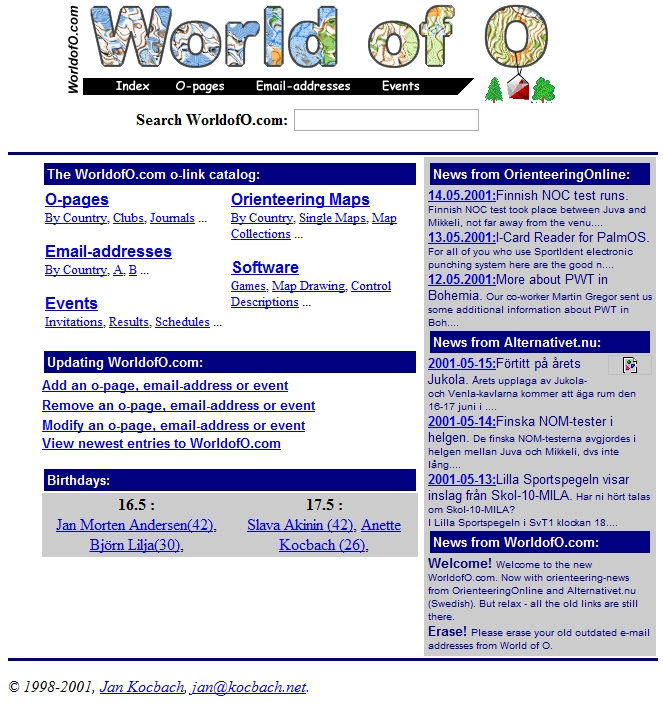 Which birthday present do you want World of O to get for its 21st birthday? A new front page which is responsive and works on mobile and tablets? An improved 2DRerun front page which works well on mobile? A fully working events.worldofo.com? An official and fully working version of WoOSplits? Strava-integration in 2DRerun?
World of O turns 21 today – quite an age for a website – and still going strong! To put it into perspective: Google is not even 18 years old – the internet is 24. Going from 5000 page views in 1995 to millions of page views in 2015 alone, World of O has gone a long way! From the first small trials until today: World of O has all the time been driven by my personal interest to know about what happens in the orienteering world.
Please add a comment, send me a message to help me decide which feature to give World of O for its birthday!
More about the birthday present and how you can influence it below – but first some history.
Working version from the 90's & from around 2005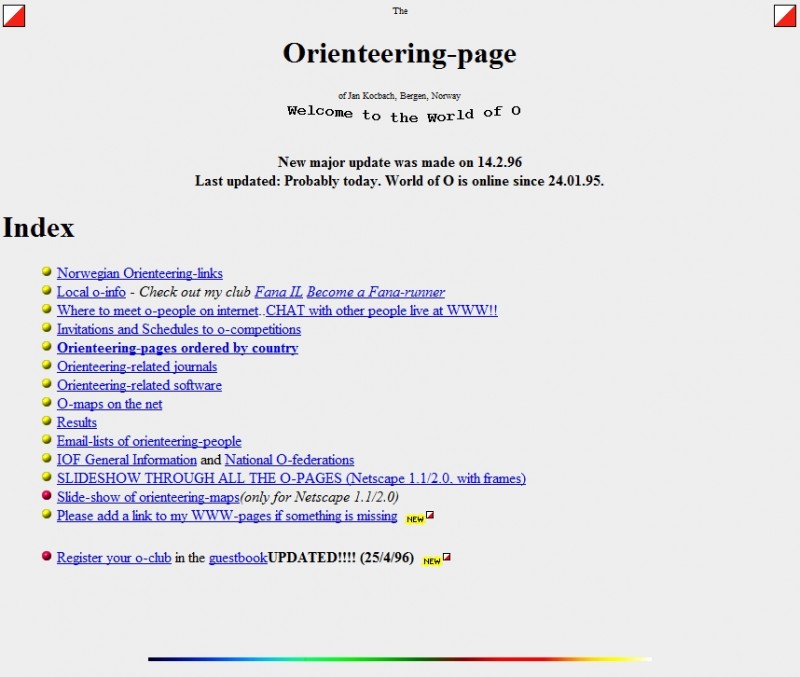 What is now known as World of O was live from January 24th 1995 (see snapshot above from 1996). The original version of World of O was a linkdatabase, orienteering map database and email address database which was updated "by hand". In 1996 some forms were added to make it possible for people to add links and email addresses by themselves. I will not repeat all of the history here – but you can see some snapshots through the history of World of O from 1995 until today here. See also:
Birthday present for the 21st birthday: New/improved feature
Turning 21 is a big thing, and therefore a proper birthday present needs to be prepared. I have got a lot of ideas and half baked solutions which I use actively myself, but which are not ready for prime time. World of O's birthday present will be full focus on finishing one of the features described below. Please add a comment, send me a message to help me decide which feature to give World of O for its birthday!
Alternative birthday presents:
From my point of view any of these features would be a nice birthday present for World of O. There is however not time to give full focus to all of them – but with your help to choose, I'd like to give World of O one of these – focusing all of my WorldofO development-time on this feature until it is ready for prime time.
Which should I choose? Please add a comment below, below this message at WoO's Facebook page, or send a message!