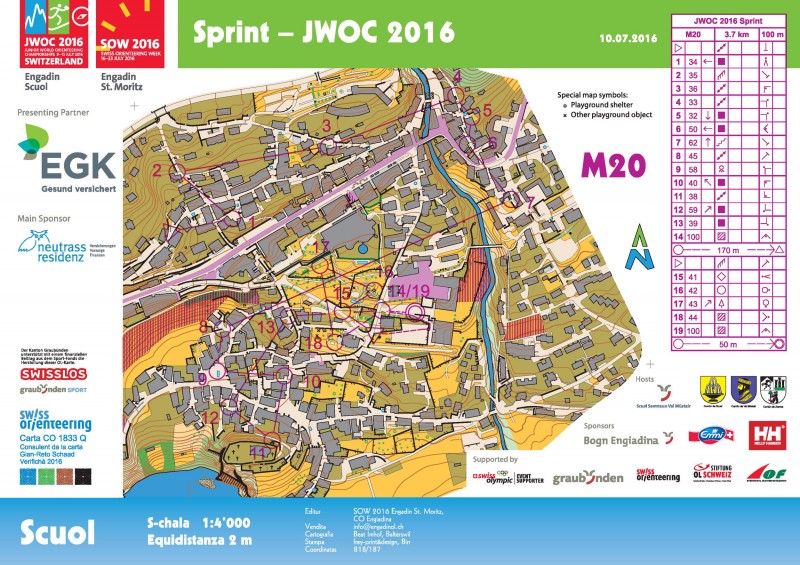 A fantastic day for Switzerland at the opening race of the Junior World Championships (JWOC) in Scuol, Switzerland today: A clear gold for Simona Aebersold in the women's class – and both gold and silver in the men's class with Joey Hadorn ahead of Thomas Curiger.
In the women's class Anna Dvorianskaia (RUS) was closest to the Swiss home favourite. Dvorianskaia finished 8th in the European Championships sprint in the senior class this year – and was one of the big challengers to Simona Aebersold ahead of the race. In the end she was 51 seconds behind the Swiss. Anna Haataja (FIN) finished third – another four seconds behind Dvorianskaia.
The men's race was much tighter – with Joey Hadorn winning the race with only 8 second ahead of team mate Curiger. Hadorn is an extremely fast runner – and good exploit this in this course. Isac von Krusenstierna (SWE) finished third, 17 seconds behind Hadorn.
You can relive the excitement from today's sprint in the JWOC Live-Ticker.
Maps
Click below to see the maps. GPS-tracking is available here for men and here for women. Analysis will be available at WorldofO.com in cooperation with the JWOC organizers tonight.
JWOC 2016 Sprint M20

» See map in omaps.worldofo.com
JWOC 2016 Sprint W20

» See map in omaps.worldofo.com
Results
Men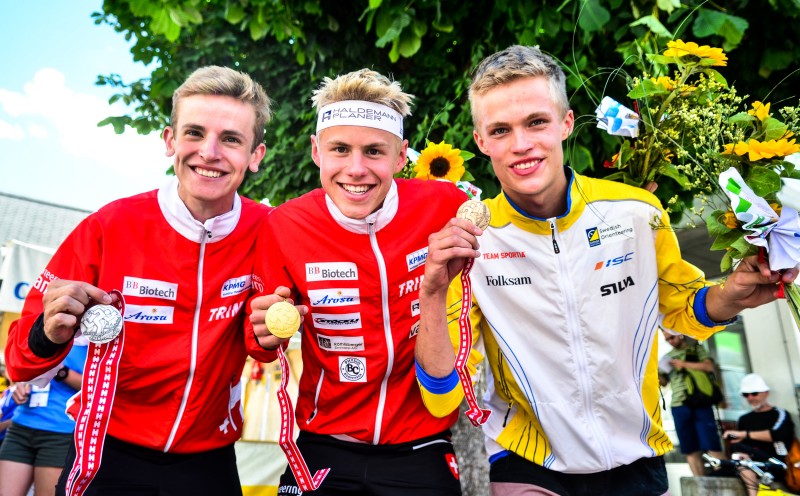 | | | | | |
| --- | --- | --- | --- | --- |
| 1. | Joey Hadorn | Switzerland | 12:47 | (+0:00) |
| 2. | Thomas Curiger | Switzerland | 12:56 | (+0:09) |
| 3. | Isac von Krusenstierna | Sweden | 13:04 | (+0:17) |
| 4. | Simon Dubach | Switzerland | 13:18 | (+0:31) |
| 5. | Quentin Rauturier | France | 13:19 | (+0:32) |
| 6. | Henry Mcnulty | Australia | 13:20 | (+0:33) |
| 6. | Tobia Pezzati | Switzerland | 13:20 | (+0:33) |
| 8. | Tommy Hayes | New Zealand | 13:21 | (+0:34) |
| 9. | Olli Ojanaho | Finland | 13:23 | (+0:36) |
| 9. | Olai Stensland Lillevold | Norway | 13:23 | (+0:36) |
| 11. | Riccardo Rancan | Switzerland | 13:32 | (+0:45) |
| 12. | Topias Ahola | Finland | 13:33 | (+0:46) |
| 13. | Mate Dalos | Hungary | 13:34 | (+0:47) |
| 13. | Arnaud Perrin | France | 13:34 | (+0:47) |
| 15. | Anton Kuukka | Finland | 13:36 | (+0:49) |
| 16. | Ricardo Esteves Ferreira | Portugal | 13:39 | (+0:52) |
| 17. | Topi Raitanen | Finland | 13:40 | (+0:53) |
| 17. | Riccardo Scalet | Italy | 13:40 | (+0:53) |
| 19. | Jesper Svensk | Sweden | 13:45 | (+0:58) |
| 20. | Simon Hector | Sweden | 13:46 | (+0:59) |
Women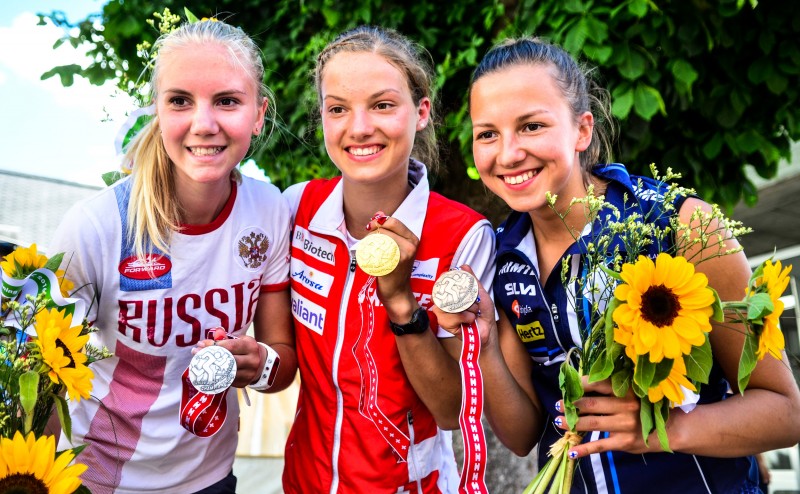 | | | | | |
| --- | --- | --- | --- | --- |
| 1. | Simona Aebersold | Switzerland | 13:13 | (+0:00) |
| 2. | Anna Dvorianskaia | Russian Federation | 14:05 | (+0:52) |
| 3. | Anna Haataja | Finland | 14:08 | (+0:55) |
| 4. | Virag Weiler | Hungary | 14:16 | (+1:03) |
| 5. | Josefine Lind | Denmark | 14:21 | (+1:08) |
| 6. | Lotta Kirvesmies | Finland | 14:25 | (+1:12) |
| 7. | Megan Carter Davies | Great Britain | 14:29 | (+1:16) |
| 8. | Barbora Chaloupska | Czech Republic | 14:58 | (+1:45) |
| 9. | Paula Gross | Switzerland | 15:02 | (+1:49) |
| 10. | Valerie Aebischer | Switzerland | 15:07 | (+1:54) |
| 10. | Daria Moskalenko | Ukraine | 15:07 | (+1:54) |
| 12. | Petra Hancova | Czech Republic | 15:08 | (+1:55) |
| 13. | Tilda Johansson | Sweden | 15:17 | (+2:04) |
| 14. | Elin Carlsson | Sweden | 15:22 | (+2:09) |
| 14. | Jasmina Gassner | Austria | 15:22 | (+2:09) |
| 16. | Tereza Cechova | Czech Republic | 15:24 | (+2:11) |
| 16. | Amanda Falck Weber | Denmark | 15:24 | (+2:11) |
| 18. | Hanna Hugosson | Sweden | 15:26 | (+2:13) |
| 19. | Kseniia Penzina | Russian Federation | 15:29 | (+2:16) |
| 20. | Marianne Haug | Estonia | 15:32 | (+2:19) |