The Junior World Orienteering Championship (JWOC) starts in Scuol, Switzerland with the Sprint tomorrow at 09:00 CET. Below is a quick look at earlier results of the athletes.
See also: JWOC 2016 – All You Need To Know and  JWOC 2016 team overview. There will be live GPS-tracking, live results, live web-TV and LiveBlog available from the race. 
Open race
As there is no qualification, the JWOC Sprint is a very open race, and predicting the medalists is not straightforward. With around 170 men and 150 women on the start, there are lots of potential medalists who can get a Top10 or even a medal with the race of their life. Also, there are several athletes who make their first international championships performance at JWOC, but have shown on national level that they have the potential for taking a medal at JWOC.
Previous results table
Below is a list of previous results from JWOC and EYOC (European Youth Orienteering Championships) for the athletes, and based on a simple point system the athletes are ordered. Note, however, that there are athletes with zero points on this list (no previous JWOC or EYOC results) who could get a medal at tomorrow's race, so there may definitely be other runners coming up than the ones listed on top here.
Men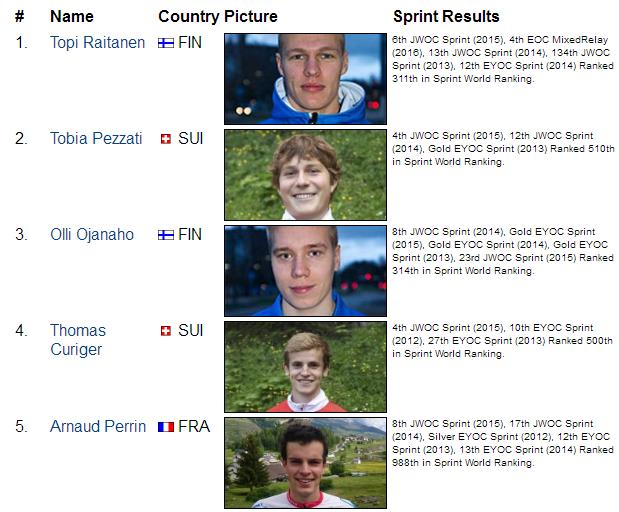 Women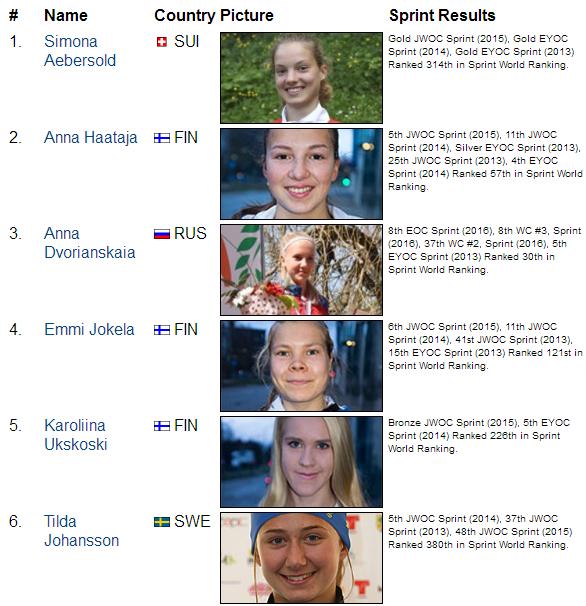 Race characteristics (from Bulletin 4)
The race is organized in an urban area with grassy public parks – a hillside with a few steep slopes. Scuol is divided in two parts; the modern part of the town with shopping streets and a thermal bath area, and the old part of the town with traditional Engadine houses and narrow streets.