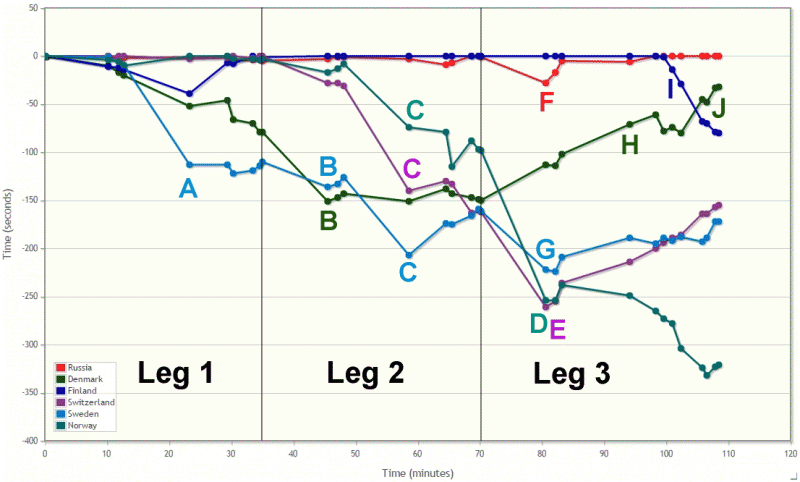 The WOC 2016 Women's relay featured a very interesting battle between the six favourite teams Russia, Denmark, Finland, Switzerland, Sweden and Norway.
The decision points are marked in the splits graph with letters A-J. For each decision point, there is a GPS animation video. Under each video there is a quick-link to the splits graph to let you quickly understand how the video clip fits into the story.
Situation A: Leg 1, control 6/7 –  Sweden loses nearly 2 minutes
See also illustration showing time losses in more detail: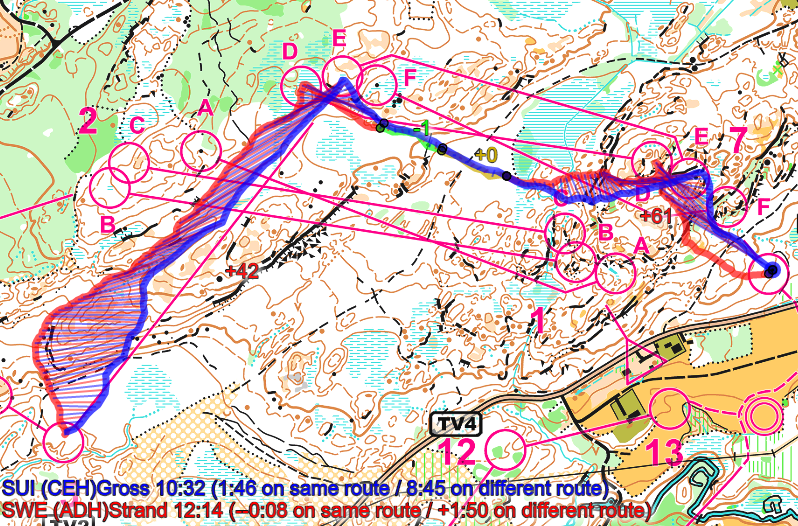 . Splits graph: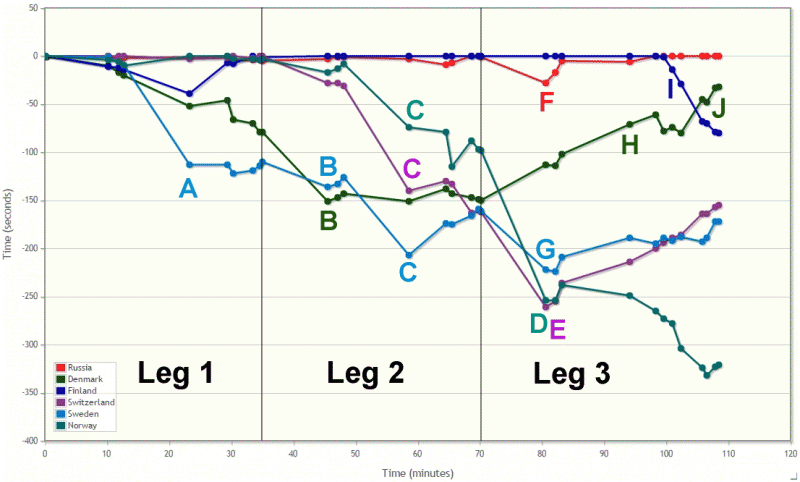 Lina Strand (SWE) takes a longer route to control 6 (going around the first hill to save some climbs she anyway needs to climb later on the leg) and also loses time while trying to find a straight passage through the cliffs to control 7. Note that the D forking is probably longer though: 6D forces you to take a steeper climb under the red line (while going right around to 6E or 6F is faster) and the marsh and cliffs before 7 force you to run around, making 7D not shorter than E and F, and thus the all D-forking longer).
Situation B: Leg 2, control 3 – Sweden and Denmark lose contact with leading group
Splits graph: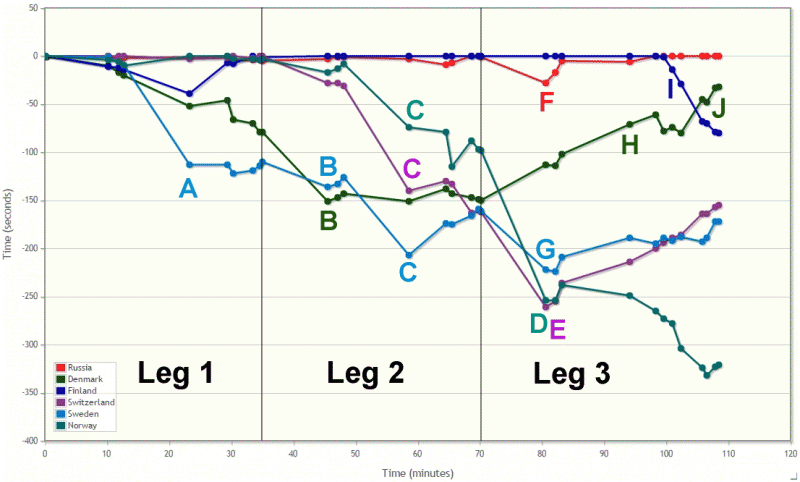 Emma Johansson (SWE) and Ida Bobach (DEN) lose direction in the green towards control 3, losing about a minute and the contact with the leading group.
Situation C: Leg 2, control 6/7 – Norway loses contact with leading group – Sweden loses more time
See also illustration showing time losses in more detail: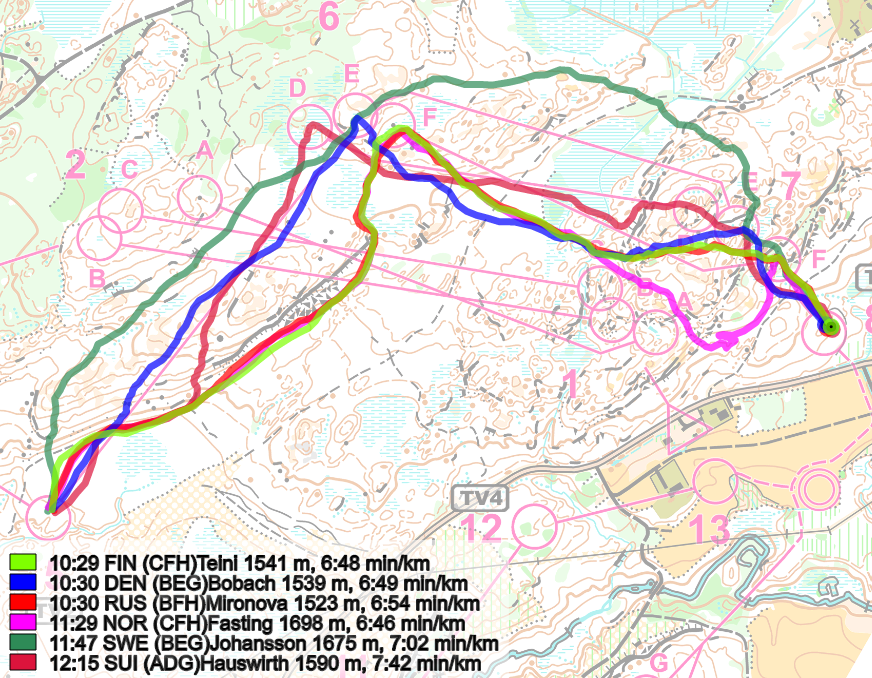 . Splits graph: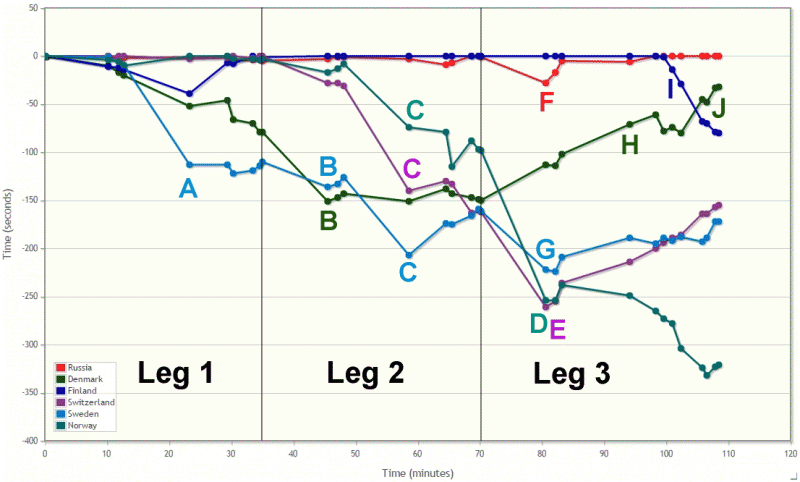 Mari Fasting (NOR) takes the initiative right from the beginning of this 2nd leg, but already makes a small 30″ mistake at control 3. She pushes hard to overtake Marika Teini (FIN) and Svetlana Mironova (RUS) and with higher speed, she even starts to build a little gap on the way to control 7. But she loses control over her orienteering onto the control and finds herself lost too far right. Time flows while she tries to relocate and the mistake finally cost her over 1'30.
Emma Johansson (SWE) loses time again on this part of the course (1'20), a bit (20″) due to a bad left route choice to control 6 (same one as her team mate Lina Strand on the first leg), but also due to losing time onto control 7 by chosing a left route choice with a more difficult (and slow) entry to the control (1′).
Note that Sabine Hauswirth (SUI) also loses time here (1'45) by both slower speed and longer forking (D).
Situation D: Leg 3, control 1 – Norway out of the game
See also illustration showing time losses in more detail: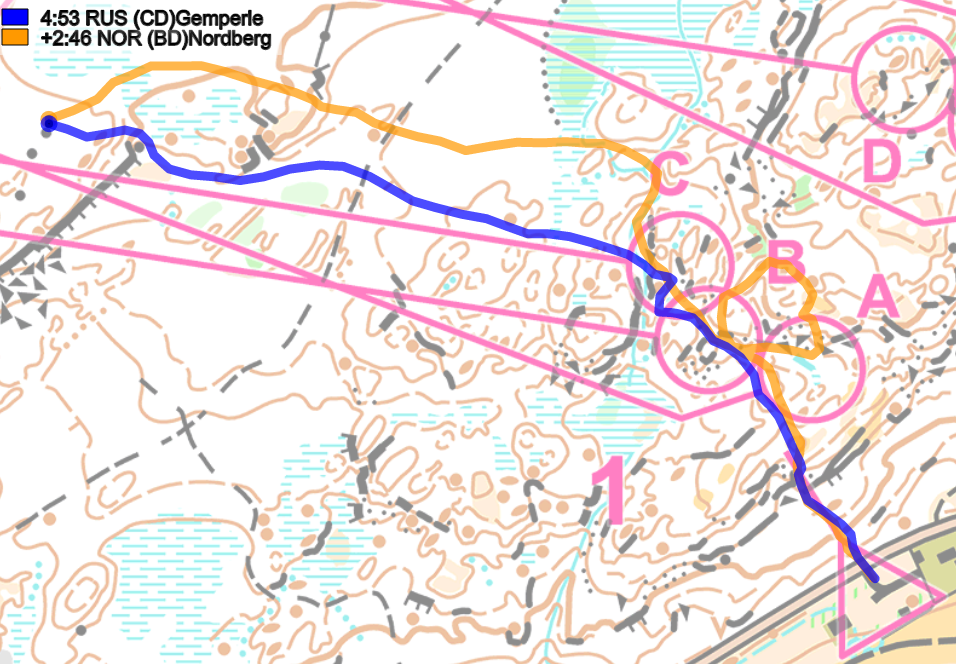 . Splits graph: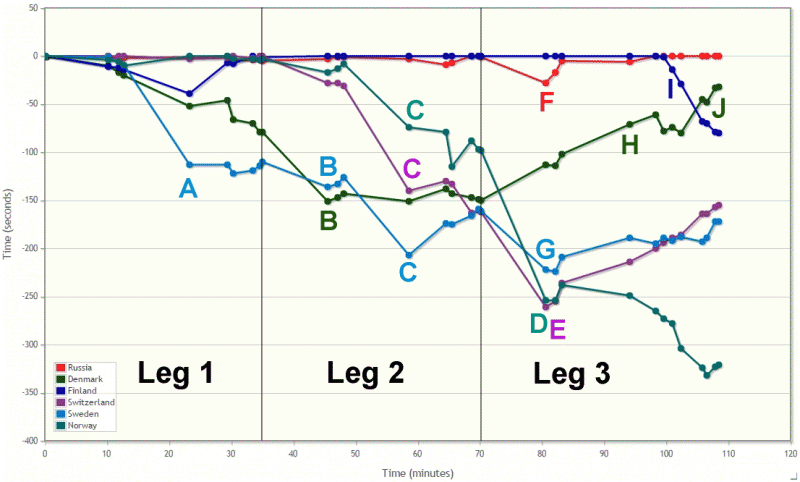 Anne Margrethe Hausken Nordberg (NOR) starts on the 3rd leg on medal position, around 1'40 after the two leading teams (FIN and RUS). But a 3′ mistake already on the first control ruins all her chance to get back into the fight for gold. The chasers Alm (DEN) Wyder (SUI) and Alexandersson (SWE) take the opportunity and pass her.
Situation E: Leg 3, control 2 – Switzerland out of the game
Splits graph: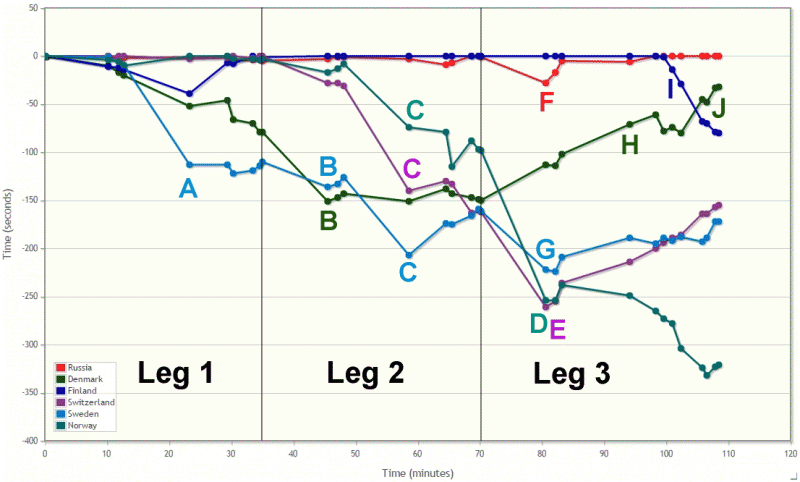 Judith Wyder (SUI) started her leg in 6th position, together with Maja Alm (DEN) and Tove Alexandersson (SWE). They are 2'40 after the leading team (FIN) but only 1′ behind the medal (NOR). With great opening speed (and mistake from Norway) Wyder is already in the fight for 3rd place together with Alm at 2nd control. But while Alm gets her forking well, Wyder makes a (strange) 2'30 mistake by going straight into the green area behind her control. Even if pushing hard the rest of the course, Wyder will never be in the medals fight again.
Situation F: Leg 3 – Control 3: Russia mistake into third control while building up a gap
See also illustration showing time losses in more detail: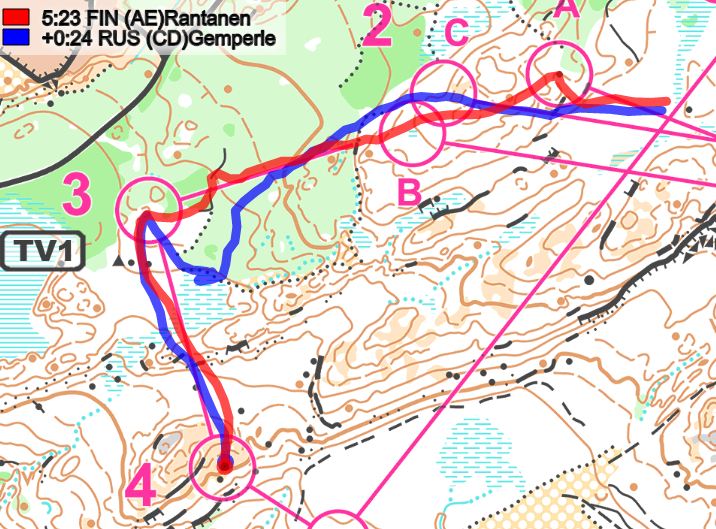 . Splits graph: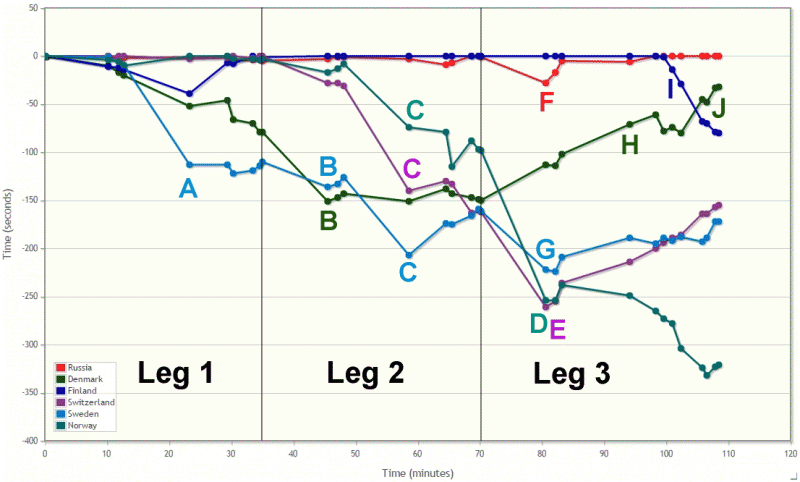 Gemperle loses her direction in the green area before control 3. She loses 40″ here instead of getting a gap, and deciding the relay early.
Situation G: Leg 3 – control 3 – Sweden loses contact with Denmark & medal fight
Splits graph: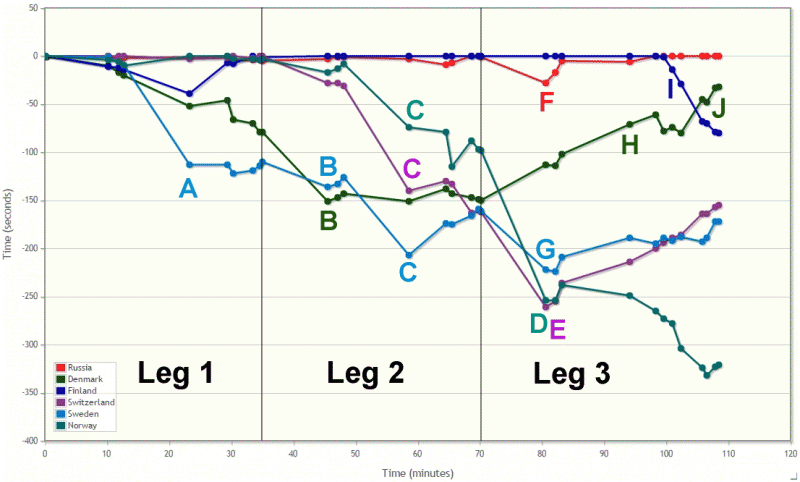 In the beginning of this 3rd leg, Tove Alexandersson (SWE) seems to struggle keeping the pace set by the duo Alm/Wyder. But she is not far behind, and definitely still in the fight for a medal while heading to control 3. But like her teammate earlier on the 2nd leg (among many others), she loses her direction in the green area.
Situation H: Leg 3 – control 7, Denmark gets closer to Finland and Russia
Splits graph: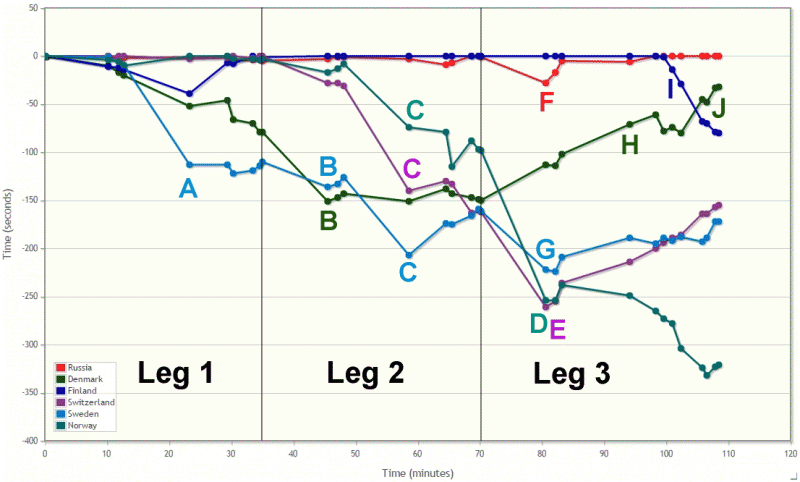 Merja Rantanen (FIN) and Natalia Gemperle (RUS) have a 1'30 lead over Maja Alm (DEN) when heading to control 6. But the gap will decrease down to 1 minute despite Alm having longer D-forking, due to higher speed and better execution from Alm. Rantanen (FIN) takes a bad route around to the left (like we saw earlier at Situation C), and Gemperle (RUS) has the same longer D-forking than Alm but chooses a slower route, straight through the marsh and cliffs.
Situation I: Leg 3 – control 11: Finland loses 15 seconds… and the back of Russia
Splits graph: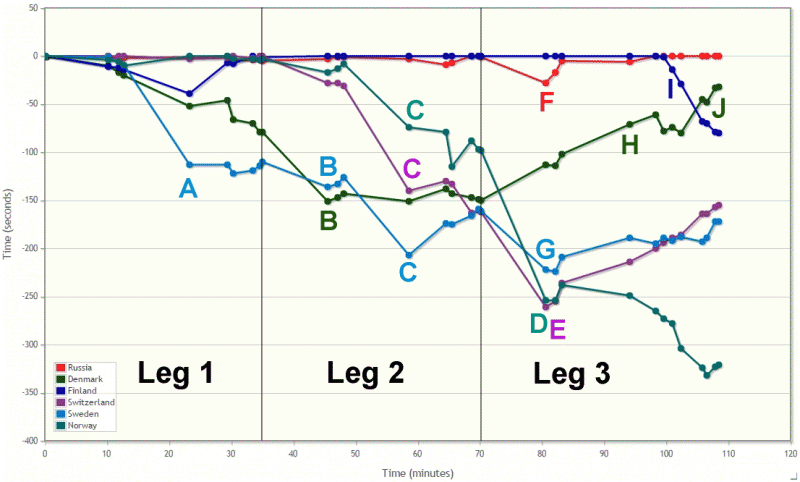 Finland and Russia are still side by side when leaving the spectator passage, out to the last loop. Will Finland repeat the win they got earlier this year at European Champ ? But Rantanen (FIN) loses 15″ with a small hook onto control 11, trying to save some climb. Gemperle (RUS) goes straight, and creates a small gap that Rantanen will never again make up.
Situation J: Leg 3 – control 13 – Denmark passes Finland thanks to better route and higher speed
Splits graph: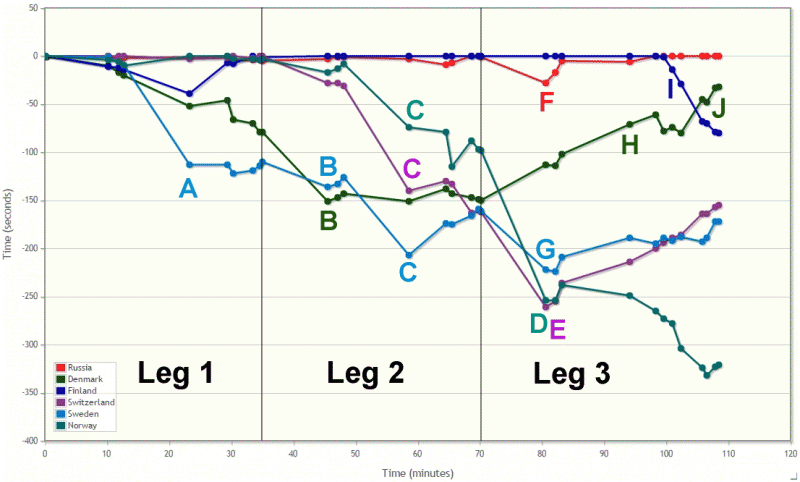 Denmark is still chasing behind Finland and Russia, but with a 1′ gap at the arena passage, it looks like they will have to settle for the bronze. To control 13, both Gemperle (RUS) and Rantanen (FIN) behind chose the left route choice. Rantanen is more tired, she loses 30 more seconds to Gemperle in the green re-entrant and the marsh, the fight for gold is over. But not the one for Silver! Maja Alm (DEN) chooses a right route with very good runability almost all the way to the control. And Alm already proved several times that she definitely knows how to run fast then. She punches the control 15″ seconds in front of Rantanen, and will never gives the Finn the opportunity to get back in the fight for Silver.
With 3 solid legs, Russia claims their first ever gold medal in WOC relay. The defending champion, Denmark, ends up with a silver that almost tastes gold after a great last leg by Maja Alm, who caught 2 of the 2'30" gap she had when starting. By ending in bronze after a very good team performance, Finland proves once again to be very strong when it comes to relay. Switzerland, Sweden and Norway take places 4 to 6.
GPS animation of complete last leg
Thanks to Matthieu Puech for help with the analysis, the artwork & the cooking.