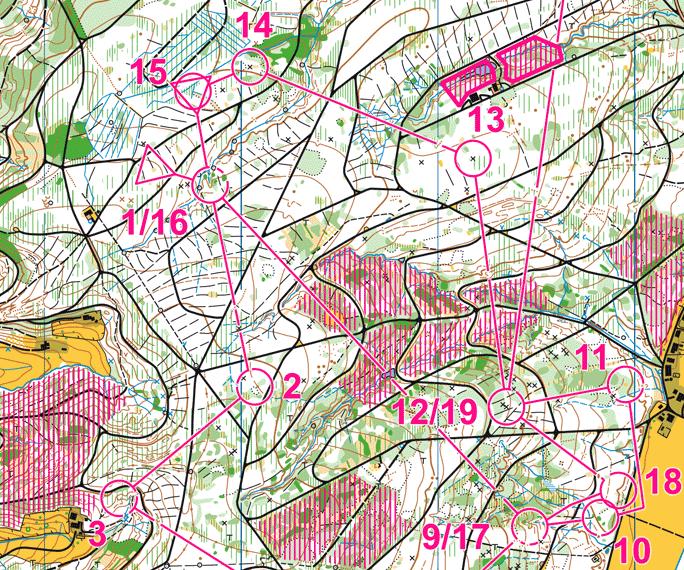 The Swiss runners dominated on home ground in the World Cup final this year again – with 4 victories of 5 possible. Switzerland started the weekend with Sprint Relay victory Friday. Saturday brought a double for Switzerland with Matthias Kyburz and Judith Wyder winning the Long distance. In Sunday's Sprint Judith Wyder took another victory while Jonas Leandersson (Sweden) won the men's class.
This gave clear overall World Cup victories to Matthias Kyburz and Tove Alexandersson (Sweden). Switzerland won the World Cup Sprint Relay with Friday's victory after being equal with Denmark before this race.
Sprint Relay: Switzerland dominated
Switzerland dominated Friday's Sprint Relay with three teams within the Top 4; Sweden was the only team able to give the Swiss a real battle. After 3 of 4 legs Sweden was in the lead – 4 seconds ahead of Switzerland 2 and another 4 seconds ahead of the Swiss first team. Judith Wyder on Switzerland 1 was in fantastic shape this weekend, and was in the lead already from the first control on the last leg – bringing Switzerland to a clear 31 second victory ahead of Sweden's Helena Jansson.
Rahel Friedrich, Matthias Kyburz and Daniel Hubmann (seldom seen on the Swiss team in international Sprint Relay races) ran the three first legs for Switzerland. See full results at the bottom of the article.
Men's Long: Kyburz ahead of the Norwegians
Matthias Kyburz was again in great shape for the World Cup final weekend on home ground – winning the World Cup Final Long distance 21 seconds ahead of reigning World Champion on the discipline, Olav Lundanes (Norway). Two other Norwegians – Carl Waaler Kaas (retiring on international level after this weekend) and Magne Dæhli took the third and fourth place.
Women's Long: Clear victory for Wyder
Judith Wyder ran an excellent Long distance on Saturday, winning the race with more than 2 minutes ahead of Sabine Hauswirth (also Switzerland). Tove Alexandersson (Sweden) finished 3rd, and with that took a big step towards the overall World Cup victory (after this she only needed a 13th place on Sunday's Sprint).
Men's Sprint: Leandersson with higher speed
Jonas Leandersson (Sweden) had fantastic speed combined with a great technical on Sunday's Sprint – losing 2 seconds or less to the leg winner on all legs. This gave Leandersson a clear 20 second victory ahead of Swiss Matthias Kyburz and Martin Hubmann. The course offered several route choice legs, but the different alternatives proved to be very similar in time, and thus the results were tight in the end.
Kyburz secured the overall World Cup victory with the two good races this weekend. The only one challenging Kuburz was Daniel Hubmann, but Hubmann got injured by getting a stick in his leg on Saturday's long distance (no serious long term injury, though), and thus Kyburz had no real competition for his overall World Cup victory.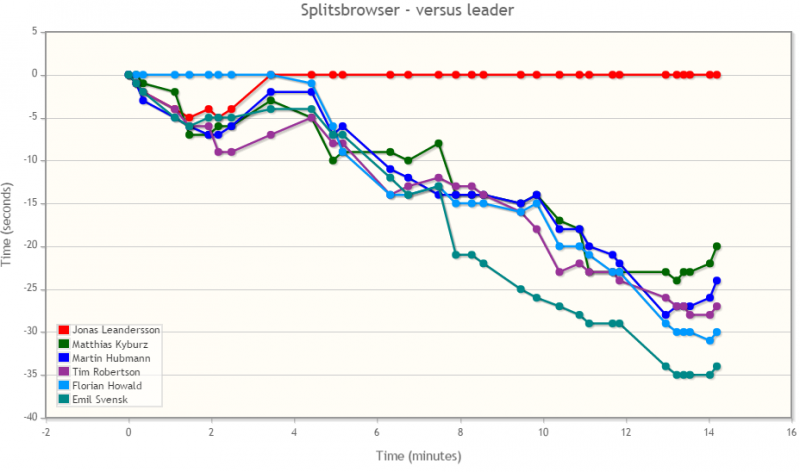 Women's Sprint: Wyder with third victory
Judith Wyder won 17(!) of the 28 legs on the course – only losing significant time on the routechoice to the 11th control where she took left instead of running under the bridge. This gave Wyder a comfortable 31 second victory ahead of reigning Sprint World Champion Maja Alm (Denmark) and Tove Alexandersson (Sweden).
With this Alexandersson secured the overall World Cup victory. Alexandersson thus showed that she is still a world class sprinter – even if she has skipped the sprint races this year to focus on the forest races. This prioritizing has given the Swede WOC and EOC gold medals at both Middle and Long this year, though – thus it looks like an excellent choice.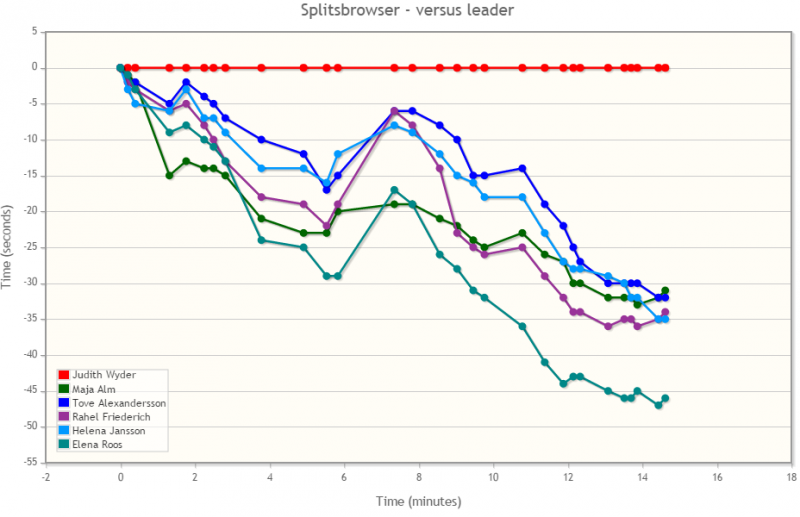 Results
Sprint Relay, Friday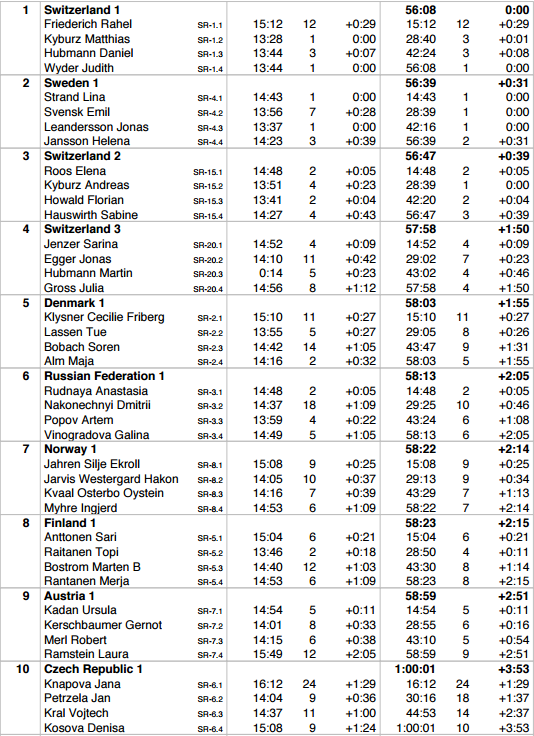 Note that only the best team from each nation counts in the Sprint Relay World Cup.
Long Men, Saturday
| | | | | |
| --- | --- | --- | --- | --- |
| 1. | Matthias Kyburz | Switzerland | 84:47 | (+0:00) |
| 2. | Olav Lundanes | Norway | 85:08 | (+0:21) |
| 3. | Carl Godager Kaas | Norway | 86:49 | (+2:02) |
| 4. | Magne Daehli | Norway | 88:06 | (+3:19) |
| 5. | Jonas Leandersson | Sweden | 88:15 | (+3:28) |
| 6. | Gernot Kerschbaumer | Austria | 88:16 | (+3:29) |
| 7. | Dmitrii Nakonechnyi | Russian Federation | 88:55 | (+4:08) |
| 8. | Frederic Tranchand | France | 89:13 | (+4:26) |
| 9. | Milos Nykodym | Czech Republic | 89:55 | (+5:08) |
| 9. | Martin Regborn | Sweden | 89:55 | (+5:08) |
| 11. | Florian Howald | Switzerland | 90:16 | (+5:29) |
| 12. | Jan Petrzela | Czech Republic | 90:20 | (+5:33) |
| 13. | Pavel Kubat | Czech Republic | 90:46 | (+5:59) |
| 14. | Vincent Coupat | France | 90:48 | (+6:01) |
| 15. | Soeren Schwartz | Denmark | 91:44 | (+6:57) |
Long Women, Saturday
| | | | | |
| --- | --- | --- | --- | --- |
| 1. | Judith Wyder | Switzerland | 73:14 | (+0:00) |
| 2. | Sabine Hauswirth | Switzerland | 75:16 | (+2:02) |
| 3. | Tove Alexandersson | Sweden | 75:57 | (+2:43) |
| 4. | Svetlana Mironova | Russian Federation | 79:13 | (+5:59) |
| 5. | Julia Gross | Switzerland | 80:54 | (+7:40) |
| 6. | Maja Alm | Denmark | 82:02 | (+8:48) |
| 7. | Sari Anttonen | Finland | 82:17 | (+9:03) |
| 8. | Lina Strand | Sweden | 83:17 | (+10:03) |
| 9. | Anastasia Rudnaya | Russian Federation | 83:39 | (+10:25) |
| 10. | Saila Kinni | Finland | 83:47 | (+10:33) |
| 11. | Ingjerd Myhre | Norway | 84:15 | (+11:01) |
| 12. | Elena Roos | Switzerland | 85:02 | (+11:48) |
| 13. | Karolin Ohlsson | Sweden | 85:16 | (+12:02) |
| 14. | Lilian Forsgren | Sweden | 86:09 | (+12:55) |
| 15. | Yulia Novikova | Russian Federation | 86:17 | (+13:03) |
Sprint Men, Sunday
| | | | | |
| --- | --- | --- | --- | --- |
| 1. | Jonas Leandersson | Sweden | 14:12 | (+0:00) |
| 2. | Matthias Kyburz | Switzerland | 14:32 | (+0:20) |
| 3. | Martin Hubmann | Switzerland | 14:36 | (+0:24) |
| 4. | Tim Robertson | New Zealand | 14:39 | (+0:27) |
| 5. | Florian Howald | Switzerland | 14:42 | (+0:30) |
| 6. | Emil Svensk | Sweden | 14:46 | (+0:34) |
| 7. | Martin Regborn | Sweden | 14:48 | (+0:36) |
| 8. | Vojtech Kral | Czech Republic | 14:50 | (+0:38) |
| 9. | Albin Ridefelt | Sweden | 14:57 | (+0:45) |
| 9. | Andreas Rueedlinger | Switzerland | 14:57 | (+0:45) |
| 11. | Gernot Kerschbaumer | Austria | 15:11 | (+0:59) |
| 12. | Lucas Basset | France | 15:17 | (+1:05) |
| 12. | Gustav Bergman | Sweden | 15:17 | (+1:05) |
| 14. | Frederic Tranchand | France | 15:21 | (+1:09) |
| 15. | Hakon Jarvis Westergard | Norway | 15:24 | (+1:12) |
Sprint Women, Sunday
| | | | | |
| --- | --- | --- | --- | --- |
| 1. | Judith Wyder | Switzerland | 14:37 | (+0:00) |
| 2. | Maja Alm | Denmark | 15:08 | (+0:31) |
| 3. | Tove Alexandersson | Sweden | 15:09 | (+0:32) |
| 4. | Rahel Friederich | Switzerland | 15:11 | (+0:34) |
| 5. | Helena Jansson | Sweden | 15:12 | (+0:35) |
| 6. | Elena Roos | Switzerland | 15:23 | (+0:46) |
| 7. | Sabine Hauswirth | Switzerland | 15:24 | (+0:47) |
| 8. | Galina Vinogradova | Russian Federation | 15:28 | (+0:51) |
| 9. | Julia Gross | Switzerland | 15:41 | (+1:04) |
| 10. | Lina Strand | Sweden | 15:46 | (+1:09) |
| 11. | Sarina Jenzer | Switzerland | 15:52 | (+1:15) |
| 11. | Anastasia Rudnaya | Russian Federation | 15:52 | (+1:15) |
| 13. | Natalia Gemperle | Russian Federation | 16:04 | (+1:27) |
| 14. | Denisa Kosova | Czech Republic | 16:08 | (+1:31) |
| 15. | Ursula Kadan | Austria | 16:11 | (+1:34) |
Overall World Cup Men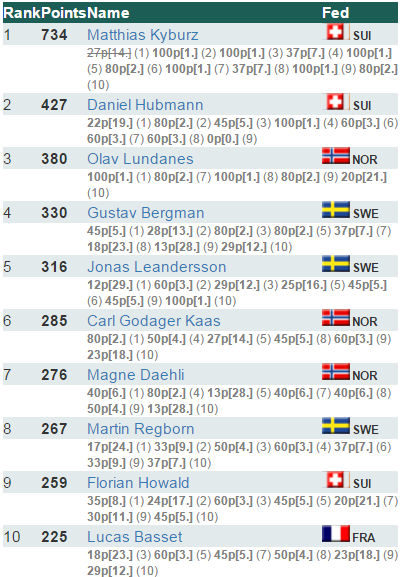 Overall World Cup Women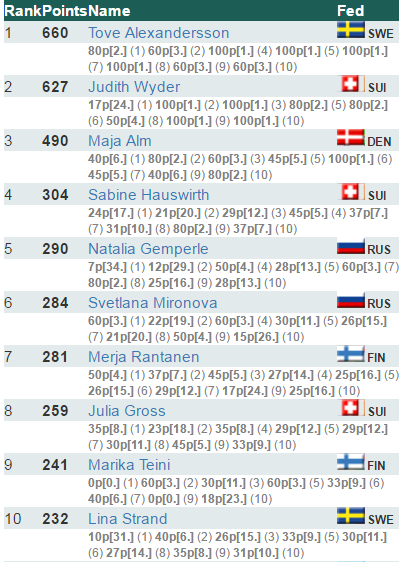 Full results: