[LIVE webTV with Per Forsberg/Thomas Bührer commentating + GPS-tracking. Sprint Relay Friday 16:00 CET, Long Saturday 13:00 CET, Sprint Sunday 14:15 CET] The overall World Cup will decided this weekend when Aarau in Switzerland welcomes the world orienteering elite to the World Cup Final the coming weekend from Friday October 14th until Sunday October 16th. 
Matthias Kyburz and Tove Alexandersson both have very clear leads in the overall World Cup before this last round – but still they both have to race at least one relatively good race to take the overall win. In the Sprint Relay World Cup there will be a tight fight between Denmark and Switzerland who are in equal lead.
Links & Live services
Program
Friday October 14th: Sprint Relay 16:00 CET
Saturday October 15th: Long from 13:00 CET. Decision women 15:40. Decision men 16:30
Sunday October 16th: Sprint from 14:15 CET. Decision women 15:09. Decision men 16:15
Overall World Cup standing before World Cup final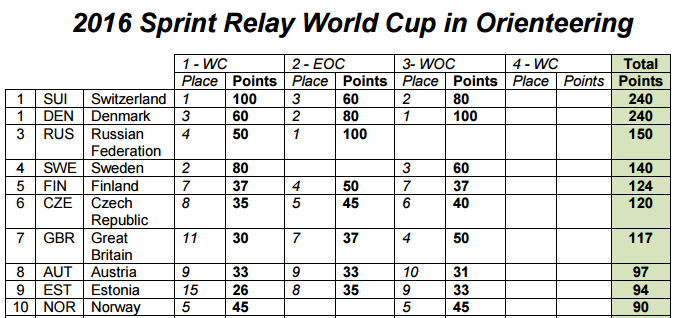 Men: Alexandersson or Wyder
In the women's class the overall World Cup winner from the last two seasons Tove Alexandersson (Sweden) is the big favourite to take the third in a row. Alexandersson has a 113 point lead to Swiss Judith Wyder with 100 points given for victory both Saturday and Sunday. In the overall World Cup the best 6 of the 8 first races plus the two last races count in the overall – and thus even if Wyder wins both the last races, Alexandersson will take the overall win with a 2nd place (80 points) and a place just outside the Top 30. Maja Alm (Denmark) in third only has a theoretical chance to win the overall World Cup.
Women: Matthias Kyburz or Daniel Hubmann – again
Just like we have seen several times before, the battle for the overall World Cup will be between Swiss Matthias Kyburz and Daniel Hubmann. This time, however, Matthias Kyburz is the one with the clear lead going into the final World Cup weekend. With a 127 point lead down to Daniel Hubmann, Kyburz will take the overall with a 3rd place (60 points) and a race just within the Top 30. Gustav Bergman (Sweden) in third place does not even have a theoretical chance to win the overall World Cup.