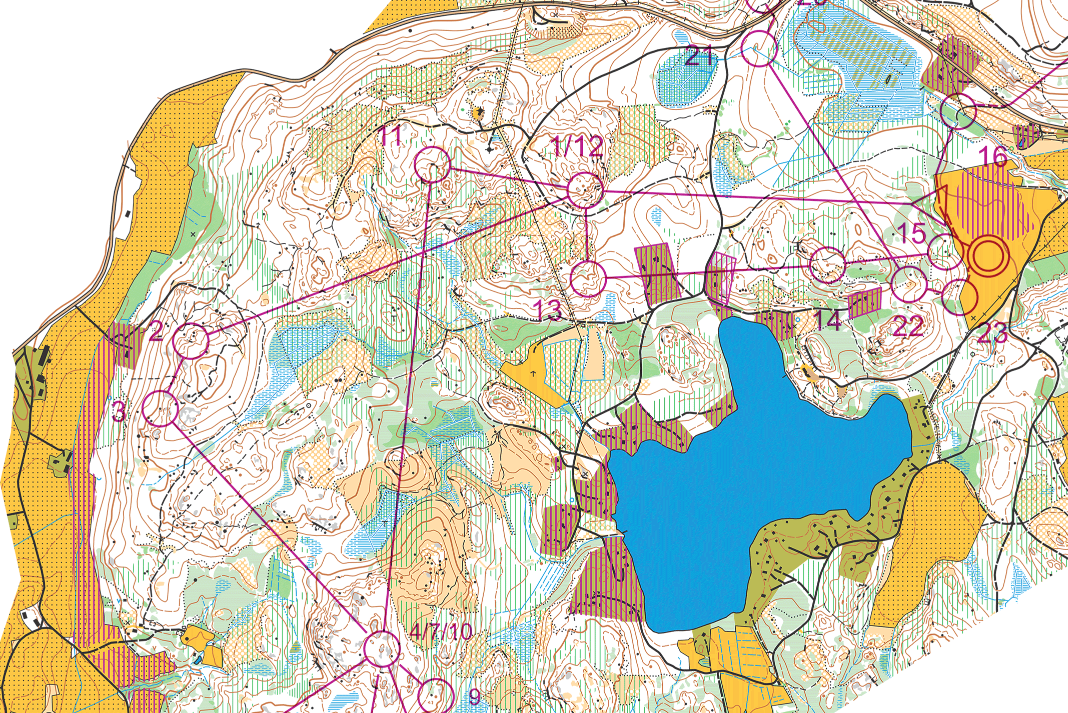 Magne Dæhli (Norway) took his first World Cup victory and Tove Alexandersson (Sweden) won the women's class when the first World Cup round of 2017 was decided in Finland today. The World Cup round was organized as a "tour" consisting of Sprint on Thursday, Middle on Saturday and a Long distance chasing start on Sunday.
Winner in the men's class, Magne Dæhli, started in 15th place, 3:10 behind leading Martin Regborn. With 3 kilometers to go Dæhli's 6-man group had still two minutes up to the leading due William Lind and Emil Svensk – but Dæhli yet again proved that he is very strong towards the end of long races. William Lind and Emil Svensk finished 2nd and 3rd, respectively, with Daniel Hubmann in fourth.
In the women's class Tove Alexandersson started 1:30 behind Danish Maja Alm in third spot. Alexandersson used 7 of 11 km to get up into the lead. Helena Jansson (starting 2nd) and Alm struggled to keep Alexandersson's speed, but nearly managed to hang on all the way to the finish. In the end Jansson finished in 2nd 27 seconds behind and Alm in third 31 seconds behind.
Middle distance: Regborn and Jansson
Martin Regborn won his first World Cup victory on the Middle distance Saturday – 29 seconds ahead Olav Lundanes (who did not start in the chasing start Sunday) with William Lind in third place. In the women's class Helena Jansson took the victory ahead of Natalia Gemperle with Lina Strand in third place.
Sprint: Michiels and Alm
Yannick Michiels has been fighting his way towards the top for several years – on Thursday's Sprint the fast athlete from Belgium took his and Belgium's first World Cup victory on the Sprint. Michiels won after a tight battle with Matthias Kyburz (Switzerland) – both making nearly no mistakes and keeping the rest of the field at a safe distance. Emil Svensk (Sweden) finished third with Martin Regborn (also Sweden) in 4th and Spanish Antonio Martinez Perez (Spain) in 4th.
In the women's class Maja Alm won with a 10 second gap to Tove Alexandersson (Sweden) in second with Lina Strand (Sweden) in third 25 seconds behind. This was a great Swedish day with also a fourth place for Sweden with Karolin Ohlsson.
Maps and GPS-tracking
See also analysis article for the men's sprint here.
Results Overall
Men
1
216
Magne Daehli
Norway
1:30:03
2
213
William Lind
Sweden
1:30:05
+2
3
203
Emil Svensk
Sweden
1:30:08
+5
4
207
Daniel Hubmann
Switzerland
1:30:17
+14
5
209
Eskil Kinneberg
Norway
1:30:20
+17
6
212
Johan Runesson
Sweden
1:30:37
+34
7
202
Matthias Kyburz
Switzerland
1:30:38
+35
8
201
Martin Regborn
Sweden
1:30:47
+44
9
208
Albin Ridefelt
Sweden
1:32:59
+2:56
10
210
Oskar Sjoeberg
Sweden
1:33:00
+2:57
11
217
Ruslan Glibov
Ukraine
1:33:04
+3:01
12
215
Olli Ojanaho
Finland
1:33:12
+3:09
13
206
Vojtech Kral
Czech Republic
1:33:36
+3:33
14
235
Jan Sedivy
Czech Republic
1:35:58
+5:55
15
205
Gustav Bergman
Sweden
1:36:23
+6:20
Women
1
5
Tove Alexandersson
Sweden
1:17:27
2
2
Helena Jansson
Sweden
1:17:54
+27
3
1
Maja Alm
Denmark
1:17:58
+31
4
6
Natalia Gemperle
Russia
1:22:36
+5:09
5
4
Sabine Hauswirth
Switzerland
1:22:42
+5:15
6
12
Emma Johansson
Sweden
1:22:45
+5:18
7
10
Venla Harju
Finland
1:23:11
+5:44
8
9
Emily Kemp
Canada
1:23:50
+6:23
9
18
Alva Olsson
Sweden
1:23:51
+6:24
10
23
Anastasia Rudnaya
Russia
1:23:52
+6:25
11
16
Merja Rantanen
Finland
1:24:03
+6:36
12
20
Julia Gross
Switzerland
1:24:08
+6:41
13
17
Saila Kinni
Finland
1:24:26
+6:59
14
8
Sari Anttonen
Finland
1:24:30
+7:03
15
14
Karolin Ohlsson
Sweden
1:24:32
+7:05
Results Middle
Men
1
292
Martin Regborn
Sweden
29:45
2
313
Olav Lundanes
Norway
30:14
+29
3
285
William Lind
Sweden
30:32
+47
4
312
Matthias Kyburz
Switzerland
30:35
+50
5
301
Albin Ridefelt
Sweden
30:36
+51
6
307
Gustav Bergman
Sweden
30:37
+52
297
Eskil Kinneberg
Norway
30:37
+52
8
287
Oskar Sjöberg
Sweden
30:50
+1:05
9
311
Daniel Hubmann
Switzerland
30:52
+1:07
10
299
Johan Runesson
Sweden
30:53
+1:08
259
Emil Svensk
Sweden
30:53
+1:08
12
305
Fredric Portin
Finland
31:01
+1:16
13
293
Vojtech Kral
Czech Republic
31:07
+1:22
14
291
Jonas Leandersson
Sweden
31:15
+1:30
15
252
Olli Ojanaho
Finland
31:18
+1:33
310
Magne Dæhli
Norway
31:18
+1:33
Women
1
112
Helena Jansson
Sweden
29:45
2
113
Natalia Gemperle
Russia
30:35
+50
3
100
Lina Strand
Sweden
30:56
+1:11
4
111
Sabine Hauswirth
Switzerland
31:15
+1:30
5
103
Marika Teini
Finland
31:19
+1:34
6
109
Maja Alm
Denmark
31:33
+1:48
7
110
Emily Kemp
Canada
31:43
+1:58
8
85
Sari Anttonen
Finland
31:48
+2:03
9
102
Emma Johansson
Sweden
31:57
+2:12
10
108
Svetlana Mironova
Russia
32:05
+2:20
11
83
Ida Bobach
Denmark
32:08
+2:23
12
106
Saila Kinni
Finland
32:14
+2:29
13
77
Marianne Andersen
Norway
32:25
+2:40
14
114
Tove Alexandersson
Sweden
32:27
+2:42
15
99
Venla Harju
Finland
32:38
+2:53
Results Sprint
Men
Women