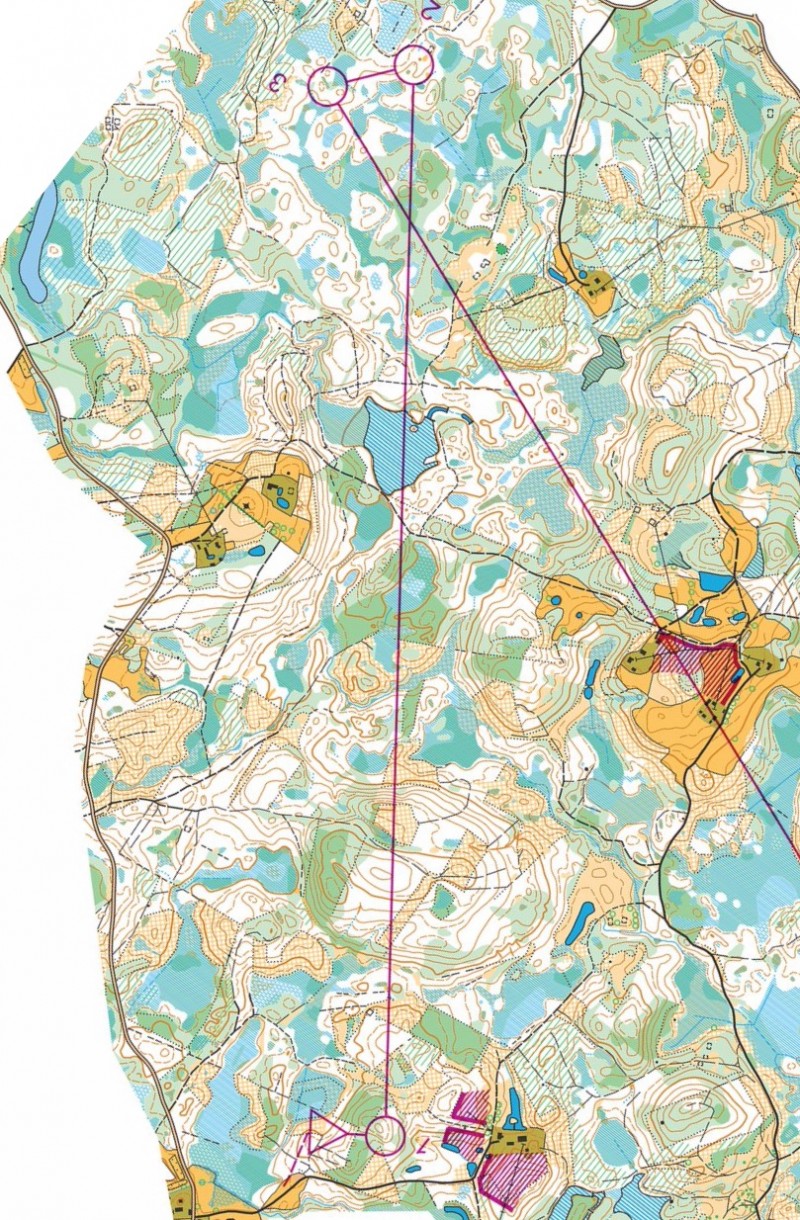 [Updated with men's results] Tove Alexandersson (Sweden) and Olav Lundanes (Norway) are the World Champions on Long distance in Rouge, Estonia – just like in Strömstad, Sweden last year. Last year both were basically on home ground – this year they met a very different challenge in green and tough Estonian forest.  In the women's class silver went to Maja Alm (Denmark) and bronze to Natalia Gemperle (Russia). In the men's class silver went to Leonid Novikov (Russia) with William Lind (Sweden) in third.
Above you see the second leg on the men's course – the athletes got a big challenge already from the start. Read on for maps, results and some comments from the press conferences.
Women: Alexandersson back on top after illness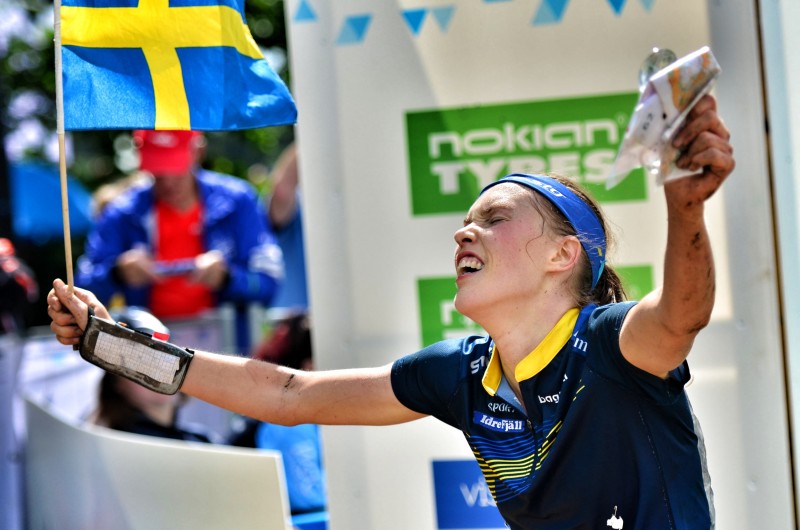 Tove Alexandersson (Sweden) won a clear victory in the women's class ahead of Maja Alm (Denmark). Natalia Gemperle finished third after a tight battle for bronze – Gemperle lost a lot of time early in the course but had a very good finish. Alexandersson had to skip the Sprint Final after catching a cold – and had spent the last days in bed, hoping to get back to 100% in time for the Long distance. And that seemed to work very well.
Looking at the graphical split times (see below, click for larger), Alexandersson was in a different class from the start – but showed some weaknesses towards the end of the race were Alm and Gemperle were clearly stronger and caught around a minute the last 10 minutes of running. Alexandersson basically decided the race already to the first control were she opened up a gap of more than a minute to the other medalists – note however that there were several other runners who started well within a minute of Alexandersson.
Some comments from the Women's press conference
Tove Alexandersson (gold) about her days in bed after catching a cold after the sprint qualification – battling with her body & time to get well again ahead of the long distance:
It was a good race. Some routechoices I was a bit unsure about, but I have not done any big mistakes. Some small mistakes. I have also had some tough days, but not the same way as Maja. I have mostly been in my bed (sick). It was very hard mentally, I had so much focus on the sprint.
Maja Alm (silver) about how tough it was to run the long distance after a tough sprint weekend:
I was quite tired this morning. I had a morning jog and felt so tired, especially in my mind. I have had a tough weekend, and it was really hard to refocus. But at the warm up I felt good, and was ready to just push. After running the middle distance for several years, this time we decided to focus on the long distance, the first time since 2010. It was very tough. I saw Natalia in the start, so that was a good confirmation that I was going fast.
Natalia Gemperle (bronze) about the leg to the first control were she lost at least 2 minutes:
I first took left, then I changed my mind when I came to the road and decided to go the left because it was so green. I lost three minutes here, I think. I have no other big mistakes.
Men: 4th WOC Long distance Gold for Lundanes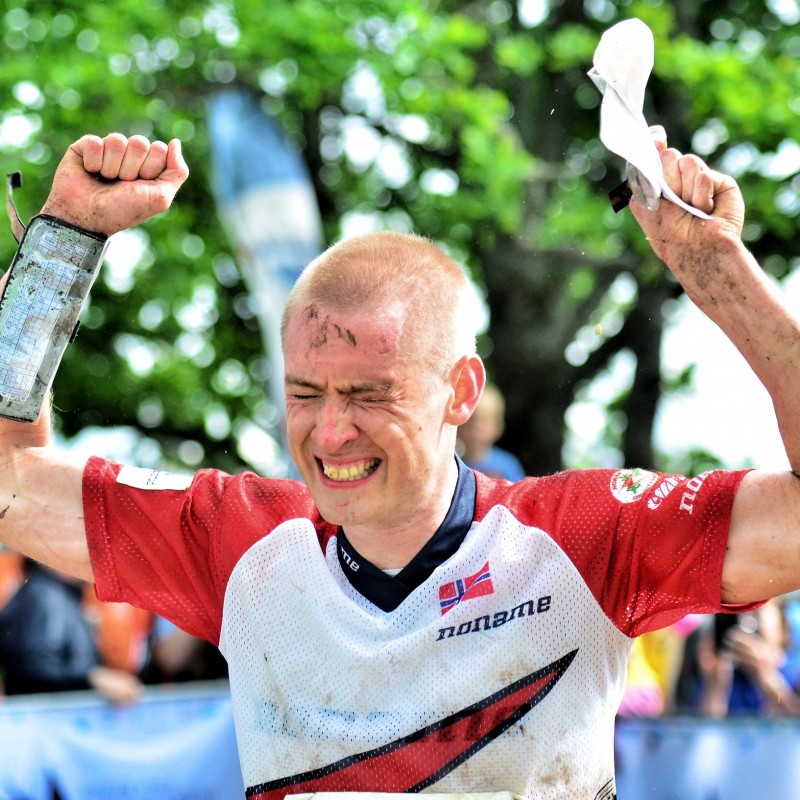 Olav Lundanes took his 4th WOC Long distance title – after 2010, 2012 and 2016. Lundanes came into the competition as the big favourite – and manage to stay calm and do his job. Leonid Novikov's silver medal was a quite big surprise – just as when he won the middle distance at WOC back in Finland in 2013. William Lind has shown the potential before with a few 2nd and 3rd places in World Cup races, but this was his first individual WOC medal.
Looking at the split times in a graphical view (see below, click image for bigger), Olav Lundanes was in the lead all the way, but Novikov was equal to Lundanes twice, the first time at the 8th control where the forking started and the second time at the 13th control (inside the forking). Note also how Magne Dæhli and William Lind have a much stronger finish than Lundanes.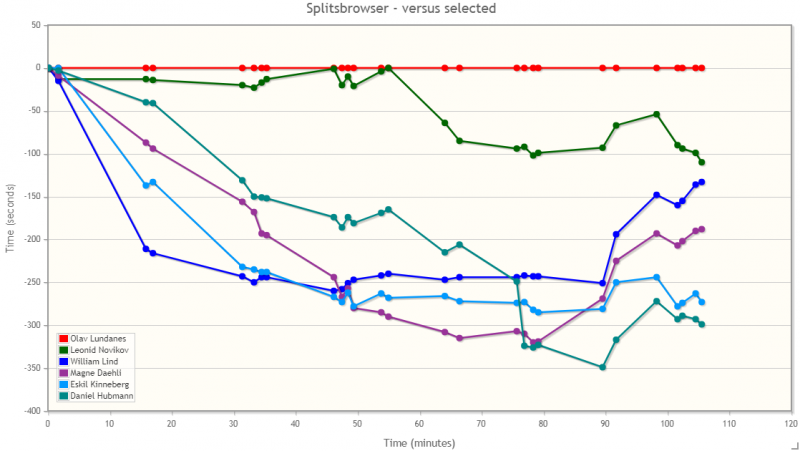 Some comments from the Men's press conference
Olav Lundanes (gold):
About his 4th WOC Long Gold medal: – I am really, really happy that I managed to win two times in a row – earlier I did not manage (with 2010, 2012 and 2016). This spring has been really difficult, but I have managed to keep focus on today and do what I can do, and I am really, really happy to win today.
About his mistake towards the end: – I know I wasn't far away from the control, but you know, Estonian green. The control could be in any direction. I managed to stand still and read my way into the control. Maybe the mistake was bigger than it felt.
About the tactic about going straight: – I was not so sure to the second control, but then were I run the green was not so bad, and I did not have to go through so much green. I think in the first part of the race my tactic to go straight was very good, in the end I had to go a bit more around.
About the course: – I am proud I have won in so many different terrains. Today was maybe the only year I have been "stopping" a bit in the end. Even if I like long distance, I start to get tired when we round 90 minutes. 1:45 is long.
Leonid Novikov (silver):
About how the medal was a surprise for him: – It was a big surprise for me, again. Like in Vuokatti (WOC 2013, in Finland). I just run and tried to do my "full speed no mistakes", it is my dream. Just when I saw Fabian Hertner I understood that it would be a good result for me, so I tried to run a bit faster, but my power stopped in the end. I don't know why the organization don't understand the winning time. 1:40 is OK, but I run 1:47.
William Lind (bronze):
About wining his first individual WOC medal: –  It feels really good. I was caught by Olav really early, on the way to the 4th control (with 4 minutes), so I was a bit surprised. I struggled a bit to the 2nd control. When Olav caught me, I felt that the speed was no problem, but his orienteering was better.
About the terrain: – The terrain was maybe a bit nicer than I thought. I had prepared for more green.
Maps and courses
Click the links below to go to maps/GPS-tracking. See also a  separate article on the courses here. And of course there will be the full analysis at WorldofO.com tomorrow – there is a lot of interesting GPS-tracking to look at.
WOC Long Men

» See map in omaps.worldofo.com
WOC Long Women

» See map in omaps.worldofo.com
Results
Women
| | | | | |
| --- | --- | --- | --- | --- |
| 1. | Tove Alexandersson | SWE | 79:10 | (+0:00) |
| 2. | Maja Alm | DEN | 80:42 | (+1:32) |
| 3. | Natalia Gemperle | RUS | 84:46 | (+5:36) |
| 4. | Anne Margrethe Hausken Nordberg | NOR | 87:06 | (+7:56) |
| 5. | Elena Roos | SUI | 87:13 | (+8:03) |
| 6. | Emma Johansson | SWE | 87:27 | (+8:17) |
| 7. | Merja Rantanen | FIN | 87:46 | (+8:36) |
| 8. | Sabine Hauswirth | SUI | 87:58 | (+8:48) |
| 9. | Andrine Benjaminsen | NOR | 88:58 | (+9:48) |
| 9. | Ida Marie Naess Bjoergul | NOR | 88:58 | (+9:48) |
| 11. | Anastasia Rudnaya | RUS | 89:13 | (+10:03) |
| 12. | Helena Jansson | SWE | 90:13 | (+11:03) |
| 13. | Sari Anttonen | FIN | 90:23 | (+11:13) |
| 14. | Anastasia Denisova | BLR | 90:25 | (+11:15) |
| 15. | Julia Gross | SUI | 91:01 | (+11:51) |
Men
| | | | | |
| --- | --- | --- | --- | --- |
| 1. | Olav Lundanes | NOR | 105:25 | (+0:00) |
| 2. | Leonid Novikov | RUS | 107:15 | (+1:50) |
| 3. | William Lind | SWE | 107:38 | (+2:13) |
| 4. | Magne Daehli | NOR | 108:33 | (+3:08) |
| 5. | Eskil Kinneberg | NOR | 109:58 | (+4:33) |
| 6. | Daniel Hubmann | SUI | 110:24 | (+4:59) |
| 7. | Fabian Hertner | SUI | 111:28 | (+6:03) |
| 8. | Johan Runesson | SWE | 111:49 | (+6:24) |
| 9. | Martin Regborn | SWE | 112:44 | (+7:19) |
| 10. | Timo Sild | EST | 113:36 | (+8:11) |
| 11. | Fredric Portin | FIN | 115:51 | (+10:26) |
| 12. | Jan Sedivy | CZE | 116:33 | (+11:08) |
| 13. | Hakon Jarvis Westergard | NOR | 117:15 | (+11:50) |
| 14. | Gernot Kerschbaumer | AUT | 117:29 | (+12:04) |
| 15. | Vincent Coupat | FRA | 118:44 | (+13:19) |