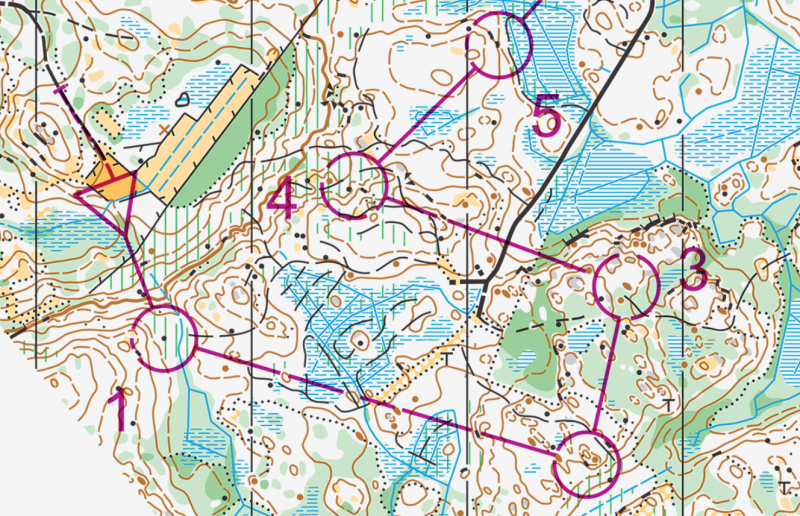 Olli Ojanaho (Finland), Simon Imark (Sweden), Akseli Ruohola (Finland)/Mathieu Perrin (France, shared victory) , Veera Klemettinen (Finland) , Simona Aebersold (Switzerland) and Sofia Bachmann (Switzerland) won the heats in the Middle distance qualification which opened the Junior World Orienteering Championships (JWOC) in Tampere, Finland today.
The qualification was dominated by Finland, Sweden and Switzerland – the strongest nations among the juniors the last years. The two biggest favourites of this year's JWOC , Olli Ojanaho and Simona Aebersold, each won their qualification heats. Ojanaho won with impressive 2:19 margin down to Henrik Johannesson (Sweden) in second. Aebersold also had the clearest heat victory, 1:01 ahead of Linnea Golsater (Sweden).
Maps and GPS-tracking
Results
The 20 best in each heat went on to the A-final. These 20 best from each heat are listed below.
Men A
| | | | | |
| --- | --- | --- | --- | --- |
| 1. | Olli Ojanaho | Finland | 21:18 | (+0:00) |
| 2. | Henrik Johannesson | Sweden | 23:37 | (+2:19) |
| 3. | Elias Jonsson | Norway | 23:58 | (+2:40) |
| 4. | Guilhem Elias | France | 24:14 | (+2:56) |
| 5. | Colin Kolbe | Germany | 24:24 | (+3:06) |
| 6. | Kirill Komarov | Russian Federation | 25:12 | (+3:54) |
| 7. | Fleury Roux | France | 25:13 | (+3:55) |
| 8. | Vojtech Sykora | Czech Republic | 25:29 | (+4:11) |
| 9. | Alex Carcas | Great Britain | 25:35 | (+4:17) |
| 10. | Ollipekka Heikkila | Finland | 25:39 | (+4:21) |
| 10. | Lauri Pahn | Estonia | 25:39 | (+4:21) |
| 12. | Laurits Bidstrup Moller | Denmark | 25:40 | (+4:22) |
| 13. | Fryderyk Pryjma | Poland | 25:47 | (+4:29) |
| 14. | Daniil Kashin | Russian Federation | 25:54 | (+4:36) |
| 15. | Jorgen Baklid | Norway | 25:58 | (+4:40) |
| 16. | Rafael Dobnik | Austria | 26:26 | (+5:08) |
| 17. | Libor Cernocky | Czech Republic | 26:51 | (+5:33) |
| 18. | Nicolas Kastner | Austria | 26:54 | (+5:36) |
| 19. | Carl Emil Schoier Kovsted | Denmark | 26:58 | (+5:40) |
| 20. | Anatoli Fomiciov | Moldova, Republic of | 27:00 | (+5:42) |
Men B
| | | | | |
| --- | --- | --- | --- | --- |
| 1. | Simon Imark | Sweden | 24:01 | (+0:00) |
| 2. | Simon Hector | Sweden | 24:02 | (+0:01) |
| 3. | Aleksi Sorsa | Finland | 24:29 | (+0:28) |
| 4. | Einar Melsom | Norway | 24:35 | (+0:34) |
| 5. | Tomas Krivda | Czech Republic | 25:07 | (+1:06) |
| 6. | Jannis Bonek | Austria | 25:14 | (+1:13) |
| 7. | Audun Heimdal | Norway | 25:16 | (+1:15) |
| 8. | Harrison McCartney | Great Britain | 25:17 | (+1:16) |
| 9. | Marcin Biederman | Poland | 25:30 | (+1:29) |
| 10. | Tuomas Heikkila | Finland | 25:36 | (+1:35) |
| 11. | Mikhail Kuleshov | Russian Federation | 25:51 | (+1:50) |
| 12. | Ole Hennseler | Germany | 26:27 | (+2:26) |
| 13. | Timo Suter | Switzerland | 26:59 | (+2:58) |
| 14. | Endijs Titomers | Latvia | 27:03 | (+3:02) |
| 15. | Daniel Vandas | Czech Republic | 27:14 | (+3:13) |
| 16. | Devon Beckman | New Zealand | 27:30 | (+3:29) |
| 17. | Theo Radondy | France | 27:42 | (+3:41) |
| 18. | Oliver Kutt | Estonia | 27:55 | (+3:54) |
| 19. | Pascal Buchs | Switzerland | 28:09 | (+4:08) |
| 20. | Georg Groell | Austria | 28:19 | (+4:18) |
Men C
| | | | | |
| --- | --- | --- | --- | --- |
| 1. | Akseli Ruohola | Finland | 23:04 | (+0:00) |
| 1. | Mathieu Perrin | France | 23:04 | (+0:00) |
| 3. | Joey Hadorn | Switzerland | 23:15 | (+0:11) |
| 4. | Anton Forsberg | Sweden | 24:04 | (+1:00) |
| 5. | Isac von Krusenstierna | Sweden | 24:40 | (+1:36) |
| 6. | Alexander Chepelin | Great Britain | 24:58 | (+1:54) |
| 7. | Uldis Upitis | Latvia | 25:02 | (+1:58) |
| 8. | Herman Ryen Martinsen | Norway | 25:06 | (+2:02) |
| 9. | Tommy Hayes | New Zealand | 25:19 | (+2:15) |
| 10. | Paul Pruzina | Ireland | 25:20 | (+2:16) |
| 11. | Nikita Gurevich | Russian Federation | 25:27 | (+2:23) |
| 12. | Anton Salmenkyla | United States | 25:53 | (+2:49) |
| 13. | Florian Kurz | Austria | 25:57 | (+2:53) |
| 14. | Tino Polsini | Switzerland | 26:01 | (+2:57) |
| 15. | Benjamin Leduc | France | 26:11 | (+3:07) |
| 16. | Jan Bendak | Czech Republic | 26:24 | (+3:20) |
| 17. | Andreas Bock Bjoernsen | Denmark | 26:38 | (+3:34) |
| 18. | Otakar Hirs | Czech Republic | 26:47 | (+3:43) |
| 19. | Topi Syrjalainen | Finland | 27:09 | (+4:05) |
| 20. | Michael Svoboda | Canada | 27:15 | (+4:11) |
Women A
| | | | | |
| --- | --- | --- | --- | --- |
| 1. | Veera Klemettinen | Finland | 23:31 | (+0:00) |
| 2. | Anu Tuomisto | Finland | 23:50 | (+0:19) |
| 3. | Dorothea Mueller | Germany | 24:03 | (+0:32) |
| 4. | Grace Molloy | Great Britain | 24:55 | (+1:24) |
| 5. | Jennifer Ricketts | Great Britain | 25:13 | (+1:42) |
| 6. | Sanna Fast | Sweden | 25:16 | (+1:45) |
| 7. | Katrin Mueller | Switzerland | 25:39 | (+2:08) |
| 8. | Ingeborg Eide | Norway | 25:47 | (+2:16) |
| 9. | Maria Prieto | Spain | 25:49 | (+2:18) |
| 10. | Jasmina Gassner | Austria | 26:00 | (+2:29) |
| 11. | Josefine Lind | Denmark | 26:13 | (+2:42) |
| 12. | Line Cederberg | Denmark | 26:20 | (+2:49) |
| 13. | Victoria Haestad Bjornstad | Norway | 26:25 | (+2:54) |
| 14. | Csenge Viniczai | Hungary | 26:28 | (+2:57) |
| 15. | Zuzanna Morawska | Poland | 26:50 | (+3:19) |
| 16. | Ekaterina Ryazanova | Russian Federation | 26:56 | (+3:25) |
| 17. | Zuzanna Wanczyk | Poland | 27:13 | (+3:42) |
| 18. | Zlata Malysheva | Russian Federation | 27:17 | (+3:46) |
| 19. | Saskia Buchmueller | Switzerland | 27:39 | (+4:08) |
| 20. | Mareike Seeger | Germany | 27:49 | (+4:18) |
Women B
| | | | | |
| --- | --- | --- | --- | --- |
| 1. | Simona Aebersold | Switzerland | 23:32 | (+0:00) |
| 2. | Linnea Golsater | Sweden | 24:33 | (+1:01) |
| 3. | Ingrid Lundanes | Norway | 26:34 | (+3:02) |
| 4. | Marie Olaussen | Norway | 26:46 | (+3:14) |
| 5. | Barbora Chaloupska | Czech Republic | 27:00 | (+3:28) |
| 6. | Alexandra Enlund | Finland | 27:45 | (+4:13) |
| 7. | Emma Hagrot | Sweden | 28:46 | (+5:14) |
| 8. | Ida Oebro | Denmark | 29:17 | (+5:45) |
| 9. | Veronika Kalinina | Russian Federation | 30:11 | (+6:39) |
| 10. | Annika Simonsen | Denmark | 30:44 | (+7:12) |
| 11. | Danielle Goodall | New Zealand | 30:59 | (+7:27) |
| 12. | Andreya Dyaksova | Bulgaria | 31:21 | (+7:49) |
| 13. | Ekaterina Vlasova | Russian Federation | 31:29 | (+7:57) |
| 14. | Deborah Stadler | Switzerland | 31:58 | (+8:26) |
| 15. | Juliette Basset | France | 32:01 | (+8:29) |
| 16. | Inka Nurminen | Finland | 32:22 | (+8:50) |
| 17. | Vanda Vekony | Hungary | 32:27 | (+8:55) |
| 18. | Marine Sillien | Belgium | 32:43 | (+9:11) |
| 19. | Anna Kopecka | Czech Republic | 32:48 | (+9:16) |
| 20. | Teele Telgma | Estonia | 32:55 | (+9:23) |
Women C
| | | | | |
| --- | --- | --- | --- | --- |
| 1. | Sofie Bachmann | Switzerland | 24:43 | (+0:00) |
| 2. | Valerie Aebischer | Switzerland | 24:48 | (+0:05) |
| 3. | Agnes Kracht | Denmark | 25:33 | (+0:50) |
| 4. | Lotta Eerola | Finland | 26:13 | (+1:30) |
| 4. | Florence Hanauer | France | 26:13 | (+1:30) |
| 6. | Tereza Janosikova | Czech Republic | 26:23 | (+1:40) |
| 7. | Anna Dvorianskaia | Russian Federation | 26:33 | (+1:50) |
| 8. | Birte Friedrichs | Germany | 27:18 | (+2:35) |
| 9. | Maelle Beauvir | France | 27:41 | (+2:58) |
| 10. | Amy Nymalm | Finland | 27:45 | (+3:02) |
| 11. | Fiona Bunn | Great Britain | 27:53 | (+3:10) |
| 12. | Isa Envall | Sweden | 28:06 | (+3:23) |
| 13. | Mia Bekhus | Norway | 28:46 | (+4:03) |
| 14. | Lisa Jonsson Nordin | Sweden | 28:48 | (+4:05) |
| 14. | Kaste Rutkauskaite | Lithuania | 28:48 | (+4:05) |
| 16. | Lise Termansen | Denmark | 28:57 | (+4:14) |
| 17. | Isabel Seeger | Germany | 29:02 | (+4:19) |
| 18. | Tereza Smelikova | Slovakia | 29:03 | (+4:20) |
| 19. | Dasha Panchenko | Russian Federation | 29:15 | (+4:32) |
| 20. | Maria Gorczyca | Poland | 29:20 | (+4:37) |