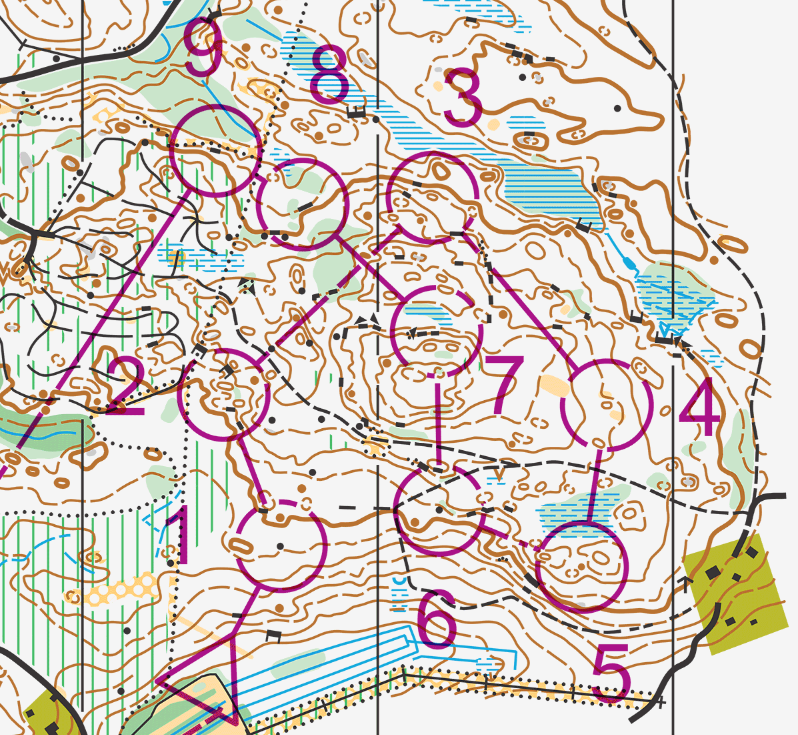 Favourite victories to Olli Ojanaho (Finland) and Simona Aebersold (Switzerland) in the Junior World Orienteering Championships Middle in Tampere, Finland.
Ojanaho was the big favourite in the men's class after winning his qualification heat with more than 2 minutes. His victory in the final was also a clear one, with Norwegian Audun Heimdal (Norway), bronze medalist from JWOC Middle in Switzerland last year, in second place 1:21 behind. Simon Imark (Sweden) finished third.
In the women's class Aebersold was the big favourite after dominating at JWOC 2016 on homeground. Aebersold's winning margin was also more than a minute, with Linnea Golsater (Sweden) in second and Veera Klemettinen (Finland) in third.
Unfortunately Olli Ojanaho's GPS-device did not work. Note that results were still unofficial when this article was published. 
Maps and GPS-tracking
JWOC 2017 Middle Women A-final

» See map in omaps.worldofo.com
JWOC 2017 Middle Men A-final

» See map in omaps.worldofo.com
Here is a comparison between gold and silver medalists in the women's race.
Results (unofficial)
Men
1
58
Olli Ojanaho
Suomi
23:47
2
41
Audun Heimdal
Norja
25:08
+1:21
3
59
Simon Imark
Ruotsi
25:50
+2:03
4
57
Mathieu Perrin
Ranska
25:51
+2:04
5
51
Anton Forsberg
Ruotsi
26:18
+2:31
6
48
Isac von Krusenstierna
Ruotsi
26:19
+2:32
7
45
Alexander Chepelin
Iso-Britannia
26:20
+2:33
8
54
Henrik Johannesson
Ruotsi
26:30
+2:43
9
53
Aleksi Sorsa
Suomi
26:32
+2:45
10
29
Mikhail Kuleshov
Venäjä
26:39
+2:52
11
5
Pascal Buchs
Sveitsi
27:15
+3:28
12
55
Joey Hadorn
Sveitsi
27:25
+3:38
13
22
Fryderyk Pryjma
Puola
27:47
+4:00
14
56
Simon Hector
Ruotsi
27:54
+4:07
15
17
Daniel Vandas
Tšekki
28:20
+4:33
16
60
Akseli Ruohola
Suomi
28:28
+4:41
17
47
Tomas Krivda
Tšekki
28:39
+4:52
18
25
Laurits Bidstrup Moller
Tanska
28:44
+4:57
19
6
Topi Syrjalainen
Suomi
28:48
+5:01
20
43
Kirill Komarov
Venäjä
28:53
+5:06
Women
1
158
Simona Aebersold
Switzerland
23:15
2
157
Linnea Golsater
Sweden
24:29
+1:14
3
159
Veera Klemettinen
Finland
25:03
+1:48
4
122
Victoria Haestad Bjornstad
Norway
25:14
+1:59
5
160
Sofie Bachmann
Switzerland
25:39
+2:24
6
143
Sanna Fast
Sweden
25:47
+2:32
7
156
Valerie Aebischer
Switzerland
25:52
+2:37
8
150
Marie Olaussen
Norway
26:10
+2:55
128
Josefine Lind
Denmark
26:10
+2:55
10
154
Agnes Kracht
Denmark
26:20
+3:05
11
151
Lotta Eerola
Finland
26:54
+3:39
12
133
Amy Nymalm
Finland
27:05
+3:50
13
138
Ida Oebro
Denmark
27:13
+3:58
14
125
Line Cederberg
Denmark
27:19
+4:04
15
153
Ingrid Lundanes
Norway
27:41
+4:26
16
155
Anu Tuomisto
Finland
27:56
+4:41
17
137
Ingeborg Eide
Norway
28:00
+4:45
18
135
Veronika Kalinina
Russia
28:21
+5:06
19
149
Grace Molloy
Great Britain
28:36
+5:21
20
145
Tereza Janosikova
Czech Republic
28:40
+5:25