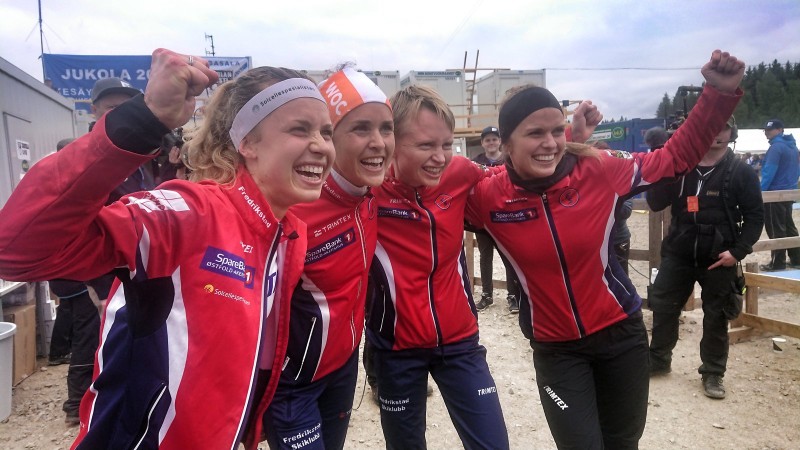 Norway's Fredrikstad SK took the victory in the 2019 edition of the Venla relay after a strong leg by Kamilla Olaussen on the last leg. IFK Göteborg went out onto the last leg in the lead, but after first a bad routechoice and later a quite big mistake, IFK's Sara Hagström lost nearly 4 minutes and had more than enough to keep Finland's Tampereen Pyrintö behind.
Several top teams did quite big mistakes in the tricky terrain around Kangasala; notably one of the top favourites Halden went from a nearly two minute lead to five minutes behind on the 2nd leg. IFK Lidingö was in a small lead group after two legs, but also did a big mistake and lost the possibility for battling for victory.
Top 6 results here – read on for a recap of the race development as it happened and full team results at the bottom.
Leg 1: Halden in a clear lead
Halden is first back after the first leg with a 1:20 lead down to Tampereen Pyrintö's second team with Byåsen in third place. Quite big gaps down to many of the top teams with last year's winner Stora Tuna more than 10 minutes behind and last year's 2nd place Göteborg Majorna 4 minutes behind.
For Fredrikstad, Marianne Riddervold Kahr ran the first leg, coming back in 12th place, 2:19 behind. – I did a very good race compared to my shape. I don't train as much as the others with my full job and my children at home, so I am very happy with my race today.
And Halden 🇳🇴 also finishes first with a big 1:20 lead ahead of TP 🇫🇮 and Byåsen 🇳🇴 https://t.co/kPTYunljic pic.twitter.com/9909qIJ2LM

— WorldofO.com (@worldofo) June 15, 2019
Standings after first leg:
Leg 2: Halden misses – IFK Göteborg takes over
A tough one for Halden's Kine Hallan Steiwer halfway through the second leg: A big mistake, and suddenly from one minute ahead to four minutes behind. Instead IFK Göteborg's Kirsi Nurmi runs very well and takes IFK Göteborg in to a clear lead – opening a gap of more than 1:30 to the rest of the field after two legs.
3.5 km into the second leg Halden 🇳🇴goes from clear lead to a 29th place, nearly 4(!) minutes behind. New team in the lead is IFK Göteborg 🇸🇪 with Fredrikstad 🇳🇴 in 2nd https://t.co/oX10YPQz6O pic.twitter.com/uNSdkIRUcM

— WorldofO.com (@worldofo) June 15, 2019
Standing after 2nd leg:
Leg 3: Fredrikstad closes the gap
On the third leg Fredrikstad's Marianne Andersen does a very good race, closing the gap to IFK Göteborg's Elin Månnson. IFK Lidingö does a big mistake and loses contact with the lead, and we get a very big gap from the two top teams down to the rest of the teams. Tampereen Pyrintö is closest with a gap of more than 4 minutes, the other teams are more than 6 minutes behind. This looks like it is going to be a battle between IFK Göteborg's Sara Hagström and Fredrikstad Kamilla Olaussen on the last leg!
Marianne Andersen: – I did a quite stable race. I ran alone almost all the way, and in the end I thought I maybe saw IFK in front of me and got stressed and made a small mistake, but I managed to keep in control and finish well.
Towards the end of the 3rd leg Fredrikstad's Marianne Andersen in slowly closing the gap to IFK Göteborg – now down to 28 seconds. On the last leg we have Sara Hagström vs Kamilla Olaussen – will be an interesting battle between two of the world's best women orienteers! pic.twitter.com/EAkACfltpX

— WorldofO.com (@worldofo) June 15, 2019
IFK Göteborg 🇸🇪 managed to keep a 39 second gap to Fredrikstad 🇳🇴, but increased to the other teams – now with TP 🇫🇮 closest at 4:10 and the others at more than 6 min https://t.co/KPZQBICiyS pic.twitter.com/gsw5O7ZzJa

— WorldofO.com (@worldofo) June 15, 2019
Standing after 3rd leg:
Leg 4: Fredrikstad's Olaussen alone in the front
Fredrikstad's Kamilla Olaussen used some control's to close the gap to leading Sara Hagström for IFK Göteborg, but from there on it was all about Fredrikstad.  – We run together for a few legs, but then we took different routechoices on a longer leg. I ran quite straight and really pushed up the hill, Kamilla Olaussen said after the race. – I didn't know that I was ahead, so I was really nervous in the end when I did some small mistakes.
The long leg gave Olaussen a one minute lead – and Sara Hagström's mistake on the next control increased the gap to 3 minutes. From here on and to the finish it was clear that this would be Fredrikstad's day. Kamilla Olaussen's comment after the race: – I have been quite motivated all the time the last seasons, but I have had a lot of injuries and been out 5 of the last 8 years due to injuries. But now I have been training well and I hope I can do very well at the World Championships.
… but catching up does not mean following. Olaussen and Hagström with different routechoices – this is why orienteering is more exciting than pure running #jukola #venla pic.twitter.com/9Z0O5TlXhr

— WorldofO.com (@worldofo) June 15, 2019
… and then another one for Hagström. This looks better and better for Fredrikstad 🇳🇴, and even opens of for a Finnish 🇫🇮 third place for TP! pic.twitter.com/UjAuDZppDy

— WorldofO.com (@worldofo) June 15, 2019
Fredrikstad keeping up the gap – the battle for 2nd looks closer and closer with only 29 second lead for IFK Göteborg ahead of TP now pic.twitter.com/OHkZ8tvMP1

— WorldofO.com (@worldofo) June 15, 2019
Venla victory for Fredrikstad 🇳🇴 after great run by Kamilla Olaussen, ahead of IFK Göteborg 🇸🇪 and Tampereen Pyrintö 🇫🇮 https://t.co/ykjYZIa2P2 pic.twitter.com/Z4OuM710Xg

— WorldofO.com (@worldofo) June 15, 2019
Final standing:
1
22
Fredrikstad SK
NOR
2:45:17
1 Marianne Riddervold Kahrs
38:45
2 Marie Olaussen
35:36
1:14:21
3 Marianne Andersen
43:15
1:57:37
4 Kamilla Olaussen
47:40
2:45:17
2
19
IFK Göteborg
SWE
2:48:58
1 Miri Thrane Ödum
38:34
2 Kirsi Nurmi
34:04
1:12:38
3 Elin Månsson
44:18
1:56:57
4 Sara Hagström
52:00
2:48:58
3
23
Tampereen Pyrintö
FIN
2:49:18
1 Lotta Karhola
42:17
2 Simona Aebersold
32:45
1:15:03
3 Saila Kinni
46:05
2:01:08
4 Venla Harju
48:10
2:49:18
4
5
Alfta ÖSA OK
SWE
2:51:48
1 Galina Vinogradova
38:54
2 Josefine Heikka
36:38
1:15:33
3 Irina Nyberg
48:00
2:03:33
4 Natalia Gemperle
48:14
2:51:48
5
77
Nydalens SK
NOR
2:51:53
1 Siri Ulvestad
39:19
2 Tone Bergerud Lye
39:46
1:19:05
3 Silje Ekroll Jahren
45:31
2:04:37
4 Anne Margrethe Hausken Nordberg
47:16
2:51:53
6
15
Halden SK
NOR
2:52:13
1 Sabine Hauswirth
36:26
2 Kine Hallan Steiwer
41:14
1:17:40
3 Elena Roos
47:05
2:04:45
4 Marika Teini
47:27
2:52:13
7
12
SK Pohjantähti
FIN
2:53:38
1 Anna Haataja
44:33
2 Heini Wennman
35:47
1:20:20
3 Sofia Haajanen
44:45
2:05:06
4 Sari Anttonen
48:31
2:53:38
8
9
IGTISA
LTU
2:53:41
1 Gabija Razaityte
40:47
2 Sandra Pauzaite
37:45
1:18:32
3 Sandra Grosberga
47:17
2:05:50
4 Tatiana Ryabkina
47:51
2:53:41
9
51
OK Kåre
SWE
2:53:47
1 Jenny Eriksson
39:21
2 Martina Ruch
38:52
1:18:13
3 Kajsa Risby
47:04
2:05:18
4 Lisa Risby
48:29
2:53:47
10
41
Lahden Suunnistajat -37
FIN
2:53:54
1 Laura Ramstein
40:50
2 Lotta Kirvesmies
36:11
1:17:02
3 Anna-Kaisa Anjala
49:13
2:06:15
4 Minna Kauppi
47:39
2:53:54
11
3
MS Parma
FIN
2:54:17
1 Anastasia Rudnaya
38:49
2 Anni Heikkonen
35:53
1:14:42
3 Tiia Istolahti
50:07
2:04:49
4 Maija Sianoja
49:27
2:54:17
12
7
Koovee
FIN
2:54:46
1 Kaasiku Evely
39:09
2 Hulkkonen Johanna
38:04
1:17:13
3 Niittynen Miia
48:05
2:05:18
4 Mironova Svetlana
49:27
2:54:46
13
1
Stora Tuna OK
SWE
2:54:48
1 Tilda Östberg
47:25
2 Magdalena Olsson
37:03
1:24:28
3 Julia Jakob
44:07
2:08:36
4 Tove Alexandersson
46:12
2:54:48
14
26
Lynx
FIN
2:54:54
1 Sara Karvonen
39:37
2 Sanni Norrbacka
39:17
1:18:54
3 Karoliina Sundberg
46:21
2:05:15
4 Aino Mänkärlä
49:38
2:54:54
15
44
Pargas IF
FIN
2:55:08
1 Yvonne Gunell
38:55
2 Ida-Marie Cederberg
38:30
1:17:25
3 Alexandra Enlund
46:09
2:03:34
4 Amy Nymalm
51:33
2:55:08