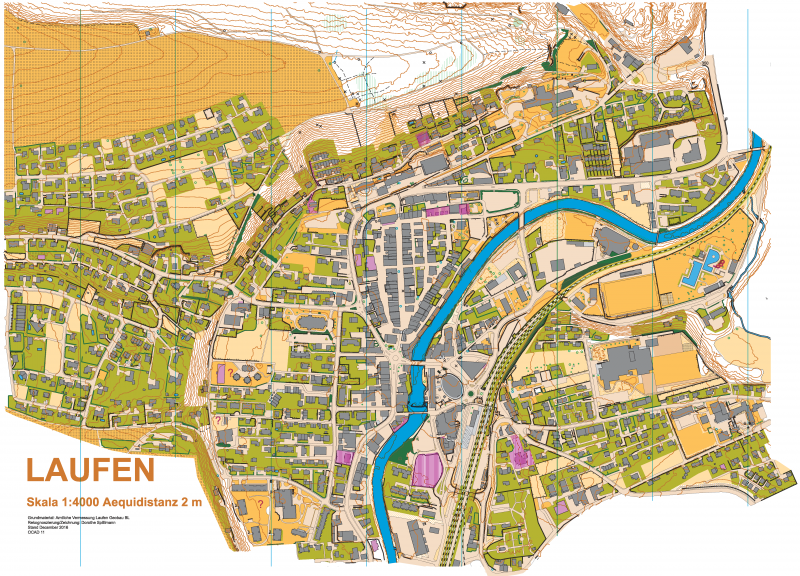 Middle, Knock-Out Sprint and Sprint: The third Orienteering World Cup round in 2019 is organized in Laufen, Switzerland from Friday September 27th to Sunday September 29th. This is the second last World Cup round in 2019, with the last round being organized in China.
World Cup leaders Tove Alexandersson and Gustav Bergman (both Sweden) are accompanied by around 130 men and 100 women. Whereas the first two World Cup rounds were organized in tough forest terrain in Finland and Norway (World Orienteering Championships), this third World Cup round and the last World Cup round in China is more suitable for runners who can keep high speed on hard surfaces. The Switzerland World Cup round starts with a Middle Distance race in hilly mixed forest with many trails, continues with the new Knock-Out Sprint format where the fast runners should really excel –  and finished off with a Sprint which should include some interesting areas in the old part of Laufen with some narrow streets and alleys.
The main favourite in the women's class is – as always – Tove Alexandersson, with 4 of 4 World Cup wins this season. Simona Aebersold, Natalia Gemperle and the Swiss women with Simona Aebersold in front will probably be the toughest competitors for Alexandersson.  Also look out for Marika Teini who is placed second in the World Cup. Interestingly we will have Maja Alm on the start list again this weekend – after the World's best sprint orienteer the last seasons failed to qualify for the World Championships in athletics, the fast Danish woman has finished the athletics season and is ready for some orienteering. It will be interesting to see if Alm can give Alexandersson a real battle for the victory – Alexandersson has won all World Cup races so far this season. Another runner who would have been interesting to see on the startlist is Judidth Wyder – who stopped by some orienteering races a few weeks ago while pursuing her trail-running career – winning the Swiss Championships Sprint and Long; Wyder is not on the startlist though, but with her current shape (beat Tove Alexandersson's course record in the Ring of Steall Skyrace last weekend) it wouls have been an interesting battle.
In the men's class Gustav Bergman leads the World Cup ahead of Olav Lundanes and Frederic Tranchand – with the first Swiss runner Daniel Hubmann all the way down in 5th place. Here we expect the Swiss runners to fight back and get several podium places, and probably also a win or two. Also look out for the typical sprint specialists who we have seen less in the first part of the season but are now ready to shine: Yannick Michiels, Tim Robertson and Kris Jones among others. It will also be interesting to see what the young Norwegian Kasper Fosser can do.
Top 10 World Cup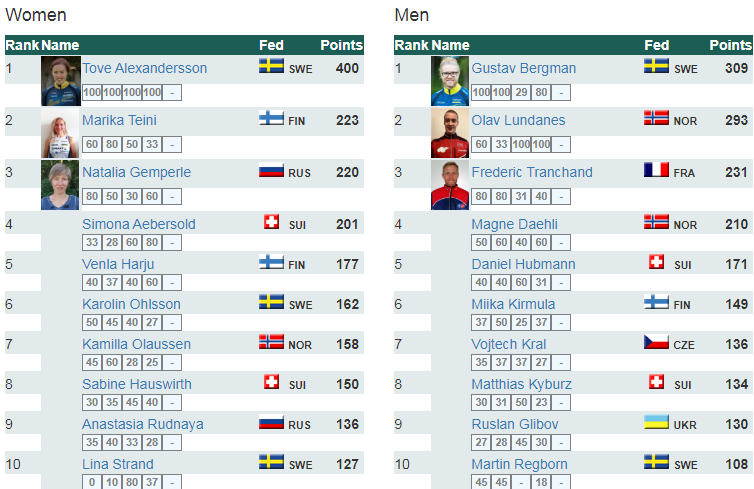 Top 10 World Ranking starters women
WRE pos
WRE pos
sprint
Name
Country
WRE ID
1
2
Tove Alexandersson
 SWE
65
2
11
Marika Teini
 FIN
5868
2
9
Natalia Gemperle
 RUS
6259
286
3
Maja Alm
 DEN
77
4
10
Sabine Hauswirth
 SUI
2100
21
5
Maija Sianoja
 FIN
5370
14
6
Elena Roos
 SUI
4961
6
12
Simona Aebersold
 SUI
23032
8
8
Lina Strand
 SWE
5654
10
13
Julia Jakob
 SUI
1867
Top 10 World Ranking starters men
WRE pos
WRE pos
sprint
Name
Country
WRE ID
1
289
Olav Lundanes
 NOR
13003
4
1
Daniel Hubmann
 SUI
10849
2
10
Gustav Bergman
 SWE
7562
3
2
Matthias Kyburz
 SUI
12305
161
4
Yannick Michiels
 BEL
13592
43
5
Tim Robertson
 NZL
15525
6
20
Frederic Tranchand
 FRA
17348
8
6
Vojtech Kral
 CZE
12187
1116
7
Kristian Jones
 GBR
11299
40
8
Martin Hubmann
 SUI
10851
17
9
Martin Regborn
 SWE
15387
9
44
Gernot Ymsen
 AUT
11671
10
13
Ruslan Glibov
 UKR
9910
Links & Live serives
All 3 competitions will be covered with full TV broadcast on Web-TV and on Swiss and Finnish TV. In addition the usual live services (live results, GPS tracking etc.) will be offered. All live services are now offered via orienteering.sport. WebTV has a cost of 16 EUR for all races or 6 EUR per race.
Program
Friday September 27th: Middle – WebTV 12:23 – 16:00

First start approx. 10:00
Last start Women 13:30 – winners ready around 14:05
Last start Men 15:05 – winners ready around 15:40

Saturday September 28th: Knock-Out Sprint – WebTV 15:01-17:00

First start Qualification Women 09:00
First start Qualification Men 09:35
Heat choice Women 10:00
Heat choice Men 10:40
First start ¼-Final Women (every 7') 10.50
First start ¼-Final Men (every 7') 11.32
First ½-Final Women (every 12') 15:10
First ½-Final Men (every 12') 15:46
Final Women 16:24
Final Men 16:43 

Sunday September 29th: Sprint – WebTV 13:03-15:40

First start B-Final approx. 11:40
First start Women 13:11, Last start Women 14:03
First start Men 14:08 , Last start Men 15:07
Detailed race information
Middle (Friday)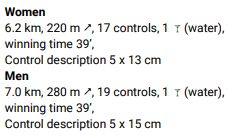 Knock-Out Sprint (Saturday)
General information
Knock-Out Sprint Qualification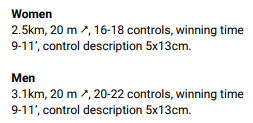 Knock-Out Sprint Quarter-finals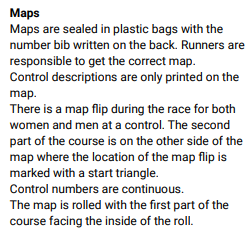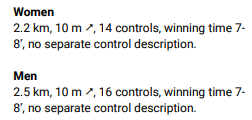 Semi-finals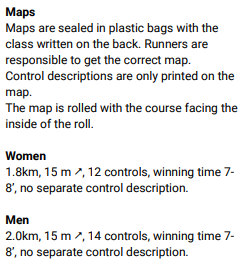 Final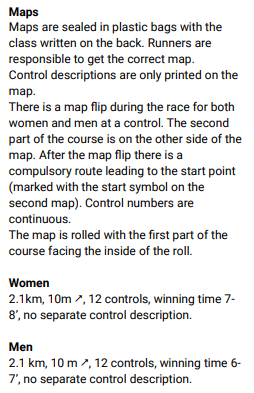 Sprint (Sunday)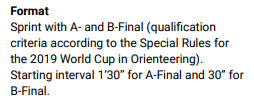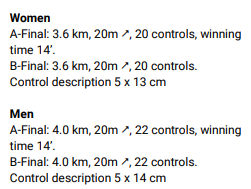 All entered runners
WRE pos
WRE pos
sprint
Name
Country
WRE ID
1
289
Olav Lundanes
 NOR
13003
4
1
Daniel Hubmann
 SUI
10849
2
10
Gustav Bergman
 SWE
7562
3
2
Matthias Kyburz
 SUI
12305
161
4
Yannick Michiels
 BEL
13592
43
5
Tim Robertson
 NZL
15525
6
20
Frederic Tranchand
 FRA
17348
8
6
Vojtech Kral
 CZE
12187
1116
7
Kristian Jones
 GBR
11299
40
8
Martin Hubmann
 SUI
10851
17
9
Martin Regborn
 SWE
15387
9
44
Gernot Ymsen
 AUT
11671
10
13
Ruslan Glibov
 UKR
9910
14
11
Emil Svensk
 SWE
16905
12
542
Albin Ridefelt
 SWE
15472
13
12
Florian Howald
 SUI
10810
21
14
Andreas Kyburz
 SUI
12304
15
18
Milos Nykodym
 CZE
14322
22
15
Aleksi Niemi
 FIN
18700
16
43
Miika Kirmula
 FIN
11767
1832
16
Trond Einar Moen Pedersli
 NOR
14760
32
17
Robert Merl
 AUT
13549
18
19
Joey Hadorn
 SUI
23033
19
977
Gaute Hallan Steiwer
 NOR
16697
20
27
Lucas Basset
 FRA
7403
116
21
Artem Popov
 RUS
15086
171
22
Peter Hodkinson
 GBR
10688
23
26
Jonas Egger
 SUI
18893
140
24
Oystein Kvaal Osterbo
 NOR
18660
48
25
Marek Minar
 CZE
20166
26
61
Elias Kuukka
 FIN
22101
27
310
Ralph Street
 GBR
16782
28
536
Pavel Kubat
 CZE
12195
205
29
Jakob Edsen
 DEN
22688
30
–
Nicolas Rio
 FRA
18921
65
31
Arturs Paulins
 LAT
14704
35
32
Kasper Fosser
 NOR
23855
33
38
Rudolfs Zernis
 LAT
18506
75
33
Riccardo Scalet
 ITA
18966
258
34
Chris Smithard
 GBR
16491
41
34
Jonas Vytautas Gvildys
 LTU
10248
619
39
Piotr Parfianowicz
 POL
14642
82
40
Christoph Meier
 SUI
13502
202
42
Eric Borjeskog
 SWE
8136
46
54
Olli Ojanaho
 FIN
19846
257
48
Adrien Delenne
 FRA
19918
49
229
Bojan Blumenstein
 GER
7741
87
49
Joni Hirvikallio
 FIN
10663
221
51
Topias Ahola
 FIN
19993
51
160
Max Peter Bejmer
 SWE
7466
112
52
Tobia Pezzati
 SUI
18890
139
53
Matthias Reiner
 AUT
15405
55
186
Audun Heimdal
 NOR
10545
56
72
Michal Olejnik
 POL
14406
57
398
Kristo Heinmann
 EST
10551
233
58
Emil Ahlbeck
 NOR
6827
107
59
Tristan Bloemen
 BEL
7724
196
60
Algirdas Bartkevicius
 LTU
18826
63
328
Dmitrii Nakonechnyi
 RUS
14003
66
2364
Edgars Bertuks
 LAT
7598
92
67
Akseli Ruohola
 FIN
24217
165
68
Maxime Rauturier
 FRA
20176
69
348
Mathieu Perrin
 FRA
22868
148
70
Mattia Debertolis
 ITA
19153
71
129
Sebastian Inderst
 ITA
11008
73
193
Kenny Kivikas
 EST
11784
244
76
Dag Blandkjenn
 NOR
25227
80
450
Simon Imark
 SWE
22867
208
81
Jonathan Crickmore
 GBR
8598
96
82
Topi Syrjalainen
 FIN
24296
85
107
Mathias Peter
 AUT
14853
581
87
Damian Konotopetz
 CAN
11953
1374
88
Tomas Hendrickx
 BEL
10587
100
89
Tomas Kubelka
 CZE
19046
90
93
Quentin Rauturier
 FRA
20655
593
96
Marvin Goericke
 GER
9942
155
102
Emil Oebro
 DEN
18647
104
–
Bjoern Cederberg
 DEN
22960
161
104
Jesse Laukkarinen
 FIN
12511
111
335
Aron Bako
 HUN
7286
113
202
Loic Capbern
 FRA
8188
386
113
Aston Key
 AUS
24481
613
114
Tomas Krivda
 CZE
28597
391
117
Daniil Kashin
 RUS
21401
336
118
Ats Sonajalg
 EST
16991
725
119
Alex Carcas
 GBR
20527
125
996
Sergey Dobrynin
 RUS
8889
235
144
Vegard Jarvis Westergard
 NOR
18032
145
215
Krzysztof Wolowczyk
 POL
19705
295
147
Mathias Blaise
 BEL
28056
458
152
Xiyuan Liang
 CHN
26587
898
153
Tamas Tolgyesi
 HUN
19832
485
157
Patrick Jaffe
 AUS
21630
1263
159
Wouter Hus
 BEL
20876
159
636
Mate Baumholczer
 HUN
7426
175
531
Isac von Krusenstierna
 SWE
25180
291
183
Francois Van der Ouderaa
 BEL
14543
191
368
Sebastian Ken Baumann
 JPN
25943
199
344
Daniel Vandas
 CZE
28599
226
201
Timo Suter
 SUI
23936
203
688
Janis Tamuzs
 LAT
17066
207
1041
Krisztian Liszka
 HUN
12848
2906
213
Levente Tugyi
 HUN
20111
218
691
Ole Hennseler
 GER
25195
408
224
Xiaoming Liang
 CHN
12731
352
265
Nicolas Kastner
 AUT
22896
267
721
Leonas Mockunas
 LTU
13744
285
653
Raphael Masliah
 FRA
33925
381
347
Colin Kolbe
 GER
25197
354
424
Ben Mitchell
 GBR
13706
359
1096
Erik Doehler
 GER
20178
2716
366
Michael Kondro
 CAN
28475
377
464
Laurits Bidstrup Moller
 DEN
21017
504
399
Hirokazu Osaki
 JPN
14498
920
432
Adam Potter
 GBR
15121
435
2364
Jonas Hubacek
 CZE
20162
443
1490
Aleksei Asmolov
 RUS
22811
444
697
Andrew Barnett
 AUS
7372
475
630
Rasmus Moeller Jess
 DEN
28258
482
678
Csaba Gerber
 HUN
28320
516
484
Reigo Teervalt
 EST
21720
558
799
Jan Bednarski
 POL
34077
646
560
Johan Hogstrand
 SWE
10941
694
–
Jaagup Truusalu
 EST
17389
1047
733
Kaarel Hendrik Zernant
 EST
27696
891
–
Artjoms Rekunenko
 LAT
15417
1174
–
Li ZhuoYe
 CHN
38086
1604
1980
Hideto Takahashi
 JPN
36472
2081
–
YaoWen HU
 CHN
28234
2146
–
Tang JianDa
 CHN
38081
–
–
Alexander Frolov
 RUS
24745
–
–
Xiao Tang
 CHN
25126
WRE pos
WRE pos
sprint
Name
Country
WRE ID
1
2
Tove Alexandersson
 SWE
65
2
11
Marika Teini
 FIN
5868
2
9
Natalia Gemperle
 RUS
6259
286
3
Maja Alm
 DEN
77
4
10
Sabine Hauswirth
 SUI
2100
21
5
Maija Sianoja
 FIN
5370
14
6
Elena Roos
 SUI
4961
6
12
Simona Aebersold
 SUI
23032
8
8
Lina Strand
 SWE
5654
10
13
Julia Jakob
 SUI
1867
11
621
Venla Harju
 FIN
4150
27
14
Ursula Kadan
 AUT
2678
15
28
Silje Ekroll Jahren
 NOR
2486
18
15
Andrine Benjaminsen
 NOR
396
16
41
Sara Hagstrom
 SWE
1997
17
42
Denisa Kosova
 CZE
3061
78
17
Galina Vinogradova
 RUS
6258
28
18
Aleksandra Hornik
 POL
19685
19
150
Lisa Risby
 SWE
4900
79
19
Tereza Janosikova
 CZE
28127
70
21
Sigrid Alexandersen
 NOR
63
22
33
Svetlana Mironova
 RUS
3932
44
22
Martina Ruch
 SUI
18903
23
225
Catherine Taylor
 GBR
5861
24
31
Vendula Horcickova
 CZE
19096
25
51
Susen Loesch
 GER
3602
465
25
Alice Leake
 GBR
3349
26
77
Lotta Karhola
 FIN
18912
31
26
Isia Basset
 FRA
332
40
27
Sarina Jenzer
 SUI
2549
38
29
Paula Gross
 SUI
18906
30
134
Lilian Forsgren
 SWE
1592
41
30
Anna Haataja
 FIN
19926
31
347
Merja Rantanen
 FIN
4811
48
32
Alva Olsson
 SWE
4312
123
34
Alexandra Enlund
 FIN
28427
35
1524
Miri Thrane Oedum
 DEN
6735
54
35
Megan Carter Davies
 GBR
844
75
36
Cecilie Friberg Klysner
 DEN
23304
37
40
Sofia Haajanen
 FIN
1963
71
37
Irina Nyberg
 RUS
4227
39
378
Saila Kinni
 FIN
2876
43
57
Sofie Bachmann
 SUI
18907
93
43
Anna Dvorianskaia
 RUS
19063
–
43
Charlotte Ward
 GBR
6342
45
63
Anja Arbter
 AUT
173
84
45
Laura Ramstein
 AUT
4800
128
46
Laura Robertson
 NZL
4916
46
149
Lisa Holer
 SUI
18902
421
48
Kristine Fjellanger
 NOR
1541
58
49
Caroline Gjotterup
 DEN
1757
50
86
Evely Kaasiku
 EST
2672
52
280
Lenka Mechlova
 CZE
3830
62
52
Sandra Grosberga
 LAT
1865
60
53
Adela Indrakova
 CZE
2430
55
91
Gabija Razaityte
 LTU
4836
57
59
Josefin Tjernlund
 SWE
19038
115
60
Carlotta Scalet
 ITA
5184
87
61
Anna Simkovics
 AUT
5414
91
64
Anastasiia Borovkova
 RUS
22189
424
65
Victoria Haestad Bjornstad
 NOR
23852
66
414
Anna Bachman
 SWE
253
67
73
Ausrine Kutkaite
 LTU
3216
68
67
Ingeborg Eide
 NOR
20206
107
74
Maelle Beauvir
 FRA
20207
74
90
Jo Shepherd
 GBR
5339
76
726
Laura Vike
 LAT
6236
214
78
Cecilie Andersen
 GBR
19077
80
751
Hanna Wisniewska
 POL
6443
118
83
Florence Hanauer
 FRA
22869
83
103
Liga Valdmane
 LAT
6125
449
85
Zuzanna Kubicka
 POL
3156
88
148
Galina Ribediuc
 MDA
4779
173
97
Francesca Taufer
 ITA
19187
223
104
Runa Fremstad
 NOR
1623
108
275
Johanna Oberg
 SWE
21094
110
486
Johanna Trummer
 AUT
22769
130
120
Paula Starke
 GER
20062
232
122
Fanny Tilkin
 BEL
32367
537
123
Eszter Mantuano
 HUN
31940
134
281
Anika Gassner
 AUT
20213
135
182
Anna Stickova
 CZE
20209
477
142
Triin Jaadmaa
 EST
27629
350
144
Jiayi Zheng
 CHN
6604
348
151
Juliette Basset
 FRA
24928
311
162
Mary Fleming
 AUS
1554
712
171
Anine Lome
 NOR
25225
182
193
Tereza Cechova
 CZE
22097
191
209
Cecile Foltzer
 FRA
24927
193
751
Veronika Kalinina
 RUS
24156
224
269
Nicoline Friberg Klysner
 DEN
2941
230
249
Sarah Jones
 GBR
22517
652
283
Lucie Arno
 BEL
33074
289
–
Kristine Bertuka
 LAT
2984
321
428
Katarzyna Slusarczyk
 POL
28653
917
343
Shuang Long
 CHN
25674
474
350
Xueqin Yang
 CHN
33715
516
665
Tereza Novotna
 CZE
4220
556
824
Elina Karklina
 LAT
3242
–
680
Leonore Winkler
 GER
22481
1098
944
Csenge Gerber
 HUN
28391
1143
–
YongYu LI
 CHN
28237
1518
–
Wu JianFei
 CHN
38082
–
1524
Josefine Lind
 DEN
3454
–
–
Xiong Yan
 CHN
38083