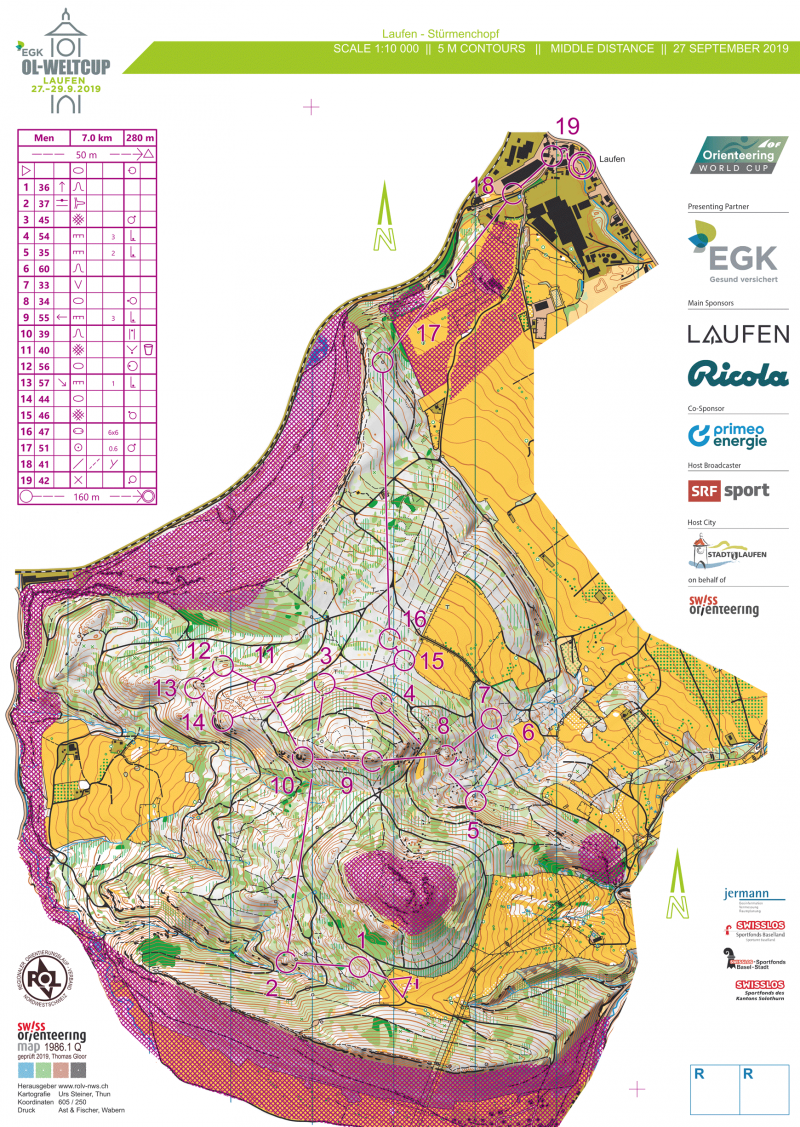 Friday's World Cup Middle distance in Switzerland gave Swiss success as usually on homeground: Double victory in the men's class with Joey Hadorn and Daniel Hubmann ahead of Swedish Martin Regborn, and Swiss second and third place in the women's class with Simona Aebersold and Sabine Hauswirth behind Swedish Tove Alexandersson.
This was Joey Hadorn's first World Cup victory – and Tove Alexandersson's fifth of five possible in this season only. The runners were met by fast terrain with relatively easy orienteering – a type of orienteering which the Swiss runners master well. In the men's class the overall World Cup Olav Lundanes (Norway; finished 4th today) came a little bit closer to overall leader Gustav Bergman (Sweden; finished 5th today) – the lead is now down to 11 points. The women's class is nearly decided by Tove Alexandersson; with her 500 points she has nearly twice the number of points of Aebersold in second with 281 points. See overall World Cup standing here.
Men: Hadorn with 9 seconds
Joey Hadorn (Switzerland) won 9 seconds ahead of Daniel Hubmann (Switzerland) with Martin Regborn (Sweden) in 3rd at 0:37. Joey Hadorn won 3 of 20 legs and did less than a minute of mistakes. Martin Regborn lost 20 seconds or less to the leg winner on all legs – that was least of all runners in this race. The fight for victory was close; Daniel Hubmann (lost 23 seconds at leg 14, finished 9 seconds behind in 2nd) was only one control away from beating Joey Hadorn.
Lucas Basset took the lead at the first control. The race lead then changed between Gernot Ymsen (leading at the 2nd control, losing 29 seconds at the 3rd control and falling down to 4th place), Daniel Hubmann (leading at the 3rd control, losing 12 seconds and the lead at the 4th), Joey Hadorn (leading from the 4th to 5th control, losing 11 seconds and the lead at the 6th) and Daniel Hubmann (leading from the 6th to 8th control, losing 22 seconds and the lead at the 9th) until Joey Hadorn took over the lead at control 9 of 20 controls and kept it until the finish.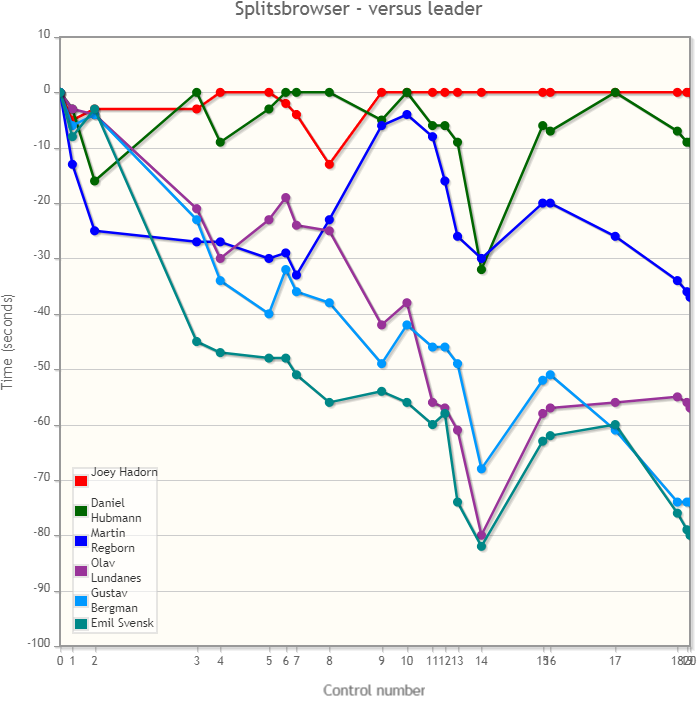 Not too many legs where routechoice was important in this competition – but this was one of them: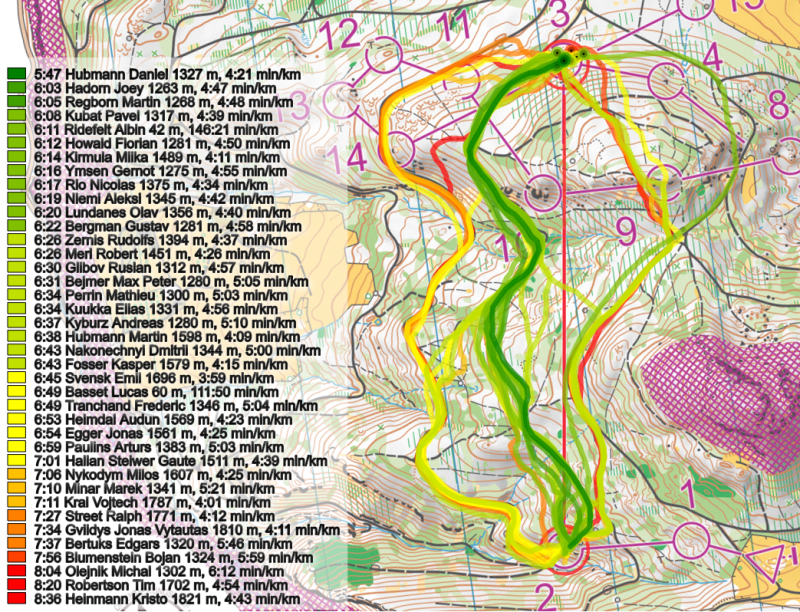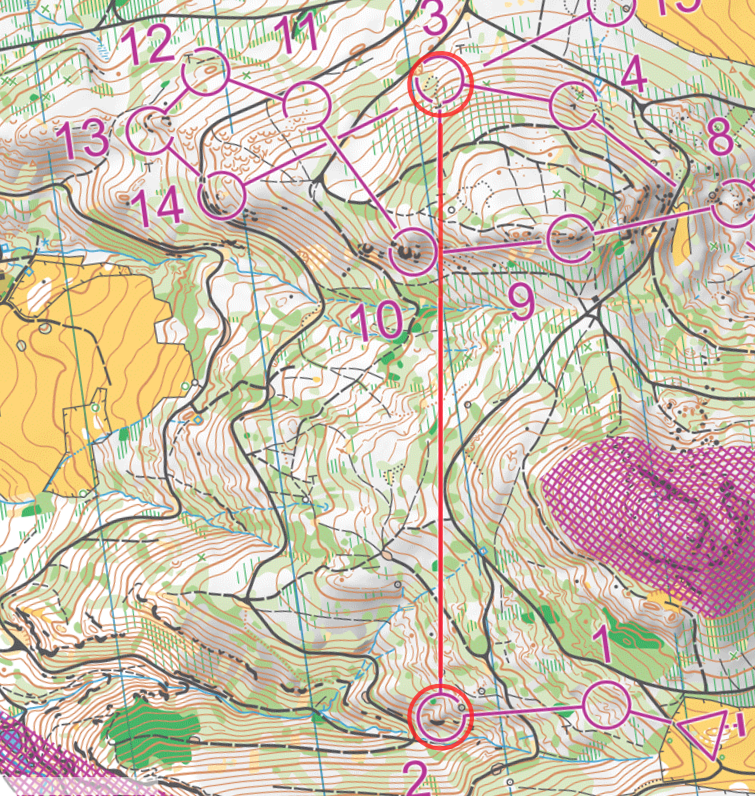 Women: Alexandersson with clear victory
Tove Alexandersson (Sweden) won 2:36 minutes ahead of Simona Aebersold (Switzerland) with Sabine Hauswirth (Switzerland) in 3rd at 2:49. Tove Alexandersson won 8 of 18 legs and did less than half a minute of mistakes. Tove Alexandersson lost 17 seconds or less to the leg winner on all legs – that was least of all runners in this race.
Maps and GPS-tracking
World Cup 2019, Middle Distance Men

» See map in omaps.worldofo.com
World Cup 2019, Middle Distance Women

» See map in omaps.worldofo.com
Results
Men
Women