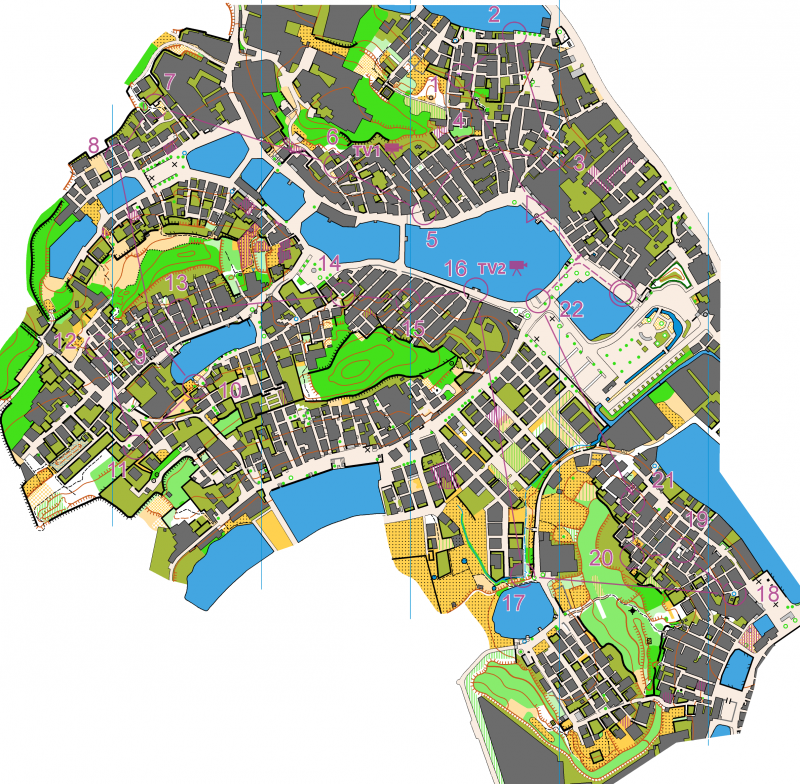 A hugely surprising win by Chinese athlete Shuangyan Hao in the women's class and an even more surprising third place by Li ZhuoYe (also CHN) in the men's class was the big headline at the World Cup final Sprint in Songtang, China on Sunday. This was the first ever Sprint World Cup race organized in China, and as expected the Chinese could offer an excellent area for sprint orienteering.
The men's class was won by Yannick Michiels (BEL), 2 seconds ahead of the third big surprise of the day – French Maxime Raururier, with Li ZhuoYe another three seconds behind. In the women's class Swiss Simona Aebersold finished 10 seconds behind Hao in second place with Sarah Hagström (SWE) in third. The big favourite in the women's class, Tove Alexandersson (SWE), did big a huge one minute mistake at the start of the race, and lost the battle against Hao already to control 3.
Men: Consistent race by Michiels while others missed
Although the course may not look that challenging on paper, the intensive orienteering in narrow alleys in Songtang required high concentration on nearly every leg, making it very difficult to be ahead of the game and take the right decision in every crossing. Very few came through the course without mistakes – many of the top favorites losing 10-15 seconds in one or more places. Michiels did however keep his focus all the way in the tricky parts and used his speed reserves in the more runnable parts towards the end of the course. Looking at the split times, Michiels was behind Chinese ZhuoYe until the second last control, but the finish speed secured him the victory and similarly Rauturier got the second place due to his (even higher) speed.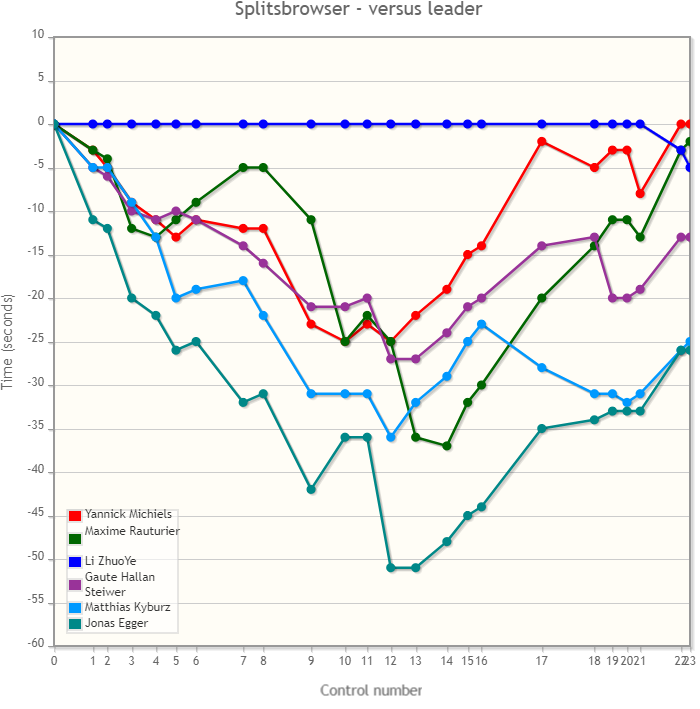 Here is a split browser of additional runners, where you can see the mistakes of Kral, Hadorn and Hubmann who ruined their chances for a top placement. More details about where the mistakes happened below.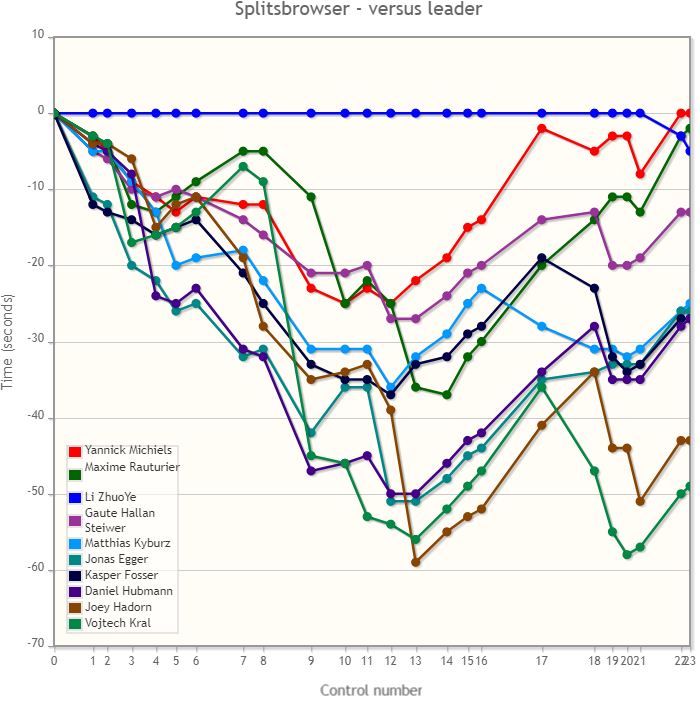 Note: The men's course is uploaded to SPAS – all athletes who ran the race are encouraged to find their name on the list and add their routes. Sorry, no SPAS for the women – focus is on the men's course this time.
The course started with some intriguing orienteering in narrow alleys. There were some routechoices at these first few legs, but it was more about good mapreading skills and fast running in narrow alleys in this first part than about routechoices. Several runners lose significant time here – Kasper Fosser for example 12 seconds already to control 1 – the Swedes Andren and von Krusenstierna 17 and 20 seconds to control 1.
To control 3 some runners lost time on routechoices (A/B are the best, C loses you some 5-15 seconds, D even more), notably one of the big favourites Vojtech Kral took the C-route and lost 14 seconds. Also other good sprinters like Martin Regborn and Andreas Kyburz did the same routechoice miss here.
Also to control 4 several runners lose time; some like Lucas Basset take a wrong routechoice and lose 15-16 seconds (Basset takes C). Other like Daniel Hubmann (+17 sec) and Florian Howald (+16 sec) run the correct route (A), but run into a wrong alley and have to run out again. Joey Hadorn and Tim Robertson also lose 10-12 seconds here.
The leg to control 5 is the first real routechoice leg – nearly half the field and quite a few of the top runners want to take the opportunity to relax the head a bit and go out towards the water front (B or C), losing 8-10 seconds to (A). Matthias Kyburz and Tim Robertson are two of the top runners doing this mistake.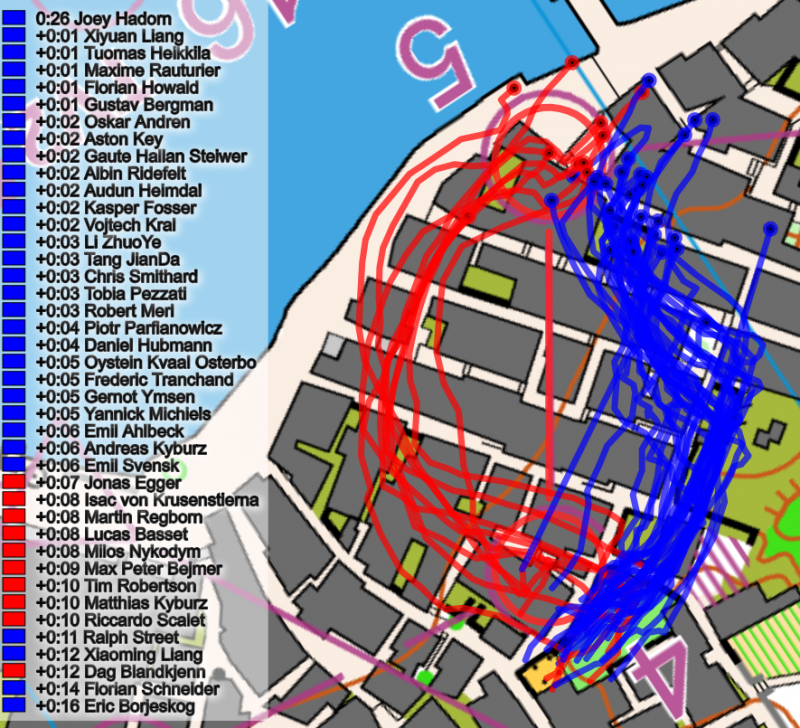 At the TV leg left (A) is slightly faster, but no big time differences.
We do have interesting results at the first TV-control, though. Double China in the lead – and even a 7 second gap from the leader down to the first non-Chinese runner is not what one would expect based on earlier race results.
1.
Li ZhuoYe
China
3:25
(+0:00)
Total:
15:23 (3)
2.
Xiyuan Liang
China
3:28
(+0:03)
Total:
16:48 (41)
3.
Tuomas Heikkila
Finland
3:32
(+0:07)
Total:
16:58 (45)
4.
Gustav Bergman
Sweden
3:32
(+0:07)
Total:
17:16 (53)
5.
Maxime Rauturier
France
3:34
(+0:09)
Total:
15:20 (2)
6.
Tobia Pezzati
Switzerland
3:35
(+0:10)
Total:
15:52 (11)
7.
Yannick Michiels
Belgium
3:36
(+0:11)
Total:
15:18 (1)
8.
Gaute Hallan Steiwer
Norway
3:36
(+0:11)
Total:
15:31 (4)
9.
Joey Hadorn
Switzerland
3:36
(+0:11)
Total:
16:01 (15)
10.
Albin Ridefelt
Sweden
3:38
(+0:13)
Total:
15:46 (10)
The leg to control 7 starts getting really interesting, though. Here a late change of the course (partly due to the incident at CISM; new information from the Senior Event Advisor says this was due to construction and not the CISM incident, but changes would have been considered if not for the construction work) introduced an extra forbidden area making it necessary to go back out of the control to take the best route (A).  Many runners missed this, including the Chinese runner Xiyuan Liang in second place who lost 18 seconds on running the B-variant here.  Other runners running B includes Fosser (+13 seconds), Hadorn (+14), Tranchand (+14), Svensk (+14), Smithard (+16), Regborn (+28). Some even start with B and then jump over to A (Hubmann +14, Bergman +19)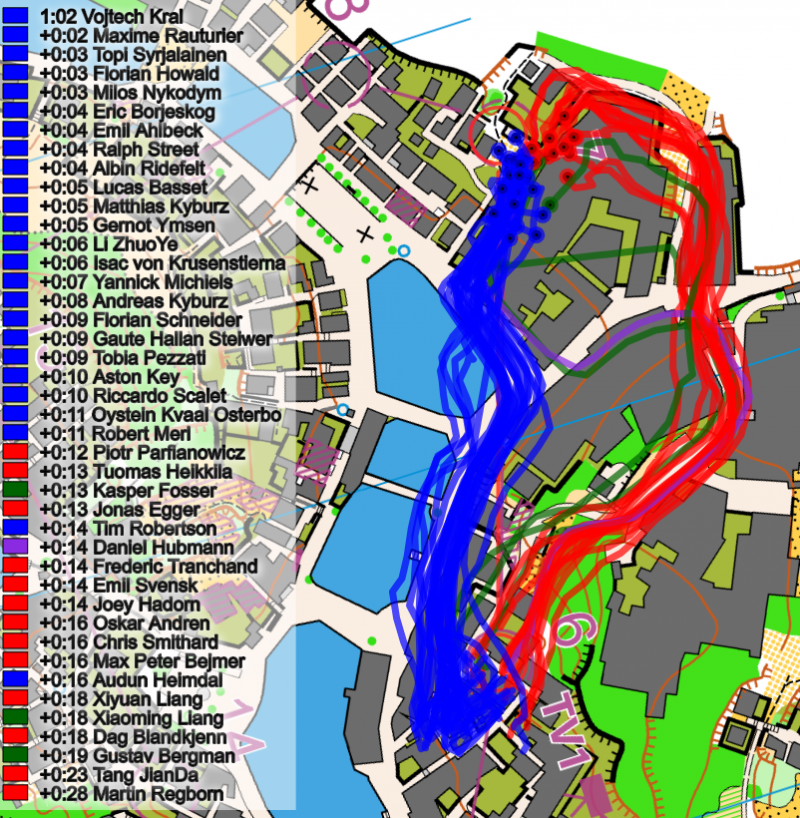 Not too much action to control 8 (although some runners like Basset manage to lose 15 seconds here), but control 9 is an interesting routechoice leg. Here A or B is definitely fastest with many runners taking non-optimal routes. Of the top runners most take the right choice, but for example Vojtech Kral (+36) and Gustav Bergman (+31) lose their chance for a top result here; Kral would have been in 4th with an optimal route here. Bergman's route is not easy to see from the GPS.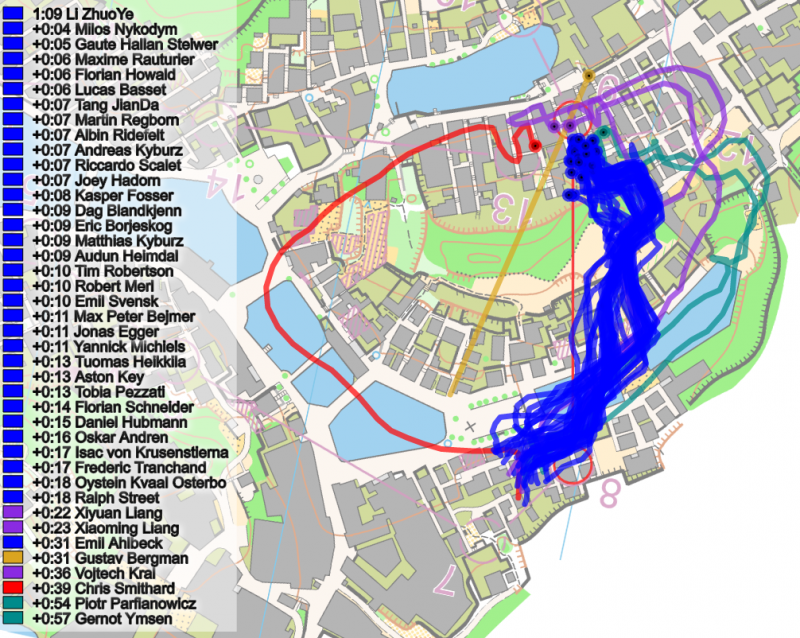 The leg to control 10 is another routechoice leg. This time left (B) is clearly faster, and again several top runners take the wrong choice. Notably winner Michiels loses 8 seconds by going to the right and second placed Maxime Rauturier loses 20 seconds(!) on a route to the right.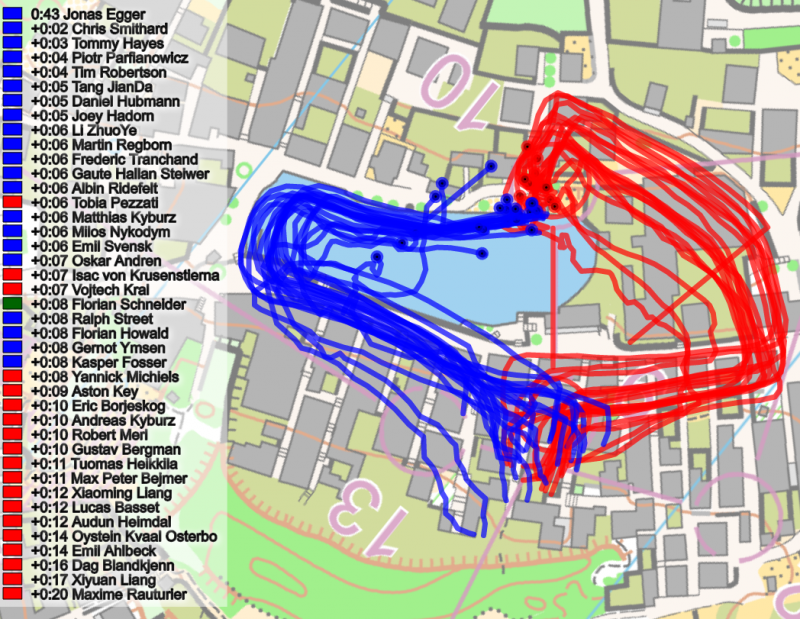 Then we have some controls with less routechoices, but some of the top runners still lose time on every leg – telling us that orienteering in this area requires full focus to see each alley you have to run into.
The next interesting leg is the leg to control 13. This would normally be a quite simple leg – you just have to see on the map that you need to get out to the bigger alley (A or B). Several however don't study the map carefully enough and start off straight – and then they still have to go out to the big alley after losing valuable time. Notably second placed Maxime Rauturier again takes a wrong choice and loses 15 seconds – Hadorn loses 23 seconds – both on a C-type variant.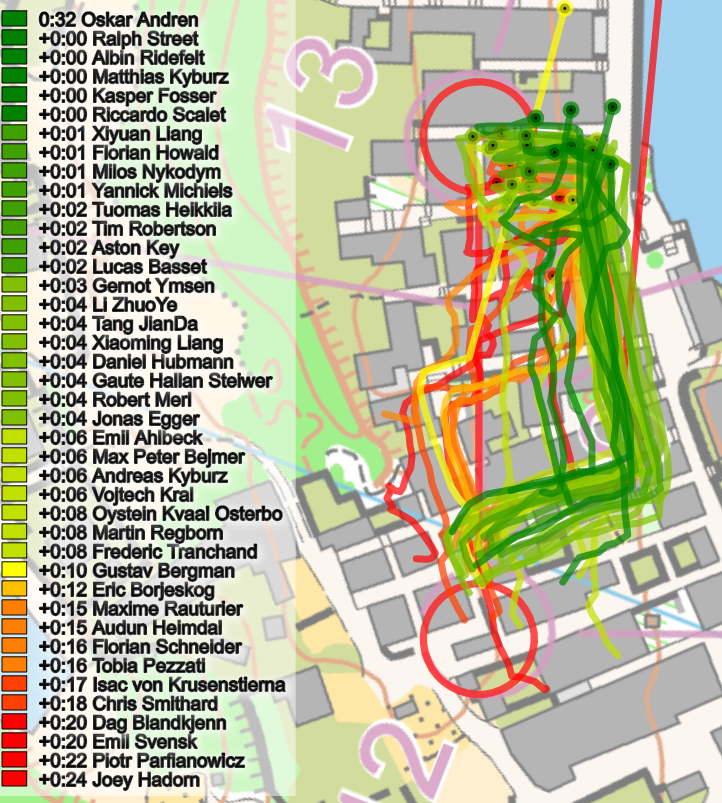 The next control where you can lose time due to wrong routechoice is control 17, although the GPS does not tell too much of the story here. We note again that Gustav Bergman loses significant time (+16), and this time also Matthias Kyburz (+17) – it might look like they choose the risky F-choice? Third placed ZhuoYe also loses 12 seconds here, but it looks like this is more about running than routechoice.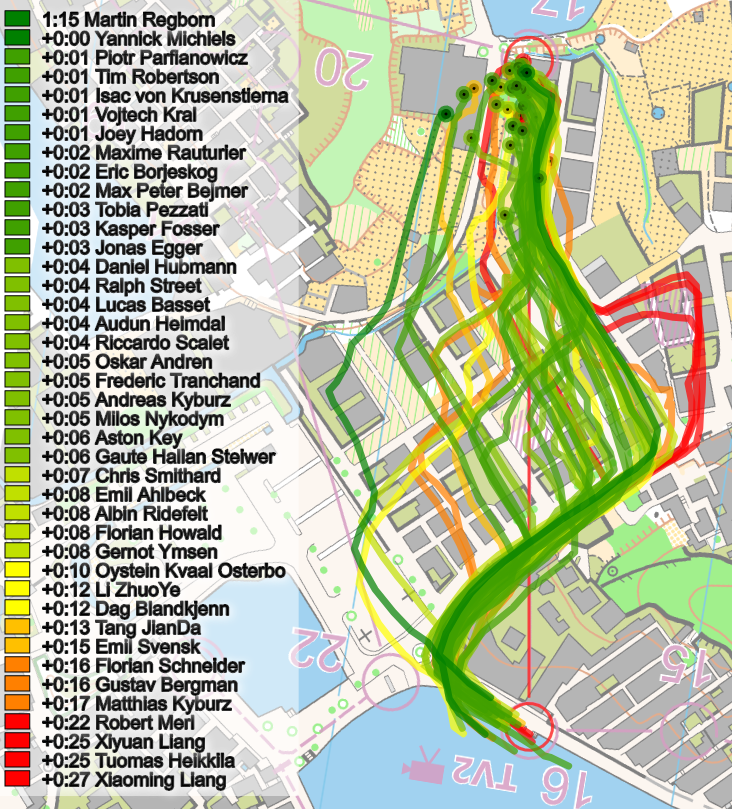 To 18 we have the last routechoice leg of the race – with straight (A) clearly being the fastest. Several runners including winner Michiels run all the way around to the left – a route which is around 8-10 seconds slower.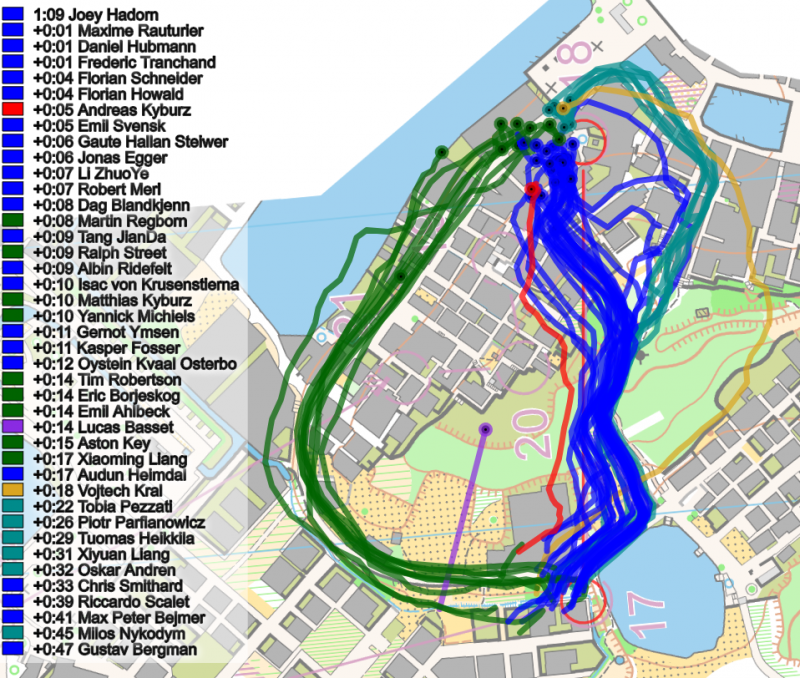 Women: Victory for Shuangyan Hao
In the women's class everybody was talking about Tove Alexandersson winning all World Cup races this season – but in the end Alexandersson was not even close after a big mistake to the third control. The GPS-tracking does not tell much about what actually happened, but Alexandersson got lost in the small alleys, losing her chance to get historical with all World Cup wins in a season right here at the start of the race: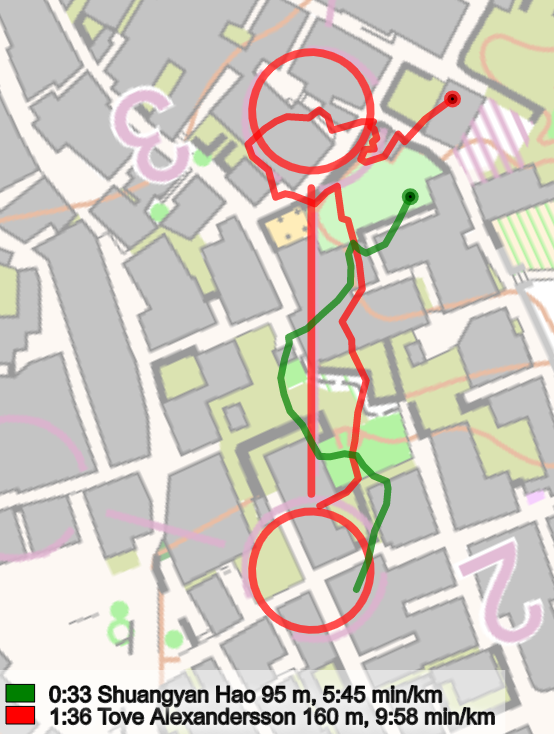 Looking at the graphical split times, we see how Alexandersson gets closer and closer after her mistake – probably running with high risk to try to get back the lost time – but then does another miss to control 15 (the same as the men's 17th) and is really out of it. Simona Aebersold does a similar mistake to control 15, and this is actually where Hao decides the battle for the victory against Aebersold.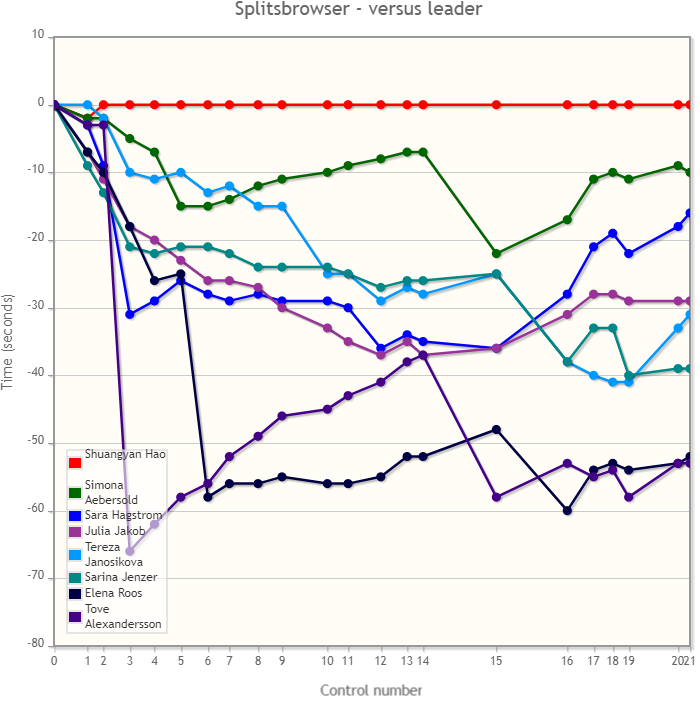 Looking at the 15th leg, Hao actually loses 6 seconds here as well, not taking the optimal route of Sianoja to the left. Alexandersson takes the same route as Bergman in the small river – both getting wet and losing a lot of time. Aebersold lets down her guard in the runnable part of the course and does a "beginner mistake".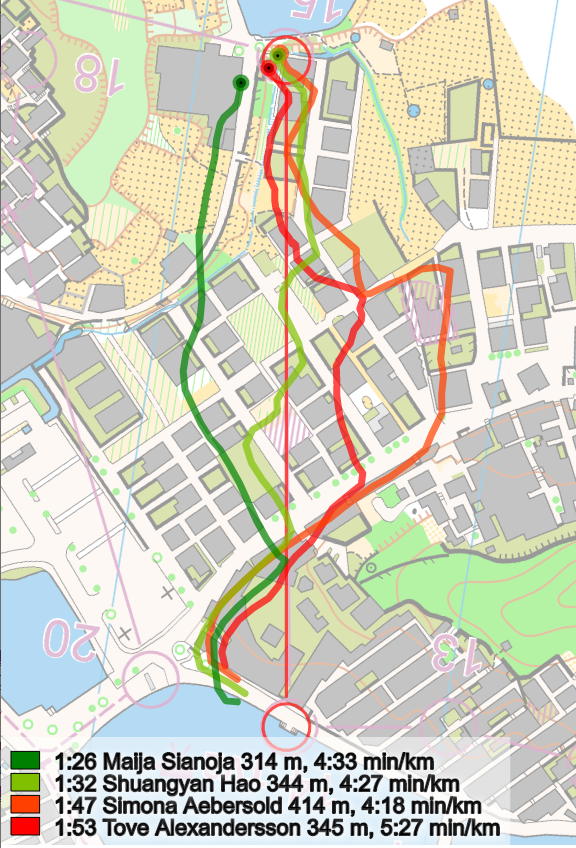 Another decisive leg is the leg to control 16 (the men's 18th leg); here Sarina Jenzer loses her chance for a place in the top 3 with a long route to the right, while Sara Hagström wins her place on the podium with a great time on this leg.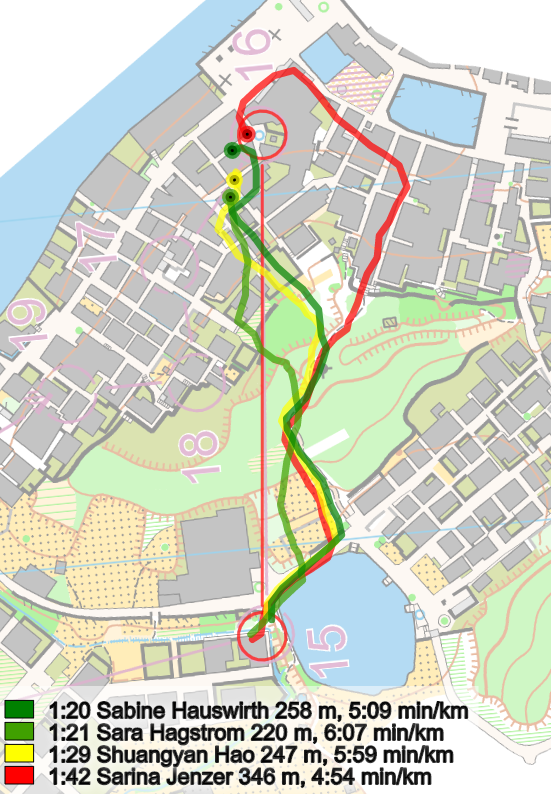 Also notable is Elena Roos's mistake to the 6th control where she loses the chance for a place at the podium (along with a mistake at 16 where she does the same as Jenzer):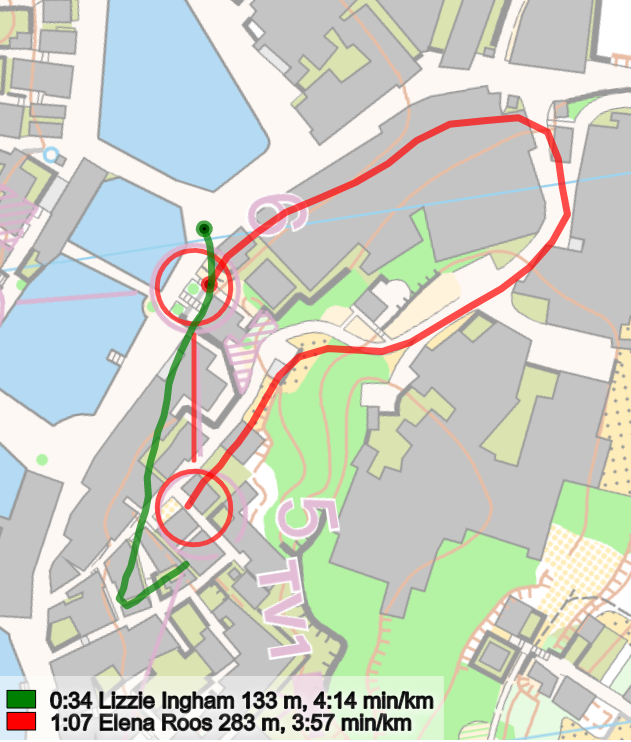 Chinese top results at the World Cup: Too good to be true?
The big question after the race was the related to the fantastic Chinese results. Especially with the CISM scandal just behind us: Chinese runners were according to the International Orienteering Federation disqualified for massive cheating (later modified to withdrawn) at the CISM Middle distance race after equally fantastic results as at the World Cup Sprint: Winning the women's class with 6 minutes and finishing only some seconds behind Matthias Kyburz in the men's class.
So how do the Chinese results at the World Cup hold up against a video, GPS- and split-time analysis? Let's start with the men: Looking at previous results at top level, the Chinese men starting at the World Cup have no top results from earlier – there has not even been a man starting at WOC sprint for many years and the best result in WOC Sprint from a Chinese man is a 49th place from 2001. ZhuoYe who took 3rd place at the World Cup in China finished 58th at the Switzerland World Cup Sprint a month ago.
Unfortunately there is according to the TV broadcaster no TV footage available for the Chinese runners as they started before the TV broadcast, and thus it seems like the analysis must be done based on splits and GPS-data only (if anybody has video footage, please notify me and I will update the article accordingly). The GPS-data can mostly be used to assess which routechoice the runners took. In this regard the answer is positive as seen from the Chinese runners side: Looking at the three best men, the runners did take different routes at many of the legs, both in the technical part and on the longer legs. Thus there is at least no indication that they based on prior knowledge of the course knew the best routechoice on each leg and had pre-memorized this route.
Looking at the split times, there is a very clear pattern as to where the best Chinese men gain most time on their competitors: On the technical legs which require lots of map-reading. If you take away all the legs where it is more about running than about intensive mapreading (including "just" running after choosing a routechoice on a longer leg), the Chinese men are extremely impressive. Below is a result list of the 13 most map-reading intensive legs (removing leg 6, 7, 9, 10, 14, 17, 18, 21-finish); this result list gives double China on top and three Chinese runners within Top 5.
1.
Li ZhuoYe
China
6:44
(+0:00)
Total:
15:23 (3)
2.
Xiyuan Liang
China
6:46
(+0:02)
Total:
16:48 (41)
3.
Yannick Michiels
Belgium
6:47
(+0:03)
Total:
15:18 (1)
4.
Maxime Rauturier
France
6:56
(+0:12)
Total:
15:20 (2)
5.
Tang JianDa
China
7:03
(+0:19)
Total:
16:10 (22)
6.
Max Peter Bejmer
Sweden
7:03
(+0:19)
Total:
16:27 (32)
A hugely impressive effort by runners who have never performed within Top 40 in the World Cup before.  Looking at the rest of the course, we are back to close to normal (except for the "new" French runner at the top) – with the best Chinese down in 15th place.
1.
Maxime Rauturier
France
8:24
(+0:00)
Total:
15:20 (2)
2.
Joey Hadorn
Switzerland
8:24
(+0:00)
Total:
16:01 (15)
3.
Jonas Egger
Switzerland
8:25
(+0:01)
Total:
15:44 (6)
4.
Florian Howald
Switzerland
8:25
(+0:01)
Total:
15:45 (7)
5.
Gaute Hallan Steiwer
Norway
8:26
(+0:02)
Total:
15:31 (4)
6.
Daniel Hubmann
Switzerland
8:28
(+0:04)
Total:
15:45 (7)
7.
Andreas Kyburz
Switzerland
8:28
(+0:04)
Total:
15:52 (11)
8.
Yannick Michiels
Belgium
8:31
(+0:07)
Total:
15:18 (1)
9.
Isac von Krusenstierna
Sweden
8:33
(+0:09)
Total:
16:07 (19)
10.
Eric Borjeskog
Sweden
8:35
(+0:11)
Total:
16:05 (18)
11.
Lucas Basset
France
8:36
(+0:12)
Total:
16:02 (16)
12.
Kasper Fosser
Norway
8:37
(+0:13)
Total:
15:45 (7)
13.
Albin Ridefelt
Sweden
8:37
(+0:13)
Total:
15:46 (10)
14.
Ralph Street
Great Britain
8:37
(+0:13)
Total:
16:04 (17)
15.
Li ZhuoYe
China
8:39
(+0:15)
Total:
15:23 (3)
16.
Matthias Kyburz
Switzerland
8:39
(+0:15)
Total:
15:43 (5)
17.
Tim Robertson
New Zealand
8:41
(+0:17)
Total:
15:56 (13)
18.
Emil Svensk
Sweden
8:41
(+0:17)
Total:
16:14 (26)
19.
Eduardo Gil Marcos
Spain
8:42
(+0:18)
Total:
16:16 (28)
20.
Tobia Pezzati
Switzerland
8:43
(+0:19)
Total:
15:52 (11)
Thus, again there is no clear indication that the best Chinese men had previous knowledge of the course (at least not some of the central routechoice legs), and they are clearly not as fast as the World's top orienteers when it comes to running in the more runnable parts of the course.  Their major skill based on this analysis is moving fast in very technical urban terrain which requires a lot of map-reading, i.e. typical Chinese city terrain with narrow alleys like here. Is it possible to master this skill so well without performing well at e.g. the World Cup in Switzerland?  Difficult question to answer – and definitely easy to just say no. However, it may be possible to train very dedicated on this skill and get to a high level with the terrain available in China. And to exploit the home advantage to show this kind of results. But it is easy to understand that there is a shadow of doubt over these results; it would definitely have been very good to see some additional top results from these runners, especially when we have the CISM incident just behind us…
In the women's class the situation is totally different. The best woman Hao is a very fast runner – and is equally good on the short technical legs and on the longer legs. Actually  Simona Aebersold is fastest when we look only at the technical legs – 3 seconds faster than Hao. So Hao actually wins the race on the longer legs.
1.
Simona Aebersold
Switzerland
6:37
(+0:00)
Total:
13:28 (2)
2.
Shuangyan Hao
China
6:40
(+0:03)
Total:
13:18 (1)
3.
Tereza Janosikova
Czech Republic
7:05
(+0:28)
Total:
13:49 (5)
4.
Sarina Jenzer
Switzerland
7:05
(+0:28)
Total:
13:57 (6)
5.
Sara Hagstrom
Sweden
7:06
(+0:29)
Total:
13:34 (3)
6.
Julia Jakob
Switzerland
7:06
(+0:29)
Total:
13:47 (4)
Thus the pattern we see among the men does not fully repeat among the women. We have also seen good results from Hao earlier (although her 10th place at WOC sprint is from back in 2009). But she has been regularly in the sprint finals at WOC, and has also a 13th place from WOC Sprint 2012. A jump from top 10 to the top with a big home advantage and full focus on these races is not that unprobable, although Hao has not shown top results for some years.
An isolated World Cup win by Hao without any CISM incident and top results in the men's class would have been celebrated as a fantastic surprise for Chinese orienteering – now however there is unfortunately for Hao a shadow over the result until she can show similar great skills again. Let us hope we will see both Hao and the other Chinese runners competing in Europe as soon as possible, showing the world that they truly have reached a higher level …
Maps and GPS tracking
See the men's map at the top of the article and the women's map below. GPS-tracking from TracTrac is available at this page. Note also again that the men's course is uploaded to SPAS – all athletes who ran the race are encouraged to find their name on the list and add their routes. For others this is a great way to learn more about the race decision points.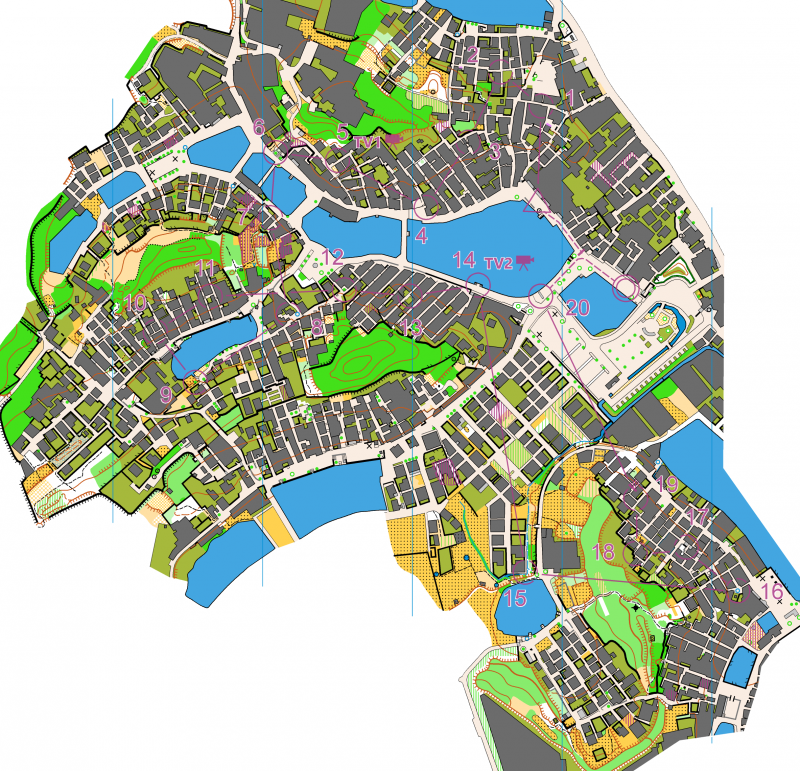 Results
Men
Women