With the orienteering season slowly starting up everywhere these days, it is finally time to conclude the Route to O-Season 2020 series after 100(!) days. Today's leg is a special one with some history and culture in it.
Early in "Route to O-Season" Finnish mapmaker Jussi Silvennoinen, a mapmaker for several Jukola relays, sent an e-mail with a very interesting suggestion for Route to O-Season 2020. And a possibility for World of O's readers to get insight into the history of Jukola. Thanks a lot to Silvennoinen for this contribution. And also thanks a lot to all of you contribution with suggestions and participating in Route To O-Season, drawing more than 25.000 routes during this 100 day period!
But back to the last leg of Route to O-Season 2020 and the  history of Jukola – here is Silvennoinen's introduction:
The idea of Jukola comes from a famous Finnish book "Seven brothers" (Aleksis Kivi, 1870). Some years ago I had some holiday weeks during the winter, and decided to realise an old dream of mine – to draw an orienteering map of this real Jukola, according to the book.

I red the book carefully, and there is plenty of impressions describing the terrain (sceneries, directions and distances between the hills and lakes and so on). I tried to draw a Finnish nature as it may have been in about 1850. I used much copy-paste from different OCAD-files from terrains, which could be from area Etelä-Häme so as in the book. The final map is quite large, about 20 km2.
This orienteering map was published by Kaukametsäläiset, when the Jukola Relay had its 70th anniversary in year 2018. See below the analysis for some further details about the story and the map.
For Route to O-Season Silvennoinen has made an interesting forked leg out from the start. Your task is to choose the forking of your choice, and draw the route you think is fastest to this forking (all the way from the start to control 3 via controls 1 and 2!). The leg is as usually first provided without routes – you may take a look at it and think about how you would attack this leg (if the image is too small, you may click on it to get it larger). As no runners have ever run this fictional leg, please add some text with your analysis!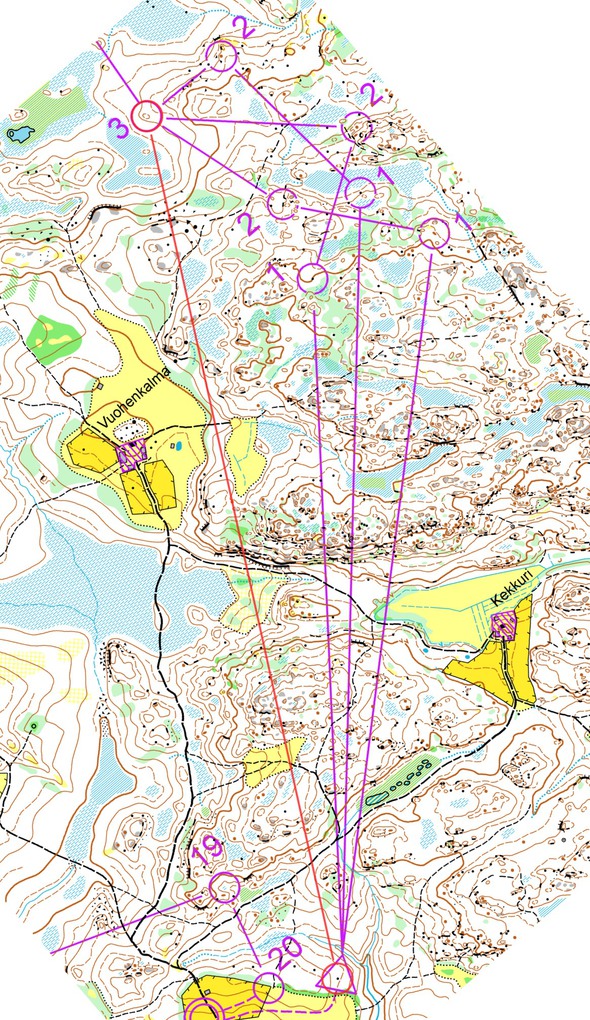 Webroute
Next you can draw your own route using the 'Webroute' below. Think through how you would attack this leg, and draw the route you would have made. Some comments about why you would choose a certain route are always nice for the other readers.
I have drawn two possible routes, but of course there are many more and the Jukola field would have spread broadly in the forest! My preference would be the control to the right and something similar to the red route. It minimizes climb/steep climbs and you get good runnability for most of the way. What would you choose?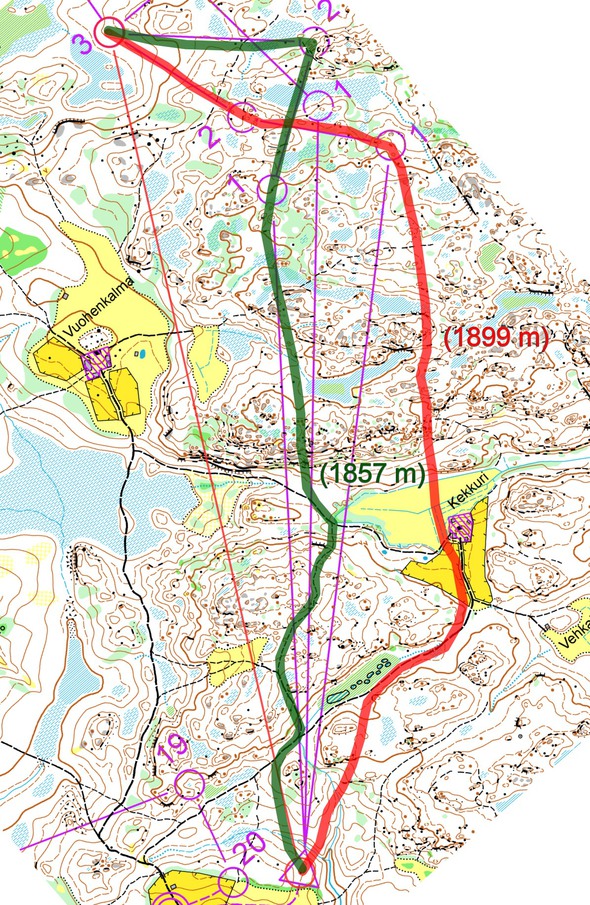 "Seven brothers" short version
Vasaloppet has it's History, Birkebeinerrennet too. Marcialonga has it's Climb, Tiomila has Långa natten. But Jukola Relay has it's Story. The Jukola Relay has its roots in a book called "Seven brothers", written at 1870 by Aleksis Kivi, national author of Finland. Many of the Jukola traditions are based on this book, for example all the names at competition center comes from this text. The book is fictive, but it describes the countryside very carefully. An orienteerer can easily make a vision of the terrain by reading the book.
Already in the first chapter is said that the Jukola house is situated in the district Etelä-Häme. It lies just between two last Jukola Relays (Lahti and Kangasala). The exact place of the Jukola house is only in the author's mind, but according to the text the terrain has much similarity with the famous Kytäjä-terrain (Jukola Relay 2010, used in
Route to O-Season Day 95
).
Below are seven parts from the fictional map – each with their story from the book and a control. The controls are exact placed according to the book.
Map 1
We are living at 1850's. Seven young brothers (Juhani, Tuomas, Aapo, Simeoni, Timo, Lauri and Eero) have lost their parents. They have inherited this big farm house Jukola (areal about 10 km2). The boys do not want to do the household, so everything goes the wrong direction.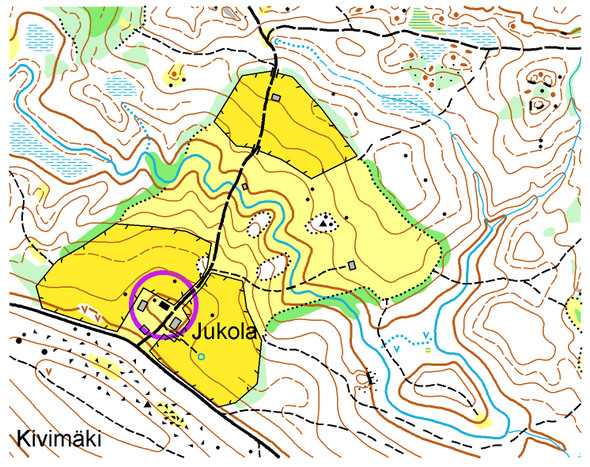 Map 2
In this cottage Männistö nearby Jukola a young girl called Venla lives ("Venla" Relay) with her mother. She is pretty, so the boys begin to look at her.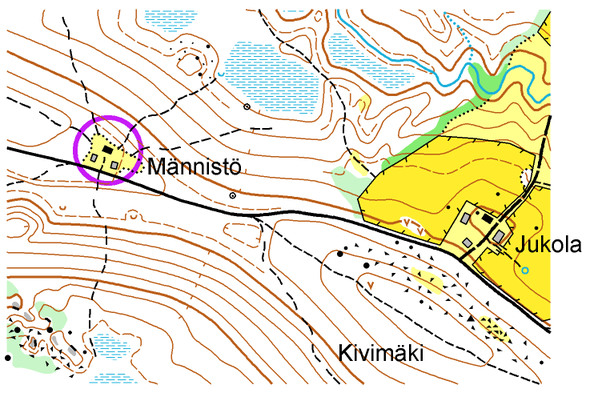 Map 3
The boys do not act very well. They drink, and they fight against other guys from the village Toukola. The seven brothers get trouble. One big orienteering club, Rajamäen Rykmentti, has got its name from this house Rajamäki near the Toukola village.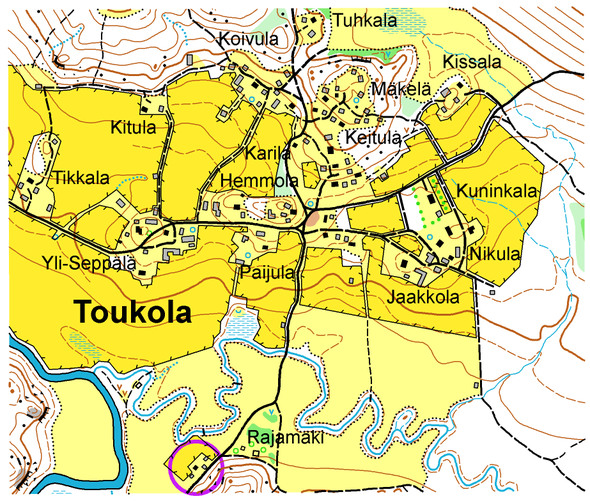 Map 4
Some kilometers away from Jukola is a bigger village with a church. The boys should go to the school which is led by the priest – but the boys do not want to. They are afraid of the priest, they think that he will put them to prison because of bad behavior and taxes which were not paid.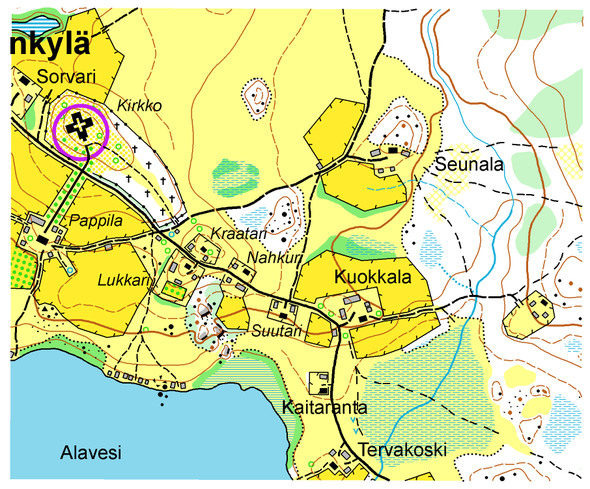 Map 5
The brothers decide to escape from the Jukola house. They take all they have and they "orienteer" through big forests. The wolves are trying to catch them on this path near Kiljavannummi. Luckily the boys do survive. They continue up to north, where their goal is Impivaara.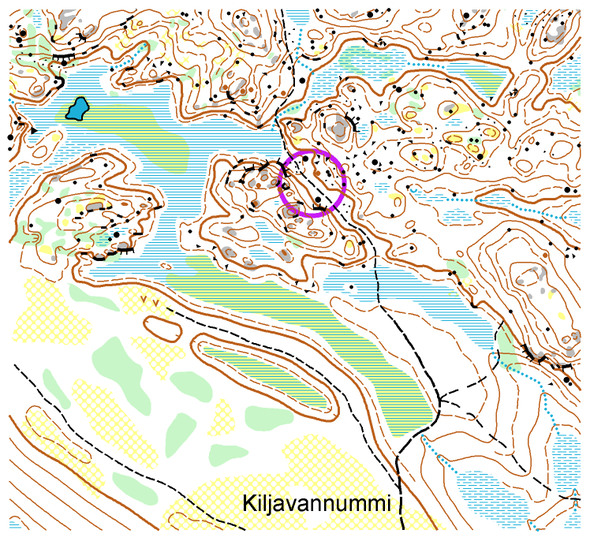 Map 6
Impivaara is a big, steep hill deep in the forest. There is a small meadow, and it has been a living place decades ago. Now there is only a small cottage, which is almost ruined. But the brothers think that here they are in safe from the priest, and they begin to live at Impivaara. They hunt and fish, but the life is not easy, especially during the winter. Hard life, but they are here to stay. And they stay years and years.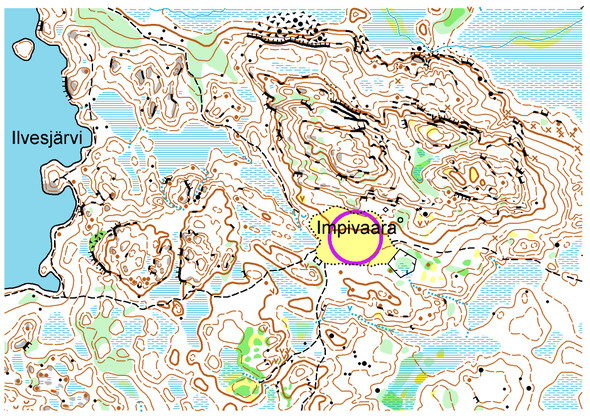 Map 7
One summer day when the brothers are hunting, they try to shoot a bear. But something goes wrong, and they shoot an ox instead of the bear. Somewhere longer away is another house, Viertola, which has a crowd of 40 oxes living in the forest. The crowd becomes angry. The boys have to escape, and they run in direction of Hiidenkivi, a huge boulder in the forest. They climb to this stone, and do survive once more (-> Hiidenkivi, nowadays in Jukola Relay the place where the winning team will climb just after coming to the finish).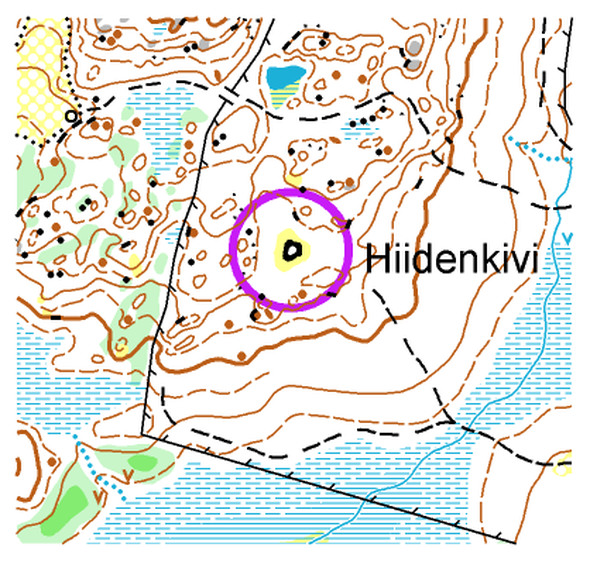 The end
Finally, after several years in the Impivaara cottage, the boys are growing and they start to become normal citizens. They begin to think, that they have to change their living style. They begin to develop the small cottage. They construct a new building and begin to do some fields for cultivating. They share the big inherited farm house Jukola to seven pieces, every brother gets his own piece of land to live in. And most lucky of the brothers is Juhani, he marries Venla.
Thanks a lot to Jussi Silvennoinen for all the material! And finally here is also the complete map.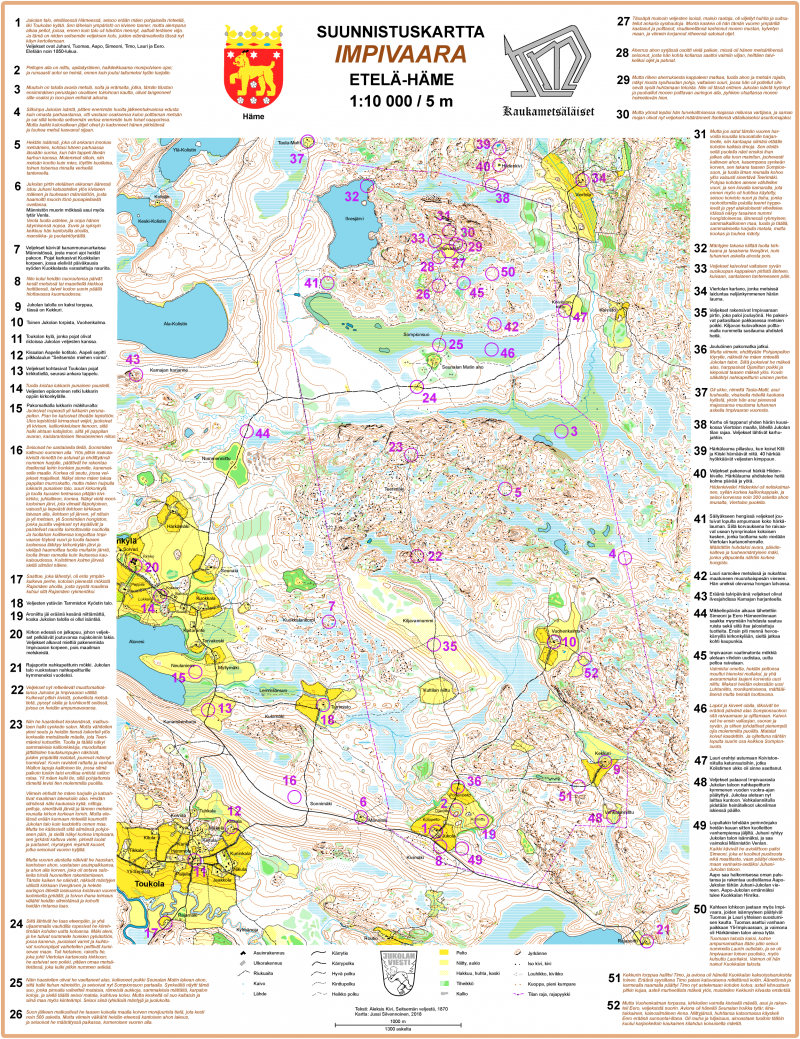 Density map
See below for a density map of some of the ones who have drawn their routes so far (available during the day when some readers have drawn their route).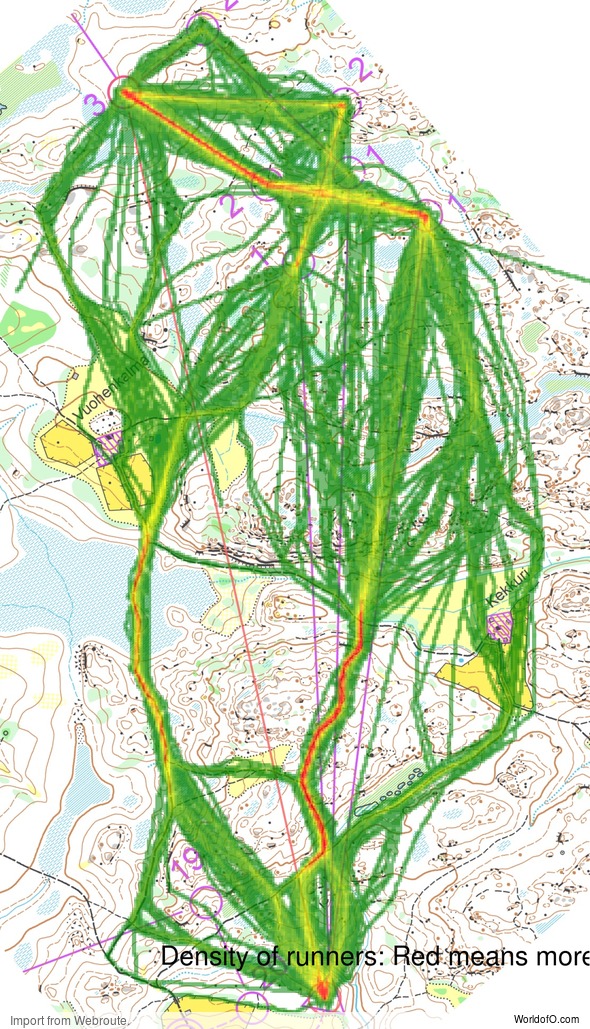 Route to O-Season 2020 series
Route Choice Challenges while waiting for the real action: With the upcoming orienteering season indefinitely on hold in large parts of the the world due to COVID-19, regular orienteering route choice challenges may be one way to make sure those orienteering skills don't get completely rusty. I'll try to keep these coming daily, but need help from all of you out there to keep them coming and to keep up a certain quality.
Tips on good route choice challenges – either from races/trainings (even cancelled ones) or theoretical ones with accompanying analysis – are very welcome (please e-mail to jan@kocbach.net).
Not all legs are taken for the interesting routechoice alternatives – some are also taken because the map is interesting – or because it is not straightforward to see what to do on a certain leg. Any comments are welcome – especially if you ran the event chosen for todays leg!