Today's leg in Route to Christmas is from Estonia! The chosen leg is the first leg from the men elite course at the Suunto Games middle distance race at September 7th this year. Thanks a lot to course setter Markus Puusepp for the tip and the analysis.
[PS! I still miss one leg in Route to Christmas 2020, for December 24th. If you know about a nice leg not yet featured, please drop a line to jan@kocbach.net]
Here is Puusepp's introduction to the leg :
This is one of my favourite terrains, just a couple of km from my childhood home. The terrain has been used quite a lot over the years and since there haven't been many changes in the terrain (nature protection area), it makes it difficult to find new interesting legs that haven't been used before. Luckily, for the middle distance (day 2 of Suunto Games WRE) a new small area was added to the map in the NE corner of the map, making it possible to have a better use of the area. Runability in this area of coniferous forest is good and the ground is rather clean. Visibility may be average. 
The leg is as usually first provided without routes – you may take a look at it and think about how you would attack this leg (if the image is too small, you may click on it to get it larger). Contour interval is 5 meters: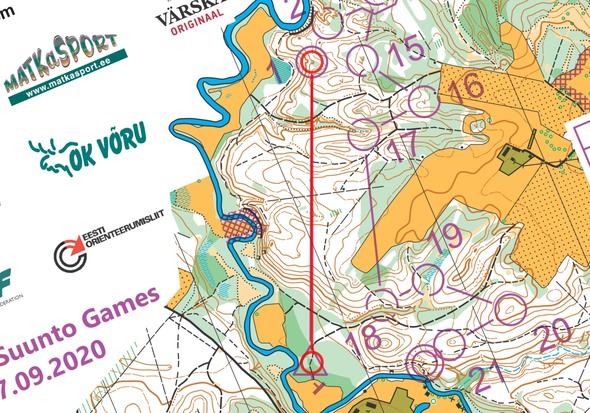 Location
You find other maps from the area in omaps.worldofo.com here. See also latest additions in 3DRerun from this area in order to learn more about this terrain type.
Webroute
Next you can draw your own route using the 'Webroute' below. Think through how you would attack this leg, and draw the route you would have made. Some comments about why you would choose a certain route are always nice for the other readers.
Then you can take a look at how the runners have solved this leg below. Here is Puusepp's analysis:
My idea was to suprise the runners at the start of the race. I got surprised myself, too, when Lauri Sild chose the (allowed) route over the river and made a rookie mistake in the green. I had no particular favourite choice before the race, but straight seemed quite a good one and choices left of the line on the slope would probably lose. Running around on the right on the second half of the leg is tempting but takes you too far.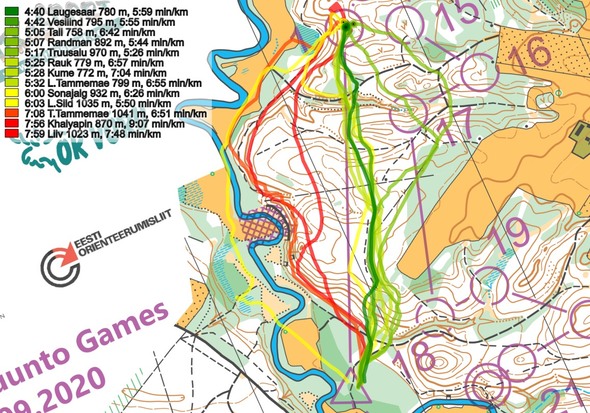 Density map
See below for a density map of some of the ones who have drawn their routes so far (available during the day when some readers have drawn their route).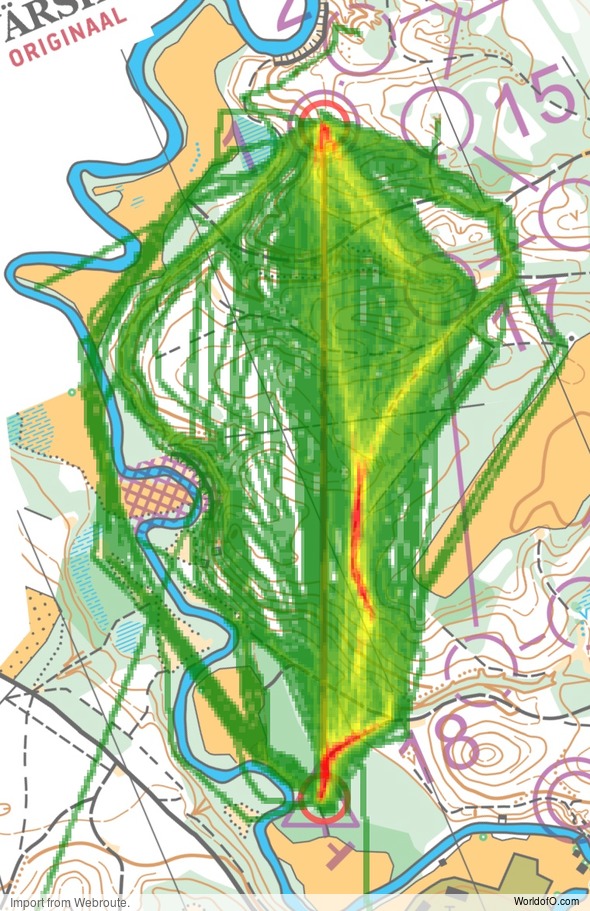 Additional information
You find the complete map in omaps.worldofo.com at this location.
Route to Christmas series
The Route to Christmas series is a pre-Christmas tradition at World of O – giving the readers the opportunity to do one Route Choice Challenge each day from December 1st until December 24th. If you have got any good legs in GPSSeuranta or 3DRerun from 2020-competitions, or old forgotten ones which are still interesting, please email me the link at Jan@Kocbach.net, and I'll consider including it in Route to Christmas if it looks good. Route to Christmas will not be interesting if YOU don't contribute.
Not all legs are taken for the interesting routechoice alternatives – some are also taken because the map is interesting – or because it is not straightforward to see what to do on a certain leg. Any comments are welcome – especially if you ran the event chosen for todays leg!