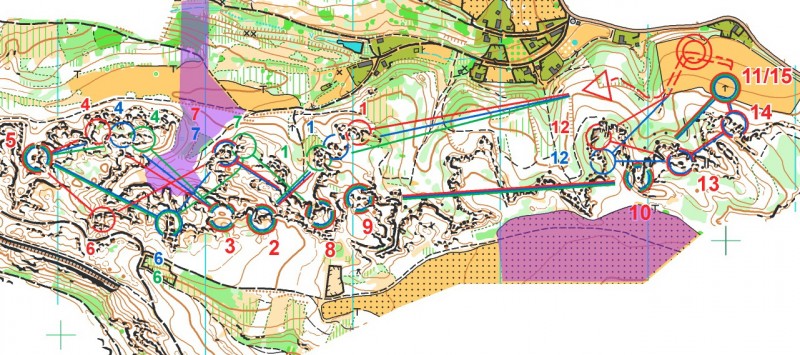 Sweden won the World Orienteering Championships (WOC) Relay in both the men's and women's class in very interesting and technical terrain in Czech Republic earlier today.
In the women's class Sweden (Lisa Risby, Sara Hagström, Tove Alexandersson) took a clear victory, 2:33 ahead of Switzerland (Elena Roos, Sabine Hauswirth, Simona Aebersold) with Norway (Marie Olaussen, Kamilla Steiwer, Andrine Benjaminsen) at 7:01. In the men's class the battle for gold was open throughout the last leg, with Albin Ridefelt, William Lind and Gustav Bergman running Sweden in to victory 51 seconds ahead of Norway (Gaute Steiwer, Kasper Fosser, Eskil Kinneberg) with Switzerland (Martin Hubmann, Florian Howald, Matthias Kyburz) in 3rd at 2:00.
Women: Hagström decided at leg 2
Sweden decided the relay already at the second leg through a very strong leg by Sara Hagström, giving anchor Tove Alexandersson a 3:40 lead. Alexandersson took it easy towards the end to save som energy for tomorrow's long distance – Tove Alexandersson's 8th WOC gold medal in a row. In the end the gap from Sweden down to Switzerland in silver position was 2:33. Behind Switzerland there was a very tight battle for bronze. Czech Republic looked like a clear medalist until control 4, but a big mistake by Jana Knapova at control 5 let Russia's Svetlana Mironova and Norway's Andrine Benjaminsen get into the medal battle. Benjaminsen got into the lead, then lost contact with Russia and Czech Republic after a one minute mistake at control 7, but was simply physically stronger and managed to run Norway into bronze.
GPS Animation: See the battle for the medals at Women's #WOC2021 Relay: Alexandersson🇸🇪 is alone in front, meanwhile Aebersold🇨🇭 gets rid of her competitors halfways – and Benjaminsen🇳🇴 wins bronze after close battle with Mironova 🇷🇺 and Knapova 🇨🇿. GPS: https://t.co/RO11WPBHUR pic.twitter.com/7pPDIah1qp

— WorldofO.com (@worldofo) July 8, 2021
Men: Strong last leg by Bergman
In the men's  class Norway's Kasper Fosser ran a very strong second leg, giving the Norwegian anchor Kinneberg a one minute lead ahead of Finland and Sweden with Switzerland nearly 3 minutes behind. Bergman continued his good flow from the middle distance, and passed Kinneberg halfways in the relay. In the end Bergman could run Sweden in to victory nearly a minute ahead of Norway. Behind Norway, Switzerland's Matthias Kyburz passed Finand and got closer and closer to Norway, reducing Norway's lead to half a minute at the arena passage.
GPS Animation: See how Gustav Bergman🇸🇪 decides #WOC2021 Relay ahead of Eskil Kinneberg🇳🇴 and Matthias Kyburz🇨🇭. GPS-tracking: https://t.co/Chq12tBRFl pic.twitter.com/obrUaESe1C

— WorldofO.com (@worldofo) July 8, 2021
Maps and GPS-tracking
See maps and GPS-tracking below.
Results
Women
| | | | | | | | | | |
| --- | --- | --- | --- | --- | --- | --- | --- | --- | --- |
| 1 | Sweden | | | | 1:45:45 | | | | |
| | 1. Lisa Risby | 37:02 | 2 | +0:36 | 37:02 | 2 | | +0:36 | |
| | 2. Sara Hagstrom | 34:03 | 1 | | 1:11:05 | 1 | -1 | | -0:36 |
| | 3. Tove Alexandersson | 34:40 | 2 | +1:06 | 1:45:45 | 1 | 0 | | 0:00 |
| 2 | Swizerland | | | | 1:48:18 | | | +2:33 | |
| | 1. Elena Roos | 36:26 | 1 | | 36:26 | 1 | | | |
| | 2. Sabine Hauswirth | 38:18 | 4 | +4:15 | 1:14:44 | 2 | +1 | +3:39 | +3:39 |
| | 3. Simona Aebersold | 33:34 | 1 | | 1:48:18 | 2 | 0 | +2:33 | -1:06 |
| 3 | Norway | | | | 1:52:46 | | | +7:01 | |
| | 1. Marie Olaussen | 38:20 | 9 | +1:54 | 38:20 | 9 | | +1:54 | |
| | 2. Kamilla Steiwer | 39:29 | 6 | +5:26 | 1:17:49 | 6 | -3 | +6:44 | +4:50 |
| | 3. Andrine Benjaminsen | 34:57 | 3 | +1:23 | 1:52:46 | 3 | -3 | +7:01 | +0:17 |
| 4 | Neutral | | | | 1:52:58 | | | +7:13 | |
| | 1. Anastasia Rudnaya | 37:16 | 3 | +0:50 | 37:16 | 3 | | +0:50 | |
| | 2. Tatiana Ryabkina | 39:29 | 6 | +5:26 | 1:16:45 | 4 | +1 | +5:40 | +4:50 |
| | 3. Svetlana Mironova | 36:13 | 4 | +2:39 | 1:52:58 | 4 | 0 | +7:13 | +1:33 |
| 5 | Czech Republic | | | | 1:53:14 | | | +7:29 | |
| | 1. Adela Indrakova | 38:01 | 8 | +1:35 | 38:01 | 8 | | +1:35 | |
| | 2. Denisa Kosova | 36:54 | 2 | +2:51 | 1:14:55 | 3 | -5 | +3:50 | +2:15 |
| | 3. Jana Knapova | 38:19 | 6 | +4:45 | 1:53:14 | 5 | +2 | +7:29 | +3:39 |
| 6 | Poland | | | | 1:55:40 | | | +9:55 | |
| | 1. Ewa Gwozdz | 40:42 | 13 | +4:16 | 40:42 | 13 | | +4:16 | |
| | 2. Hanna Wisniewska | 37:19 | 3 | +3:16 | 1:18:01 | 7 | -6 | +6:56 | +2:40 |
| | 3. Aleksandra Hornik | 37:39 | 5 | +4:05 | 1:55:40 | 6 | -1 | +9:55 | +2:59 |
| 7 | United Kingdom | | | | 1:57:21 | | | +11:36 | |
| | 1. Grace Molloy | 37:45 | 6 | +1:19 | 37:45 | 6 | | +1:19 | |
| | 2. Jo Shepherd | 40:21 | 9 | +6:18 | 1:18:06 | 9 | +3 | +7:01 | +5:42 |
| | 3. Megan Carter Davies | 39:15 | 8 | +5:41 | 1:57:21 | 7 | -2 | +11:36 | +4:35 |
| 8 | Finland | | | | 1:58:00 | | | +12:15 | |
| | 1. Venla Harju | 38:23 | 10 | +1:57 | 38:23 | 10 | | +1:57 | |
| | 2. Amy Nymalm | 39:17 | 5 | +5:14 | 1:17:40 | 5 | -5 | +6:35 | +4:38 |
| | 3. Veera Klemettinen | 40:20 | 11 | +6:46 | 1:58:00 | 8 | +3 | +12:15 | +5:40 |
| 9 | France | | | | 1:59:26 | | | +13:41 | |
| | 1. Cecile Calandry | 40:14 | 12 | +3:48 | 40:14 | 12 | | +3:48 | |
| | 2. Florence Hanauer | 40:29 | 10 | +6:26 | 1:20:43 | 10 | -2 | +9:38 | +5:50 |
| | 3. Isia Basset | 38:43 | 7 | +5:09 | 1:59:26 | 9 | -1 | +13:41 | +4:03 |
| 10 | Austria | | | | 2:01:19 | | | +15:34 | |
| | 1. Carina Polzer | 37:50 | 7 | +1:24 | 37:50 | 7 | | +1:24 | |
| | 2. Jasmina Gassner | 42:54 | 13 | +8:51 | 1:20:44 | 11 | +4 | +9:39 | +8:15 |
| | 3. Laura Ramstein | 40:35 | 12 | +7:01 | 2:01:19 | 10 | -1 | +15:34 | +5:55 |
Men
| | | | | | | | | | |
| --- | --- | --- | --- | --- | --- | --- | --- | --- | --- |
| 1 | Sweden | | | | 1:53:06 | | | | |
| | 1. Albin Ridefelt | 38:56 | 5 | +1:35 | 38:56 | 5 | | +1:35 | |
| | 2. William Lind | 36:44 | 2 | +1:24 | 1:15:40 | 3 | -2 | +0:59 | -0:36 |
| | 3. Gustav Bergman | 37:26 | 1 | | 1:53:06 | 1 | -2 | | -0:59 |
| 2 | Norway | | | | 1:53:57 | | | +0:51 | |
| | 1. Gaute Steiwer | 39:21 | 9 | +2:00 | 39:21 | 9 | | +2:00 | |
| | 2. Kasper Harlem Fosser | 35:20 | 1 | | 1:14:41 | 1 | -8 | | -2:00 |
| | 3. Eskil Kinneberg | 39:16 | 4 | +1:50 | 1:53:57 | 2 | +1 | +0:51 | +0:51 |
| 3 | Swizerland | | | | 1:55:06 | | | +2:00 | |
| | 1. Martin Hubmann | 39:02 | 6 | +1:41 | 39:02 | 6 | | +1:41 | |
| | 2. Florian Howald | 37:49 | 3 | +2:29 | 1:16:51 | 5 | -1 | +2:10 | +0:29 |
| | 3. Matthias Kyburz | 38:15 | 2 | +0:49 | 1:55:06 | 3 | -2 | +2:00 | -0:10 |
| 4 | Finland | | | | 1:55:28 | | | +2:22 | |
| | 1. Miika Kirmula | 37:24 | 2 | +0:03 | 37:24 | 2 | | +0:03 | |
| | 2. Elias Kuukka | 38:14 | 4 | +2:54 | 1:15:38 | 2 | 0 | +0:57 | +0:54 |
| | 3. Olli Ojanaho | 39:50 | 5 | +2:24 | 1:55:28 | 4 | +2 | +2:22 | +1:25 |
| 5 | Czech Republic | | | | 1:57:25 | | | +4:19 | |
| | 1. Pavel Kubat | 39:10 | 7 | +1:49 | 39:10 | 7 | | +1:49 | |
| | 2. Milos Nykodym | 39:12 | 6 | +3:52 | 1:18:22 | 7 | 0 | +3:41 | +1:52 |
| | 3. Vojtech Kral | 39:03 | 3 | +1:37 | 1:57:25 | 5 | -2 | +4:19 | +0:38 |
| 6 | Ukraine | | | | 2:01:56 | | | +8:50 | |
| | 1. Ruslan Glibov | 37:21 | 1 | | 37:21 | 1 | | | |
| | 2. Oleksandr Kratov | 38:29 | 5 | +3:09 | 1:15:50 | 4 | +3 | +1:09 | +1:09 |
| | 3. Artem Panchenko | 46:06 | 14 | +8:40 | 2:01:56 | 6 | +2 | +8:50 | +7:41 |
| 7 | France | | | | 2:02:01 | | | +8:55 | |
| | 1. Mathieu Perrin | 38:19 | 3 | +0:58 | 38:19 | 3 | | +0:58 | |
| | 2. Lucas Basset | 39:22 | 7 | +4:02 | 1:17:41 | 6 | +3 | +3:00 | +2:02 |
| | 3. Frederic Tranchand | 44:20 | 12 | +6:54 | 2:02:01 | 7 | +1 | +8:55 | +5:55 |
| 8 | Germany | | | | 2:02:22 | | | +9:16 | |
| | 1. Felix Spaeth | 39:19 | 8 | +1:58 | 39:19 | 8 | | +1:58 | |
| | 2. Ole Hennseler | 40:49 | 9 | +5:29 | 1:20:08 | 8 | 0 | +5:27 | +3:29 |
| | 3. Bojan Blumenstein | 42:14 | 9 | +4:48 | 2:02:22 | 8 | 0 | +9:16 | +3:49 |
| 9 | Austria | | | | 2:02:25 | | | +9:19 | |
| | 1. Robert Merl | 40:21 | 12 | +3:00 | 40:21 | 12 | | +3:00 | |
| | 2. Gernot Ymsen | 39:51 | 8 | +4:31 | 1:20:12 | 9 | -3 | +5:31 | +2:31 |
| | 3. Mathias Peter | 42:13 | 8 | +4:47 | 2:02:25 | 9 | 0 | +9:19 | +3:48 |
| 10 | Latvia | | | | 2:04:22 | | | +11:16 | |
| | 1. Arturs Paulins | 39:28 | 10 | +2:07 | 39:28 | 10 | | +2:07 | |
| | 2. Edgars Bertuks | 41:54 | 11 | +6:34 | 1:21:22 | 11 | +1 | +6:41 | +4:34 |
| | 3. Rudolfs Zernis | 43:00 | 10 | +5:34 | 2:04:22 | 10 | -1 | +11:16 | +4:35 |