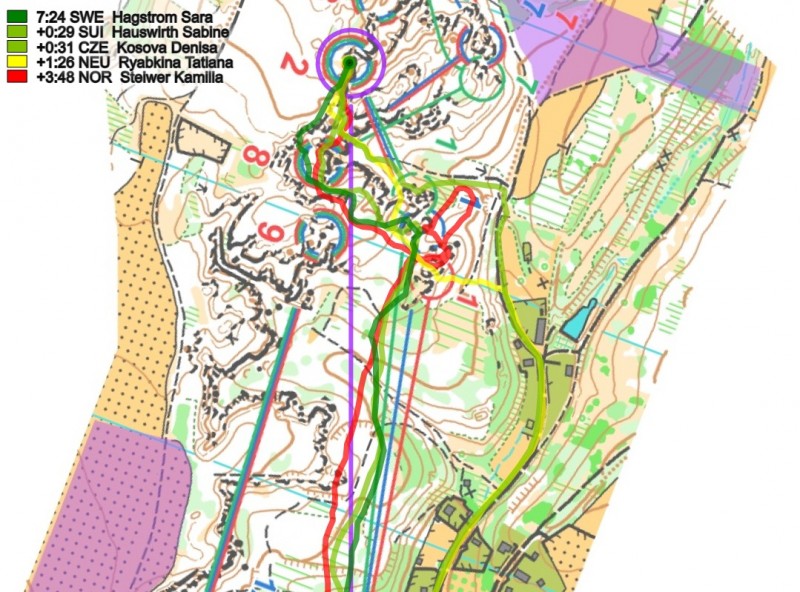 Sweden's women took a clear victory, 2:33 ahead of Switzerland with Norway more than 7 minutes down. Read on for GPS-illustrations and splitsbrowser illustrations of the women's WOC 2021 Relay.
The central parts of the WOC 2021 relay is already covered in the Maps, Results and GPS-animations article. This article is a collection of splitsbrowser graphs and GPS-illustrations leg-by-leg for the orienteering geeks out there.
GPS-illustrations from key decision points
Czech Republic Leg 1: Mistake control 4, 1:15 timeloss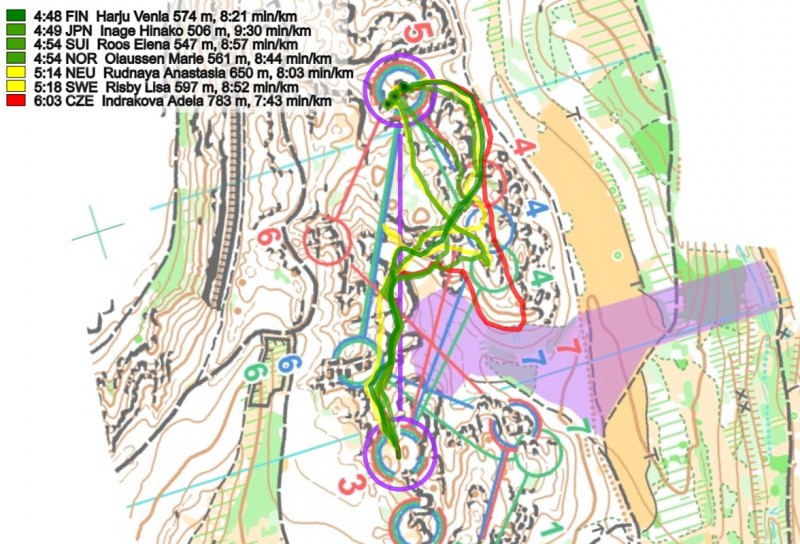 Norway Leg 1: Mistake control 10, 1:37 timeloss. Sweden also loses nearly a minute.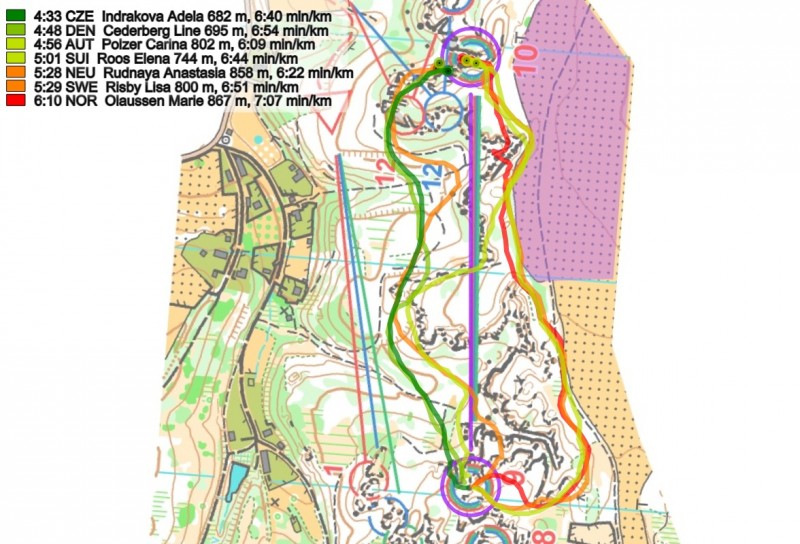 Norway Leg 2: Mistake control 1, 3:48 timeloss. Russia also loses nearly 1:30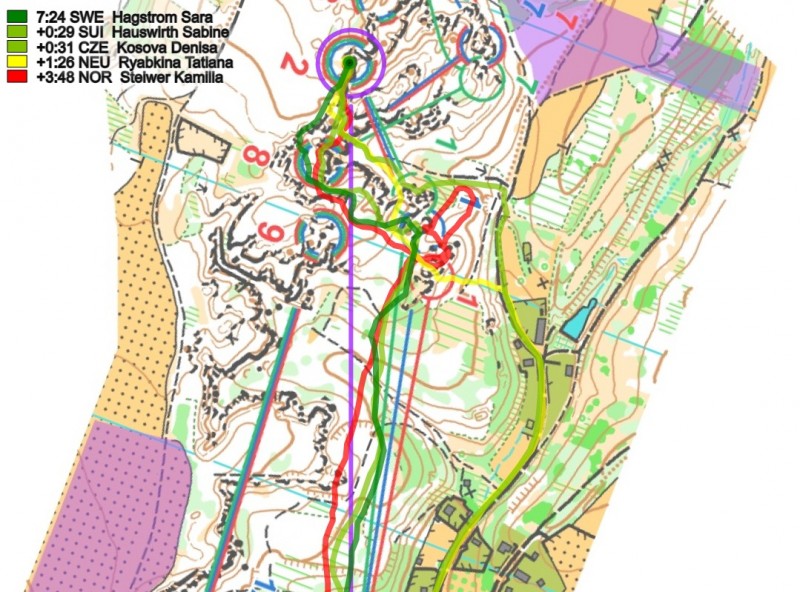 Russia Leg 2: Mistake control 9, 0:45 timeloss.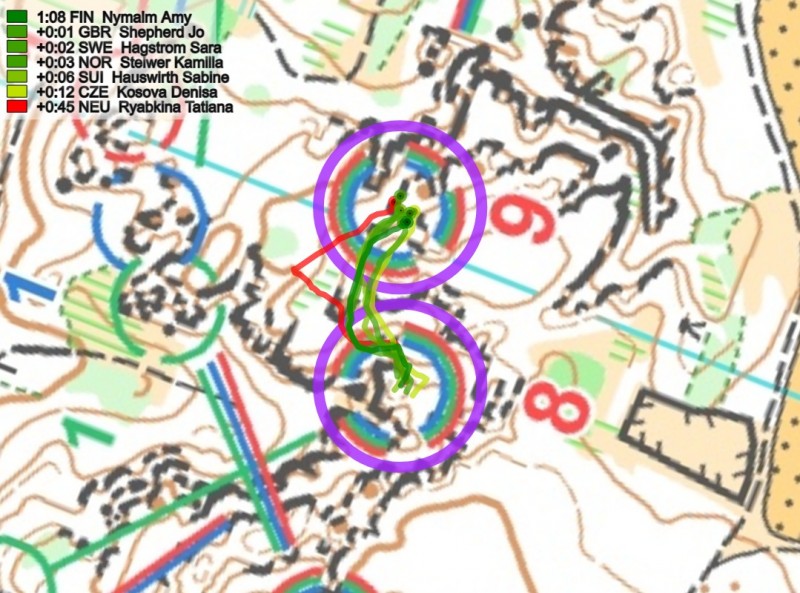 Czech Republic Leg 3: Big mistake control 5, 2:55 timeloss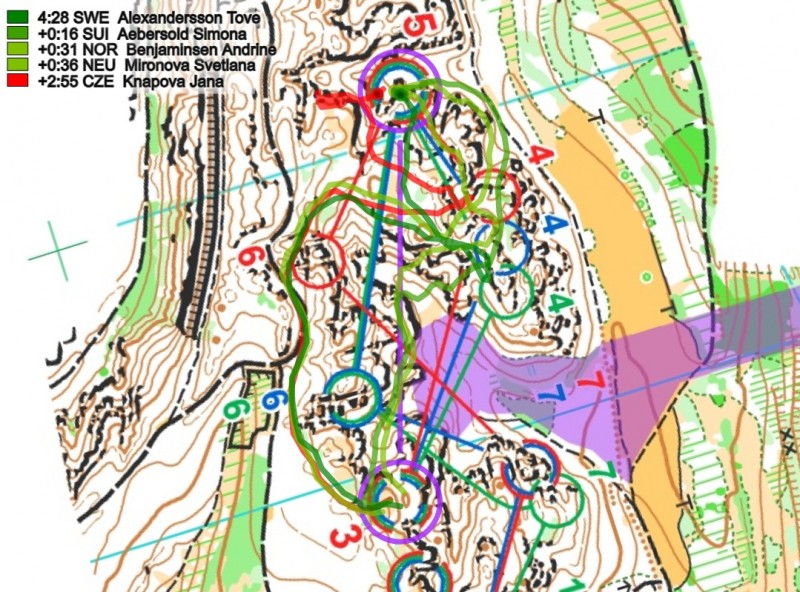 Norway & Russia Leg 3: Around 1:10 timeloss on control 6-7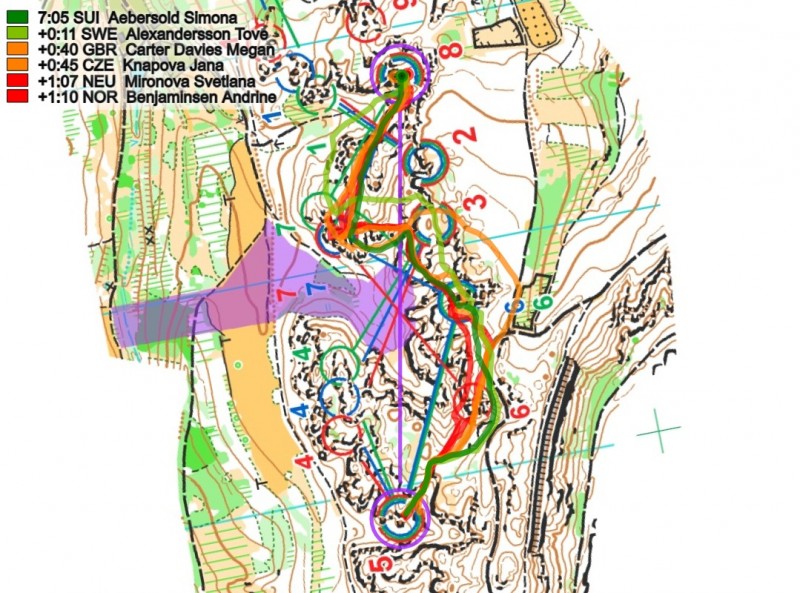 Czech Republic, Norway & Russia Leg 3: Around one minute timeloss on control 10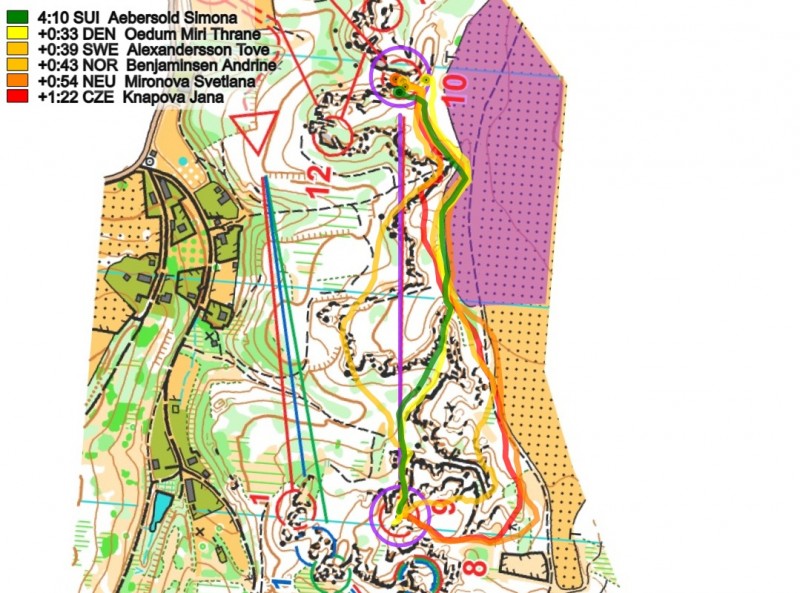 Splitsbrowser for common controls
Below is a splitsbrowser illustration for common controls. The first changeover is at control 9 and the second changeover at control 18.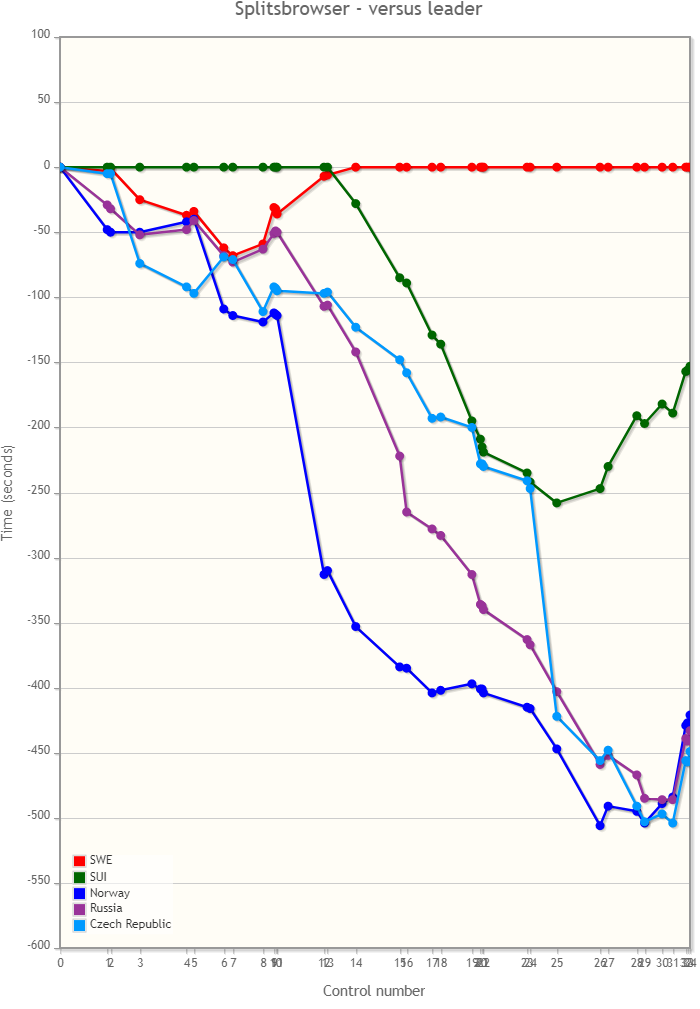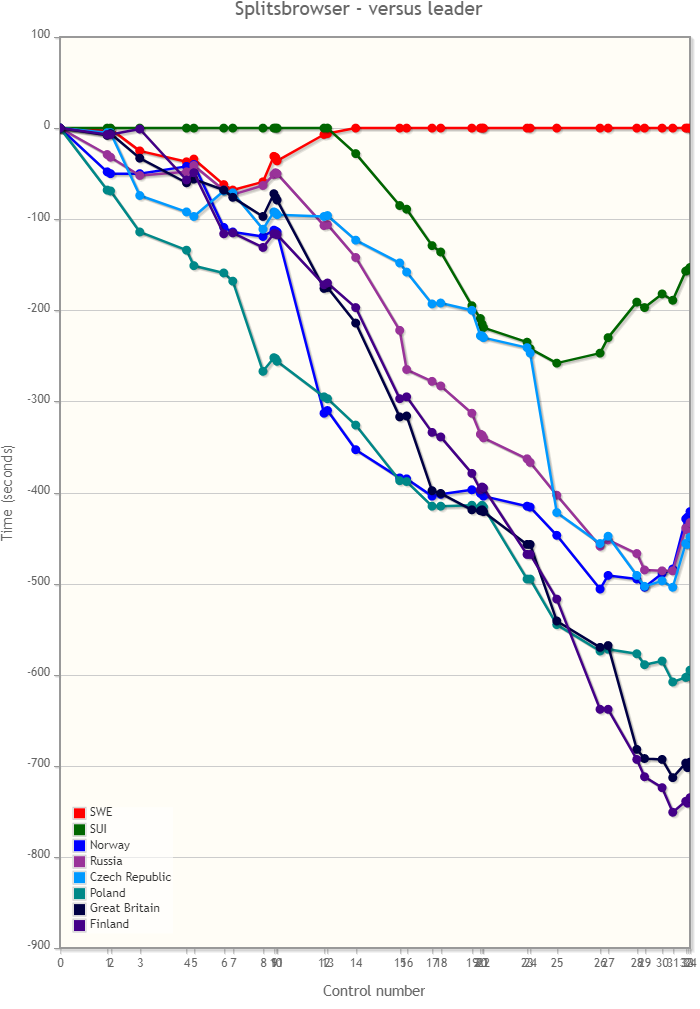 GPS Animation: See the battle for the medals at Women's #WOC2021 Relay: Alexandersson🇸🇪 is alone in front, meanwhile Aebersold🇨🇭 gets rid of her competitors halfways – and Benjaminsen🇳🇴 wins bronze after close battle with Mironova 🇷🇺 and Knapova 🇨🇿. GPS: https://t.co/RO11WPBHUR pic.twitter.com/7pPDIah1qp

— WorldofO.com (@worldofo) July 8, 2021
Women Leg 1
W 1 common controls: S-1
W 1 common controls: S-1 (Legtimes)

1.
Roos Elena

(1st)

7:55

+0:00

+2%

2.
Risby Lisa

(2nd)

7:58

+0:03

+2%

3.
Rihma Annika

(4th)

7:59

+0:04

+5%

4.
Indrakova Adela

(8th)

8:00

+0:05

+6%

5.
Harju Venla

(10th)

8:02

+0:07

+5%

6.
Molloy Grace

(6th)

8:03

+0:08

+4%

7.
Calandry Cecile

(12th)

8:12
+0:17

+4%

8.
Cederberg Line

(5th)

8:14

+0:19

+4%

9.
Polzer Carina

(7th)

8:24
+0:29

0%

10.
Rudnaya Anastasia

(3rd)

8:24
+0:29

0%

11.
Olaussen Marie

(9th)

8:43
+0:48

0%

W 1 common controls: S-1 (Total times)

1.
Roos Elena

(1st)

7:55
+0:00
2.
Risby Lisa

(2nd)

7:58
+0:03
3.
Rihma Annika

(4th)

7:59
+0:04
4.
Indrakova Adela

(8th)

8:00
+0:05
5.
Harju Venla

(10th)

8:02
+0:07
6.
Molloy Grace

(6th)

8:03
+0:08
7.
Calandry Cecile

(12th)

8:12
+0:17
8.
Cederberg Line

(5th)

8:14
+0:19
9.
Polzer Carina

(7th)

8:24
+0:29
10.
Rudnaya Anastasia

(3rd)

8:24
+0:29
11.
Olaussen Marie

(9th)

8:43
+0:48
W 1 common controls: 1-2
W 1 common controls: 1-2 (Legtimes)

1.
Rihma Annika

(4th)

0:31

+0:00

+7%

2.
Weiler Virag

(18th)

0:31
+0:00

+15%

3.
Risby Lisa

(2nd)

0:32

+0:01

+1%

4.
Molloy Grace

(6th)

0:32

+0:01

+4%

5.
Scalet Carlotta

(11th)

0:32
+0:01

+8%

6.
Inage Hinako

(20th)

0:32
+0:01

+17%

7.
Calandry Cecile

(12th)

0:33
+0:02

+2%

8.
Roos Elena

(1st)

0:34

+0:03

-5%

9.
Indrakova Adela

(8th)

0:34

+0:03

0%

10.
Harju Venla

(10th)

0:34

+0:03

-1%

11.
Polzer Carina

(7th)

0:34

+0:03

-1%

12.
Cederberg Line

(5th)

0:35

+0:04

-2%

15.
Olaussen Marie

(9th)

0:36

+0:05

-3%

19.
Rudnaya Anastasia

(3rd)

0:37

+0:06

-9%

W 1 common controls: 1-2 (Total times)

1.
Roos Elena

(1st)

8:29
+0:00
2.
Rihma Annika

(4th)

8:30
+0:01
3.
Risby Lisa

(2nd)

8:30
+0:01
4.
Indrakova Adela

(8th)

8:34
+0:05
5.
Molloy Grace

(6th)

8:35
+0:06
6.
Harju Venla

(10th)

8:36
+0:07
7.
Calandry Cecile

(12th)

8:45
+0:16
8.
Cederberg Line

(5th)

8:49
+0:20
9.
Polzer Carina

(7th)

8:58
+0:29
10.
Rudnaya Anastasia

(3rd)

9:01
+0:32
11.
Olaussen Marie

(9th)

9:19
+0:50
W 1 common controls: 2-3
W 1 common controls: 2-3 (Legtimes)

1.
Harju Venla

(10th)

4:48

+0:00

+8%

2.
Inage Hinako

(20th)

4:49
+0:01

+20%

3.
Roos Elena

(1st)

4:54

+0:06

+1%

4.
Olaussen Marie

(9th)

4:54

+0:06

+8%

5.
Scalet Carlotta

(11th)

4:59
+0:11

+8%

6.
Starke Paula

(15th)

5:07
+0:19

+11%

7.
Polzer Carina

(7th)

5:10

+0:22

0%

8.
Gotseva Liliana

(16th)

5:13
+0:25

+5%

9.
Rudnaya Anastasia

(3rd)

5:14
+0:26

-1%

10.
Calandry Cecile

(12th)

5:16
+0:28

0%

11.
Risby Lisa

(2nd)

5:18
+0:30

-4%

12.
Cederberg Line

(5th)

5:20
+0:32

0%

13.
Rihma Annika

(4th)

5:21
+0:33

-3%

14.
Molloy Grace

(6th)

5:21
+0:33

-2%

21.
Indrakova Adela

(8th)

6:03
+1:15

-11%

W 1 common controls: 2-3 (Total times)

1.
Roos Elena

(1st)

13:23
+0:00
2.
Harju Venla

(10th)

13:24
+0:01
3.
Risby Lisa

(2nd)

13:48
+0:25
4.
Rihma Annika

(4th)

13:51
+0:28
5.
Molloy Grace

(6th)

13:56
+0:33
6.
Calandry Cecile

(12th)

14:01
+0:38
7.
Polzer Carina

(7th)

14:08
+0:45
8.
Cederberg Line

(5th)

14:09
+0:46
9.
Olaussen Marie

(9th)

14:13
+0:50
10.
Rudnaya Anastasia

(3rd)

14:15
+0:52
12.
Indrakova Adela

(8th)

14:37
+1:14
W 1 common controls: 3-4
W 1 common controls: 3-4 (Legtimes)

1.
Olaussen Marie

(9th)

7:43

+0:00

+11%

2.
Rudnaya Anastasia

(3rd)

7:47

+0:04

+6%

3.
Roos Elena

(1st)

7:51

+0:08

+2%

4.
Risby Lisa

(2nd)

8:03

+0:20

0%

5.
Rihma Annika

(4th)

8:03

+0:20

+3%

6.
Indrakova Adela

(8th)

8:09
+0:26

+4%

7.
Gwozdz Ewa

(13th)

8:11
+0:28

+8%

8.
Polzer Carina

(7th)

8:13
+0:30

+2%

9.
Molloy Grace

(6th)

8:18
+0:35

0%

10.
Cederberg Line

(5th)

8:34
+0:51

0%

11.
Harju Venla

(10th)

8:47
+1:04

-3%

15.
Calandry Cecile

(12th)

9:41
+1:58

-11%

19.
Gotseva Liliana

(16th)

10:34
+2:51

-14%

21.
Valdmane Liga

(19th)

11:47
+4:04

-11%

W 1 common controls: 3-4 (Total times)

1.
Roos Elena

(1st)

21:14
+0:00
2.
Risby Lisa

(2nd)

21:51
+0:37
3.
Rihma Annika

(4th)

21:54
+0:40
4.
Olaussen Marie

(9th)

21:56
+0:42
5.
Rudnaya Anastasia

(3rd)

22:02
+0:48
6.
Harju Venla

(10th)

22:11
+0:57
7.
Molloy Grace

(6th)

22:14
+1:00
8.
Polzer Carina

(7th)

22:21
+1:07
9.
Cederberg Line

(5th)

22:43
+1:29
10.
Indrakova Adela

(8th)

22:46
+1:32
W 1 common controls: 4-5
W 1 common controls: 4-5 (Legtimes)

1.
Harju Venla

(10th)

1:06

+0:00

+10%

2.
Rudnaya Anastasia

(3rd)

1:07

+0:01

+8%

3.
Molloy Grace

(6th)

1:10

+0:04

+4%

4.
Polzer Carina

(7th)

1:10

+0:04

+4%

5.
Risby Lisa

(2nd)

1:11

+0:05

0%

6.
Olaussen Marie

(9th)

1:12

+0:06

+4%

7.
Rihma Annika

(4th)

1:13

+0:07

0%

8.
Roos Elena

(1st)

1:14

+0:08

-4%

9.
Cederberg Line

(5th)

1:14

+0:08

+1%

10.
Calandry Cecile

(12th)

1:17
+0:11

-3%

11.
Indrakova Adela

(8th)

1:19

+0:13

-5%

18.
Gwozdz Ewa

(13th)

1:31
+0:25

-12%

19.
Miklusova Tamara

(16th)

1:34
+0:28

-12%

20.
Gotseva Liliana

(16th)

1:36
+0:30

-17%

W 1 common controls: 4-5 (Total times)

1.
Roos Elena

(1st)

22:28
+0:00
2.
Risby Lisa

(2nd)

23:02
+0:34
3.
Rihma Annika

(4th)

23:07
+0:39
4.
Olaussen Marie

(9th)

23:08
+0:40
5.
Rudnaya Anastasia

(3rd)

23:09
+0:41
6.
Harju Venla

(10th)

23:17
+0:49
7.
Molloy Grace

(6th)

23:24
+0:56
8.
Polzer Carina

(7th)

23:31
+1:03
9.
Cederberg Line

(5th)

23:57
+1:29
10.
Indrakova Adela

(8th)

24:05
+1:37
W 1 common controls: 5-6
W 1 common controls: 5-6 (Legtimes)

1.
Indrakova Adela

(8th)

4:33

+0:00

+15%

2.
Cederberg Line

(5th)

4:48

+0:15

+10%

3.
Polzer Carina

(7th)

4:56

+0:23

+5%

4.
Roos Elena

(1st)

5:01
+0:28

0%

5.
Gwozdz Ewa

(13th)

5:09
+0:36

+7%

6.
Calandry Cecile

(12th)

5:11
+0:38

+1%

7.
Molloy Grace

(6th)

5:13
+0:40

0%

8.
Tsyvilska Feia

(14th)

5:13
+0:40

+6%

9.
Scalet Carlotta

(11th)

5:18
+0:45

+3%

10.
Rihma Annika

(4th)

5:24
+0:51

-3%

12.
Rudnaya Anastasia

(3rd)

5:28
+0:55

-4%

13.
Risby Lisa

(2nd)

5:29
+0:56

-7%

17.
Harju Venla

(10th)

6:08
+1:35

-13%

18.
Olaussen Marie

(9th)

6:10
+1:37

-11%

20.
Weiler Virag

(18th)

6:46
+2:13

-13%

24.
Inage Hinako

(20th)

10:08
+5:35

-33%

W 1 common controls: 5-6 (Total times)

1.
Roos Elena

(1st)

27:29
+0:00
2.
Polzer Carina

(7th)

28:27
+0:58
3.
Rihma Annika

(4th)

28:31
+1:02
4.
Risby Lisa

(2nd)

28:31
+1:02
5.
Molloy Grace

(6th)

28:37
+1:08
6.
Rudnaya Anastasia

(3rd)

28:37
+1:08
7.
Indrakova Adela

(8th)

28:38
+1:09
8.
Cederberg Line

(5th)

28:45
+1:16
9.
Olaussen Marie

(9th)

29:18
+1:49
10.
Harju Venla

(10th)

29:25
+1:56
W 1 common controls: 6-7
W 1 common controls: 6-7 (Legtimes)

1.
Harju Venla

(10th)

1:30

+0:00

+9%

2.
Roos Elena

(1st)

1:31

+0:01

+4%

3.
Indrakova Adela

(8th)

1:33

+0:03

+7%

4.
Calandry Cecile

(12th)

1:35
+0:05

+4%

5.
Weiler Virag

(18th)

1:35
+0:05

+12%

6.
Rudnaya Anastasia

(3rd)

1:36

+0:06

+2%

7.
Cederberg Line

(5th)

1:36

+0:06

+4%

8.
Olaussen Marie

(9th)

1:36

+0:06

+5%

9.
Risby Lisa

(2nd)

1:37

+0:07

-1%

10.
Tsyvilska Feia

(14th)

1:37
+0:07

+8%

11.
Rihma Annika

(4th)

1:38

+0:08

0%

13.
Molloy Grace

(6th)

1:39

+0:09

0%

18.
Polzer Carina

(7th)

1:45

+0:15

-5%

W 1 common controls: 6-7 (Total times)

1.
Roos Elena

(1st)

29:00
+0:00
2.
Risby Lisa

(2nd)

30:08
+1:08
3.
Rihma Annika

(4th)

30:09
+1:09
4.
Indrakova Adela

(8th)

30:11
+1:11
5.
Polzer Carina

(7th)

30:12
+1:12
6.
Rudnaya Anastasia

(3rd)

30:13
+1:13
7.
Molloy Grace

(6th)

30:16
+1:16
8.
Cederberg Line

(5th)

30:21
+1:21
9.
Olaussen Marie

(9th)

30:54
+1:54
10.
Harju Venla

(10th)

30:55
+1:55
W 1 common controls: 7-8
W 1 common controls: 7-8 (Legtimes)

1.
Rudnaya Anastasia

(3rd)

4:54

+0:00

+7%

2.
Risby Lisa

(2nd)

4:55

+0:01

+4%

3.
Rihma Annika

(4th)

4:59

+0:05

+5%

4.
Roos Elena

(1st)

5:04

+0:10

0%

5.
Cederberg Line

(5th)

5:08

+0:14

+5%

6.
Olaussen Marie

(9th)

5:09

+0:15

+5%

7.
Polzer Carina

(7th)

5:19

+0:25

0%

8.
Harju Venla

(10th)

5:20
+0:26

0%

9.
Molloy Grace

(6th)

5:25
+0:31

-1%

10.
Scalet Carlotta

(11th)

5:41
+0:47

-1%

11.
Indrakova Adela

(8th)

5:44
+0:50

-5%

17.
Gwozdz Ewa

(13th)

6:43
+1:49

-14%

19.
Weiler Virag

(18th)

6:51
+1:57

-12%

21.
Starke Paula

(15th)

7:18
+2:24

-15%

W 1 common controls: 7-8 (Total times)

1.
Roos Elena

(1st)

34:04
+0:00
2.
Risby Lisa

(2nd)

35:03
+0:59
3.
Rudnaya Anastasia

(3rd)

35:07
+1:03
4.
Rihma Annika

(4th)

35:08
+1:04
5.
Cederberg Line

(5th)

35:29
+1:25
6.
Polzer Carina

(7th)

35:31
+1:27
7.
Molloy Grace

(6th)

35:41
+1:37
8.
Indrakova Adela

(8th)

35:55
+1:51
9.
Olaussen Marie

(9th)

36:03
+1:59
10.
Harju Venla

(10th)

36:15
+2:11
W 1 common controls: 8-9
W 1 common controls: 8-9 (Legtimes)

1.
Risby Lisa

(2nd)

1:22

+0:00

+13%

2.
Molloy Grace

(6th)

1:25

+0:03

+12%

3.
Indrakova Adela

(8th)

1:31

+0:09

+6%

4.
Harju Venla

(10th)

1:35

+0:13

+1%

5.
Gwozdz Ewa

(13th)

1:35
+0:13

+6%

6.
Rudnaya Anastasia

(3rd)

1:38

+0:16

-2%

7.
Rihma Annika

(4th)

1:39

+0:17

-3%

8.
Cederberg Line

(5th)

1:39

+0:17

0%

9.
Tsyvilska Feia

(14th)

1:39
+0:17

+3%

10.
Valdmane Liga

(19th)

1:39
+0:17

+12%

13.
Polzer Carina

(7th)

1:41

+0:19

-4%

15.
Olaussen Marie

(9th)

1:43

+0:21

-3%

17.
Roos Elena

(1st)

1:50
+0:28

-15%

19.
Calandry Cecile

(12th)

1:56
+0:34

-14%

23.
Gotseva Liliana

(16th)

2:29
+1:07

-28%

24.
Miklusova Tamara

(16th)

2:30
+1:08

-25%

W 1 common controls: 8-9 (Total times)

1.
Roos Elena

(1st)

35:54
+0:00
2.
Risby Lisa

(2nd)

36:25
+0:31
3.
Rudnaya Anastasia

(3rd)

36:45
+0:51
4.
Rihma Annika

(4th)

36:47
+0:53
5.
Molloy Grace

(6th)

37:06
+1:12
6.
Cederberg Line

(5th)

37:08
+1:14
7.
Polzer Carina

(7th)

37:12
+1:18
8.
Indrakova Adela

(8th)

37:26
+1:32
9.
Olaussen Marie

(9th)

37:46
+1:52
10.
Harju Venla

(10th)

37:50
+1:56
W 1 common controls: 9-10
W 1 common controls: 9-10 (Legtimes)

1.
Rudnaya Anastasia

(3rd)

0:15

+0:00

+11%

2.
Gotseva Liliana

(16th)

0:15
+0:00

+17%

3.
Calandry Cecile

(12th)

0:16
+0:01

+6%

4.
Inage Hinako

(20th)

0:16
+0:01

+18%

5.
Roos Elena

(1st)

0:17

+0:02

-4%

6.
Harju Venla

(10th)

0:17

+0:02

0%

7.
Scalet Carlotta

(11th)

0:17
+0:02

+4%

8.
Tsyvilska Feia

(14th)

0:17
+0:02

+6%

9.
Miklusova Tamara

(16th)

0:17
+0:02

+7%

10.
De Smul Ems

(21st)

0:17
+0:02

+14%

11.
Risby Lisa

(2nd)

0:18

+0:03

-8%

12.
Rihma Annika

(4th)

0:18

+0:03

-6%

13.
Indrakova Adela

(8th)

0:18

+0:03

-4%

14.
Olaussen Marie

(9th)

0:18

+0:03

-2%

16.
Cederberg Line

(5th)

0:19

+0:04

-8%

18.
Polzer Carina

(7th)

0:20

+0:05

-14%

20.
Molloy Grace

(6th)

0:21

+0:06

-18%

24.
Valdmane Liga

(19th)

0:27
+0:12

-19%

W 1 common controls: 9-10 (Total times)

1.
Roos Elena

(1st)

36:11
+0:00
2.
Risby Lisa

(2nd)

36:43
+0:32
3.
Rudnaya Anastasia

(3rd)

37:00
+0:49
4.
Rihma Annika

(4th)

37:05
+0:54
5.
Cederberg Line

(5th)

37:27
+1:16
6.
Molloy Grace

(6th)

37:27
+1:16
7.
Polzer Carina

(7th)

37:32
+1:21
8.
Indrakova Adela

(8th)

37:44
+1:33
9.
Olaussen Marie

(9th)

38:04
+1:53
10.
Harju Venla

(10th)

38:07
+1:56
Women Leg 2
W 2 common controls: S-1
W 2 common controls: S-1 (Legtimes)

1.
Hagstrom Sara

(1st)

7:24

+0:00

+7%

2.
Hauswirth Sabine

(4th)

7:53
+0:29

+8%

3.
Kosova Denisa

(2nd)

7:55
+0:31

+5%

4.
Klysner Cecilie Friberg

(17th)

8:22
+0:58

+13%

5.
Wisniewska Hanna

(3rd)

8:32
+1:08

-3%

6.
Gassner Jasmina

(13th)

8:36
+1:12

+4%

7.
Gardonyi Csilla

(8th)

8:41
+1:17

+5%

8.
Nymalm Amy

(5th)

8:48
+1:24

-1%

9.
Ryabkina Tatiana

(6th)

8:50
+1:26

0%

10.
Hanauer Florence

(10th)

9:04
+1:40

0%

14.
Shepherd Jo

(9th)

9:30
+2:06

-9%

21.
Steiwer Kamilla

(6th)

11:12
+3:48

-26%

W 2 common controls: S-1 (Total times)

1.
Hagstrom Sara

(1st)

7:24
+0:00
2.
Hauswirth Sabine

(4th)

7:53
+0:29
3.
Kosova Denisa

(2nd)

7:55
+0:31
4.
Klysner Cecilie Friberg

(17th)

8:22
+0:58
5.
Wisniewska Hanna

(3rd)

8:32
+1:08
6.
Gassner Jasmina

(13th)

8:36
+1:12
7.
Gardonyi Csilla

(8th)

8:41
+1:17
8.
Nymalm Amy

(5th)

8:48
+1:24
9.
Ryabkina Tatiana

(6th)

8:50
+1:26
10.
Hanauer Florence

(10th)

9:04
+1:40
14.
Shepherd Jo

(9th)

9:30
+2:06
21.
Steiwer Kamilla

(6th)

11:12
+3:48
W 2 common controls: 1-2
W 2 common controls: 1-2 (Legtimes)

1.
Steiwer Kamilla

(6th)

0:32

+0:00

+3%

2.
Traubaite Judita

(19th)

0:32
+0:00

+25%

3.
Klysner Cecilie Friberg

(17th)

0:33
+0:01

+16%

4.
Nymalm Amy

(5th)

0:33

+0:01

+6%

5.
Hagstrom Sara

(1st)

0:34

+0:02

-4%

6.
Kosova Denisa

(2nd)

0:34

+0:02

0%

7.
Ryabkina Tatiana

(6th)

0:34

+0:02

+4%

8.
Hanauer Florence

(10th)

0:34

+0:02

+6%

9.
Kaasiku Evely

(11th)

0:34
+0:02

0%

10.
Zagonel Viola

(15th)

0:34
+0:02

+10%

11.
Shepherd Jo

(9th)

0:34

+0:02

+2%

13.
Hauswirth Sabine

(4th)

0:35

+0:03

0%

14.
Gardonyi Csilla

(8th)

0:35

+0:03

+6%

18.
Wisniewska Hanna

(3rd)

0:37

+0:05

-9%

23.
Weissova Luboslava

(20th)

0:55
+0:23

-15%

W 2 common controls: 1-2 (Total times)

1.
Hagstrom Sara

(1st)

7:58
+0:00
2.
Hauswirth Sabine

(4th)

8:28
+0:30
3.
Kosova Denisa

(2nd)

8:29
+0:31
4.
Klysner Cecilie Friberg

(17th)

8:55
+0:57
5.
Wisniewska Hanna

(3rd)

9:09
+1:11
6.
Gassner Jasmina

(13th)

9:12
+1:14
7.
Gardonyi Csilla

(8th)

9:16
+1:18
8.
Nymalm Amy

(5th)

9:21
+1:23
9.
Ryabkina Tatiana

(6th)

9:24
+1:26
10.
Hanauer Florence

(10th)

9:38
+1:40
14.
Shepherd Jo

(9th)

10:04
+2:06
21.
Steiwer Kamilla

(6th)

11:44
+3:46
W 2 common controls: 2-3
W 2 common controls: 2-3 (Legtimes)

1.
Hagstrom Sara

(1st)

4:38

+0:00

+7%

2.
Kaasiku Evely

(11th)

4:54
+0:16

+6%

3.
Kosova Denisa

(2nd)

5:11
+0:33

0%

4.
Nymalm Amy

(5th)

5:11
+0:33

+3%

5.
Hauswirth Sabine

(4th)

5:12
+0:34

+3%

6.
Wisniewska Hanna

(3rd)

5:13
+0:35

-1%

7.
Gassner Jasmina

(13th)

5:20
+0:42

+4%

8.
Ryabkina Tatiana

(6th)

5:20
+0:42

+1%

9.
Shepherd Jo

(9th)

5:23
+0:45

0%

10.
Gardonyi Csilla

(8th)

5:26
+0:48

+5%

11.
Steiwer Kamilla

(6th)

5:27
+0:49

-6%

13.
Hanauer Florence

(10th)

5:29
+0:51

+1%

21.
Weissova Luboslava

(20th)

9:28
+4:50

-22%

W 2 common controls: 2-3 (Total times)

1.
Hagstrom Sara

(1st)

12:36
+0:00
2.
Hauswirth Sabine

(4th)

13:40
+1:04
3.
Kosova Denisa

(2nd)

13:40
+1:04
4.
Wisniewska Hanna

(3rd)

14:22
+1:46
5.
Gassner Jasmina

(13th)

14:32
+1:56
6.
Nymalm Amy

(5th)

14:32
+1:56
7.
Kaasiku Evely

(11th)

14:35
+1:59
8.
Gardonyi Csilla

(8th)

14:42
+2:06
9.
Ryabkina Tatiana

(6th)

14:44
+2:08
10.
Klysner Cecilie Friberg

(17th)

15:00
+2:24
11.
Hanauer Florence

(10th)

15:07
+2:31
13.
Shepherd Jo

(9th)

15:27
+2:51
18.
Steiwer Kamilla

(6th)

17:11
+4:35
W 2 common controls: 3-4
W 2 common controls: 3-4 (Legtimes)

1.
Hagstrom Sara

(1st)

7:23

+0:00

+7%

2.
Kosova Denisa

(2nd)

7:48

+0:25

+6%

3.
Steiwer Kamilla

(6th)

7:54
+0:31

+3%

4.
Hauswirth Sabine

(4th)

8:20
+0:57

+3%

5.
Wisniewska Hanna

(3rd)

8:24
+1:01

-2%

6.
Ryabkina Tatiana

(6th)

8:43
+1:20

0%

7.
Gardonyi Csilla

(8th)

8:54
+1:31

+3%

8.
Nymalm Amy

(5th)

9:03
+1:40

-4%

9.
Zagonel Viola

(15th)

9:04
+1:41

+2%

10.
Shepherd Jo

(9th)

9:06
+1:43

-5%

11.
Hanauer Florence

(10th)

9:07
+1:44

-1%

16.
Kaasiku Evely

(11th)

10:10
+2:47

-17%

21.
Gassner Jasmina

(13th)

11:00
+3:37

-16%

W 2 common controls: 3-4 (Total times)

1.
Hagstrom Sara

(1st)

19:59
+0:00
2.
Kosova Denisa

(2nd)

21:28
+1:29
3.
Hauswirth Sabine

(4th)

22:00
+2:01
4.
Wisniewska Hanna

(3rd)

22:46
+2:47
5.
Ryabkina Tatiana

(6th)

23:27
+3:28
6.
Nymalm Amy

(5th)

23:35
+3:36
7.
Gardonyi Csilla

(8th)

23:36
+3:37
8.
Hanauer Florence

(10th)

24:14
+4:15
9.
Zagonel Viola

(15th)

24:26
+4:27
10.
Shepherd Jo

(9th)

24:33
+4:34
13.
Steiwer Kamilla

(6th)

25:05
+5:06
W 2 common controls: 4-5
W 2 common controls: 4-5 (Legtimes)

1.
Nymalm Amy

(5th)

1:08

+0:00

+9%

2.
Shepherd Jo

(9th)

1:09

+0:01

+7%

3.
Hagstrom Sara

(1st)

1:10

+0:02

-1%

4.
Wisniewska Hanna

(3rd)

1:11

+0:03

0%

5.
Steiwer Kamilla

(6th)

1:11

+0:03

0%

6.
Hauswirth Sabine

(4th)

1:14

+0:06

+1%

7.
Hanauer Florence

(10th)

1:18

+0:10

0%

8.
Dyaksova Andreya

(18th)

1:18
+0:10

+8%

9.
Traubaite Judita

(19th)

1:19
+0:11

+11%

10.
Kosova Denisa

(2nd)

1:20

+0:12

-8%

14.
Gardonyi Csilla

(8th)

1:25

+0:17

-4%

20.
Ryabkina Tatiana

(6th)

1:53
+0:45

-30%

22.
Kaasiku Evely

(11th)

2:05
+0:57

-40%

W 2 common controls: 4-5 (Total times)

1.
Hagstrom Sara

(1st)

21:09
+0:00
2.
Kosova Denisa

(2nd)

22:48
+1:39
3.
Hauswirth Sabine

(4th)

23:14
+2:05
4.
Wisniewska Hanna

(3rd)

23:57
+2:48
5.
Nymalm Amy

(5th)

24:43
+3:34
6.
Gardonyi Csilla

(8th)

25:01
+3:52
7.
Ryabkina Tatiana

(6th)

25:20
+4:11
8.
Hanauer Florence

(10th)

25:32
+4:23
9.
Shepherd Jo

(9th)

25:42
+4:33
10.
Zagonel Viola

(15th)

25:47
+4:38
11.
Steiwer Kamilla

(6th)

26:16
+5:07
W 2 common controls: 5-6
W 2 common controls: 5-6 (Legtimes)

1.
Hagstrom Sara

(1st)

4:16

+0:00

+6%

2.
Ryabkina Tatiana

(6th)

4:29

+0:13

+10%

3.
Steiwer Kamilla

(6th)

4:35

+0:19

+1%

4.
Wisniewska Hanna

(3rd)

4:43
+0:27

0%

5.
Kosova Denisa

(2nd)

4:51
+0:35

-1%

6.
Nymalm Amy

(5th)

4:55
+0:39

0%

7.
Hauswirth Sabine

(4th)

4:56
+0:40

0%

8.
Kaasiku Evely

(11th)

4:57
+0:41

-3%

9.
Gardonyi Csilla

(8th)

5:18
+1:02

0%

10.
Hanauer Florence

(10th)

5:32
+1:16

-6%

11.
Shepherd Jo

(9th)

5:38
+1:22

-12%

19.
Dyaksova Andreya

(18th)

7:19
+3:03

-18%

20.
Zagonel Viola

(15th)

7:25
+3:09

-24%

W 2 common controls: 5-6 (Total times)

1.
Hagstrom Sara

(1st)

25:25
+0:00
2.
Kosova Denisa

(2nd)

27:39
+2:14
3.
Hauswirth Sabine

(4th)

28:10
+2:45
4.
Wisniewska Hanna

(3rd)

28:40
+3:15
5.
Nymalm Amy

(5th)

29:38
+4:13
6.
Ryabkina Tatiana

(6th)

29:49
+4:24
7.
Gardonyi Csilla

(8th)

30:19
+4:54
8.
Steiwer Kamilla

(6th)

30:51
+5:26
9.
Hanauer Florence

(10th)

31:04
+5:39
10.
Shepherd Jo

(9th)

31:20
+5:55
W 2 common controls: 6-7
W 2 common controls: 6-7 (Legtimes)

1.
Kaasiku Evely

(11th)

1:24
+0:00

+6%

2.
Steiwer Kamilla

(6th)

1:25

+0:01

+2%

3.
Kosova Denisa

(2nd)

1:26

+0:02

+3%

4.
Hagstrom Sara

(1st)

1:27

+0:03

-2%

5.
Wisniewska Hanna

(3rd)

1:27

+0:03

+1%

6.
Hanauer Florence

(10th)

1:30

+0:06

+5%

7.
Shepherd Jo

(9th)

1:30

+0:06

+1%

8.
Klysner Cecilie Friberg

(17th)

1:31
+0:07

+11%

9.
Nymalm Amy

(5th)

1:32

+0:08

0%

10.
Ryabkina Tatiana

(6th)

1:32

+0:08

+1%

11.
Hauswirth Sabine

(4th)

1:34

+0:10

-1%

14.
Gardonyi Csilla

(8th)

1:39

+0:15

0%

23.
Traubaite Judita

(19th)

2:16
+0:52

-13%

W 2 common controls: 6-7 (Total times)

1.
Hagstrom Sara

(1st)

26:52
+0:00
2.
Kosova Denisa

(2nd)

29:05
+2:13
3.
Hauswirth Sabine

(4th)

29:44
+2:52
4.
Wisniewska Hanna

(3rd)

30:07
+3:15
5.
Nymalm Amy

(5th)

31:10
+4:18
6.
Ryabkina Tatiana

(6th)

31:21
+4:29
7.
Gardonyi Csilla

(8th)

31:58
+5:06
8.
Steiwer Kamilla

(6th)

32:16
+5:24
9.
Hanauer Florence

(10th)

32:34
+5:42
10.
Shepherd Jo

(9th)

32:50
+5:58
W 2 common controls: 7-8
W 2 common controls: 7-8 (Legtimes)

1.
Steiwer Kamilla

(6th)

5:09

+0:00

+4%

2.
Wisniewska Hanna

(3rd)

5:13

+0:04

+3%

3.
Hagstrom Sara

(1st)

5:14

+0:05

0%

4.
Kosova Denisa

(2nd)

5:22

+0:13

+2%

5.
Kaasiku Evely

(11th)

5:30
+0:21

0%

6.
Shepherd Jo

(9th)

5:32

+0:23

+1%

7.
Traubaite Judita

(19th)

5:43
+0:34

+15%

8.
Ryabkina Tatiana

(6th)

5:44
+0:35

0%

9.
Gardonyi Csilla

(8th)

5:51
+0:42

+3%

10.
Dambe Inga

(16th)

5:51
+0:42

+8%

11.
Nymalm Amy

(5th)

5:54
+0:45

-3%

13.
Hanauer Florence

(10th)

5:57
+0:48

0%

18.
Hauswirth Sabine

(4th)

6:13
+1:04

-8%

23.
Klysner Cecilie Friberg

(17th)

8:30
+3:21

-20%

W 2 common controls: 7-8 (Total times)

1.
Hagstrom Sara

(1st)

32:06
+0:00
2.
Kosova Denisa

(2nd)

34:27
+2:21
3.
Wisniewska Hanna

(3rd)

35:20
+3:14
4.
Hauswirth Sabine

(4th)

35:57
+3:51
5.
Nymalm Amy

(5th)

37:04
+4:58
6.
Ryabkina Tatiana

(6th)

37:05
+4:59
7.
Steiwer Kamilla

(6th)

37:25
+5:19
8.
Gardonyi Csilla

(8th)

37:49
+5:43
9.
Shepherd Jo

(9th)

38:22
+6:16
10.
Hanauer Florence

(10th)

38:31
+6:25
W 2 common controls: 8-9
W 2 common controls: 8-9 (Legtimes)

1.
Hagstrom Sara

(1st)

1:26

+0:00

0%

2.
Hanauer Florence

(10th)

1:26

+0:00

+11%

3.
Shepherd Jo

(9th)

1:27

+0:01

+6%

4.
Wisniewska Hanna

(3rd)

1:28

+0:02

+1%

5.
Steiwer Kamilla

(6th)

1:30

+0:04

-1%

6.
Kaasiku Evely

(11th)

1:31
+0:05

0%

7.
Gassner Jasmina

(13th)

1:38
+0:12

0%

8.
Klysner Cecilie Friberg

(17th)

1:38
+0:12

+6%

9.
Hauswirth Sabine

(4th)

1:40

+0:14

-6%

10.
Nieke Patricia

(12th)

1:40
+0:14

+1%

11.
Nymalm Amy

(5th)

1:44

+0:18

-9%

12.
Ryabkina Tatiana

(6th)

1:49

+0:23

-12%

13.
Gardonyi Csilla

(8th)

1:49

+0:23

-6%

14.
Kosova Denisa

(2nd)

1:54
+0:28

-19%

15.
Zagonel Viola

(15th)

1:58
+0:32

-12%

17.
Panchenko Olha

(14th)

2:08
+0:42

-12%

19.
Dyaksova Andreya

(18th)

2:18
+0:52

-18%

22.
Dambe Inga

(16th)

2:40
+1:14

-27%

23.
Traubaite Judita

(19th)

2:54
+1:28

-26%

W 2 common controls: 8-9 (Total times)

1.
Hagstrom Sara

(1st)

33:32
+0:00
2.
Kosova Denisa

(2nd)

36:21
+2:49
3.
Wisniewska Hanna

(3rd)

36:48
+3:16
4.
Hauswirth Sabine

(4th)

37:37
+4:05
5.
Nymalm Amy

(5th)

38:48
+5:16
6.
Ryabkina Tatiana

(6th)

38:54
+5:22
7.
Steiwer Kamilla

(6th)

38:55
+5:23
8.
Gardonyi Csilla

(8th)

39:38
+6:06
9.
Shepherd Jo

(9th)

39:49
+6:17
10.
Hanauer Florence

(10th)

39:57
+6:25
W 2 common controls: 9-10
W 2 common controls: 9-10 (Legtimes)

1.
Nymalm Amy

(5th)

0:14

+0:00

+14%

2.
Wisniewska Hanna

(3rd)

0:15

+0:01

+2%

3.
Kaasiku Evely

(11th)

0:15
+0:01

+4%

4.
Gassner Jasmina

(13th)

0:15
+0:01

+11%

5.
Shepherd Jo

(9th)

0:16

+0:02

0%

6.
Hanauer Florence

(10th)

0:16

+0:02

+4%

7.
Hagstrom Sara

(1st)

0:17

+0:03

-12%

8.
Kosova Denisa

(2nd)

0:17

+0:03

-7%

9.
Steiwer Kamilla

(6th)

0:17

+0:03

-10%

10.
Ryabkina Tatiana

(6th)

0:18

+0:04

-8%

12.
Gardonyi Csilla

(8th)

0:19

+0:05

-7%

16.
Nieke Patricia

(12th)

0:20
+0:06

-10%

19.
Hauswirth Sabine

(4th)

0:23

+0:09

-28%

21.
Klysner Cecilie Friberg

(17th)

0:24
+0:10

-19%

22.
Weissova Luboslava

(20th)

0:24
+0:10

-12%

W 2 common controls: 9-10 (Total times)

1.
Hagstrom Sara

(1st)

33:49
+0:00
2.
Kosova Denisa

(2nd)

36:38
+2:49
3.
Wisniewska Hanna

(3rd)

37:03
+3:14
4.
Hauswirth Sabine

(4th)

38:00
+4:11
5.
Nymalm Amy

(5th)

39:02
+5:13
6.
Ryabkina Tatiana

(6th)

39:12
+5:23
7.
Steiwer Kamilla

(6th)

39:12
+5:23
8.
Gardonyi Csilla

(8th)

39:57
+6:08
9.
Shepherd Jo

(9th)

40:05
+6:16
10.
Hanauer Florence

(10th)

40:13
+6:24
Women Leg 3
W 3 common controls: S-1
W 3 common controls: S-1 (Legtimes)

1.
Alexandersson Tove

(2nd)

7:19

+0:00

+2%

2.
Benjaminsen Andrine

(3rd)

7:30

+0:11

0%

3.
Knapova Jana

(6th)

7:30

+0:11

+5%

4.
Aebersold Simona

(1st)

7:35

+0:16

-2%

5.
Mironova Svetlana

(4th)

7:42

+0:23

+3%

6.
Carter Davies Megan

(8th)

7:55
+0:36

+6%

7.
Basset Isia

(7th)

8:25
+1:06

-1%

8.
Klemettinen Veera

(11th)

8:32
+1:13

+1%

9.
Loesch Susen

(8th)

8:32
+1:13

-3%

10.
Hornik Aleksandra

(5th)

8:38
+1:19

-7%

12.
Oedum Miri Thrane

(10th)

9:08
+1:49

-7%

W 3 common controls: S-1 (Total times)

1.
Alexandersson Tove

(2nd)

7:19
+0:00
2.
Benjaminsen Andrine

(3rd)

7:30
+0:11
3.
Knapova Jana

(6th)

7:30
+0:11
4.
Aebersold Simona

(1st)

7:35
+0:16
5.
Mironova Svetlana

(4th)

7:42
+0:23
6.
Carter Davies Megan

(8th)

7:55
+0:36
7.
Basset Isia

(7th)

8:25
+1:06
8.
Klemettinen Veera

(11th)

8:32
+1:13
9.
Loesch Susen

(8th)

8:32
+1:13
10.
Hornik Aleksandra

(5th)

8:38
+1:19
12.
Oedum Miri Thrane

(10th)

9:08
+1:49
W 3 common controls: 1-2
W 3 common controls: 1-2 (Legtimes)

1.
Alexandersson Tove

(2nd)

0:31

+0:00

0%

2.
Carter Davies Megan

(8th)

0:31

+0:00

+12%

3.
Klemettinen Veera

(11th)

0:31
+0:00

+14%

4.
Hornik Aleksandra

(5th)

0:31

+0:00

+6%

5.
Benjaminsen Andrine

(3rd)

0:32

+0:01

-2%

6.
Basset Isia

(7th)

0:33

+0:02

+4%

7.
Oedum Miri Thrane

(10th)

0:33

+0:02

+5%

8.
Postelniak Olena

(13th)

0:33
+0:02

+11%

9.
Loesch Susen

(8th)

0:34

+0:03

0%

10.
Ramstein Laura

(12th)

0:34
+0:03

+6%

11.
Mironova Svetlana

(4th)

0:35

+0:04

-5%

13.
Knapova Jana

(6th)

0:37

+0:06

-10%

14.
Aebersold Simona

(1st)

0:38

+0:07

-19%

24.
Haug Marianne

(17th)

2:44
+2:13

-59%

W 3 common controls: 1-2 (Total times)

1.
Alexandersson Tove

(2nd)

7:50
+0:00
2.
Benjaminsen Andrine

(3rd)

8:02
+0:12
3.
Knapova Jana

(6th)

8:07
+0:17
4.
Aebersold Simona

(1st)

8:13
+0:23
5.
Mironova Svetlana

(4th)

8:17
+0:27
6.
Carter Davies Megan

(8th)

8:26
+0:36
7.
Basset Isia

(7th)

8:58
+1:08
8.
Klemettinen Veera

(11th)

9:03
+1:13
9.
Loesch Susen

(8th)

9:06
+1:16
10.
Hornik Aleksandra

(5th)

9:09
+1:19
12.
Oedum Miri Thrane

(10th)

9:41
+1:51
W 3 common controls: 2-3
W 3 common controls: 2-3 (Legtimes)

1.
Alexandersson Tove

(2nd)

4:28

+0:00

+9%

2.
Aebersold Simona

(1st)

4:44

+0:16

+2%

3.
Benjaminsen Andrine

(3rd)

4:59
+0:31

-1%

4.
Mironova Svetlana

(4th)

5:04
+0:36

+2%

5.
Klemettinen Veera

(11th)

5:17
+0:49

+6%

6.
Hornik Aleksandra

(5th)

5:18
+0:50

-1%

7.
Basset Isia

(7th)

5:21
+0:53

+1%

8.
Sarkozy Zsofia

(15th)

5:24
+0:56

+10%

9.
Postelniak Olena

(13th)

5:30
+1:02

+6%

10.
Ramstein Laura

(12th)

5:31
+1:03

+3%

11.
Carter Davies Megan

(8th)

5:52
+1:24

-4%

12.
Oedum Miri Thrane

(10th)

5:58
+1:30

-6%

13.
Loesch Susen

(8th)

6:06
+1:38

-11%

17.
Knapova Jana

(6th)

7:23
+2:55

-28%

19.
Pozzebon Irene

(20th)

8:17
+3:49

-11%

20.
Rutkauskaite Kaste

(18th)

9:04
+4:36

-18%

21.
Sillien Marine

(19th)

9:09
+4:41

-17%

W 3 common controls: 2-3 (Total times)

1.
Alexandersson Tove

(2nd)

12:18
+0:00
2.
Aebersold Simona

(1st)

12:57
+0:39
3.
Benjaminsen Andrine

(3rd)

13:01
+0:43
4.
Mironova Svetlana

(4th)

13:21
+1:03
5.
Carter Davies Megan

(8th)

14:18
+2:00
6.
Basset Isia

(7th)

14:19
+2:01
7.
Klemettinen Veera

(11th)

14:20
+2:02
8.
Hornik Aleksandra

(5th)

14:27
+2:09
9.
Sarkozy Zsofia

(15th)

15:03
+2:45
10.
Loesch Susen

(8th)

15:12
+2:54
13.
Knapova Jana

(6th)

15:30
+3:12
14.
Oedum Miri Thrane

(10th)

15:39
+3:21
W 3 common controls: 3-4
W 3 common controls: 3-4 (Legtimes)

1.
Aebersold Simona

(1st)

7:05

+0:00

+5%

2.
Alexandersson Tove

(2nd)

7:16

+0:11

+3%

3.
Carter Davies Megan

(8th)

7:45
+0:40

+9%

4.
Hornik Aleksandra

(5th)

7:45
+0:40

+3%

5.
Knapova Jana

(6th)

7:50
+0:45

+1%

6.
Mironova Svetlana

(4th)

8:12
+1:07

-2%

7.
Benjaminsen Andrine

(3rd)

8:15
+1:10

-8%

8.
Oedum Miri Thrane

(10th)

8:29
+1:24

0%

9.
Loesch Susen

(8th)

8:38
+1:33

-4%

10.
Basset Isia

(7th)

8:55
+1:50

-5%

21.
Pozzebon Irene

(20th)

12:39
+5:34

-10%

W 3 common controls: 3-4 (Total times)

1.
Alexandersson Tove

(2nd)

19:34
+0:00
2.
Aebersold Simona

(1st)

20:02
+0:28
3.
Benjaminsen Andrine

(3rd)

21:16
+1:42
4.
Mironova Svetlana

(4th)

21:33
+1:59
5.
Carter Davies Megan

(8th)

22:03
+2:29
6.
Hornik Aleksandra

(5th)

22:12
+2:38
7.
Basset Isia

(7th)

23:14
+3:40
8.
Knapova Jana

(6th)

23:20
+3:46
9.
Klemettinen Veera

(11th)

23:37
+4:03
10.
Loesch Susen

(8th)

23:50
+4:16
11.
Oedum Miri Thrane

(10th)

24:08
+4:34
W 3 common controls: 4-5
W 3 common controls: 4-5 (Legtimes)

1.
Aebersold Simona

(1st)

1:04

+0:00

+7%

2.
Benjaminsen Andrine

(3rd)

1:06

+0:02

+6%

3.
Knapova Jana

(6th)

1:13

+0:09

0%

4.
Loesch Susen

(8th)

1:13

+0:09

+4%

5.
Mironova Svetlana

(4th)

1:14

+0:10

0%

6.
Basset Isia

(7th)

1:14

+0:10

+4%

7.
Carter Davies Megan

(8th)

1:19

+0:15

0%

8.
Hornik Aleksandra

(5th)

1:19

+0:15

-5%

9.
Alexandersson Tove

(2nd)

1:21

+0:17

-14%

10.
Klemettinen Veera

(11th)

1:21
+0:17

0%

12.
Oedum Miri Thrane

(10th)

1:23

+0:19

-4%

18.
Sarkozy Zsofia

(15th)

1:42
+0:38

-12%

20.
Pozzebon Irene

(20th)

1:57
+0:53

-10%

21.
Sillien Marine

(19th)

1:58
+0:54

-11%

23.
Ivanova Kristina

(16th)

2:15
+1:11

-23%

W 3 common controls: 4-5 (Total times)

1.
Alexandersson Tove

(2nd)

20:55
+0:00
2.
Aebersold Simona

(1st)

21:06
+0:11
3.
Benjaminsen Andrine

(3rd)

22:22
+1:27
4.
Mironova Svetlana

(4th)

22:47
+1:52
5.
Carter Davies Megan

(8th)

23:22
+2:27
6.
Hornik Aleksandra

(5th)

23:31
+2:36
7.
Basset Isia

(7th)

24:28
+3:33
8.
Knapova Jana

(6th)

24:33
+3:38
9.
Klemettinen Veera

(11th)

24:58
+4:03
10.
Loesch Susen

(8th)

25:03
+4:08
11.
Oedum Miri Thrane

(10th)

25:31
+4:36
W 3 common controls: 5-6
W 3 common controls: 5-6 (Legtimes)

1.
Aebersold Simona

(1st)

4:10

+0:00

+10%

2.
Oedum Miri Thrane

(10th)

4:43
+0:33

+9%

3.
Alexandersson Tove

(2nd)

4:49
+0:39

-3%

4.
Grosberga Sandra

(14th)

4:50
+0:40

+17%

5.
Benjaminsen Andrine

(3rd)

4:53
+0:43

-4%

6.
Hornik Aleksandra

(5th)

4:54
+0:44

+1%

7.
Mironova Svetlana

(4th)

5:04
+0:54

-2%

8.
Loesch Susen

(8th)

5:07
+0:57

0%

9.
Haug Marianne

(17th)

5:10
+1:00

+12%

10.
Basset Isia

(7th)

5:11
+1:01

0%

12.
Knapova Jana

(6th)

5:32
+1:22

-10%

21.
Carter Davies Megan

(8th)

6:43
+2:33

-19%

W 3 common controls: 5-6 (Total times)

1.
Aebersold Simona

(1st)

25:16
+0:00
2.
Alexandersson Tove

(2nd)

25:44
+0:28
3.
Benjaminsen Andrine

(3rd)

27:15
+1:59
4.
Mironova Svetlana

(4th)

27:51
+2:35
5.
Hornik Aleksandra

(5th)

28:25
+3:09
6.
Basset Isia

(7th)

29:39
+4:23
7.
Carter Davies Megan

(8th)

30:05
+4:49
8.
Knapova Jana

(6th)

30:05
+4:49
9.
Loesch Susen

(8th)

30:10
+4:54
10.
Oedum Miri Thrane

(10th)

30:14
+4:58
W 3 common controls: 6-7
W 3 common controls: 6-7 (Legtimes)

1.
Alexandersson Tove

(2nd)

1:18

+0:00

+8%

2.
Aebersold Simona

(1st)

1:24

+0:06

0%

3.
Benjaminsen Andrine

(3rd)

1:27

+0:09

-1%

4.
Carter Davies Megan

(8th)

1:28

+0:10

+8%

5.
Hornik Aleksandra

(5th)

1:30

+0:12

0%

6.
Knapova Jana

(6th)

1:30

+0:12

0%

7.
Loesch Susen

(8th)

1:31

+0:13

+2%

8.
Oedum Miri Thrane

(10th)

1:32

+0:14

+3%

9.
Basset Isia

(7th)

1:34

+0:16

0%

10.
Sedilekova Ela

(21st)

1:34
+0:16

+16%

11.
Mironova Svetlana

(4th)

1:36

+0:18

-5%

W 3 common controls: 6-7 (Total times)

1.
Aebersold Simona

(1st)

26:40
+0:00
2.
Alexandersson Tove

(2nd)

27:02
+0:22
3.
Benjaminsen Andrine

(3rd)

28:42
+2:02
4.
Mironova Svetlana

(4th)

29:27
+2:47
5.
Hornik Aleksandra

(5th)

29:55
+3:15
6.
Basset Isia

(7th)

31:13
+4:33
7.
Carter Davies Megan

(8th)

31:33
+4:53
8.
Knapova Jana

(6th)

31:35
+4:55
9.
Loesch Susen

(8th)

31:41
+5:01
10.
Oedum Miri Thrane

(10th)

31:46
+5:06
W 3 common controls: 7-8
W 3 common controls: 7-8 (Legtimes)

1.
Aebersold Simona

(1st)

2:42

+0:00

+2%

2.
Benjaminsen Andrine

(3rd)

2:42

+0:00

+4%

3.
Knapova Jana

(6th)

2:51

+0:09

+3%

4.
Hornik Aleksandra

(5th)

2:53

+0:11

+3%

5.
Alexandersson Tove

(2nd)

2:57

+0:15

-5%

6.
Mironova Svetlana

(4th)

2:58

+0:16

0%

7.
Carter Davies Megan

(8th)

2:58

+0:16

+6%

8.
Oedum Miri Thrane

(10th)

2:58

+0:16

+5%

9.
Basset Isia

(7th)

3:07

+0:25

0%

10.
Klemettinen Veera

(11th)

3:09
+0:27

+3%

17.
Loesch Susen

(8th)

3:43
+1:01

-16%

19.
Sarkozy Zsofia

(15th)

4:00
+1:18

-10%

24.
Pozzebon Irene

(20th)

7:29
+4:47

-33%

W 3 common controls: 7-8 (Total times)

1.
Aebersold Simona

(1st)

29:22
+0:00
2.
Alexandersson Tove

(2nd)

29:59
+0:37
3.
Benjaminsen Andrine

(3rd)

31:24
+2:02
4.
Mironova Svetlana

(4th)

32:25
+3:03
5.
Hornik Aleksandra

(5th)

32:48
+3:26
6.
Basset Isia

(7th)

34:20
+4:58
7.
Knapova Jana

(6th)

34:26
+5:04
8.
Carter Davies Megan

(8th)

34:31
+5:09
9.
Oedum Miri Thrane

(10th)

34:44
+5:22
10.
Loesch Susen

(8th)

35:24
+6:02
W 3 common controls: 8-9
W 3 common controls: 8-9 (Legtimes)

1.
Benjaminsen Andrine

(3rd)

1:42

+0:00

+6%

2.
Alexandersson Tove

(2nd)

1:47

+0:05

0%

3.
Mironova Svetlana

(4th)

1:47

+0:05

+6%

4.
Loesch Susen

(8th)

1:53

+0:11

+4%

5.
Aebersold Simona

(1st)

1:54

+0:12

-6%

6.
Knapova Jana

(6th)

1:54

+0:12

0%

7.
Basset Isia

(7th)

1:59

+0:17

0%

8.
Ramstein Laura

(12th)

2:02
+0:20

+3%

9.
Oedum Miri Thrane

(10th)

2:04

+0:22

-1%

10.
Postelniak Olena

(13th)

2:05
+0:23

+3%

11.
Carter Davies Megan

(8th)

2:07

+0:25

-3%

13.
Hornik Aleksandra

(5th)

2:10
+0:28

-10%

21.
Grosberga Sandra

(14th)

2:39
+0:57

-10%

W 3 common controls: 8-9 (Total times)

1.
Aebersold Simona

(1st)

31:16
+0:00
2.
Alexandersson Tove

(2nd)

31:46
+0:30
3.
Benjaminsen Andrine

(3rd)

33:06
+1:50
4.
Mironova Svetlana

(4th)

34:12
+2:56
5.
Hornik Aleksandra

(5th)

34:58
+3:42
6.
Basset Isia

(7th)

36:19
+5:03
7.
Knapova Jana

(6th)

36:20
+5:04
8.
Carter Davies Megan

(8th)

36:38
+5:22
9.
Oedum Miri Thrane

(10th)

36:48
+5:32
10.
Loesch Susen

(8th)

37:17
+6:01
W 3 common controls: 9-10
W 3 common controls: 9-10 (Legtimes)

1.
Benjaminsen Andrine

(3rd)

1:16

+0:00

+12%

2.
Knapova Jana

(6th)

1:23

+0:07

+8%

3.
Mironova Svetlana

(4th)

1:24

+0:08

+7%

4.
Loesch Susen

(8th)

1:28

+0:12

+5%

5.
Ramstein Laura

(12th)

1:29
+0:13

+10%

6.
Aebersold Simona

(1st)

1:39

+0:23

-15%

7.
Grosberga Sandra

(14th)

1:43
+0:27

+4%

8.
Basset Isia

(7th)

1:47
+0:31

-10%

9.
Pozzebon Irene

(20th)

1:51
+0:35

+6%

10.
Postelniak Olena

(13th)

1:52
+0:36

-6%

11.
Carter Davies Megan

(8th)

1:55
+0:39

-14%

12.
Klemettinen Veera

(11th)

1:59
+0:43

-14%

14.
Hornik Aleksandra

(5th)

2:06
+0:50

-26%

15.
Haug Marianne

(17th)

2:06
+0:50

-10%

16.
Alexandersson Tove

(2nd)

2:11
+0:55

-35%

17.
Oedum Miri Thrane

(10th)

2:27
+1:11

-31%

18.
Sarkozy Zsofia

(15th)

2:29
+1:13

-23%

21.
Sillien Marine

(19th)

3:23
+2:07

-28%

22.
Rutkauskaite Kaste

(18th)

3:24
+2:08

-30%

W 3 common controls: 9-10 (Total times)

1.
Aebersold Simona

(1st)

32:55
+0:00
2.
Alexandersson Tove

(2nd)

33:57
+1:02
3.
Benjaminsen Andrine

(3rd)

34:22
+1:27
4.
Mironova Svetlana

(4th)

35:36
+2:41
5.
Hornik Aleksandra

(5th)

37:04
+4:09
6.
Knapova Jana

(6th)

37:43
+4:48
7.
Basset Isia

(7th)

38:06
+5:11
8.
Carter Davies Megan

(8th)

38:33
+5:38
9.
Loesch Susen

(8th)

38:45
+5:50
10.
Oedum Miri Thrane

(10th)

39:15
+6:20
W 3 common controls: 10-11
W 3 common controls: 10-11 (Legtimes)

1.
Loesch Susen

(8th)

0:14

+0:00

+22%

2.
Benjaminsen Andrine

(3rd)

0:16

+0:02

0%

3.
Oedum Miri Thrane

(10th)

0:16

+0:02

+10%

4.
Aebersold Simona

(1st)

0:17

+0:03

-7%

5.
Hornik Aleksandra

(5th)

0:17

+0:03

0%

6.
Haug Marianne

(17th)

0:17
+0:03

+16%

7.
Rutkauskaite Kaste

(18th)

0:17
+0:03

+21%

8.
Sillien Marine

(19th)

0:17
+0:03

+23%

9.
Alexandersson Tove

(2nd)

0:18

+0:04

-11%

10.
Basset Isia

(7th)

0:18

+0:04

-1%

11.
Knapova Jana

(6th)

0:19

+0:05

-11%

12.
Mironova Svetlana

(4th)

0:20

+0:06

-14%

18.
Carter Davies Megan

(8th)

0:23

+0:09

-19%

20.
Postelniak Olena

(13th)

0:25
+0:11

-19%

22.
Grosberga Sandra

(14th)

0:27
+0:13

-19%

W 3 common controls: 10-11 (Total times)

1.
Aebersold Simona

(1st)

33:12
+0:00
2.
Alexandersson Tove

(2nd)

34:15
+1:03
3.
Benjaminsen Andrine

(3rd)

34:38
+1:26
4.
Mironova Svetlana

(4th)

35:56
+2:44
5.
Hornik Aleksandra

(5th)

37:21
+4:09
6.
Knapova Jana

(6th)

38:02
+4:50
7.
Basset Isia

(7th)

38:24
+5:12
8.
Carter Davies Megan

(8th)

38:56
+5:44
9.
Loesch Susen

(8th)

38:59
+5:47
10.
Oedum Miri Thrane

(10th)

39:31
+6:19