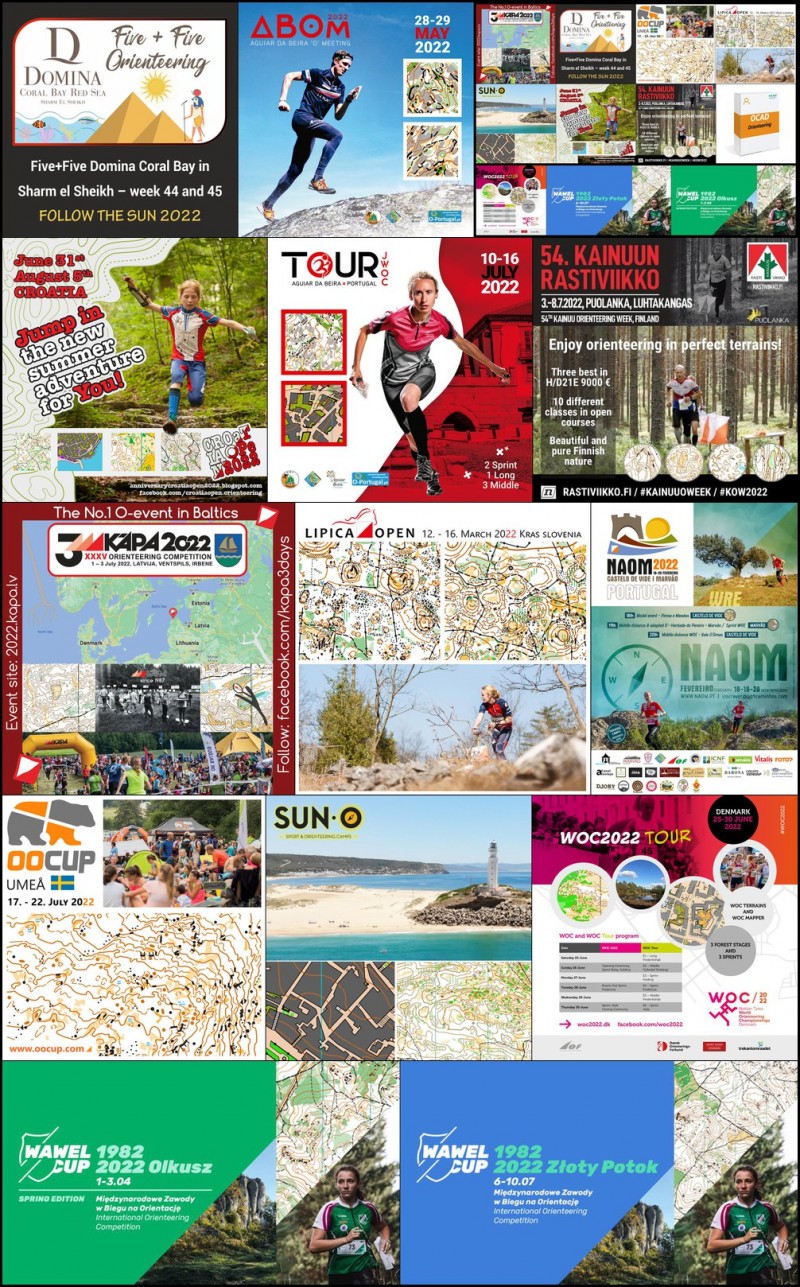 New Year's Gift: Check here if you are one of the 24 winners of the prizes worth more than 6000 Euros in total in your voting or nomination for "The Orienteering Course of 2021″! 
To all winners: Please try to bring as many friends as possible to the event you won a prize for – that will make the sponsors happy! Big thanks go to all voters and to the event sponsors.
Thanks again to all sponsors, course-setters, voters and especially to those nominating courses!
For each sponsor, the winner of event prizes are written in red below. All winners will receive an e-mail with information about how to claim the prize to the e-mail address given. If you are listed as a winner and do not receive an e-mail – please contact me at jan@kocbach.net.
Prizes from our Sponsors
Prizes from our Sponsors always makes it more fun! There will be a prize for the first one suggesting the course which ends up becoming "The course of the Year 2021″, and prizes drawn among the ones suggesting and voting. All prizes are transferable to other persons (you don't have to travel yourself). Note that in those cases where prizes are race entries, the race organizers may decide to withdraw prizes or transfer prizes to another competition/year if races are canceled due to COVID-19.
Event sponsor: 5 Days PWT Italia – Domina Coral Bay  – Sharm El Sheikh – Week 44, 2022
Prize offered: Competition and hotel package for two persons: Entry for two  person at the 5 Days PWT Italia Domina Coral Bay in Sharm El Sheikh, including accommodation. Value about 1.140 EUR. Transferrable to other persons.
You are welcome to Domina Coral Bay in Sharm El Sheikh! A great week of orienteering in the hearth of the Sinai desert; enjoy free diving in the coral reef, orienteering stages in the desert, tricky sprint courses in Domina's bazar, and the warm Egyptian hospitality. Follow the Sun! Read more on www.orienteering.it and www.facebook.com/PWTOrienteering
Winner: Tamas Barany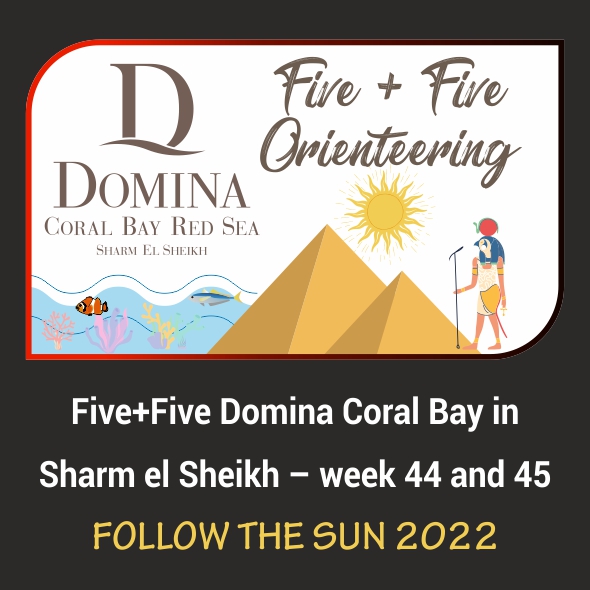 Event sponsor: 
54th Kainuu Orienteering Week (KOW), July 3rd-8th 2022 (Finland)
Prize offered: 4 packages, each consisting of 2 free participations for the whole week in any class (competition classes or open courses) at Kainuu Orienteering Week 2022. Total value up to 800 EUR. Transferable to other persons.
More information: Kainuu Orienteering Week is the Finlands's biggest orienteering week and the world's second oldest orienteering week, as it has been held annually since the year 1966. Kainuu O-Week is held in the Kainuu region of Finland and traditionally the event is held in the beginning of July the week 27. In 2022 the event will be held in Puolanka and Luhtakangas competition area. We offer perfect pine forest terrain of Luhtakangas and challenging Äikänvaara hill area with magnificent sceneries! NEW IN 2022! The 1st official Kainuu MTB-O Week 3.-8.7.2022 in Puolanka. Come and enjoy the best MTB-O terrains and great landscapes of Kainuu. The following entry steps are: 28th Feb 2022 / 31st May 2022 / 13th June 2022. For more information see www.rastiviikko.fi.
Winner: Kamil Pipek, Tatiana Sbor, Stanislav Vnuk, Elena Valverde

Event sponsor: JWOC TOUR 2022 (spectators' race). July 10th– 16th (Portugal)
Prize offered: JWOC TOUR (spectators' races): 3 Competition packages for 2 persons each including: full entries to the event (2 Sprint, 1 Long distance and 3 Middle distance), official JWOC t-shirt (offered by SIGN SPORT), 2 training maps and free access to the camping site. Value about 840 EUR. Transferable to other persons.
Description: Travel to Aguiar da Beira for cheering the World's best Juniors and join our spectators' race (JWOC TOUR). From the 6 stages, 5 will take place on the very same competitions maps used by JWOC runners. Amazing terrain, tasty gastronomy and wonderful landscapes are waiting for you. Come and build with us a stunning and breathtaking atmosphere during Junior World Orienteering Championships week. We need your help to record this competition in athletes' memories forever! More info about JWOC TOUR 2022 at: https://tour.jwoc2022.pt/. If you want to have a training camp in Aguiar da Beira, check out our official training partner at: https://www.o-portugal.pt/jwoc2022
Winner: Maris Baltins, Alberto Millan and Yaé Nicole Desmau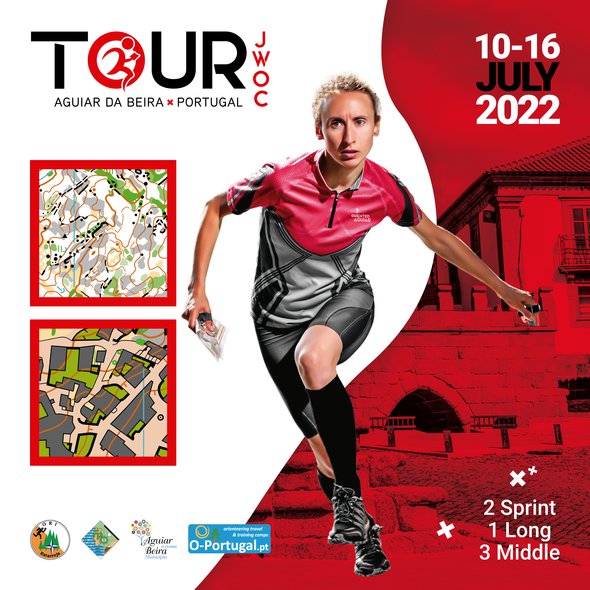 Event sponsor: Aguiar da Beira "O" Meeting 2022 (JWOC test races) – May 28th– 29th  (Portugal)
Prize offered: Aguiar da Beira "O" Meeting 2022 (JWOC test races) Competition Package for 2 persons including: full entries to the event (Model Event, Long distance and Middle distance WRE), 6 night accommodation with breakfast and access to the JWOC 2022 Official Training Camp 2 (consisting on 9 training maps, including two sessions with SPORTident). Value about 600 EUR. Transferable to other persons.
Description: After the huge success of Orienteering in the County of Aguiar da Beira since 2014, we took a step forward and will organize Junior World Orienteering Championships 2022. ABOM 2022 is the place to be if you were born in 2002 or later, as this will work as JWOC test races. Very relevant terrain and map making is waiting for you! More info about ABOM 2022 at: http://abom2022.ori-estarreja.pt. If you want to have a training camp in Aguiar da Beira, check out our official training partner O-Portugal.pt at: https://www.o-portugal.pt/jwoc2022/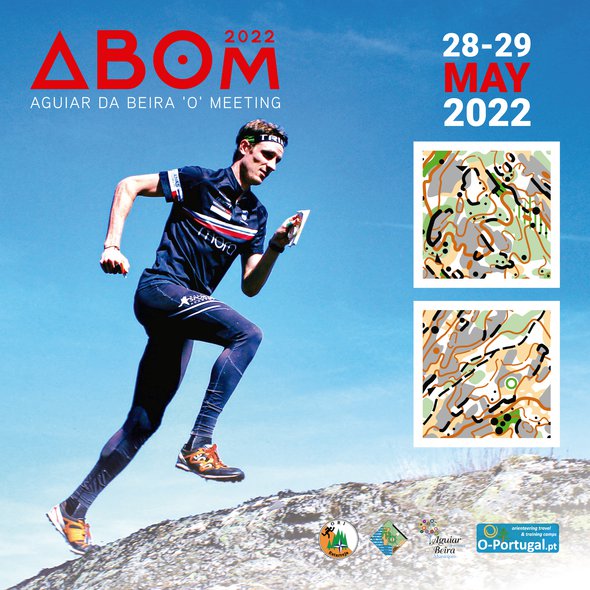 Event sponsor: WOC 2022 spectator races – June 25th – 30th (Denmark)
Prize offered: 2 packages, each consisting of Entry fee for 2 people for all six WOC Tour races. Total value 450+ EUR. Transferable to other persons.
We welcome you to the first ever Sprint WOC, which will take place in the Triangle Area of Denmark. As a spectator, we invite you to cheer at the WOC arenas and compete in the WOC Tour public race yourself. The Tour consists of six high quality races: three sprint races on the same maps used for the WOC competitions and three forest races in challenging terrains and on maps drawn by the WOC mapper.
Be a tourist too. Take the children to Legoland or visit Southern Jutland's fantastic UNESCO sites or beautiful beaches. Or you may stay a bit longer and watch the Tour de France depart from Vejle on July 3rd.
For more information, please visit www.woc2022.dk
Winner: Terje Wiig Mathisen, Garnt Swinkels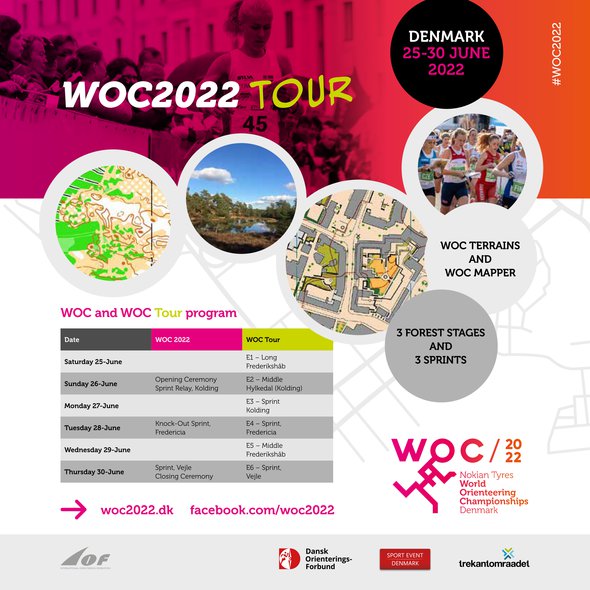 Event sponsor: OOCup – July 17th – 21st 2022
Prize offered: 2 packages – each for 2 people – consisting of: Entry for the complete 5 days OOCup competition. Total value up to 400 EUR. Transferable to other persons.
In 2022 OOcup goes Nordic. So far OOcup has been all about karst, but in 2022 it's time for full Nordic experience. The five stages of OOcup/2022 will take place in the finest terrain that can be found around Umeå in Västerbotten county, Sweden. We feel privileged and thrilled to have a chance to organize OOcup in these areas and to bring YOU here! It is going to be GREAT! More at oocup.com
Winner: "Joris", Sophie Kraus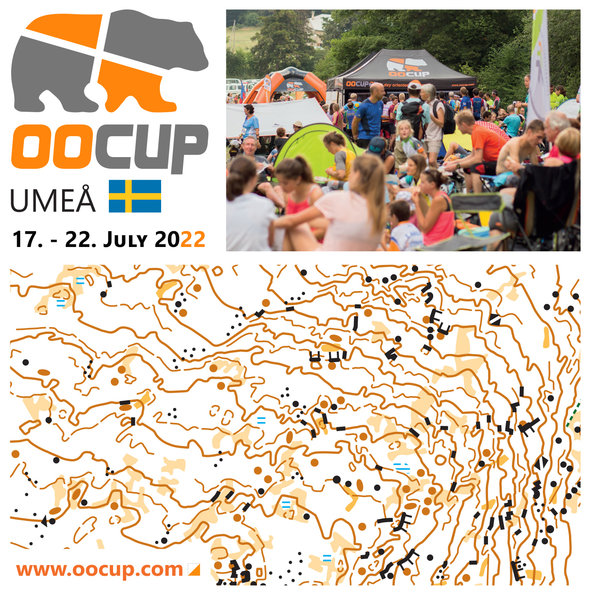 Event sponsor: Croatia Open 2022 – July 31st – August 5th 2022 (Croatia)
Prize offered: 2 packages, each consisting of Entry fee for 2 people + gift from the organizers . Total value about 400 EUR. Transferable to other persons.
The orienteering competition 

Croatia

 Open began in Jastrebarsko in 1997 and since 2000, the members of the orienteering club "Ris" from Delnice are in charge of the competition. Over the years, we have tried to show you all the beauties of the green karst that abounds the forests of Gorski Kotar and also challenging locations in the coastal region and on the Island of Krk that give this competition a taste of the Mediterranean. Through the combination of mountains and sea, we have become one of the most desirable orienteering destinations. We offer the opportunity for an active vacation to all orienteers looking for an exciting summer competition and – it's tailored to all generations. In the end, we have no choice but to invite you to our anniversary, the 25th 

Croatia

 Open, which takes place from 31st of July to 5th of August 2022. Let it be the most beautiful part of your summer vacation in 

Croatia

, yet again. Read more here.
Winner:

Pavel

 

Ptáček

, Arne Kristensen

Event sponsor: Sun-O, your training camps in Spain, February 11th-13th 2022++
Prize offered: Accommodation for 2 people at the apartments Playa Barbate (2 nights) and free registration for 2 people at Sun-O Barbate Cup (11th-13th February 2022 in "La Breña" Barbate). Also included two full training packages of the Barbate Sun-O Camp, which consists of 25 challenging trainings to be used whenever you wish. Total value 400 euros

  Enjoy the nice and sunny weather of Andalusia, in the South of Spain, and have a lot of fun in our wonderful terrains and picturesque urban sprints.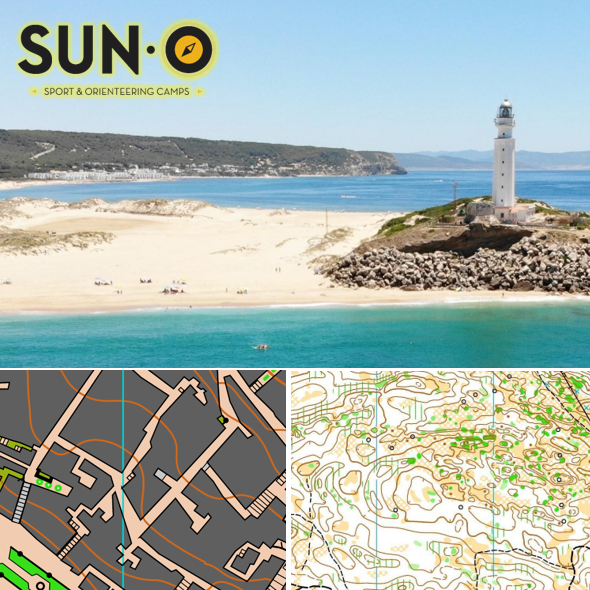 Software sponsor: OCAD Orienteering 3-year license
Prize offered: One 3-year licence for the software "OCAD Orienteering″.  Value about 370 EUR. Transferable to other person (before activation).
More information: OCAD Orienteering – Perfect to Produce Orienteering Maps. This edition is dedicated for orienteering map making with a step-by-step wizard for analyzing of LiDAR data, mobile geodata capturing, smart editing and drawing tools, generalization tools, desktop publishing, course setting and much more. Read more at https://www.ocad.com.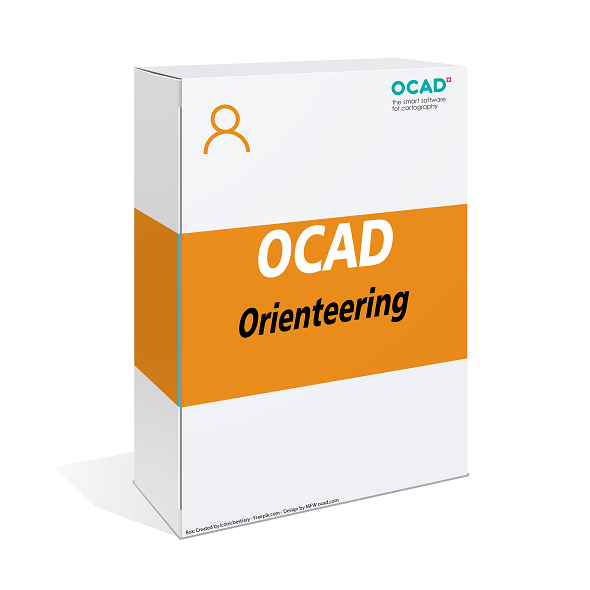 Event sponsor: NAOM 2022. February 18th – 20th 2022
Prize offered:  1 package for 2 people – consisting of 2 nights in hotel with breakfast, entry for NAOM 2022 and two trainings. Value about 280 euro. Transferable to other persons.
Orievents / GD4C's Training Camps "Alto Alentejo" are an excellent training opportunity for Orienteering of good quality during the winter. Start the new season in training camps in Alto Alentejo, Portugal! More at www.naom.pt

Event sponsor: Lipica Open 2022. March 12th – 16th 2022
Prize offered: 2 packages – each for 2 people – consisting of entry to complete 5 Day Lipica Open competition. Value about 260 euro. Transferable to other persons.
Lipica Open is a popular season starter in the Kras region of Slovenia. Enjoy Slovenian karst terrain already in March. Please note that there are good training camp possibilities in SW part of Slovenia and feel free to contact us regarding that at any time. More at www.lipicaopen.com
Winner: Teresa Bugaj, David Procházka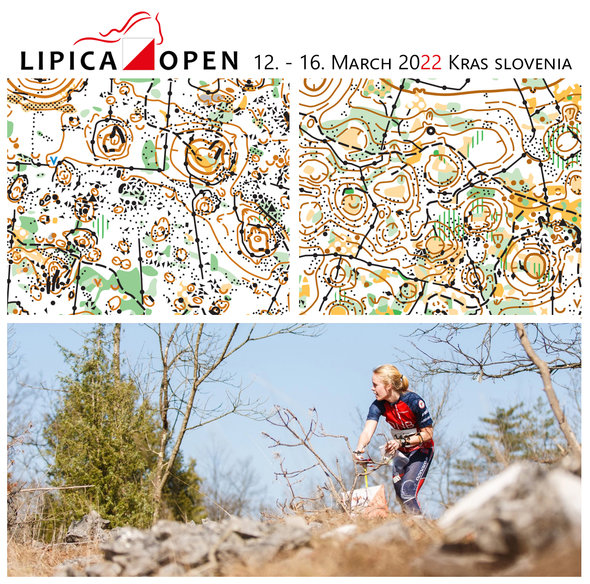 Event sponsor: Kapa 2022 – Jule 1st to 3rd (Latvia)
Prize offered: Two family entry packages to Kapa 3days, where each package includes entry for two adults and one child, space for a tent at the event camping and a car parking voucher. Total value around 250 EUR. Transferable to other person.
More information: Kapa 3-days is the largest orienteering event in Baltics with 2000 participants from around 20 countries. It is a nice, long o-weekend for families – from Friday to Sunday. The best new maps and terrains are available, kindergarten at the event centre, fantastic prizes and great atmosphere, including live music Saturday evening. Just come with your family and enjoy the beautiful forests and beaches of Latvia! This year's event page: 2022.kapa.lv. Facebook page: facebook.com/Kapa3days
Winner: Sandris Lacis, Zane Roze
Event sponsor: Wawel Spring Cup 2022 + CEYOC – April 1st – 3rd 2022 (Poland)
Prize offered: Entry + hard-floor accommodation + training + t-shirt package for 3 people. Value about 240 EUR. Transferable to other persons.

3 days of unforgettable orienteering on Jura (Olkusz, Ogrodzieniec). We will organize sprint distance and two middle races for the beginning of orienteering season in Poland. 

Wawel

 Spring Cup means public races for CEYOC, so you will have a chance to support the best Youths in Central Europe. Training possibilities also will be provided. 

Website – http://wawelcup.pl/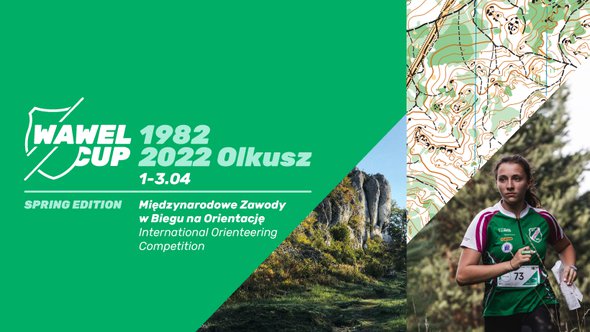 Event sponsor: Wawel Cup 2022 – July 6th – 10th 2022 (Poland)
Prize offered: Entry + hard-floor accommodation + training + t-shirt package for 2 people. Value about 200 EUR. Transferable to other persons.

5 days of unforgettable orienteering on Jura in Poland. Złoty Potok, Olsztyn Castle and Częstochowa will deliver you a lot of emotions and demanding orienteering possibilities. Training will be provided. Together we will create a real celebration of Polish Orienteering! 

Website – http://wawelcup.pl/