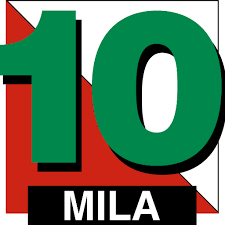 Finally 10Mila again! After two long years without 10Mila, Saturday's  2022 edition of 10Mila marks the real start of the 2022-season for many. Spectators both at home and on the arena in Sweden can expect highly entertaining competitions – read on for all you need to know about the 2022-edition of 10Mila. This year 10Mila is organized in Ånnaboda northwest of Ørebro. 
The start for the men's relay is at 21:30 CET with the winners expected in the finish at 7:20 after around 93 kilometers of orienteering spent on 10 legs. The women start their 5 leg & 36 kilometer relay at 13:15 CET with estimated time for winners to finish at around 17:15 CET. Around 300 teams will start in each relay.
Terrain: Some challenging parts
The old map from the competition area is shown below. The terrain is moderately hilly with mostly good visibility, and the runnability is also mostly quite good. There are however some challenging part were it is important to reduce the speed to find the controls – likely we will see some mistakes here in the night.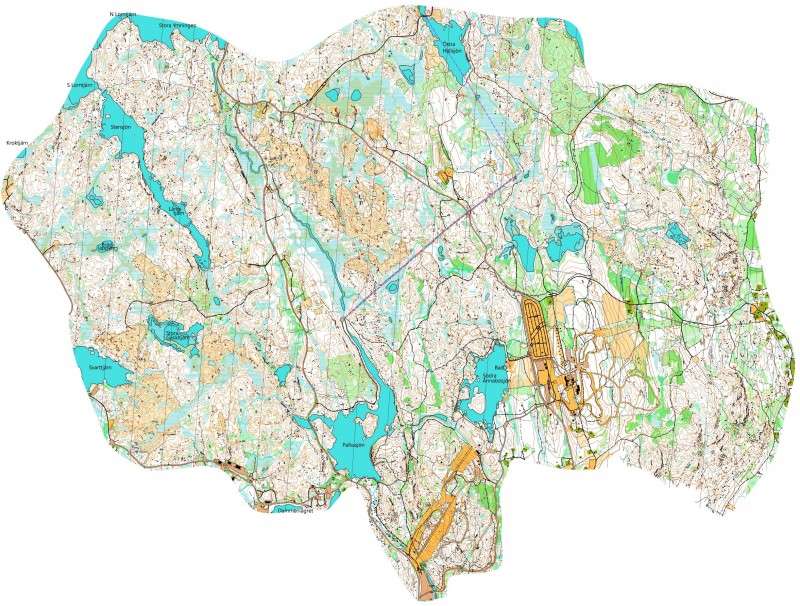 Live services
There are a number of Live services available to follow 10mila 2022. If you have 35 EUR (update: you can also buy a broadcast with ads for 175 SEK) to spend, a combination of webTV and  live results is probably the best way to follow the event. The webTV is broadcasted in two channels – Swedish (Per Forsberg) and English (Boris Granovskiy, Cristina Luis).
Online results  + live webTV (175 SEK version here) + viewer chat will be offered. Update: There have been some problems when buying from IOF, so I would recommend buying from webbtv.10mila.se.
Live GPS tracking will  only be available via Web TV during the event – full tracking is made public after the event. Tracking is planned for all legs in both men's and women's relay.
Useful links:
Check out the highlights from the 2019 10Mila broadcast:
 Men's relay: Many short legs
This year's 10Mila offers many quite short legs – actually 5 of the 10 legs are 7 km or less. Only the unforked 5th leg – "långa natten" – is longer than 15 kilometers – compared to the last edition of 10Mila with the longest leg at 17.8 km. After only featuring one unforked leg in 2019, we are now back to two unforked legs (leg 8 – a day leg – in addition to "långa natten"). The estimated winning time is also more than an hour shorter in this edition. There is still lots of opportunity to make mistakes in the Swedish forest – and typically the shorter night legs will be very decisive. This year we have two short night legs before "långa natten" – the 2nd and 4th leg – both at 7 km. We also have an exciting 6 km leg after "långa natten" – a 6 km leg at night/dawn with middle distance character – we expect some teams to lose significant time there…
Women's relay: Decisive 4th leg
The women's relay is similar to what we saw last time, with one long unforked leg of 9.3 km (compared to 9.8 km in 2019) and the first two legs around 6-7 km with a longer last leg at around 8 km. While we had a very short 4th leg in 2019 (4.1 km), the 4th leg is a bit closer to the other legs this year at 5.3 km. The 4th leg has often been very decisive – will we see the same this year again?

Here is the latest welcome-video from Per Forsberg:
Results 2019 – Men
1
IFK Göteborg Orientering 1
11:03:34
1. Håvard Sandstad Eidsmo
1:17:05
28
+1:15
1:17:05
28
2. Fredrik Edén
1:14:33
23
+6:11
2:31:38
15
-13
3. Jonas Pilblad
39:33
4
+1:05
3:11:11
4
-11
4. Fredrik Bakkman
1:44:11
13
+3:21
4:55:22
1
-3
5. Johan Högstrand
1:05:32
2
+0:24
6:00:54
2
+1
6. Vetle Ruud Bråten
59:32
1
7:00:26
1
-1
7. Jens Wängdahl
53:44
5
+1:43
7:54:10
1
0
8. Kasper Fosser
1:17:21
6
+3:58
9:11:31
1
0
9. Eskil Kinneberg
35:37
8
+1:41
9:47:08
1
0
10. Max Peter Bejmer
1:16:26
6
+3:38
11:03:34
1
0
2
Koovee 1
11:11:22
1. Tim Robertson
1:15:55
4
+0:05
1:15:55
4
2. Topi Anjala
1:16:03
40
+7:41
2:31:58
30
+26
3. Ari-Pekka Lassila
42:28
23
+4:00
3:14:26
19
-11
4. Oleksandr Kratov
1:41:10
3
+0:20
4:55:36
6
-13
5. Jani Lakanen
1:12:39
23
+7:31
6:08:15
13
+7
6. Lauri Sild
1:00:51
2
+1:19
7:09:06
2
-11
7. Joni Hirvikallio
54:09
7
+2:08
8:03:15
4
+2
8. Timo Sild
1:17:23
7
+4:00
9:20:38
2
-2
9. Vojt?ch Sýkora
34:41
2
+0:45
9:55:19
2
0
10. Daniel Hubmann
1:16:03
4
+3:15
11:11:22
2
0
3
Halden SK 1
11:17:13
1. Niels Christian Hellerud
1:17:01
24
+1:11
1:17:01
24
2. Emil Wingstedt
1:14:42
27
+6:20
2:31:43
19
-5
3. Mats Nordbrøden
39:45
8
+1:17
3:11:28
7
-12
4. Riccardo Scalet
1:44:09
12
+3:19
4:55:37
7
0
5. Elias Bäcklund Ekvall
1:12:28
21
+7:20
6:08:05
9
+2
6. Fredrik Eliasson
1:04:57
13
+5:25
7:13:02
9
0
7. Jesse Laukkarinen
55:13
11
+3:12
8:08:15
7
-2
8. Olav Lundanes
1:13:23
1
9:21:38
4
-3
9. Markus Holter
39:18
34
+5:22
10:00:56
4
0
10. Magne Dæhli
1:16:17
5
+3:29
11:17:13
3
-1
4
Kalevan Rasti 1
11:18:22
1. Jan Prochazka
1:17:14
34
+1:24
1:17:14
34
2. Markus Räsänen
1:17:41
61
+9:19
2:34:55
46
+12
3. Santeri Silvennoinen
38:33
2
+0:05
3:13:28
14
-32
4. Jere Pajunen
1:42:13
5
+1:23
4:55:41
9
-5
5. Lauri Nenonen
1:10:48
8
+5:40
6:06:29
3
-6
6. Hannu Airila
1:03:46
11
+4:14
7:10:15
5
+2
7. Graham Gristwood
52:27
3
+0:26
8:02:42
2
-3
8. Pavel Kubat
1:17:58
8
+4:35
9:20:40
3
+1
9. Jan Petrzela
37:27
19
+3:31
9:58:07
3
0
10. Miika Kirmula
1:20:15
17
+7:27
11:18:22
4
+1
5
OK Linné 1
11:18:31
1. Vincent Coupat
1:17:22
42
+1:32
1:17:22
42
2. Jakob Andersson
1:14:32
22
+6:10
2:31:54
25
-17
3. Johan Höij
39:43
7
+1:15
3:11:37
9
-16
4. Rassmus Andersson
1:43:58
10
+3:08
4:55:35
5
-4
5. Lucas Basset
1:11:13
13
+6:05
6:06:48
4
-1
6. Oskar Sjöberg
1:02:52
4
+3:20
7:09:40
3
-1
7. Niklas Aldén
53:03
4
+1:02
8:02:43
3
0
8. Miloš Nykodým
1:22:33
24
+9:10
9:25:16
5
+2
9. Jannis Bonek
36:02
10
+2:06
10:01:18
5
0
10. Albin Ridefelt
1:17:13
8
+4:25
11:18:31
5
0
6
Tyrving IL 1
11:20:18
1. Wojciech Kowalski
1:17:04
26
+1:14
1:17:04
26
2. Bjørn Ekeberg
1:13:14
15
+4:52
2:30:18
9
-17
3. Ivar Lundanes
44:08
36
+5:40
3:14:26
19
+10
4. Duncan Coombs
1:41:17
4
+0:27
4:55:43
12
-7
5. Håkon Jarvis Westergård
1:12:18
18
+7:10
6:08:01
6
-6
6. Olle Boström
1:02:12
3
+2:40
7:10:13
4
-2
7. Anders Tiltnes
55:29
13
+3:28
8:05:42
5
+1
8. Torgeir Nørbech
1:21:45
21
+8:22
9:27:27
7
+2
9. Andreas Kyburz
35:22
6
+1:26
10:02:49
7
0
10. Matthias Kyburz
1:17:29
9
+4:41
11:20:18
6
-1
7
Fredrikstad SK 1
11:20:21
1. Mattias Karlsson
1:16:00
5
+0:10
1:16:00
5
2. Hans Petter Mathisen
1:15:49
36
+7:27
2:31:49
23
+18
3. Christian Riddervold Kahrs
42:39
28
+4:11
3:14:28
21
-2
4. Andreas Höye
1:42:52
9
+2:02
4:57:20
17
-4
5. Göran Winblad
1:10:53
9
+5:45
6:08:13
12
-5
6. Olli-Markus Taivainen
1:03:34
9
+4:02
7:11:47
6
-6
7. Håvard Lucasen
1:00:00
29
+7:59
8:11:47
9
+3
8. Gaute Hallan Steiwer
1:14:54
2
+1:31
9:26:41
6
-3
9. Håvard Wedege
38:41
28
+4:45
10:05:22
11
+5
10. Martin Hubmann
1:14:59
3
+2:11
11:20:21
7
-4
8
Stora Tuna OK 1
11:22:11
1. Viktor Svensk
1:17:19
40
+1:29
1:17:19
40
2. Erik Liljequist
1:14:36
25
+6:14
2:31:55
27
-13
3. William Pommer
39:29
3
+1:01
3:11:24
6
-21
4. Olle Kalered
1:43:59
11
+3:09
4:55:23
2
-4
5. Jesper Svensk
1:15:53
34
+10:45
6:11:16
14
+12
6. Joakim Svensk
1:05:20
16
+5:48
7:16:36
13
-1
7. Henrik Johannesson
52:19
2
+0:18
8:08:55
8
-5
8. Anton Sjökvist
1:18:34
9
+5:11
9:27:29
9
+1
9. Anton Forsberg
37:45
21
+3:49
10:05:14
10
+1
10. Emil Svensk
1:16:57
7
+4:09
11:22:11
8
-2
9
NTNUI 1
11:23:23
1. Olai Stensland Lillevold
1:17:56
47
+2:06
1:17:56
47
2. Rasmus Rørholt Theisen
1:13:48
18
+5:26
2:31:44
20
-27
3. Sindre Østgulen Deisz
41:36
16
+3:08
3:13:20
13
-7
4. Ulrik Astrup Arnesen
1:42:19
7
+1:29
4:55:39
8
-5
5. Elias Thorsdal Mølnvik
1:12:24
19
+7:16
6:08:03
7
-1
6. Håkon Raadal Bjørlo
1:04:02
12
+4:30
7:12:05
7
0
7. Gaute Friestad
59:44
28
+7:43
8:11:49
10
+3
8. Eirik Langedal Breivik
1:16:06
3
+2:43
9:27:55
10
0
9. Vegard Jarvis Westergård
36:36
13
+2:40
10:04:31
9
-1
10. Audun Heimdal
1:18:52
12
+6:04
11:23:23
9
0
10
Södertälje-Nykvarn OF 1
11:26:09
1. Michal Olejnik
1:15:51
2
+0:01
1:15:51
2
2. Kent Ohlsson
1:11:44
10
+3:22
2:27:35
3
+1
3. Joakim Andén
42:33
24
+4:05
3:10:08
1
-2
4. Andreu Blanes Reig
1:45:26
17
+4:36
4:55:34
3
+2
5. Johan Ek-Larsson
1:12:30
22
+7:22
6:08:04
8
+5
6. Jakob Enmark
1:04:57
13
+5:25
7:13:01
8
0
7. Johan Giberg
54:36
8
+2:35
8:07:37
6
-2
8. Eric Börjeskog
1:19:51
14
+6:28
9:27:28
8
+2
9. Mathias Peter
35:20
5
+1:24
10:02:48
6
-2
10. Jonas Leandersson
1:23:21
26
+10:33
11:26:09
10
+4
Results 2019: Women
1
Tampereen Pyrintö 1
3:55:52
1. Lotta Karhola
46:53
7
+0:55
46:53
7
2. Anni-Maija Fincke
41:27
11
+1:18
1:28:20
3
-4
3. Simona Aebersold
1:00:52
1
2:29:12
1
-2
4. Saila Kinni
28:47
2
+0:18
2:57:59
1
0
5. Venla Harju
57:53
29
+7:39
3:55:52
1
0
2
Alfta-Ösa OK 1
3:57:30
1. Irina Nyberg
47:38
12
+1:40
47:38
12
2. Josefine Heikka
42:29
23
+2:20
1:30:07
9
-3
3. Galina Vinogradova
1:02:46
6
+1:54
2:32:53
7
-2
4. Sara Eskilsson
30:58
18
+2:29
3:03:51
7
0
5. Natalia Gemperle
53:39
3
+3:25
3:57:30
2
-5
3
IFK Göteborg Orientering 1
3:58:25
1. Ingjerd Myhre
49:26
19
+3:28
49:26
19
2. Kirsi Nurmi
40:36
3
+0:27
1:30:02
7
-12
3. Miri Thrane Ødum
1:02:30
5
+1:38
2:32:32
5
-2
4. Elin Månsson
30:53
16
+2:24
3:03:25
4
-1
5. Sara Hagström
55:00
13
+4:46
3:58:25
3
-1
4
Fredrikstad SK 1
3:58:34
1. Marianne Riddervold Kahrs
50:51
43
+4:53
50:51
43
2. Marie Olaussen
40:09
1
1:31:00
12
-31
3. Marianne Andersen
1:01:30
3
+0:38
2:32:30
3
-9
4. Heidi Østlid Bagstevold
33:53
48
+5:24
3:06:23
9
+6
5. Kamilla Olaussen
52:11
2
+1:57
3:58:34
4
-5
5
OK Kåre 1
3:58:41
1. Vilma V Von Krusenstierna
49:28
20
+3:30
49:28
20
2. Martina Ruch
41:40
12
+1:31
1:31:08
14
-6
3. Kajsa Risby
1:01:24
2
+0:32
2:32:32
5
-9
4. Jenny Eriksson
31:44
24
+3:15
3:04:16
8
+3
5. Lisa Risby
54:25
8
+4:11
3:58:41
5
-3
6
Koovee 1
3:58:48
1. Evely Kaasiku
46:41
3
+0:43
46:41
3
2. Laura Vike
41:48
15
+1:39
1:28:29
4
+1
3. Miia Niittynen
1:04:58
18
+4:06
2:33:27
9
+5
4. Johanna Hulkkonen
30:16
11
+1:47
3:03:43
6
-3
5. Svetlana Mironova
55:05
15
+4:51
3:58:48
6
0
7
OK Pan-Kristianstad 1
3:59:24
1. Emma Bergman
47:01
8
+1:03
47:01
8
2. Nicole Ljungdahl
41:17
8
+1:08
1:28:18
2
-6
3. Lena Eliasson-Lööf
1:04:35
17
+3:43
2:32:53
7
+5
4. Elin Carlsson
30:43
14
+2:14
3:03:36
5
-2
5. Ursula Kadan
55:48
19
+5:34
3:59:24
7
+2
8
SK Pohjantähti 1
3:59:38
1. Sari Anttonen
45:58
1
45:58
1
2. Sara Niva
43:37
43
+3:28
1:29:35
6
+5
3. Sofia Haajanen
1:02:55
7
+2:03
2:32:30
3
-3
4. Heini Wennman
30:04
8
+1:35
3:02:34
2
-1
5. Anna Haataja
57:04
26
+6:50
3:59:38
8
+6
9
Halden SK 1
4:02:37
1. Kine Hallan Steiwer
51:30
51
+5:32
51:30
51
2. Ida Marie Bjørgul
42:39
28
+2:30
1:34:09
31
-20
3. Sabine Hauswirth
1:06:17
24
+5:25
2:40:26
21
-10
4. Marika Teini
28:29
1
3:08:55
13
-8
5. Elena Roos
53:42
4
+3:28
4:02:37
9
-4
10
OK Tisaren 1
4:02:40
1. Lilian Forsgren
47:13
10
+1:15
47:13
10
2. Ellinor Tjernlund
41:18
10
+1:09
1:28:31
5
-5
3. Josefin Tjernlund
1:01:55
4
+1:03
2:30:26
2
-3
4. Lovisa Persson
32:21
30
+3:52
3:02:47
3
+1
5. Andrea Svensson
59:53
38
+9:39
4:02:40
10
+7