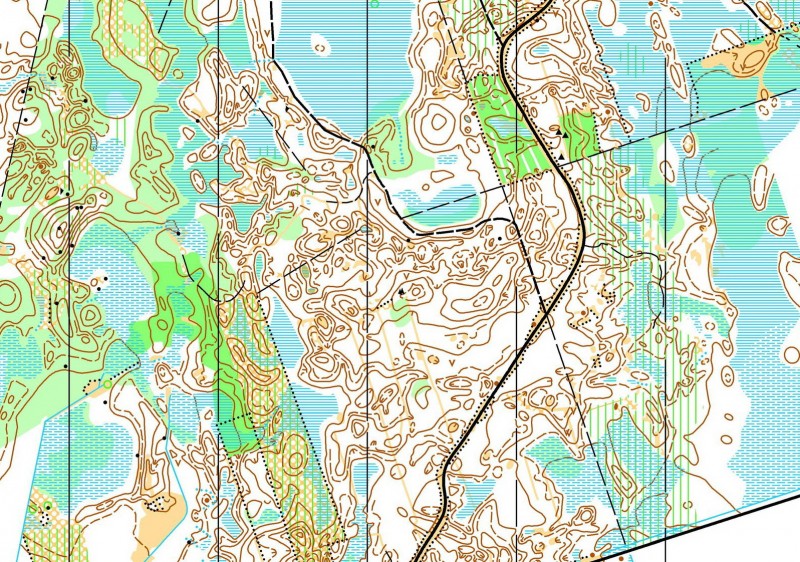 The first ever forest only* European Orienteering Championships (EOC) is organized in Rakvere, Estonia from Wednesday to Sunday this week. The championships starts with Middle Qualification on Wednesday and continues witht Long distance on Thursday, Middle Final on Saturday and Relay on Sunday.
*Edit: The first forest only EOC in modern times. The first two EOCs in 1962 and 1964 were also forest only EOCs.
With most of the important international orienteering races so far this season being organized in urban areas (World Cup and World Championships), this will be the first chance for the forest specialists to show their strength. The EOC is also the second World Cup round of three rounds, with the last round being organized in Switzerland in October (also a forest only round). The races were originally planned for 2020 but had to be cancelled due to the Covid-19 pandemic. The terrain has been kept and the planning is it to a large extent the same.
The terrain in Estonia is quite "bushy" with varied runnability and visibility, with some faster parts. See the analysis from the World Championships in Estonia back in 2017 for what you can expect from Estonian terrain.
Program
Wednesday August 3rd: Middle Qualification

Men: First start 13:00 local time (12:00 CET)
Women: First start 13:01 local time (12:01 CET)
Race finished around 16:00 local time
Thursday August 4th: Long

Men: First start 09:40 local time (08:40 CET). Flower ceremony expected 16:50 local time.
Women: First start 09:30 local time (08:30 CET). Flower ceremony expected 15:22 local time.
Saturday August 6th: Middle Final

Men: First start A-final 13:10 local time (12:10 CET). Flower ceremony expected 14:40 local time.
Women: First start A-final 11:45 local time (10:45 CET). Flower ceremony expected 15:50 local time.
B-final starts after the finish of the A-final.
Sunday August 7th: Relay

Men: Start 12:00 local time (11:00 CET)
Women: Start 10:00 local time (09:00 CET)
Links & how to follow live
Use these links to follow the championships:
Map and terrain
All competition days use different parts of the same terrain. The race venue is around 1 hours drive to the east from the capital Tallin (whereas WOC 2017 was organized in the south of the country). All competitions (Middle Q and F, Long Distance and Relay) will be held at the same Competition Centre (CC) in Põlula, 20 kilometers from Rakvere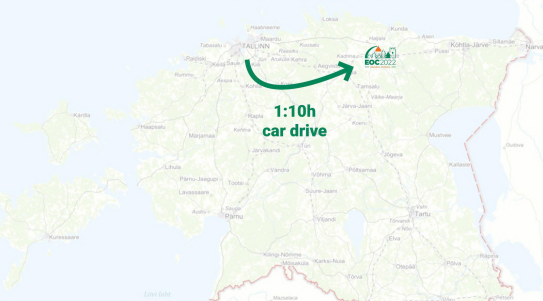 The terrain has many typical moraine features (eskers, kames, drumlins). The height difference on the terrain is around 30 metres and 20 metres on one slope. There are many hillocks and depressions with depths and heights up to 10 metres.
Larger marshes and flat areas are situated around streams and rivers that are on the borders of the terrain. The vegetation is very varied, but most of the terrain is covered by forest. There are a lot of areas with self-sown undergrowth and high grass. Old logging areas can be overgrown. Runnability varies from the spruce forest with good runnability to overgrown logging areas, areas with storm-felled trees and a lot of areas with undergrowth, which all have poor runnability. Visibility varies from good to poor. A regular pattern of forest rides covers the terrain and there are some small roads and tracks. See an old map of part of the terrain below.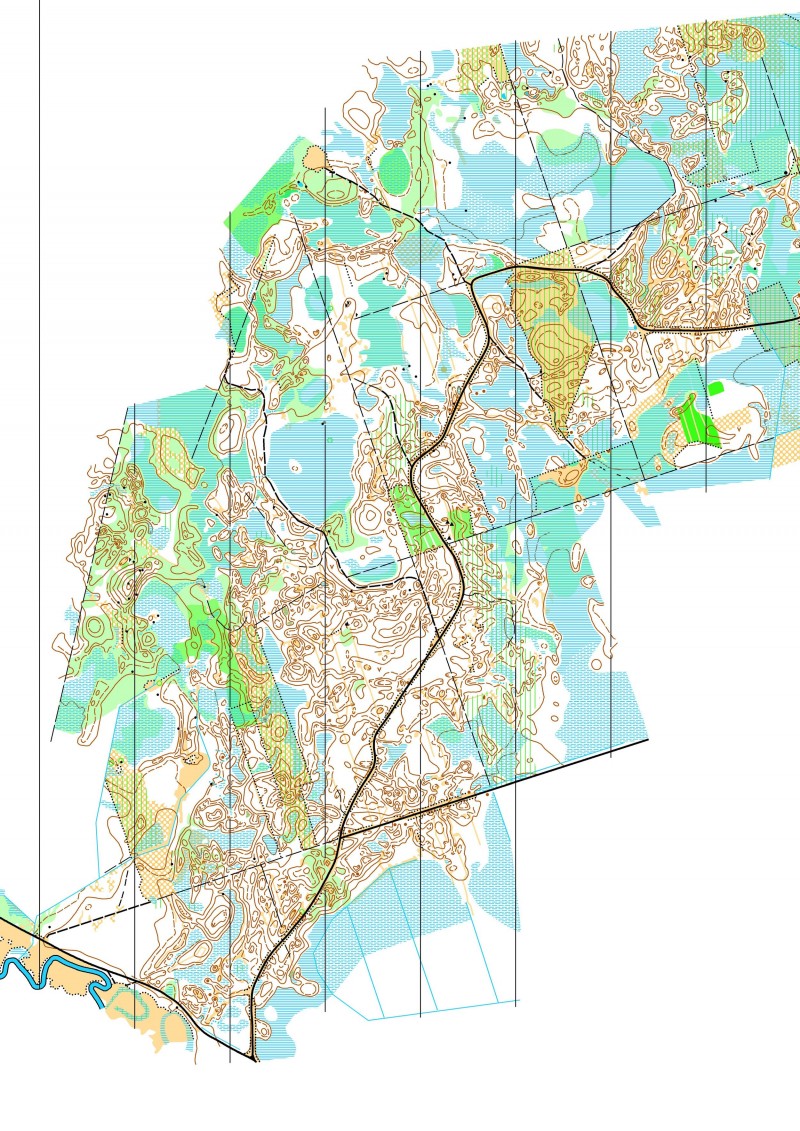 Race details
Middle Qualification
In EOC Middle each Federation shall allocate its competitors to 3 starting groups (early, middle, late) for the qualification race. The number of competitors allocated to each of the 3 groups by a Federation may not differ by more than one (e.g. if a Federation has 7 competitors, they must allo-cate 3 to one group and 2 to the other two). If a Federation fails to allocate its competitors to starting groups, the organiser shall decide the allocation. The starting order within each group will be drawn at random.
The first 20 competitors from each qualification race heat will qualify for the A final.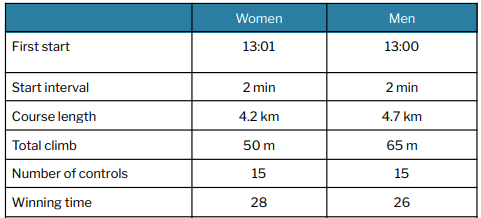 Long
In EOC Long, competitors who have been in the top 3 in the long distance in either of the last 2 WOCs start in starting group 1. This group is made up to 10 with the top-ranked entered runners in the World Ranking. Other competitors who have been in positions 4-6 in the long distance in either of the last 2 WOCs start in starting group 2. This group is made up to 15 with the next top-ranked entered runners in the World Ranking. Subsequent starting groups of 15 (or up to 29 for the final starting group) are filled on the basis of World Ranking positions. They are starting groups 3, 4 etc. If necessary, the order of the runners with the same World Ranking points is determined by lot. Within each group the start order is randomised.The highest numbered starting group starts first and then the others in descending order. Starting group 1 starts last of all. The starting groups for EOC Long will be determined using the World Ranking as of 2 August 2022.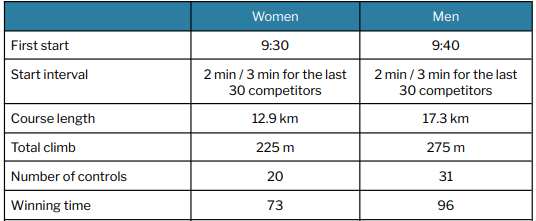 Middle Final
There will be a B-final for competitors who do not qualify for the A-final. No World Cup points are awarded in the B-final but World Ranking points will be awarded according to the scale for a standard World Ranking Event. Competitors who are not placed in the qualification race may start in the B final, starting before all other competitors.

Relay
A Federation may enter 3 teams each consisting of 3 competitors in each class, but only the best-placed team will be placed in the results. Incomplete teams, and teams with runners from more than one Federation are allowed, but are not in-cluded in the official results.
Reigning champions forest races
The last European Championships in forest disciplines was held all the way back in 2018. Reigning World Champions in the forest disciplines from last year in Czech Republic are Kasper Harlem Fosser (Norway) and Tove Alexandersson (Sweden) in long distance and Matthias Kyburz (Switzerland) and Alexandersson in Middle distance.
Long distance WOC 2021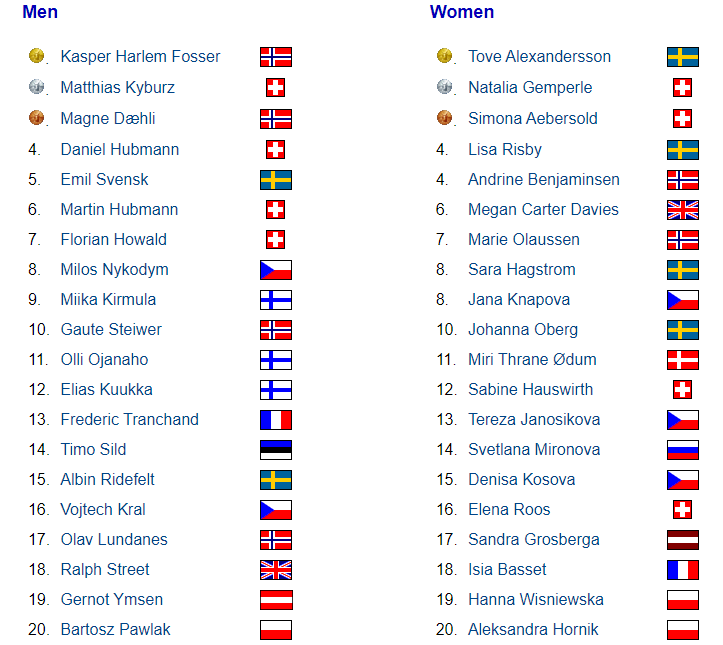 Middle distance WOC 2021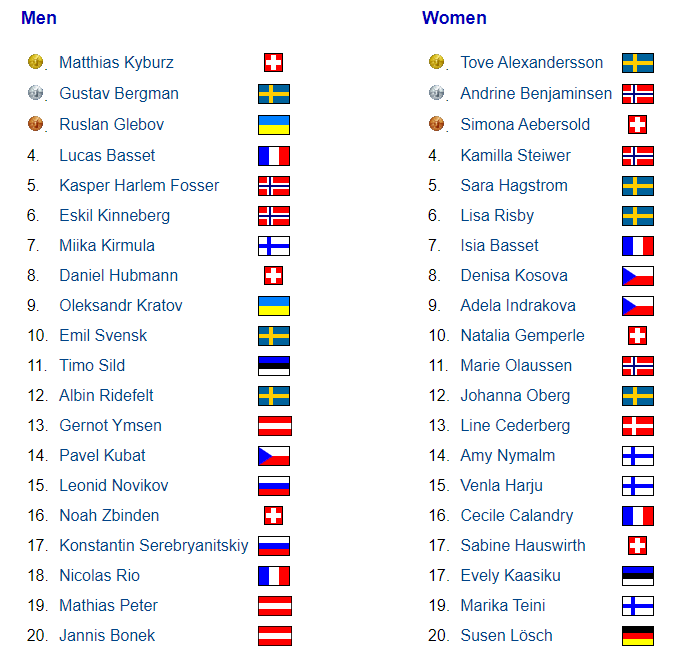 World Cup Standings
See below for the World Cup standings ahead of EOC 2022. See full World Cup standings here (updated after each event).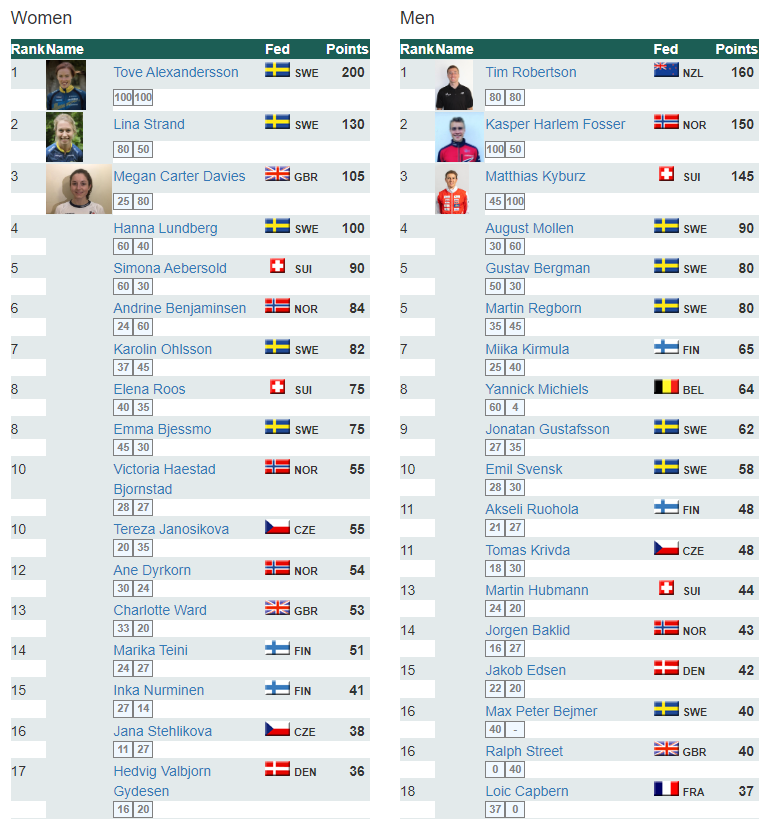 Competitors
Registered competitors are listed by World Ranking position (WRE position) below.
Men
WRE pos
sprint
WRE pos
Name
Country
WRE ID
1
1
Kasper Harlem Fosser
 NOR
23855
10
2
Gustav Bergman
 SWE
7562
3
3
Matthias Kyburz
 SUI
12305
11
5
Daniel Hubmann
 SUI
10849
–
6
Magne Daehli
 NOR
8654
46
7
Ruslan Glibov
 UKR
9910
18
8
Emil Svensk
 SWE
16905
9
9
Joey Hadorn
 SUI
23033
21
11
Miika Kirmula
 FIN
11767
8
12
Martin Regborn
 SWE
15387
5
14
Vojtech Kral
 CZE
12187
353
15
Albin Ridefelt
 SWE
15472
14
16
Florian Howald
 SUI
10810
57
18
Eskil Kinneberg
 NOR
11757
60
19
Gernot Ymsen
 AUT
11671
557
20
Timo Sild
 EST
16283
846
21
Simon Imark
 SWE
22867
54
22
Milos Nykodym
 CZE
14322
19
23
Gaute Steiwer
 NOR
16697
38
24
Isac von Krusenstierna
 SWE
25180
16
27
Max Peter Bejmer
 SWE
7466
1501
28
Oleksandr Kratov
 UKR
12116
523
29
Olli Ojanaho
 FIN
19846
101
30
Topi Syrjalainen
 FIN
24296
86
31
Rudolfs Zernis
 LAT
18506
43
33
Lukas Liland
 NOR
27350
1308
34
Elias Kuukka
 FIN
22101
34
36
Jonas Egger
 SUI
18893
6
37
Ralph Street
 GBR
16782
49
41
Christoph Meier
 SUI
13502
34
43
Robert Merl
 AUT
13549
–
46
Nicolas Rio
 FRA
18921
13
48
Tomas Krivda
 CZE
28597
29
50
Michal Olejnik
 POL
14406
116
52
Pascal Buchs
 SUI
23883
47
54
Bojan Blumenstein
 GER
7741
39
55
Soren Thrane Odum
 DEN
18651
794
57
Anton Johansson
 SWE
20161
535
61
Jens Ronnols
 SWE
22857
110
62
Noah Zbinden
 SUI
18899
80
64
Mathieu Perrin
 FRA
22868
549
70
Lauri Sild
 EST
16281
163
73
Arturs Paulins
 LAT
14704
809
75
Eetu Savolainen
 FIN
19797
121
78
Bartosz Pawlak
 POL
14725
62
81
Timo Suter
 SUI
23936
131
82
Mathias Peter
 AUT
14853
–
83
Wojciech Kowalski
 POL
12068
39
84
Loic Capbern
 FRA
8188
34
86
Jannis Bonek
 AUT
23784
52
87
Kenny Kivikas
 EST
11784
66
89
Tino Polsini
 SUI
28365
92
89
Joni Hirvikallio
 FIN
10663
50
91
Maxime Rauturier
 FRA
20176
88
93
Elias Jonsson
 NOR
23864
179
95
Aaro Aho
 FIN
24285
1315
98
Samu Heiska
 FIN
19423
51
99
Eirik Langedal Breivik
 NOR
32770
202
105
Ole Hennseler
 GER
25195
94
108
Quentin Moulet
 FRA
32613
–
108
Aleksi Karppinen
 FIN
21688
111
116
Fabian Aebersold
 SUI
32449
160
117
Vegard Jarvis Westergard
 CAN
18032
1351
119
Hans Petter Mathisen
 NOR
13377
147
119
Rasmus Moeller Jess
 DEN
28258
26
123
Jakob Edsen
 DEN
22688
67
124
Pau Llorens Caellas
 ESP
18699
375
128
Toby Scott
 NZL
16048
61
134
Jonas Hubacek
 CZE
20162
32
135
Algirdas Bartkevicius
 LTU
18826
940
135
Heino Ollin
 EST
20160
1007
139
Edgars Bertuks
 LAT
7598
90
144
Jonas Soldini
 SUI
33997
17
148
Aston Key
 AUS
24481
68
149
Quentin Rauturier
 FRA
20655
65
151
Emil Oebro
 DEN
18647
1402
152
Andreas Soelberg
 NOR
17000
231
155
Ben Mitchell
 GBR
13706
–
158
Luis Nogueira
 ESP
13880
827
160
Henrik Johannesson
 SWE
22605
4
161
Yannick Michiels
 BEL
13592
856
163
Artem Panchenko
 UKR
14617
134
164
Sebastian Inderst
 ITA
11008
186
168
Uldis Upitis
 LAT
22993
238
168
Nitsan Yasur
 ISR
20182
140
177
Mattia Debertolis
 ITA
19153
81
179
Matthias Reiner
 AUT
15405
558
180
Marc Serrallonga Arques
 ESP
7117
1399
185
Peter Bray
 GBR
7928
–
187
Leonas Mockunas
 LTU
13744
213
200
Brodie Nankervis
 AUS
14008
823
208
Viktor Svensk
 SWE
33940
78
214
Jorgen Baklid
 NOR
23859
148
217
Janis Tamuzs
 LAT
17066
59
222
Alvaro Casado
 ESP
28538
226
223
Kristo Heinmann
 EST
10551
250
238
Ilgvars Caune
 LAT
25964
215
241
Laurits Bidstrup Moller
 DEN
21017
82
241
Francesco Mariani
 ITA
37592
904
253
Joshua Dudley
 GBR
9010
–
264
Vytautas Beliunas
 LTU
7473
197
269
Mathias Blaise
 BEL
28056
178
276
Mads Skaug
 DEN
25378
216
276
Lukas Patscheider
 ITA
37868
1560
280
Jakub Chupek
 SVK
24933
306
292
Francois Van der Ouderaa
 BEL
14543
165
293
Linus Agervig Kristiansson
 DEN
37747
–
295
Csaba Gosswein
 HUN
10273
593
315
Mikolaj Dutkowski
 POL
9048
411
325
Antoine Becaert
 FRA
37174
1720
326
Michal Krajcik
 SVK
12095
188
339
Jacob Steinthal
 DEN
33892
616
344
Jaagup Truusalu
 EST
17389
169
370
Tomas Lima
 POR
21663
–
371
Joe Woodley
 GBR
18151
162
384
Vilius Aleliunas
 LTU
6891
480
389
Teodor Yordanov
 BUL
18286
122
422
Ats Sonajalg
 EST
16991
234
422
David Rojas
 ESP
33650
699
430
Uku Laur Tali
 EST
17043
1904
434
Pranas Germanavicius
 LTU
25395
237
445
Medard Feder
 SVK
32240
415
457
Alvaro Garcia Bernabeu
 ESP
42732
430
466
Itsuki Ito
 JPN
25428
313
474
Ozgur Fettah
 TUR
9438
458
476
Anton Silier
 GER
33345
929
481
Michael Van Baelen
 BEL
18542
–
491
Itay Manor
 ISR
21437
884
501
Adam Jonas
 SVK
34024
439
502
Simon Krekels
 BEL
22591
650
504
Tiago Gingao Leal
 POR
12553
654
553
Reigo Teervalt
 EST
21720
242
584
Angus Haines
 AUS
24499
419
600
Valentin Shishkov
 BUL
23822
–
620
Wataru Teragauchi
 JPN
17152
1657
637
Shunsuke Shimizu
 JPN
37949
926
657
Axel Pannier
 FRA
34905
48
669
Colin Kolbe
 GER
25197
243
678
Alastair George
 AUS
28573
–
687
Ivaylo Kamenarov
 BUL
11467
127
691
Sergei Rjaboshkin
 EST
15512
568
691
Raphael Masliah
 FRA
33925
473
793
Vasco Mendes
 POR
34134
495
885
Lok Hin MA
 HKG
13085
133
938
Alexander Chepelin
 GBR
8351
910
980
Daniel Pompura
 SVK
29755
596
1020
Peter Molloy
 GBR
33239
1497
1035
Evert Leeuws
 BEL
12586
–
1065
Emils Zernis
 LAT
31998
674
1167
Stanislav Polianytsia
 UKR
28139
–
1174
Ryoma Nagayama
 JPN
42871
272
1180
Rotem Yogev
 ISR
33440
595
1413
Tadas Dementavicius
 LTU
34169
1948
1572
Tristan Miller
 AUS
28795
793
1668
Ho Yin Chung
 HKG
36159
–
1928
Florian Kurz
 AUT
22771
–
1964
Viktor Vitiuk
 UKR
19099
1683
2088
Peleg Mitzafon
 ISR
37585
1194
2327
Kai Yui Hubert Yam
 HKG
34720
2061
–
Joshua Ho Kiu Au
 HKG
38068
2373
–
Chung Yin To
 HKG
37494
244
–
Ewan Shingler
 AUS
35336
–
–
Andrii Marchuk
 UKR
44802
Women
WRE pos
sprint
WRE pos
Name
Country
WRE ID
1
1
Tove Alexandersson
 SWE
65
2
2
Simona Aebersold
 SUI
23032
4
4
Andrine Benjaminsen
 NOR
396
9
5
Karolin Ohlsson
 SWE
4277
17
6
Venla Harju
 FIN
4150
102
7
Lisa Risby
 SWE
4900
19
8
Sabine Hauswirth
 SUI
2100
24
9
Marika Teini
 FIN
5868
8
11
Sara Hagstrom
 SWE
1997
6
13
Lina Strand
 SWE
5654
3
14
Elena Roos
 SUI
4961
54
20
Marie Olaussen
 NOR
4291
402
22
Johanna Oberg
 SWE
21094
35
26
Sarina Kyburz
 SUI
2549
5
27
Megan Carter Davies
 GBR
844
13
29
Aleksandra Hornik
 POL
19685
15
30
Paula Gross
 SUI
18906
52
31
Cecilie Friberg Klysner
 DEN
23304
26
32
Veera Klemettinen
 FIN
24311
79
32
Miri Thrane Oedum
 DEN
6735
6
35
Tereza Janosikova
 CZE
28127
34
37
Sandra Grosberga
 LAT
1865
581
39
Andrea Svensson
 SWE
20204
67
41
Evely Kaasiku
 EST
2672
75
44
Ingeborg Eide
 NOR
20206
47
48
Vendula Horcickova
 CZE
19096
53
49
Hanna Wisniewska
 POL
6443
39
51
Adela Finstrlova
 CZE
2430
14
55
Victoria Haestad Bjornstad
 NOR
23852
156
55
Line Cederberg
 DEN
22961
137
57
Jo Shepherd
 GBR
5339
77
59
Sofie Bachmann
 SUI
18907
23
60
Ingrid Lundanes
 NOR
25248
30
61
Martina Ruch
 SUI
18903
–
63
Tone Bergerud Lye
 NOR
3583
82
70
Anna Haataja
 FIN
19926
163
71
Agnes Noergaard Kracht
 DEN
3095
119
72
Katrin Mueller
 SUI
26352
292
73
Marion Aebi
 SUI
23
36
74
Grace Molloy
 GBR
27559
57
77
Ida Haapala
 FIN
28437
282
79
Josefin Tjernlund
 SWE
19038
19
83
Cecile Calandry
 FRA
33897
48
85
Caroline Gjotterup
 DEN
1757
100
86
Gabija Razaityte Saunoriene
 LTU
4836
31
89
Florence Hanauer
 FRA
22869
676
93
Ellinor Tjernlund
 SWE
5948
83
94
Anika Gassner
 AUT
20213
153
96
Enni Jalava
 FIN
24222
–
97
Anna Ulvensoen
 NOR
6084
25
100
Ida Agervig Kristiansson
 DEN
40702
106
101
Annika Simonsen
 DEN
5421
116
105
Elin Carlsson
 SWE
25174
49
106
Nicoline Friberg Klysner
 DEN
2941
198
107
Johanna Trummer
 AUT
22769
655
109
Olena Postelniak
 UKR
4677
114
110
Karoliina Ukskoski
 FIN
22973
148
112
Carina Polzer
 AUT
4657
392
113
Miia Niittynen
 FIN
4161
–
114
Sandra Pauzaite
 LTU
4468
88
116
Anu Tuomisto
 FIN
24228
110
119
Jasmina Gassner
 AUT
25245
37
120
Ana Isabel Toledo Navarro
 ESP
33644
91
125
Ausrine Kutkaite
 LTU
3216
628
133
Inga Dambe
 LAT
1107
32
135
Malin Agervig Kristiansson
 DEN
36181
157
136
Ina Westerlund
 FIN
23027
69
137
Cecilie Andersen
 GBR
19077
72
138
Emma Louise Arnesen
 NOR
32593
70
142
Maelle Beauvir
 FRA
20207
158
143
Marianne Haug
 EST
22989
194
144
Elza Kuze
 LAT
33553
63
151
Kateryna Dzema
 UKR
25007
85
156
Anna Nilsson Simkovics
 AUT
5414
231
161
Galina Ribediuc
 MDA
4779
1049
171
Judita Traubaite
 LTU
24214
122
173
Hanna Mueller
 GER
18908
106
174
Feia Tsyvilska
 UKR
28136
39
185
Hedvig Valbjorn Gydesen
 DEN
32310
111
187
Paula Starke
 GER
20062
600
187
Olena Pitirimova
 UKR
4616
121
193
Fiona Bunn
 GBR
21903
189
203
Ems De Smul
 BEL
28073
301
204
Margret Zimmermann
 EST
6631
219
206
Andreya Dyaksova
 BUL
20089
1304
213
Eleri Hirv
 EST
2207
621
219
Chloe Dudoignon
 FRA
22871
327
238
Eliska Sieglova
 CZE
28598
181
256
Ida Oebro
 DEN
6734
203
265
Marine Sillien
 BEL
28068
480
272
Juliette Basset
 FRA
24928
220
282
Olivia Sprod
 AUS
5575
217
292
Signe Sirma
 LAT
28386
495
299
Kika Basaran van Ham
 ESP
33643
183
301
Jessica Lucchetta
 ITA
28359
445
304
Martina Rizzi
 ITA
39509
246
308
Lucie Arno
 BEL
33074
269
311
Evangelina Dyaksova
 BUL
24232
696
336
Briana Steven
 NZL
28736
–
380
Kaja Winsnes Nordhagen
 NOR
25262
177
389
Mariia Tymoshchuk
 UKR
28137
33
400
Ane Dyrkorn
 NOR
26755
566
407
Lorely Korvel
 EST
37924
242
408
Evalin Brautigam
 USA
642
197
496
Tina Tiefenboeck
 AUT
28317
274
518
Emily Sorensen
 AUS
32102
475
546
Agnieszka Cych
 POL
34079
664
629
Sigrid Ruul
 EST
5039
225
641
Chloe Potter
 GBR
21517
485
657
Michele Dawson
 AUS
1142
224
729
Marta Guijo Alonso
 ESP
20222
569
758
Sanna Fast
 SWE
22905
300
804
Amanda Falck Weber
 DEN
6357
255
905
Caitlin Young
 AUS
31027
554
956
Ying Yau Chu
 HKG
968
1133
1015
Kristina Krajcikova
 SVK
6075
666
1022
Katharina Linke
 GER
43643
839
1029
Yi Shan Wong
 HKG
6463
930
1150
Lucile Clouard
 FRA
42807
1367
1255
Svitlana Kobets
 UKR
28138
647
1313
Rachel Brown
 GBR
37114
196
1439
Annarita Scalzotto
 ITA
34014
241
1537
Mikayla Cooper
 AUS
32565
–
1620
Kadri Kadakas
 EST
44208
1237
–
Wing Man
 HKG
38062
1363
–
Hoi Yan Lo
 HKG
38063
370
–
Julia Gannon
 AUS
36714
–
–
Rebecca Herna
 SVK
42208
–
–
Ona Rafols Perramon
 ESP
4516