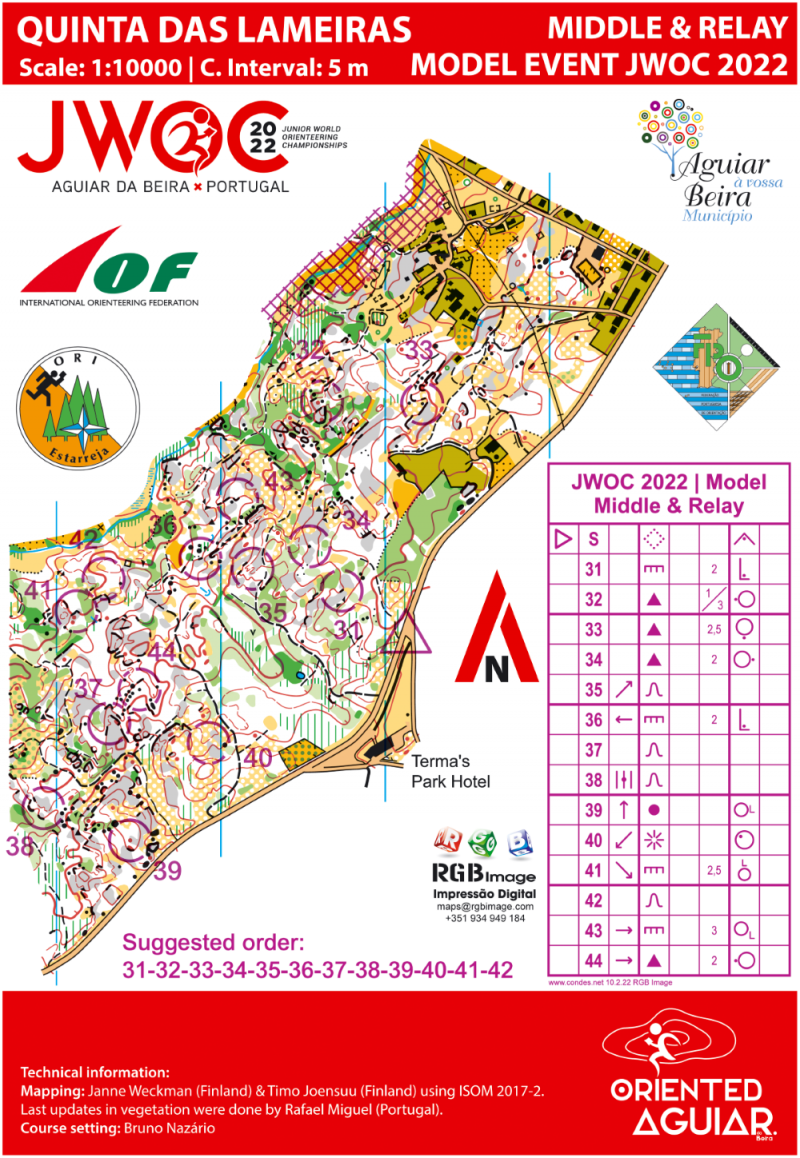 The forest part of the Junior World Championships (JWOC) 2022 will be organized in Portugal November 4th to 6th – with middle distance on Friday, relays on Saturday and long distance on Sunday. The organizers have promised  free high quality broadcasts from all races.
The races should originally have been organized this summer, but had to be postponed due to risk of forest fires. Nearly 250 athletes from 32 nations have entered for the races – not far off from the 37 nations entered for the original JWOC this summer who then competed only in the Sprint.
Note that there will be no qualification race for the middle distance this year, to keep the championships within three days.
Detailed program
Friday November 4th: Middle distance
Saturday November 5th: Relay

Web-TV 10.45 – 15.45 CET
Women from 11:00 CET
Men from 13:00 CET

Sunday November 6th: Long distance
Links & how to follow live
Use these links to follow the championships:
Check out Ivarnational Orienteering Podcast for an excellent preview of JWOC 2022 – including detailed discussion of the pre-race favourites (link below). Main favourites for the middle distance according to Ivar & Ivar is Hanne Lundberg (Sweden) and Pascal Schärer (Switzerland), while Hanna Lundberg (again) and Kornelius Løvfald (Norway) are named as favourites for the long distance. In the relay Switzerland (women) and Norway (men) are named as favourites. For all the details – including predictions for all the 18 medals and discussions on all race favourites and outsiders – check out the podcast.
Ivarnational Orienteering Podcast: Preview JWOC with A lot of analyses, pre World mountain &…: Big preview before JWOC! Also looking at the o-runners at World moumtain & trail champs and name orienteer of the month!

Read more: https://t.co/bkskYUAlqo… https://t.co/G38yeMkYxA

— worldofo.com – news (@worldofo_news) October 31, 2022
Race details
The races will be held near Aguiar da Beira in the northern part of Portugal. Forest Aguiar da Beira area is located between 600 and 900 meters above sea level. Forest is mostly covered by pine trees (Pinus pinaster). In some areas, you can find some deciduous trees, such as chestnut trees (Castanea sativa) and Oak trees (Quercus).
The area has moderate to high climbs and large areas of bare rock can be found. A lot of rock details are present in most of the areas, both boulders and cliffs. Some undergrowth and dense vegetation can be frequently found, especially in the deepest valleys. Darker vegetation is typically impassable, consisting mostly of blackberry bushes (Rubus fruticosus). Genista (Genista cinerascens) is also very common in the region.
Runnability varies a lot from place to place. It varies from very easy to very difficult. Forest discipline areas have been mapped, using ISOM 2017-2, by Finnish map makers Janne Weckman and Timo Joensuu, and updated by the Portuguese Rafael Miguel. Map scales will be 1:15 000 for Long and 1:10 000 for the other forest disciplines. Contour interval of 5 meters.
Middle distance courses:

Middle & relay map sample: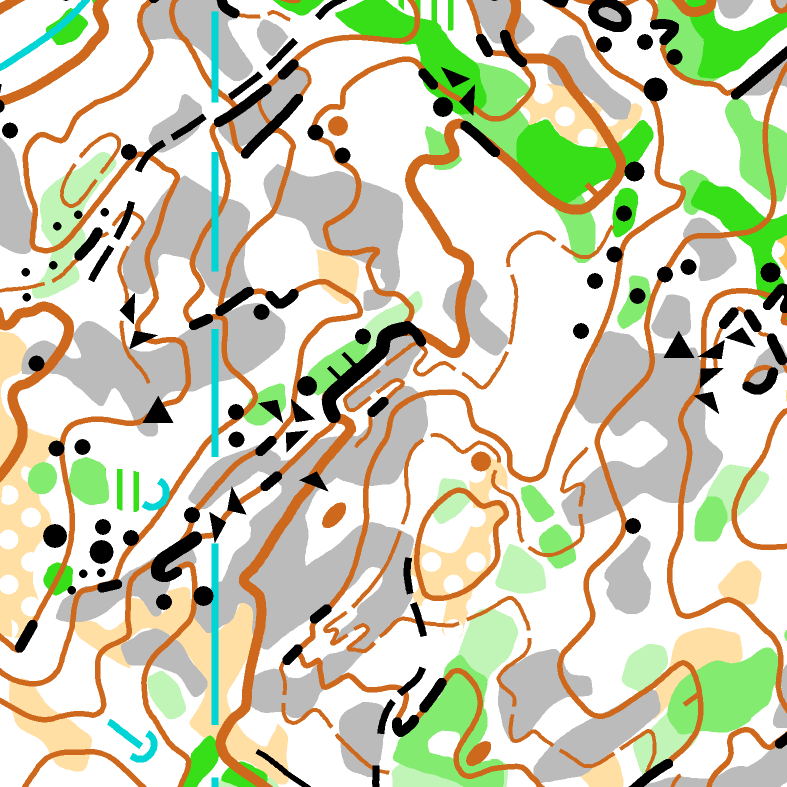 Relay courses:

Long distance courses:

Long distance map sample: