New year – new series! January is usually a "slow month" within orienteering, so why not beef it up a bit? Each day a new classic course (what today is called long distance) is featured – starting with the WOC long distance course from 1991 in Marianske Lazne, Czechoslovakia today.
The "January Classics"-series is more "low key" than the "Route to Christmas"-series. Sometimes only a link to the map will be provided, sometimes a special leg will be selected for discussion/analysis, sometimes there will even be a Webroute (like today). Although the first day is a WOC course – any nice long distance course can be part of the "January Classics" series. Based on reader response this might become very interesting – I hope many of you will consider leaving a tip in the comments about good candidates – or even better: Send me some words, a story or a analysis on jan@kocbach.net.
Day 1: WOC 1991 Classic race
WOC classic in 1991 offered varied courses in hilly terrain – partly quite stony. I am sure somebody can add  a lot of details about the race in the comments – it was not easy finding something on the Internet. The race was won by Jørgen Mårtensson and Katalin Olah – and here you find the courses.
I have picked one leg from the women's leg – leg 3-4 in the women's course – where you may consider how to approach it in a Webroute. I am again sure somebody knows which route was the fastest here – and I hope we will know by the end of the first day of 2014?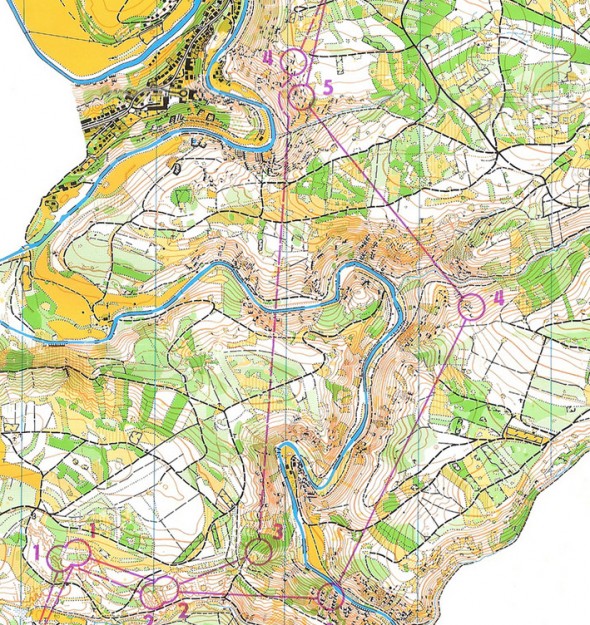 Webroute
Next you can draw your own route using the 'Webroute' below. Think through how you would attack this leg, and draw the route you would have made. Some comments about why you would choose a certain route are always nice for the other readers.
Density map
See below for a density map of some of the ones who have drawn their routes so far (will be updated when some people have drawn their suggestions).
Results Men
Results Women