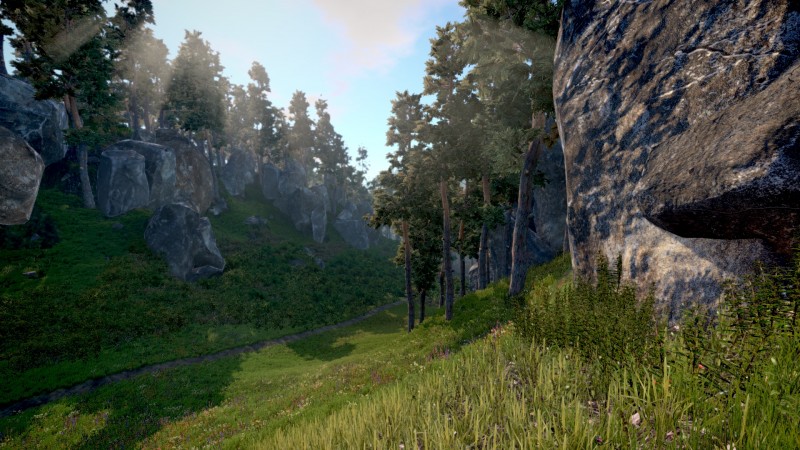 This is the headline for the trailer of Virtual-O – the upcoming orienteering game which the developer Peter Furucz aims to make more realistic than any other orienteering games or simulators out there. World of O wrote about Virtual-O six months ago – now big things are on the horizon for Virtual-O.
A lot of features have been added to the game – including forest undergrowth, LIDAR elevation data for terrain modelling, night and day orienteering modes, and a complex running speed model with running speed varying with map symbol, map reading length and slope. There is now a community testing early development versions of the game – giving regular feedback to make the simulation as realistic as possible.  Below is an animated GIF which shows the night orienteering mode of Virtual-O.
Steam Greenlight campaign
Virtual-O has also launched a so-called Steam Greenlight campaign in order to try to attract regular gamers – and funding from outside the orienteering community. Developer Peter Furucz explains about the Virtual-O Steam Greenlight campaign.
– I think that it could be practically a life changer for Virtual-O and for orienteering itself too. It's a way  to get orienteering to masses.
– The Steam Greenlight campaign can change everything for Virtual-O. Steam is the biggest digital distribution platform for games and software. It has more than 125 million active users worldwide. Based mainly on how many users vote in a Steam Greenlight campaign, Steam will choose which games will be distributed. 
Furucz gets excited when talking about the Steam Greenlight campaign. According to the Slovakian developer, this is the big possibility to get an orienteering game out to the masses.
– I think that it could be practically a life changer for Virtual-O and for orienteering itself too. It's a way  to get orienteering to masses.  It looks like now is a time when a relatively small count of "Yes" votes is enough to get greenlit.
– Please vote for Virtual-O – and encourage your friends and family to vote for Virtual-O (Peter Furucz, developer)
– Probably 1500+ votes means a relative good chance. The campaign started yesterday, and we already have more than 250 yes votes. Please vote for Virtual-O – and encourage your friends and family to vote for Virtual-O [Editors comment: You can go here to vote for Virtual-O in the campaign. Only registered users who have invested 5$ on the platform to vote, but according to Furucz most people who play games are already on Steam and can vote.]
– The feeling of a natural, living forest is captured very well
Øystein Jahren Samuelsen is one of the alpha testers who has been test driving early versions of Virtual-O – and suggesting changes to how the game works on a closed Facebook group which the developer has set up for this purpose. Samuelsen likes the feeling of orienteering he gets when trying out the early development version of the game.
– The graphics are pretty much on par with what you can expect from a modern video game, and the feeling of a natural, living forest is captured very well, Jahren Samuelsen answers when asked about how realistic Virtual-O feels when running around in the terrain.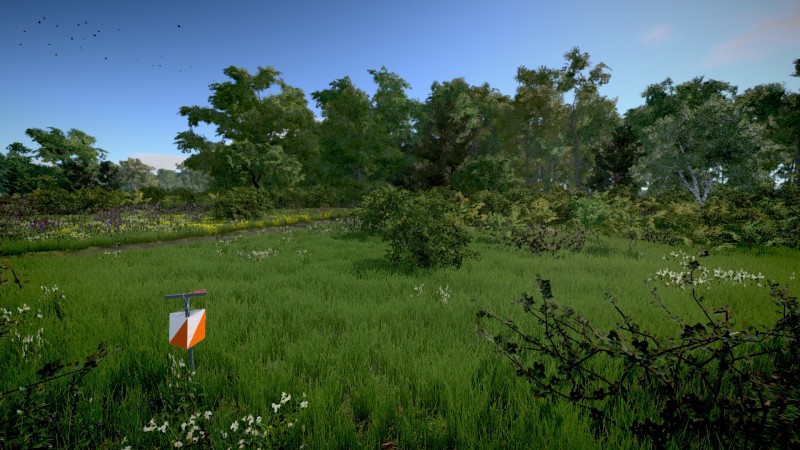 – [I like] the realistic looking terrain, as well as the general feeling of running through the forest. I also like the map handling assistants that make the game easier to control for beginners, allowing you to focus on the orienteering rather than the rotation and handling of the map, Jahren Samuelsen continues.
Jahren Samuelsen is an experienced Catching Features player, and explains that the main difference between Catching Features and Virtual-O is the superior graphics, more realistic forest and that the terrain forms in Virtual-O look pretty much like they do in the real terrain due to the use of LIDAR data.
He implemented several different map holding positions and let the community decide which one was best. His attention to detail is admirable (Øystein Jahren Samuelsen)
– Peter has also done great work on making the vegetation look right. There is a nice blend of different trees, bushes, grass and ferns, along with great looking forest textures, and it all looks very life-like. In CF there were often overly sharp edges between areas of different vegetation, which made it a little too easy to navigate compared to real orienteering. This is very much improved in Virtual-O. In short, Virtual-O feels much more like real orienteering than CF.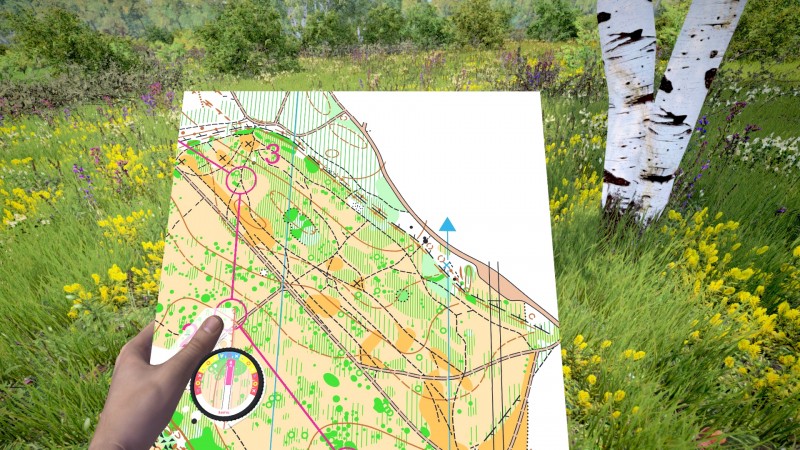 Still, Jahren Samuelsen is very impressed by what Greg Walker managed to do with Catching Features nearly 15 years ago.
– But I still want to stress that CF was a great achievement by a single developer (Greg Walker) back in 2003. The tools and assets that are available for game developers today are far superior to what Greg had to work with back then.
Many new features
When asked about new features since the last article about Virtual-O on World of O in September 2015, Furucz comes up with a long list.
Running speed model (slope and map symbol based)
Game modes (beginner, normal, elite)
Reworked character controller and its physics (it uses now realistic physics, disabled drifting for turning)
In-game menu (graphics settings, input controls mapping)
Map holding options
Added orienteering control model
Kocbach map handling
Time of day, night mode
Curve based map penalty
Visual course editor
Thumb compass
Map handling smoothing, map assistants
Forest undergrowth
Created two Facebook groups. Started to work with the community.
And yes, there is actually a "Kocbach map handling mode" in there – rotating and zooming the map around the tip of the thumb compass instead of around the centre of the map – based on feedback on the early access Virtual-O Facebook group from the author of this article and several others (There has to be someone else orienteering that way, though?).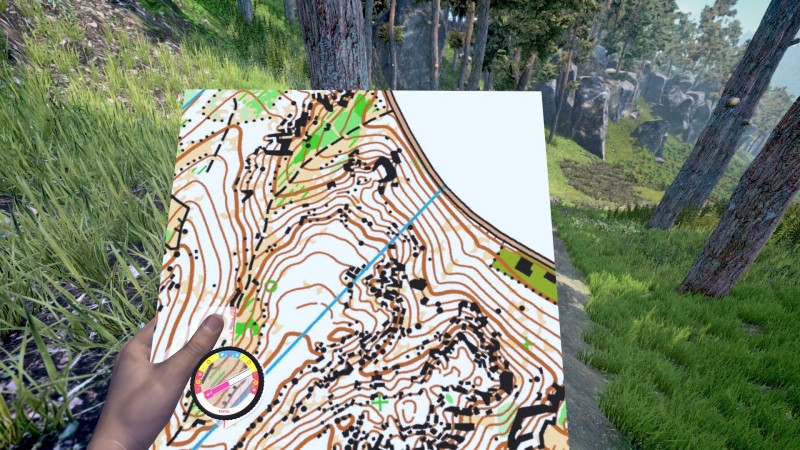 More information about Virtual-O