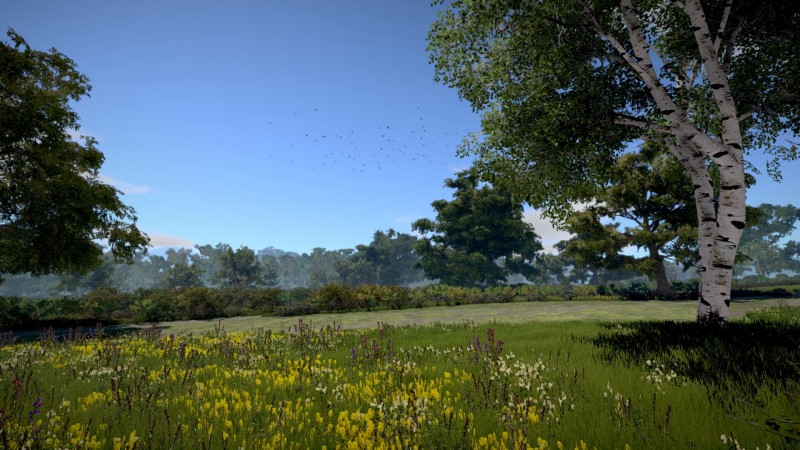 Many elite runners have used Catching Features as part of their o-technical training – Thierry Gueorgiou being one of them. The newcomer "Virtual-O" sounds like Catching Features on steroids: Beautiful graphics and vegetation, a living environment (not just the CF Gorilla) – and more realistic game play.  Even Oculus Rift (VR) is to be supported.
Developer Peter Furucz has worked on developing Virtual-O for more than a year, and has now decided that the hardest work is finished – and that he needs to start building a community – get in touch with people – including elite orienteers – who want to use it for playing or training.
Fully featured orienteering simulator
– My objective is to create a fully featured orienteering simulator that will be used by orienteers from hobby to top level to improve their map technique, Furucz explains.
Virtual-O is not yet available to the public, but a few videos have been published which shows an example of the game play (see one of them below). According to the developer, the hardest and most important components are finished – currently work is being done on running speed model, compass physics model and direction disturbance model (for those realistic compass trainings).
A closed test round (Alpha testing) will start in a few months time for selected volunteers. Contacting Virtual-O on Facebook or Twitter should be a good way to connect with the developer. See also the webpage of Virtual-O.
– Orienteering can be a bigger sport
One special goal for Furucz with Virtual-O is to make newcomers to orienteering familiar with the sport before heading out into the forest and getting lost.
– I think that we could overcome the steep learning curve with the first lessons of orienteering in a (realistic) computer game. My dream is to create some sort of "newcomer" mode to open orienteering to new people not "touched" by orienteering yet.
The competition
The competition for the newcomer Virtual-O consists of aging Catching Features and Finnish Suunnistussimulaattori. Catching Features is a great game which can be used to improve your orienteering skills considerably, but the "Catching Features 2″ unfortunately never came along. There is still a community playing Catching Features regularly – last week around 1500 online game plays were registered.
Suunnistussimulaattori has graphics and game play which takes it a step forward compared to Catching Features, but for non-Finnish people it has never really catched on – the name might be part of the reason (try Googling it from memory), installation and game play was also quite challenging when testing it.
Thus there is definitely a place for Virtual-O – it will be very interesting to see where this is heading. A realistic orienteering simulator – easy to understand with fun game play – would be great for the sport!