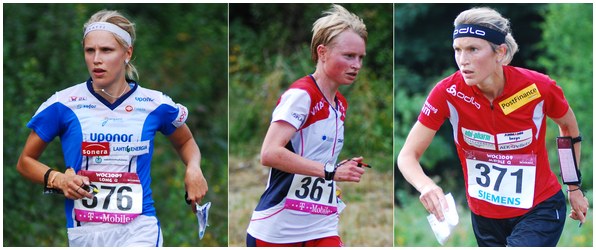 Finally we are ready for the first big day of WOC 2009 – the Middle Final. It is going to be a very exciting race, and the organizers have promised both live video streaming and GPS tracking (pay-service – 5 Euro – see details below).

Tip: Take a look at the WOC 2009 Team page with pictures of most runners taken at WOC 2009 sorted by country and runner. Also includes all results so far and startlists for middle and long final.
Tip 2: Vote for your favourite at the LiveBlog at the bottom of this page.
Three Big Favourites
In the womens class we have three big favourites (pictured above): Minna Kauppi, Simone Niggli and Marianne Andersen. Between these three it is very open, but it would be a surprise if not one of these three would take the gold medal. The biggest outsiders in the womens class are Julia Novikova, Signe Søes and Helena Jansson.
The King of Middle Distance again?


In the mens class Thierry Gueorgiou – The King of Middle distance – is the big favourite as always. However, Peter Öberg showed earlier this year that Gueorgiou is not unbeatable – and it will be exciting to see if Öberg can do it again in terrain which is not Nordic. Gueorgiou was very angry after his performances in Finland and Norway this spring and summer – and you can be sure he is determined to show that he is still the best over the middle distance. In addition to Öberg, other big contenders are of course the two Swiss runners Daniel Hubmann and Matthias Merz. Valentin Novikov also showed strength in the qualification, and can be a though man to beat if he gets the orienteering right all the way from start to finish.
Important facts Middle Final
Expect more technical orienteering in the Middle Final compared to the Qualifications. The terrain has more details, and there are also more green areas. You find the old map over the area here.
The women run 5.3 km with expected winning time of 35 minutes. The first start is the Bulgarian Iliana Shandurkova at 09:30. The last woman out is Lea Müller at 10:58.
There is a break of 17 minutes between the last man and the first women. The men run 6.6 kilometers with an expected winning time of 6.6 km. First out is Wolfgang Siegert from Austria at 11:15. The last man out into the forest is Valentin Novikov at 12:43. Thierry Gueorgiou is starting already at 12:31.
Follow the event live
WOC History
Another useful resource is the World of O Runners WOC history page – giving you all the best WOC results for each discipline sorted by country. Who is the best placed Latvian in the Long distance ever? Of course you knew: Ants Grende in 1993. (Note! As you see in the comments, a Latvian runner was better placed in 1989, but she was then running for Russia). We will also try to update these pages during the championships.
#WOC2009 @ Twitter
Follow the action in at the World Orienteering Champs through Twitter. Below the latest Tweets for #WOC2009 are shown in the LiveBlog. Your tweets including the hash-tag #woc2009 will also show up below. There is also a mobile version of the LiveBlog here.
Program
The first two days are the most important ones for many of the smaller orienteering nations – then we have qualifications in Middle and Long distance. The first final is the Middle final at Wednesday – whereas the Long final is the last competition in this World Orienteering Champs at Sunday August 23rd.
Sunday 16.08: Middle Qualification, 10:00-12:00 CET
Monday 17.08: Long Qualification, 09:00-12:00 CET
Wednesday 19.08: Middle Final, 10:00-14:15 CET
Thursday 20.08: (1) Sprint Qualification, 09:00-11:00 CET. (2) Sprint Final, 16:20-19:00 CET
Friday 21.08: Relay, 11:00-16:30 CET
Sunday 23.08: Long Final, 11:00 CET – 16:00 CET
Course lengths
For complete information about the courses, see Bulletin 4.
Middle Qualification: Men 5.1 km (25 min), Women 4.1 km (25 min)
Long Qualification: Men 10.4-10.5 km (58 min), Women 6.5-6.8 km (43 min)
Sprint Qualification: Men 2.9 km (14 min), Women 2.5-2.6 km (14 min)
Sprint Final: Men 3.2 km (15 min), Women 2.6 km (14 min)
Middle Final: Men 6.6 km (35 min), Women 5.3 km (35 min)
Long Final: Men 17.6 km (95 min), Women 11.8 km (75 min)
Relay: Men 6.0-8.8-8.7 (36-53-53), Women 4.9-6.9-7.2 (32-43-45)
Note! The 15 best in each qualification heat will qualify for the final.
Maps and Terrain
We have published a separate article about the maps and the terrain. You find the article about old maps for the competition areas here.
The terrain for all competitions except for the long final and the sprint is described as non-typical karst with a small number of negative features and many point objects. The terrain is quite hilly, and the competitions will be physically though. For the sprint, the terrain is describes as semi-urban with many paths and some erosion features. The long distance final is the most special terrain ? with many negative features and quite stony.
GPS Tracking, Live results and Live tracking
There will be live GPS Tracking form the middle final, long final and relay. Note that GPS-tracking is a pay-service, and you will have to buy a code before you can view the tracking. Tracking is available through www.smartway.hu.
In addition to GPS Tracking, there will be live results, the organizers provide live text commentary, and maps will be presented in RouteGadget after the competitions.