This years EOC in Bulgaria was hopefully the last international championships without live GPS-tracking. As a spectator at home in front of the computer/big screen, I have got used to live GPS-tracking from all the big national events in Finland, Sweden and Norway, several smaller national/regional events in both Finland and Norway, and even on some training camps.
Let us hope GPS-tracking is set as a requirement for the organizers in the future. I think this was the last EOC/WOC without live GPS-tracking – time will tell if we are there yet…
The remainder of 2010 looks good for the international races: The World Champs in Trondheim will have GPS-tracking, Jukola, most of the Nordic Orienteering Tour, EYOC in Spain will also, and so on (for JWOC in Denmark I have found no information yet – please add a comment below if you know any details there will be no GPS-tracking – see comment below).
This is a personal comment from Jan Kocbach – the founder of WorldofO.com – based on following the European Championships on the Internet through the last week, and based on following most international races the last years. For most of the articles on WorldofO.com I try to be objective – this particular article contains personal opinons – comments are welcome!
Barely good enough for the core community
During the last week, I have followed the European Championships closely. The organizers had some problems with live results / live speaker sound in some of the competitions, but overall either results or speaker sound worked for most of the time – making it possible to follow most of the excitement from all around the world. This was nearly good enough for the core of the orienteering community, but some probably turned their attention to other matters when the coverage stopped working.
Required coverage in the future
In my opinion, this is what is required for the core orienteering community to be interested in following the competitions in a championships:
Live results which work all the time (including removing DSQ, fixing other errors in the live results – at the EOC the live results had several errors for some of the competitions – and these being the only results available for hours after the competitions, it was not easy to know what had really happened if you hadn't listened to the speaker)
Live speaker sound
If you want to attract a broader range of the orienteering community, you have to add:
Live GPS-tracking – to really get to feel the excitement
To get out to all of the orienteering community – and also people outside the orienteering community:
Live or recorded video feed/TV is the only way. And the live video feed/TV must include graphics with running time, GPS-tracking, etc. More professional broadcasts = better chance to get outside the orienteering community.
The future looks bright for the orienteering community who wants to follow their heroes – watching their every step from far away. It also looks like we are getting closer to the productions which can get viewers outside the orienteering community: The plans of the World Champs in Trondheim this year seems very promising – and with World Champs in France, Switzerland and Finland coming up the next years – and EOC in Sweden in 2012 – there should be good chances for a lot of high quality productions. The plans for coverage of the Nordic Tour and most of the remaining World Cup competitions this year also looks good. However – the downside is that this evolution in technology makes it more difficult for less developed orienteering nations to organize the important races in the future…
EOC maps and courses
After co-authoring a report on separating runners in orienteering, I was very curious about how the organizers/route planners had solved the problem of separating the runners. It is difficult to make a real conclusion before seeing splits in a form which makes it possible to make a proper analysis – and before seeing route choices of more runners – but here is a preliminary conclusion:
There were quite a few groups, some of them probably affecting the overall results also well inside the top 10.
The separating method used (butterflies), is the method which it was advised against in the report (Ref: Short butterflies do not split packs – they only put constraints on the planning which again may lead to more packs due to less long legs and nothing gained by the butterflies)
There were few long legs with many different route choice options (as far as I can judge without seeing the routes of several runners) – see map men here – map women here.
Using 3 minutes start interval saved the competition (but I'll have to see a detailed following analysis to say this 100%). For example, Hubmann and Khramov were together for large parts of the course, and Khramov would have finished 4th if he had not missed a punch. With 2 minutes start interval, who knows what would have happened.
Without being in the terrain, it is difficult to say too much else about the maps and courses. From the comments I have seen, some were disappointed by parts of the terrain being "only typical continental" and not really interesting – others were happy with varied orienteering.
Twitter coming to elite orienteering?
Is Twitter finally coming to elite orienteering? During EOC, the World of O frontpage has featured the latest tweets from "Elite Orienteering related Twitter users". I have tried to get the top runners to use Twitter before, but still only a very few have taken it up. During EOC, Eva Jurenikova (Czech Republic) and Christian Bobach (Denmark) gave us some insight into what was happening "behind the scenes". I hope more will follow – please let me know if there are some missing on my list. And if you are a Top Elite Orienteer: Twitter is a good and little time-consuming way to share your thoughts with the community.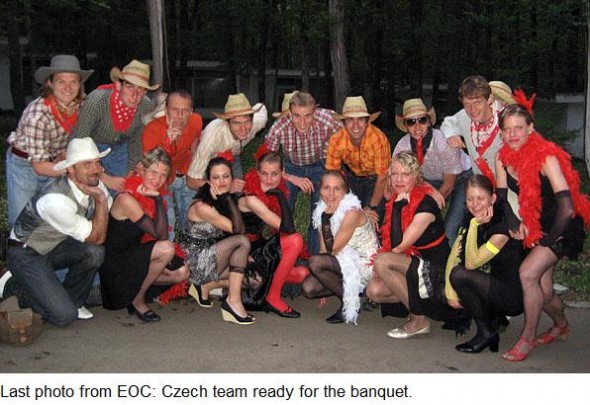 Last photo from EOC: Czech team ready for the banquet. http://twitpic.com/1ultx2less than a minute ago via Twitpic
Eva Jurenikova
evajurenikova
5th. For the first time among 6 best at big champs. Would not believe my performance is enough for it. Many small mistakes. 5 Czech wome …less than a minute ago via txt
Eva Jurenikova
evajurenikova
Oh no, Karro ruptured her Achilles tendon during middleF.less than a minute ago via web
Eva Jurenikova
evajurenikova
En god dansk dag. Medalje til maja som blev 3er og to 6. Pladser. En til signe og en til tue. Så nu er vi på vej frem over.less than a minute ago via txt
Christian Bobach
Cbobach
EOC coverage at WorldofO.com
Finally a few words about the EOC coverage at WorldofO.com. The coverage has been quite extensive. Several articles have been published each day – and the Fantasy World Cup has been updated after each final. Total pageviews at WorldofO.com during the EOC-week has been more than 110.000. In addition I had a LiveBlog open at WorldofO.com at the Sprint Finals and the Long Finals – each attracting about 5-600 viewers live – and many more in replay mode. A fun week – with a lot of interesting orienteering!
Maps from EOC 2010
As I know most of the readers of WorldofO.com are crazy for maps – here are the maps from EOC 2010 again: