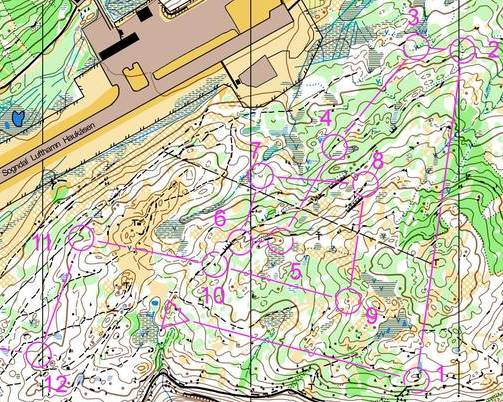 Updated: Victories for Lundanes and Hausken! Anders Nordberg, Francois Gonon, Anne Margrethe Hausken, Audun Weltzien, Helena Jansson and a lot of other top runners choose Fjord-o Nordvestgaloppen as part of their preparation for the World Orienteering Champs in Trondheim the second week of August. In the series "Road to WOC" we will present the road to WOC for some of the favourites and outsiders for the Trondheim championships – with focus on maps and selection of runners.
This first article in the "Road to WOC" series gives you the maps from the first race of Fjord-o Nordvestgaloppen which started off with a (shortened) long distance race at 17:00 CET today. Thanks to the organizers for sending me the maps before the last start.
Fjord-o Nordvestgaloppen is a 4-Day event with rest day on Friday. Maps for the other days of Fjord-o Nordvestgaloppen will be posted later in the week.
Results
Women
1 Hausken,Anne Margrethe Halden SK 49:50 + 00:00
2 Jansson,Helena IF Hagen 50:53 + 01:03
3 Sandstad,Hanne Freidig, SPK 51:05 + 01:15
4 Eliasson,Lena Domnarvets GoIF 53:41 + 03:51
5 Johansson,Sofie OK Linné 54:02 + 04:12
6 Kazlauskaite,Inga OK Linné 54:35 + 04:45
Men
1 Lundanes,Olav Halden SK 1:03:40 + 00:00
2 Andersson,David Malungs OK 1:07:59 + 04:19
3 Gonon,Francois IFK Göteborg 1:09:37 + 05:57
4 Lundanes,Ivar Frol IL 1:09:44 + 06:04
5 Duncan,Jon Kristiansand OK 1:12:45 + 09:05
6 Nordberg,Anders Halden SK 1:12:54 + 09:14
Preparations in Sogndal
Many non-Scandinavian runners have spent a lot of time training in Norwegian terrain – one of them is Francois Gonon (France) who has lived in Trondheim for the last half year, and who has spent a lot of time training in WOC relevant terrain. He arrived in Sogndal (the venue of Fjord-o Nordvestgaloppen) already Sunday, and has been training 4-5 trainings in the area already. Helen Palmer of the GB team has also been doing some nice trainings in Sogndal already according to her Twitter page. Anne Margrethe Hausken and Anders Nordberg are using the first two days of Fjord-o Nordvestgaloppen as part of their preparations.
This week there are also other runners preparing for WOC in Norway: The Czech team is in Trondheim along with several other teams doing their last preparations.
Disclaimer: Note that the author of this article is part of the organizing committee for Fjord-o.