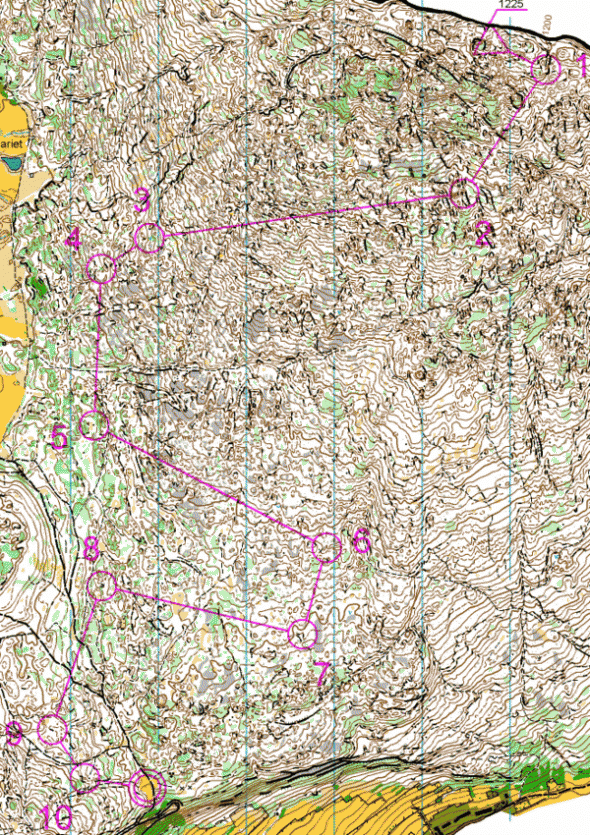 The World Cup finishes with technical orienteering and a strong starting field in the three final races in France and Switzerland the two first weekends in October. The very strong starting field is mainly due to the fact that most teams will use the week between the WC in France and the WC in Switzerland for a training camp in terrain which is very relevant for World Championships 2011 in France.
Relevant links:
This is what Thierry Gueorgiou wrote on Twitter after training on the WOC 2011 official training close to this years World Cup race in France (see map above): – "WOC'11 official training map: most difficult terrain I have ever been, it is hell – first smile since 2 weeks :)". Thus, be sure that the terrain at the World Cup in France will be entertaining for both the runners – and those following from home.
Relevant links
Very detailed terrain
The final three races in the orienteering World Cup consist of a long distance in France Sunday October 3rd. The following weekend the World Cup is decided in a middle distance race (Saturday) and a sprint race (Sunday) – both races in Switzerland close to the French border.
The terrain for the World Cup in France the coming Sunday is said to be very relevant for next years WOC terrain, situated close to Annecy in France. The terrain is karstic with many contour and rock details – and is described as very technical terrain – competitors are advised to use a magnifying class as the map can be very difficult to read in places. Read more about the map for the World Cup in France – and the making of the map along with pictures – in the Holidaymappers webpage.
The terrain for the World Cup in Switzerland is very relevant for another important race – the World Orienteering Championships in Switzerland in 2012.
Update: The old map for the World Cup final in France is available in this location (Thanks for tip in the comments below).
Swiss on top – again
It will be difficult to beat the Swiss runners in the overall World Cup this year – just like the case has been through all of the year. Both Simone Niggli and Daniel Hubmann have very big margins down to the next runners – 320 points and 168 points respectively –  and although Hubmann is still injured and might not be in his very best shape, the chances are quite small for anyone to beat either Hubmann or Niggli in this years overall World Cup.
Top-10 Men
World Cup Standings
1. Daniel Hubmann SUI – 547 points
2. Fabian Hertner SUI – 379 points
3. Matthias Müller SUI – 346 points
4. Valentin Novikov RUS – 321 points
5. Audun Weltzien NOR – 320 points
6. Carl Waaler Kaas NOR – 278 points
7. Matthias Merz SUI – 277 points
8. Emil Wingstedt SWE – 242 points
9. Olav Lundanes NOR – 236 points
10. Andrey Khramov RUS – 215 points
Top-10 Women
1. Simone Niggli-Luder SUI – 760 points
2. Helena Jansson SWE – 440 points
3. Marianne Andersen NOR – 352 points
4. Minna Kauppi FIN – 309 points
5. Maja Alm DEN – 298 points
6. Annika Billstam SWE – 273 points
7. Lena Eliasson SWE – 265 points
8. Anni-Maija Fincke FIN – 247 points
9. Dana Brožková CZE – 241 points
10. Signe Søes DEN – 207 points
Fantasy World Cup
Remember to update your Fantasy World Cup team ahead of the World Cup in France this weekend.