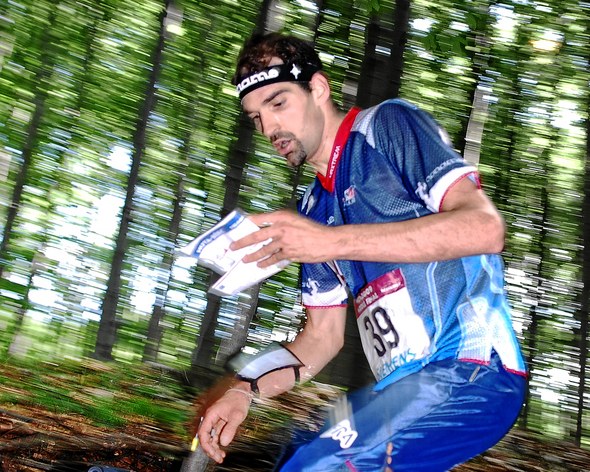 – I know that some people who don't have a single idea of what is involved to win a WOC gold medal are already speculating with how many minutes I can win at the WOC, but I hope I have enough experience to deal with it, Thierry Gueorgiou says after his formidable win in the long distance race at Le Revard on Sunday.
– When I woke up this morning, I didn't feel especially proud of yesterday's performance. I still have in mind my (very) incomplete run in Prépoulain, the French o-technical specialist explains the day after his "WOC long distance simulation" (Editors remark: Selection race, May 14th were Gueorgiou lost 10 minutes at one control were a small lead at the 15th control turned into a 13th place in the finish for Gueorgiou – 9 minutes behind Olle Boström).
– I know that all the runners who beat me in the last WOC were not in the start list, and most of the others are just starting to train on these terrains. So, I don't change a single word of what I said before the race: "it is still a long way to the World Championships".
In WOC 2010 long distance the "King of Middle" was beaten by the two Norwegians Olav Lundanes and Anders Nordberg. In the WOC 2010 middle distance Carl Waaler Kaas and Peter Öberg were ahead on the results list. Öberg is out with injury, whereas Lundanes, Nordberg and Kaas all finished ahead of Gueorgiou on the WOC selection races on May 14th – but all three were beaten by Gueorgiou on the Norwegian and French WOC selection race over long distance on May 15th. So it is 1-1 – but still Gueorgiou's race on Le Revard this Sunday was very impressive.
Partly new map of Le Revard
Although many of the national team runners had been training extensively on the Le Revard map ahead of the races, there was one part of the map which was new for the race on Sunday.
– I had no real idea what the new area of the terrain would look like before the race, and therefore I was quite flexible and tried to always use safe routes.
Looking at the splits, one of "Tero"'s best splits was the leg from number 4 to number 5 – winning the leg with 1:20 ahead of Mattias Millinger. In yesterday's article at World of O this leg was discussed in some detail – and three different options were set up.
– To the 5th control, I used the green route (Editors remark: See map below). I wasn't sure if the last part would be very fast, but I just kept the direction and tried to run aggressively in the green.
And indeed it was fast! Both Daniel Hubmann (3rd) and Philippe Adamski (4th) took variants between the blue and green line – both loosing around 2 minutes on the leg.
Even with a 9 minute victory, the perfectionist Gueorgiou did find some time losses.
– I lost some time (45 sec) in 3 different places: 10th, 14th and 17th (I had A2 version of the course). Each time, I had some difficulty to understand the map near the control circle (Editors remark: See the complete course here).
Below you see the leg from number 4 to number 5 with three different options drawn in. Also shown below is a comparison between the routes of Philippe Adamski (blue) and Klaus Schgaguler (Purple) on this leg from 3DRerun (Editors comment: Unfortunately I do not have the exact route of Gueorgiou to compare with, but he is 2(!) minutes faster than Adamski/Schgaguler who have no big time losses along their respective routes).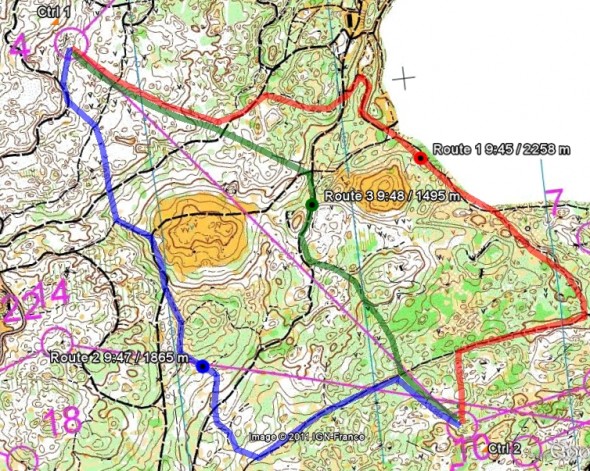 The last(?) rant about 1:15.000
There has been a lot of discussion about the map scale for the WOC 2011 long distance. Many runners and trainers have signed a petition in order to get the map scale changed to 1:10.000. Gueorgiou has shown that he can perform well also on 1:15.000, but still was fighting for a 1:10.000 scale.
– I don't know what the other orienteers have thought about the 1:15.000 scale, and how it has affected their performance, but I really think (once again) that it is not anymore the same sport. If I am not using my loupe, I can't read the map while running at full speed. This is definitively not the idea I have about our sport.
Instead of changing the map scale to 1:10.000, it has been decided to keep the 1:15.000 scale for the WOC 2011 long distance – and hire two Swedish mappers to make the map more readable in 1:15.000. Not a very popular decision among most of the runners, but it doesn't look like the decision makers listen to the runner here.
– [But] the real shame is that to make it readable with this scale, they took away some smaller details which are not especially essential to find the controls, but which give the clear picture of the terrain and the runnability which is crucial to make good route selection. Therefore, my motto during the race was "make it easy and [don't] take any risk". For example to the 14th, I would have liked to run quite straight while using the open areas, but as some fallen trees, greens spot or stony ground are missing, you have more to loose than to win, Gueorgiou explains.
– It feels like a regression and not really enjoyable feeling finally to play it too safe. But I suppose I have missed something and the IOF controllers and all the others people in charge of this decision have understand much better the terrain and the core of our sport. That were my last words before WOC on this subject.
WOC week simulation
The French middle distance specialist has been using this week as a simulation of a full WOC week – including qualifications and finals.
– I am now continuing my simulation of the WOC week while using the new maps. I did run some sort of qualifications on Wednesday and Thursday at the French military championships. And, on Tuesday and Wednesday of this week, I will try to simulate a middle distance final and relay. Still a long way to go, but every day we are getting closer… so, it is not the time to take it easier! ;)