Daniel Hubmann and Annika Billstam won the exciting last stage of the Nordic Orienteering Tour south of Oslo today. It was a big day for Swiss and Swedish orienteering with 3 Swiss men on top and 3 Swedish women among the top 4. Both Hubmann and Billstam decided the victory in the very end of the course – making it very exciting for the spectators and all the ones following the race over the Internet.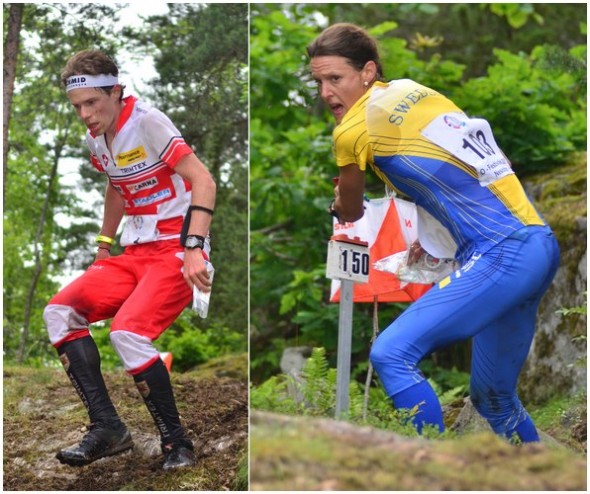 The course invited the runners to take different route choices – the route choices being very important in the decision of the overall Nordic Orienteering Tour 2011. In the mens class, Hubmann and Matthias Merz were together for most of the course – fighting for victory. Olav Lundanes started 1:05 behind – and fought hard to get closer. He saw Hubmann and Merz once – but never managed to get real contact after taking non-optimal routechoices and microroute-choices many times. – A bad day to have bad legs. And I should have had a route choice course as well, Lundanes commented after his race. His speed did not seem to be that bad, however.
In the women's class, Merja Rantanen started with 41 seconds down to Maja Alm and Annika Billstam not far behind. Rantanen lost time early (see autOanalysis below), and thus Billstam came past. They however did get together again, and Billstam decided the race from the second last to the last control by going left (see below).
Interesting legs
Men: 2-3
After testing the route, the route planner had found that the left variant (Ikonen run this, but not optimal last part of the leg) was fastest. However, in the race the rightmost variant was faster, and very few run the left variant.

Men: 4-5
The S-curve seems to be fastest – although quite a few went left.

Men: 18-19
Going left is clearly the best option here.

Men 24-25
This is were Hubmann decides the race against Merz. Merz was the only one going right – but also Hubmann lost on his left choice.

Women 13-14
Similar to the mens leg, but a few more women tried the direct route. Again it was clearly faster going left.

GPS autOanalysis
Some GPS analysis of type "autOanalysis" between top runners have been made to understand what decided the race. These are given below.
Maps
Results men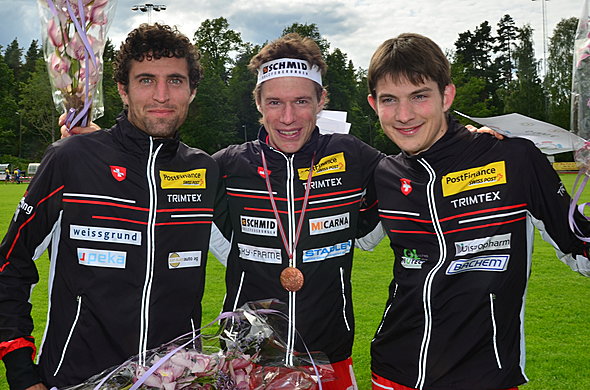 | | | | | |
| --- | --- | --- | --- | --- |
| 1 | Hubmann, Daniel | SUI | 1:35:36 | |
| 2 | Merz, Matthias | SUI | 1:35:48 | +00:12 |
| 3 | Hertner, Fabian | SUI | 1:36:21 | +00:45 |
| 4 | Lundanes, Olav | NOR | 1:36:23 | +00:47 |
| 5 | Müller, Matthias | SUI | 1:37:59 | +02:23 |
| 6 | Kyburz, Matthias | SUI | 1:38:15 | +02:39 |
| 7 | Ikonen, Pasi | FIN | 1:38:27 | +02:51 |
| 8 | Khramov, Andrey | RUS | 1:39:54 | +04:18 |
| 9 | Hubmann, Martin | SUI | 1:39:55 | +04:19 |
| 10 | Runesson, Johan | SWE | 1:40:01 | +04:25 |
Results women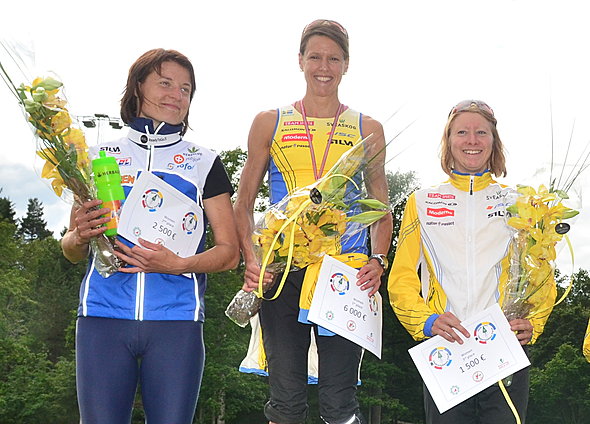 | | | | | |
| --- | --- | --- | --- | --- |
| 1 | Billstam, Annika | SWE | 1:30:33 | |
| 2 | Rantanen, Merja | FIN | 1:30:39 | +00:06 |
| 3 | Eliasson, Lena | SWE | 1:30:43 | +00:10 |
| 4 | Claesson, Emma | SWE | 1:30:45 | +00:12 |
| 5 | Alm, Maja | DEN | 1:30:51 | +00:18 |
| 6 | Fasting, Mari | NOR | 1:32:51 | +02:18 |
| 7 | Gustafsson, Linnea | SWE | 1:32:55 | +02:22 |
| 8 | Søes, Signe | DEN | 1:32:57 | +02:24 |
| 9 | Friederich, Rahel | SUI | 1:32:58 | +02:25 |
| 10 | Alexandersson, Tove | SWE | 1:33:21 | +02:48 |