Linnea Gustafsson and Daniel Hubmann took the victories in the WOC sprint final in a Swiss and Swedish day here in Chamberly, France. In the womens class three Swedish women topped the results list – Helena Jansson and Lena Eliasson followed on the next places. In the mens class Anders Holmberg (SWE) was closest to Hubmann, with Matthias Müller (SUI) in third.
Daniel Hubmann was very happy with another gold medal. – I feel great, I had really good race. It was a very nice sprint, and it was a very nice feeling for me to run this competition.
– Sprint was the first discipline I was successfull in when I was young. I am happy to take the gold medal again, and I hope I will be ready to win again tomorrow.
– Of course the sprint took some energy, but I think winning the gold medal gave me the extra energy I need to fight for the victory tomorrow.
Linnea Gustafsson did not believe that she was really World Champion. – It is fantastic. I don't believe it, Gustafsson said after her race. – I did have some problems in the start of the race, but then it went very well.
– I had perfect preparations, and I know exactly what to do to get in good shape, the Swedish golden girl said to orientering.se.
Maps and courses
Below you find the maps from the WOC Sprint final – including GPS-tracking. Some characterized this as a "runners course" – but there were also several technical challenges in the narrow streets of Chamberly. We will try to get uploaded a HeadCam video from the course for tomorrow.
Results Women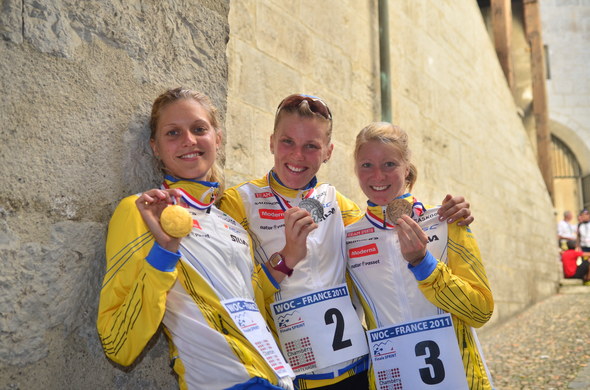 Rank   Name Nation Finish Time Behind
1   GUSTAFSSON Linnea SWE 13:14.3 0:00.0
2   JANSSON Helena SWE 13:22.7 +0:08.4
3   ELIASSON Lena SWE 13:28.5 +0:14.2
4   ALM Maja DEN 13:54.4 +0:40.1
5   TIKHONOVA Anastasiya RUS 14:00.3 +0:46.0
6   FINCKE Anni-Maija FIN 14:01.1 +0:46.8
6   KLINGENBERG Emma DEN 14:01.1 +0:46.8
8   VINOGRADOVA Galina RUS 14:04.5 +0:50.2
9   FRIEDERICH Rahel SUI 14:05.7 +0:51.4
10   JURENIKOVA Eva CZE 14:10.8 +0:56.5
11   INGHAM Lizzie NZL 14:12.3 +0:58.0
12   EGSETH Elise NOR 14:19.5 +1:05.2
13   ROLLINS Sarah GBR 14:21.4 +1:07.1
14   SHANDURKOVA Iliana BUL 14:22.5 +1:08.2
15   SKRASTINA Aija LAT 14:23.1 +1:08.8
Results Men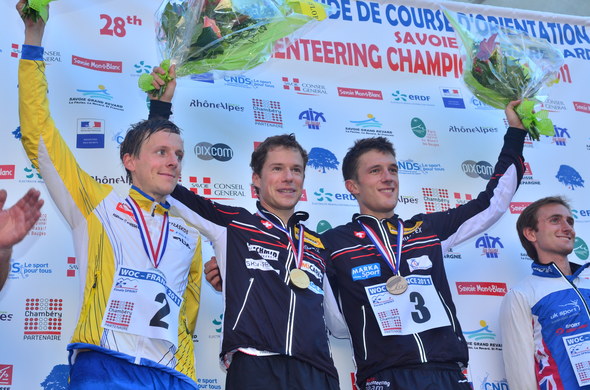 Rank   Name Nation Finish Time Behind
1   HUBMANN Daniel SUI 13:11.8 0:00.0
2   HOLMBERG Anders SWE 13:37.8 +0:26.0
3   MUELLER Matthias SUI 13:41.2 +0:29.4
4   GRISTWOOD Graham GBR 13:58.8 +0:47.0
5   ZINCA Ionut ROU 14:05.1 +0:53.3
6   MERZ Matthias SUI 14:07.1 +0:55.3
7   MERL Robert AUT 14:11.6 +0:59.8
8   PROCHAZKA Jan CZE 14:13.0 +1:01.2
9   FRASER Scott GBR 14:14.8 +1:03.0
10   TRANCHAND Frédéric FRA 14:15.7 +1:03.9
11   ØSTERBØ Øystein Kvaal NOR 14:17.9 +1:06.1
12   STRAIN Murray GBR 14:18.9 +1:07.1
13   TERVO Tuomas FIN 14:19.6 +1:07.8
14   STEIWER Gaute Hallan NOR 14:22.1 +1:10.3
15   KOVÁCS Ádám HUN 14:23.6 +1:11.8