Thierry Gueorgiou and Annika Billstam both won very clear victories in the WOC Long distance today. Gueorgiou was the big favourite before the race – and he also managed to live up to the expectations – now being the first men to win gold medals in all individual disciplines. Billstam has been doing some of the last preparations with the French team – and it did not seem to hurt…
Gueorgiou had set enormous pressure on himself ahead of this World Champs – and winning the gold medal took a lot of pressure off his shoulders.
– I am very  happy to win this long distance race here at the World Champs on homeground. It was very tough race. Now I am heading to middle and relay with hope to take more gold medals.
In the end he was 4:27 ahead of Pasi Ikonen in second spot – and more than 6 minutes ahead of Francois Gonon in third spot.
– I am completely wasted, Gueorgiou said after finishing the race of his life. Can "The King of Middle" get down on the ground again ahead of the middle distance on Friday?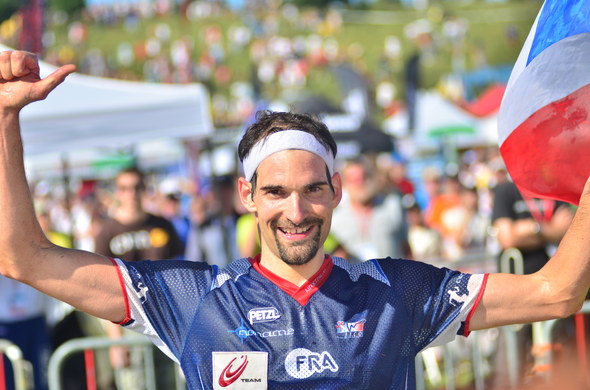 Even clearer victory
Billstam's victory was even bigger than Gueorgiou's victory – it was 4:28 down to Dana Brozkova in second spot and another three minutes down to Helena Jansson in third.
– I am very happy. My plan today was to take safe route choices all the way, and push the best i could, a smiling Billstam said after the race. – I sometimes thought I maybe run too far around, but it looks like it was the winning strategy today.
Billstam did not run a perfect race – but it was not far away from it either.
– I did some small mistakes, but I stuck to my plan. In total I made maybe 1.5 – 2 minutes mistake, but I think that is good in a long distance race like this.
When asked about how long she had prepared for this race, the answer was surprising to some.
– I started to prepare for this race when the selection for the World Champs were made. I had hoped to run the sprint, but was not selected for the sprint. From then I prepared fully for the long distance. I did also run some good long distance races in this type of terrain this spring, so I think I was very well prepared.
The world champs has been a fantastic success for the Swedish women so far. 5 medals out of 6 possible!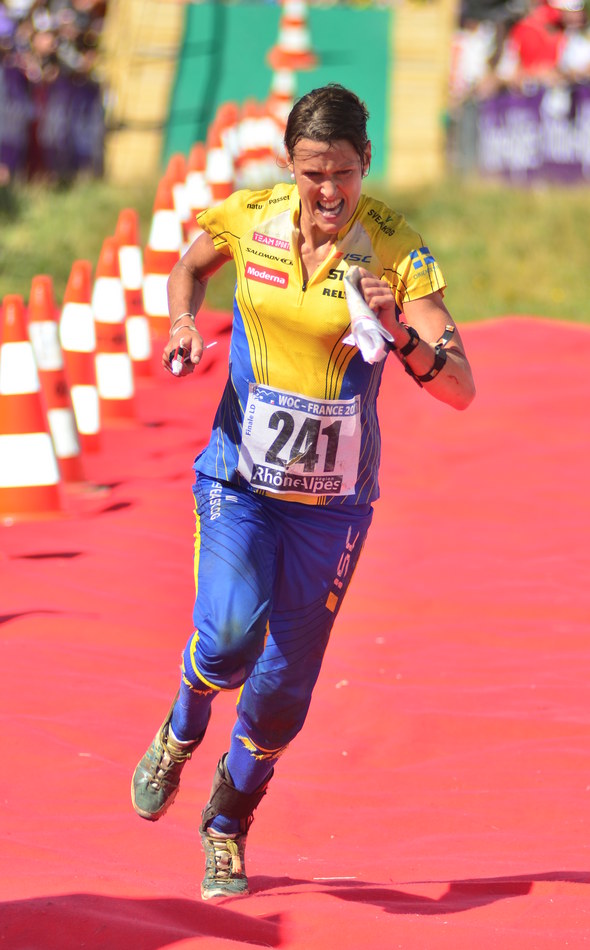 Maps and courses
The courses were very though – the winning times were more than 10 minutes longer than expected. The heat was part of the reason for this – but the courses were also very technical – and with big variations in difficulty and orienteering challenges. Below you find map and GPS coverage.
Results
Men
1   GUEORGIOU Thierry FRA 1:47:29 0:00
2   IKONEN Pasi FIN 1:51:56 +4:27
3   GONON François FRA 1:53:35 +6:06
4   ROLLIER Baptiste SUI 1:55:26 +7:57
5   HUBMANN Daniel SUI 1:57:05 +9:36
6   BOSTRÖM Olle SWE 1:57:40 +10:11
7   ADAMSKI Philippe FRA 1:57:47 +10:18
8   LAUENSTEIN Marc SUI 1:57:48 +10:19
9   FÖHR Tero FIN 1:59:28 +11:59
10   LUNDANES Olav NOR 1:59:43 +12:14
11   KRATOV Oleksandr UKR 2:00:38 +13:09
12   TCVETKOV Dmitrii RUS 2:00:56 +13:27
13   BORTNIK Alexey RUS 2:01:09 +13:40
14   NOVIKOV Valentin RUS 2:04:59 +17:30
15   KAAS Carl Waaler NOR 2:05:27 +17:58
Women
1   BILLSTAM Annika SWE 1:22:26 0:00
2   BROZKOVA Dana CZE 1:26:54 +4:28
3   JANSSON Helena SWE 1:29:55 +7:29
4   JURENIKOVA Eva CZE 1:30:58 +8:32
5   BAGSTEVOLD Heidi Østlid NOR 1:31:57 +9:31
6   FINCKE Anni-Maija FIN 1:34:06 +11:40
7   SøES Signe DEN 1:34:51 +12:25
8   RANTANEN Merja FIN 1:35:56 +13:30
9   SKRASTINA Aija LAT 1:36:34 +14:08
10   NOVIKOVA Yulia RUS 1:37:05 +14:39
11   FRIEDERICH Rahel SUI 1:37:50 +15:24
12   WIGEMYR Tone NOR 1:38:11 +15:45
13   INGHAM Lizzie NZL 1:39:42 +17:16
14   VOLYNSKA Nadiya UKR 1:39:45 +17:19
15   AEBI Bettina SUI 1:41:32 +19:06