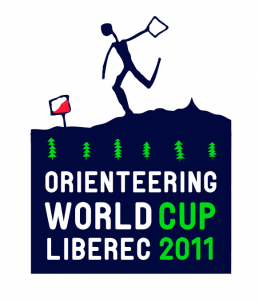 Excellent live coverage with hours of streamed webTV & GPS-tracking is promised for the third World Cup round of the season which is organized in Liberec, Czech Republic this weekend. The program consists of a middle distance race on Saturday and a long distance race with chasing start on Sunday. The World Cup 2012 will be decided in Switzerland next weekend in Round 4.
Note! Remember to set up your Fantasy World Cup Team ahead of the World Cup races in Liberec!
Live coverage
Saturday September 24th: Live video. Live results. Start from 09:13 CET until 11:25 for women. Start from 10:22 until 13:24 for men. Last 25 starting runners run with GPS. Courses are 6.7 km (270 m)/ 5.5 km (250 m) with expected winning time of 37 minutes.
Sunday September 25th. Live video. Live results. Men start from 09:30 CET for the leader, 11:30 CET for the women. First 25 starting runners run with GPS. Courses are 16.7 km (680 m) / 10.6 km (480 m) with expected winning times of 95 / 75 minutes.
92 men and 67 women are entered to the competition according to Bulletin 4. The organizers give no link for GPS-tracking, but if it is live during the competition I expect it to be available from here.
Preview
Except for the World Championships, Sunday's race is the only long distance race in the World Cup this year. It will be interesting to see a long distance race with chasing start in the World Cup again (doubly interesting with a chasing start with all the focus which has been on the future WOC program lately) – it has been some time since the last time we saw that. The Czech terrain is perfect for some interesting long route choice legs, so everything should be set for an interesting race as long as there is some spreading in the middle distance and the course is set in a good way.
– The World Cup in Czech is one of the races I mostly looking forward to now, especially the individual middle distance, Anders Nordberg comments ahead of the races in Liberec.
Many of the other top runners have also had the races in Czech Republic this weekend in their focus for some time, such as the triple World Champion from France this year, Thierry Guergiou.
– World Cup is part of my plan for September. Yesterday, I was looking at the old map and pictures from the terrain and I got quite excited. It looks to be a great terrain. I don't know yet how well I'll be trained when I'll show up in Czech Republic as I feel quite empty now. But I'll try to get a good start with the middle distance as the course setters in Czech are always good at making orienteering challenges. Then I will give my all for the chase start. I think it is going to be fun and I looking forward to it!
Daniel Hubmann is the overall World Cup leader in the mens class – and a chasing start should suit the fast Swiss runner very well.
– I really like the fast and tricky Czech forests. Since WOC 2008 was really successful I'm really looking forward to come back. I like both middle and long chasing start. But I'm always looking forward to competitions with first to finish decisions!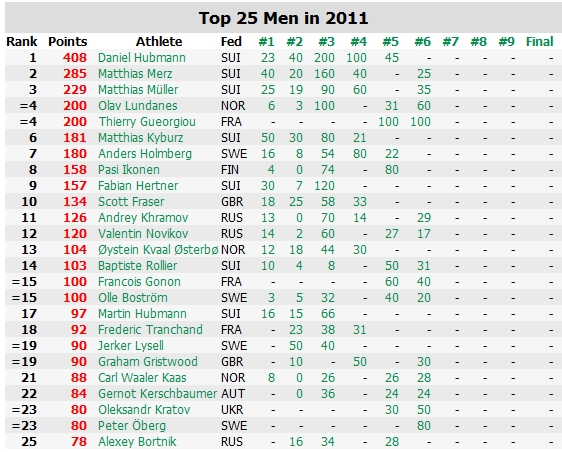 Hubmann is 408 points is 123 points ahead of Matthias Merz in second spot and another 56 points ahead of Matthias Müller in 3rd spot. Olav Lundanes and Thierry Guergiou are the best non-Swiss sharing the 4th spot with 200 points. In the overall World Cup the sum of the 7 best scores of the 9 first races count for the overall in addition to the last race. The last race gives double points. Thus there are still 500 points to fight for – and nothing is decided.
In the women's class Annika Billstam's lead is nearly as clear as Hubmann's in the mens class. With 386 points she is 121 points ahead of Merja Rantanen in 2nd with Linnea Gustafsson a nd Lena Eliasson in 3rd and 4th.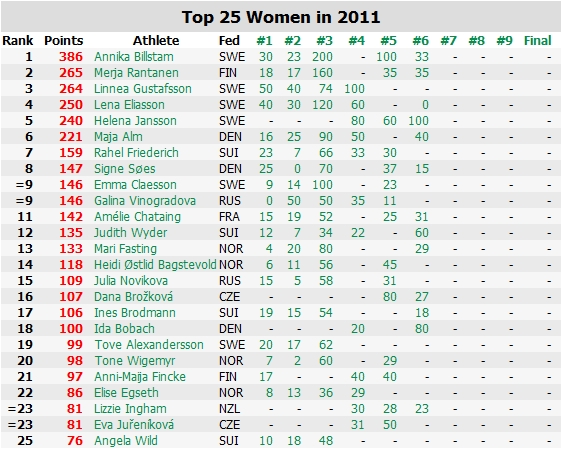 Maps and terrain
The terrain is characterized as broken terrain in a hilly spruce forest with many valleys and ridges. The terrain offers a variety of details which are the vestiges of former mining activities. Granite stones, cliffs and boulders cover the whole area in a various concentration, creating stone labyrinths in some locations. However, there are many paths and roads – and not too many stone labyrinth areas as you can see from the old map.
The mapmakers have written an interesting article about how to read the World Cup map – and about the making of the map.
– The last form of the map presented in 2005 has undergone numerous changes. Refine the planimetry and altimetry, vegetation was changed. Single generalization approach significantly improved readability and got the map on the level of world o-scene, is one of the descriptions given. You find the complete article here.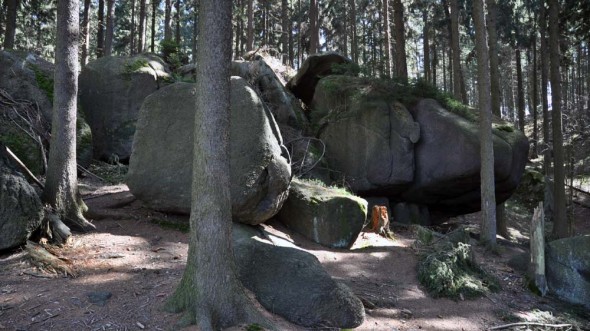 Photo by holidaymappers.eu.
Fantasy World Cup
Remember to set up your Fantasy World Cup team ahead of the competitions. The last chance to set up your team for Saturday's middle distance is Saturday morning at 09:30 CET. For Sunday's chasing start the last chance is Sunday morning at 09:30 CET. Expect start lists for Saturday to be available Friday evening. It is very tight in the top in the Fantasy World Cup after 6 races – less than a point between geilistgeil on top and sloths in second.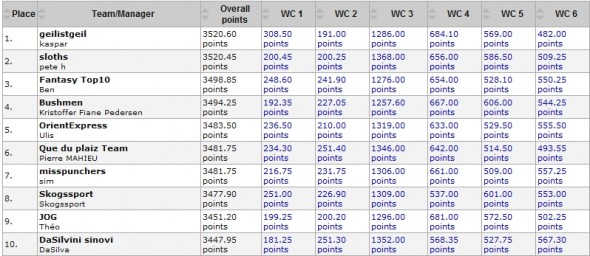 World Cup Liberec: Around the Web